Kiiroo Onyx Teledildonics Review-
Most Advanced 2 Way Online Masturbator
[flat_button text="CLICK HERE TO VISIT KIIROO ONYX" title="VISIT KIIROO ONYX" url="/kiiroo-onyx" padding="14px 24px" bg_color="transparent" border_color="#FF5C00″ border_width="1px" text_color="#8ECE2B" text_size="12px" align="right" target="_blank"]
[divider]
Teledildonics in case you're wondering – also known as cyberdildonics, is a term used to describe electronic sex toys that can be operated by a third party over the internet – i.e your partner, that enable them to control, stimulate and allow you to reach orgasm while in turn you have the ability to reciprocate the gesture.
This self-proclaimed "only interactive masturbator for two-way pleasure online" might be just the ticket for those wanting to maintain intimacy over a long distance, allowing your partner to pleasure themself-and-you in real time using the Kiiroo Onyx tactile data stream with incredible dexterity.
How does the Kiiroo Onyx actually work?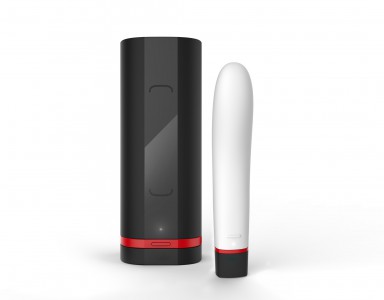 Essentially, you can connect to anyone anywhere in the world using this device, so should you be single or fancy experimenting with other people around the globe, there are forums where such interests are explored – one such thread discussing this latest device on the fleshlight website can be found here
[divider]
[two_third]
What exactly happens?

In short, info is relayed from the 5 capacitive touch ring pearl Kiiroo vibrator via bluetooth to a pc, which then transmits it to another computer then via bluetooth to the Onyx interactive Fleshlight male masturbator.

How it connects:

1: Touch ring pearl Kiiroo vibrator —>

2. Via bluetooth to ladies pc/tablet/smart device —>

3. From ladies pc to mans pc —>

4. Man's pc/tablet/smart device via bluetooth to Onyx interactive Fleshlight male masturbator
[two_third]
Onyx provides feedback via a capacitive touch sensor on the outside of the case and features 2 automatic modes and a manual mode and charges via USB cable in 4 hours and provides 1 hour usage time.
With its patented Fleshlight sleeve inside and enhanced Video Chat platform, the Kiiroo Onyx is probably best suited for 1 of 3 types of people.
Kiiroo Onyx is for:
Extremely busy couples constantly away on business

Single guys with enough money to afford to hook up with a cam girls whenever they want to get off

Cam girls themselves (who'll no doubt write it off as a "business expense"!)
[/two_third]
[two_third]
Features worth noting:

Onyx can be used solo, you don't have to be connected to the Pearl vibrator

There are 3 solo modes – Manual, Fast Automatic and Slow Mode

Movement – Squeezes rather than strokes: rings on the inside move in pairs of two and squeeze in a horizontal motion from the top to the bottom.

Sound – not too loud but noticeable

Twisting it into a different angle will enhance squeezing on the shaft
[/two_third]
[two_third]
Bottom line:
The future of interactive sex toys may be just past its infancy but translating real sexual pleasure through cyberspace has so far proved a highly complex feat rife with shoddy designs, bad technology and bizare innovations.
The Onyx, an elegant black male masturbator with sleeves designed by Fleshlight – the leading design manufacturer in this niche – consists of 10 contracting internal rings triggered into action either by the external sensory pad for solo action or signals received from the Kiiroo pearl vibrator when licked, stroked or inserted and thus is argued to create the most advanced interactive sexual experience online so far available.
Right now the Onyx works just one way – by receiving data from the Kiiroo but with future software updates on the cards this may be set to change.
[/two_third]
[two_third]
This is still to be determined but it's clear that with current demand for such devices, if a creation of an exact replica life-like vagina were to transpire, ones that are sustainable without a host and implanted into a genuinely convincing doll of sorts, this would surely revolutionize the demand.
For the time being the Kiiroo Onyx will bridge that distant connection between loved ones as well as open the door to new online intimacies between strangers globally.
[/two_third]
[flat_button text="CLICK HERE TO VISIT KIIROO ONYX" title="VISIT KIIROO ONYX" url="/kiiroo-onyx" padding="14px 24px" bg_color="transparent" border_color="#FF5C00″ border_width="1px" text_color="#8ECE2B" text_size="12px" align="right" target="_blank"]
[divider]