Top 9 Pinterest DIY Office Shelving Ideas
Pinterest has just reached its 5th year anniversary and in case you're not familiar with this site, it's essentially a visual discovery tool for digging out creative ideas that ranks in the top 10 of social media network services.
Particularly popular with women who make up to 80% + of its demographics in the U.S, the UK however is an exception to the stats, where just over half are male with an age profile 10 years younger than in the U.S.
With search traffic at its highest in the US, its 3 most popular categories are food and drink, DIY/crafts and women's apparel so where better to draw inspiration on DIY office shelving idea's than from the world's busiest DIY social media sharing platform.
Note: Please bear in mind that while offices are often considered formal, bland and cold environments, not all offices today deploy such decorative bleakness, moreover, the following popular office shelving idea's on Pinterest are anything but.
1. Leather Strap & Wood Design Shelf

Strung from the 2 hooks in the wall, all you need is the following:
A piece of shelf sized wood
Some standard wood stain
An electric drill
Some thick leather lace
Two sturdy hooks
Drill 4 holes at either end of the plank of wood – approximately half an inch in form the sides and an inch in from the edge.
Then stain to your desired wood color.
Take the 2 lengths of leather strap, make a loop in the top, knot a little lower from where it's strung from the hook, then put each leather strap into the holes and tie a not.
2. Wooden Pallet Shelving
There are so many ways to turn wooden pallets into shelves that you could really spend a whole article in this topic – (food for thought!) – however, what's trending on interest is a particular pallet shelf you can see here: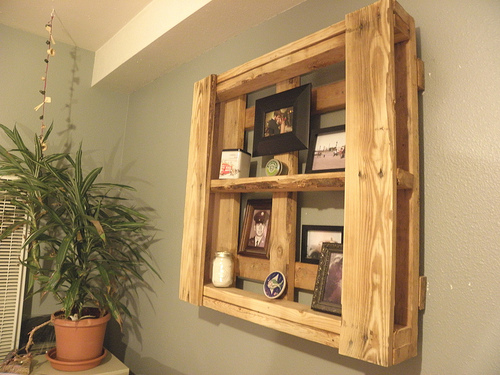 This can be hung from the wall or stood next to it as it's pictured here: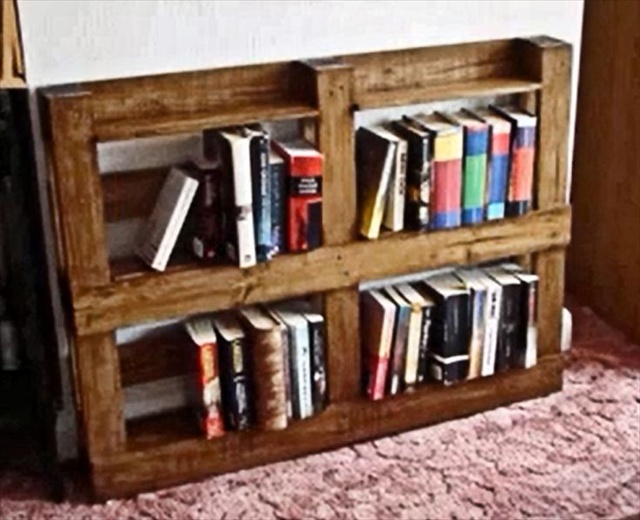 As you can see, certain planks have been stripped to create book space, the woods been stained and then hung or left to stand.
In terms of creating the shelves depending on the type of pallet you've been able to get your hands on – this image should start the creative ball rolling: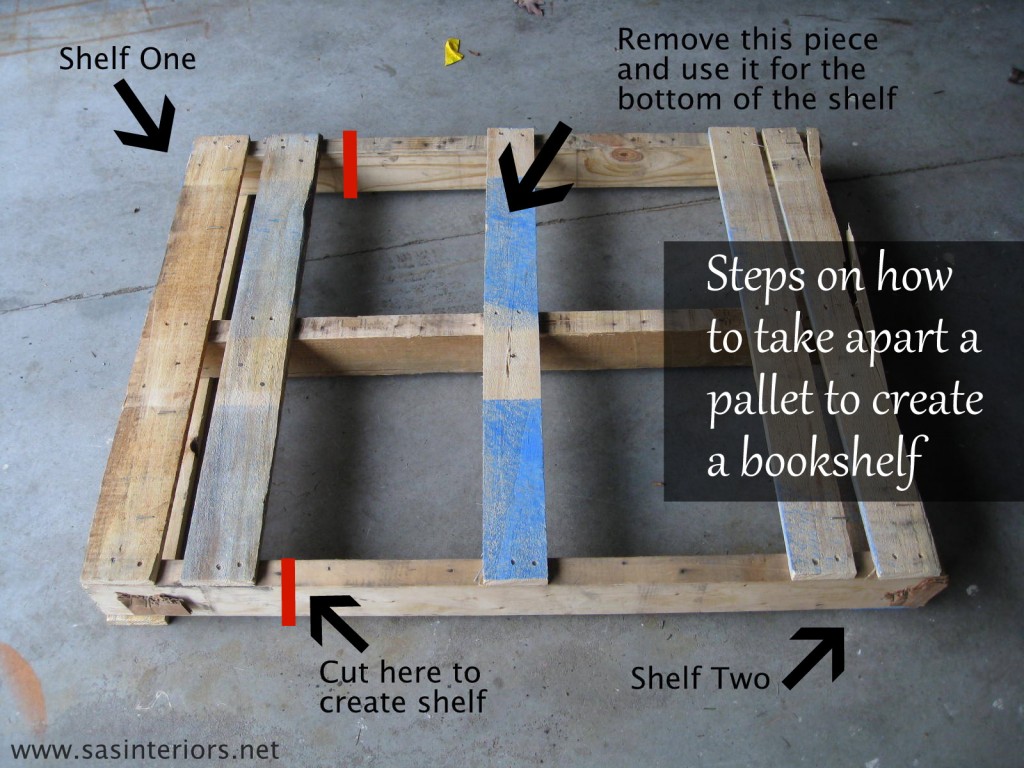 A beautifully simple creation and amazingly cheap or free!
3. Ladder Shelves
If you're lucky enough to find an old large ladder that can be restored then this simple but unique shelving design will truly stand out.
You can use an old bench or just merchant timber to create the giant shelving triangle.
In this example below you can see they've doubled up to make a ladder shelving combo using 2 aluminum ladders – a slightly more modern feel.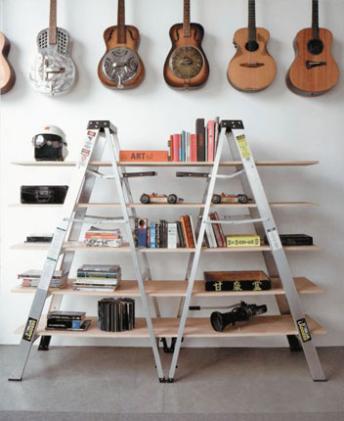 4. Staircase Bookshelf
To make the most of the wall space if your office is small and you have a ceiling height that you can utilize, this Danny staircase Kuo design constructed of pine wood is perfect for storage.
So you can reach the top the lower 3 drawers slide out on a gliding system to create a set of steps.

As you can see this makes the most of your limited floor space and is 2.6 m high so quite a grand structure for the room.
5. Industrial Pipe Shelving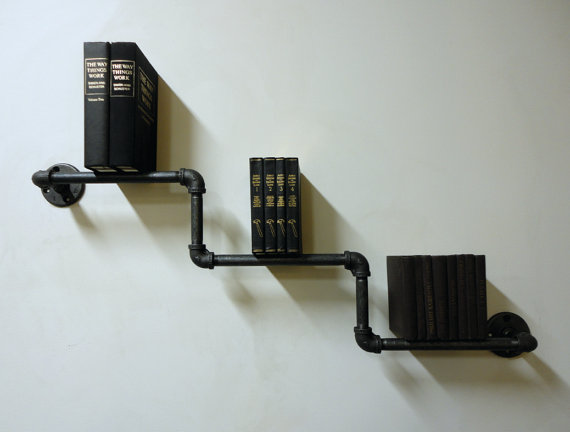 Creating an industrial pipe shelving system should set you back no more than $100 and they can in fact be bought on Etsy should you wish to cut corners.
Pipes come in many different fashions – red or black metal, iron, anchor or plumbing.
With piping shelves, there are a number of very unique designs which can suite all angles and while not massively practical they're definitely eye catching.
6. Modular Shelving Units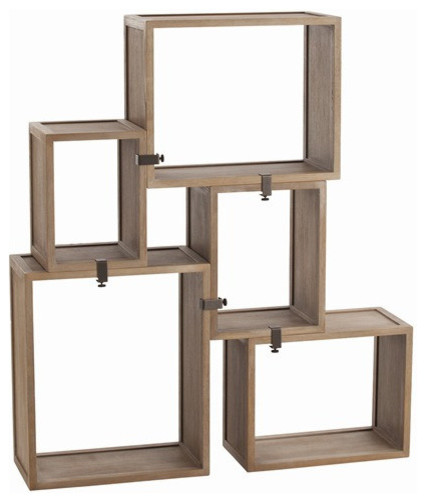 Modular shelving units are essentially drawers on drawers that create shelves and are perfect for an office environment as they can be synced together to fit into a snug space.
The brainchild of IKEA, cubes on shelves have taken off massively and can be pieced together from most household sturdy 4 sided wooden, plastic or metal objects.
As you can see from the image below of Arteriors Home Stockard oak modular shelves they are simply gripped together with bronze clamps.
Instead of forking out over $2000 for these oak slab blocks, they can be constructed at home for a fraction of the cost using alternative timber to create a design of your choice.
A very contemporary and fun look.
7. Industrial shelves using chains
Hung from the ceiling by two bolts, this shelving structure emits an almost floating tranquil feel.
Once again you can use the timber from recycled pallets and the following materials:
Metal washers
Chains, cable, rope or leather straps
Hooks
Bolts
Drill
Each shelf rests on two long bolts which pass through the chain with nuts on each end of the bolt and brackets to keep the supporting bolt in place.
Here's a classic example of how each shelf should be secured.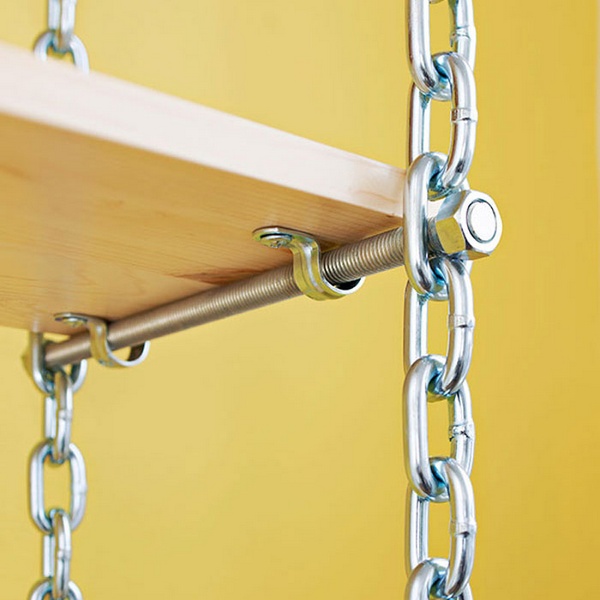 8. Skateboard Shelves
Modern trendy offices that are in the design niche tend to reflect their line of work, and what more apt than a sports or music office with skateboards as shelves.
Secured by 2 wall brackets this sleek look really does stand out plus they're designed to withstand impacts and stress which makes them more than resilient enough to take heavy loads.
9. Salvaged Wood Shelves on Raw Steel Stool Brackets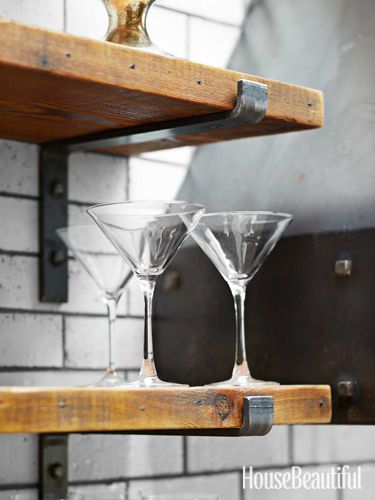 These look stunning in a kitchen but there's no reason they can't be used for office walls.
Using raw steel stool brackets which you can buy from etsy www.etsy.com/shop/designs2create with salvaged wood rested on top, such a simple but outstanding design embedded in the wall will set any office wall alive.
The materials for this type of shelving may be difficult to acquire but when set against brick – red brick especially, these salvaged stained shelves and raw steel bolts will look gorgeous when set against the right brick medium.
[divider]
(Note – all image links labeled for reuse)