Flibanserin AKA Addyi – the first female Viagra review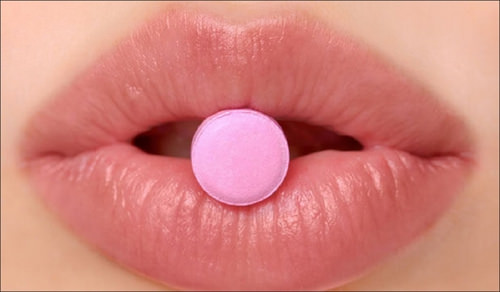 In August 2015 the FDA approved Flibanserin, a drug trying to tackle female sexual desire dysfunction in premenopausal women. Here's how it works and why it might represent paradigm shift in female sexual behavior.
Of the 12 already approved sexual stimulants, the little "pink pill" as it's aptly been labeled is designed to treat hypoactive female sexual desire disorder that is daily, persistent and doesn't get better.
Not approved by the FDA is hormone replacement therapy which while costly has definitely helped women regain their desire where before it remained flaccid.
Desire therefore is key – the game changer to getting back in the sack.
The problem with desire is that you can't see it, it's internal, but what science does know is that desire in western scientific terms is a result of a rush of three neuro-transmitters in the brain:
1. Dopamine for pleasure seeking and reward
2. Norepinephrine for arousal
3. Oxytocin for bonding
The firing of these 3 receptors then sparks sexual desire, but things get tricky when Serotonin comes into the picture. Serotonin is responsible for maintaining mood balance and too much of it can kill the mood.
Scientists believe that woman who have been diagnosed with HSDD – hypo-active sexual desire disorder – have an imbalance of Dopamine and Serotonin levels.
What makes Flibanserin so different from Viagra is that Flibanserin specifically alters the brain chemistry.
Taken daily, Flibanserin goes into the brain to produce Dopamine and inhibits Serotonin levels.
However to critics, desire isn't that clear cut: the brain is infected by things that happen in your life and the idea that sex is some sort of autonomous realm that just operates in the brain and that if you're normal it's cooking right along, despite whatever is going on in your life-is absurd.
But there do exist different forms of sexual dysfunction, that for example which manifests after breast cancer treatment which doctors will claim may be a permanent side effect and result in the onset of the early menopause.
Here there is a biological reason for it and the FDA believe Flibanserin may offer a cure for it.
So in some cases when hormone replacement therapy is conducted the results are very clear cut. You get the treatment you needed for having a sex life that has flat-lined and within a couple of days you're feeling how you used to feel before.
Flibanserin is said to do just that and give women a choice that they already wanted to make, allowing them to be the mother they want to be, the wife they want to be.
---
Source:
https://www.washingtonpost.com/lifestyle/magazine/female-viagra-is-here-who-wants-it/2015/10/14/5ff6cb0a-50dd-11e5-933e-7d06c647a395_story.html