Audemars Piquet Royal Oak Tourbillon Review
[flat_button text="VISIT ON AMAZON" title="VISIT ON AMAZON" url="/Audemars-Piguet-Royal-Oak" padding="14px 24px" bg_color="transparent" border_color="#FF5C00″ border_width="1px" text_color="#8ECE2B" text_size="12px" align="right" target="_blank"]
[divider]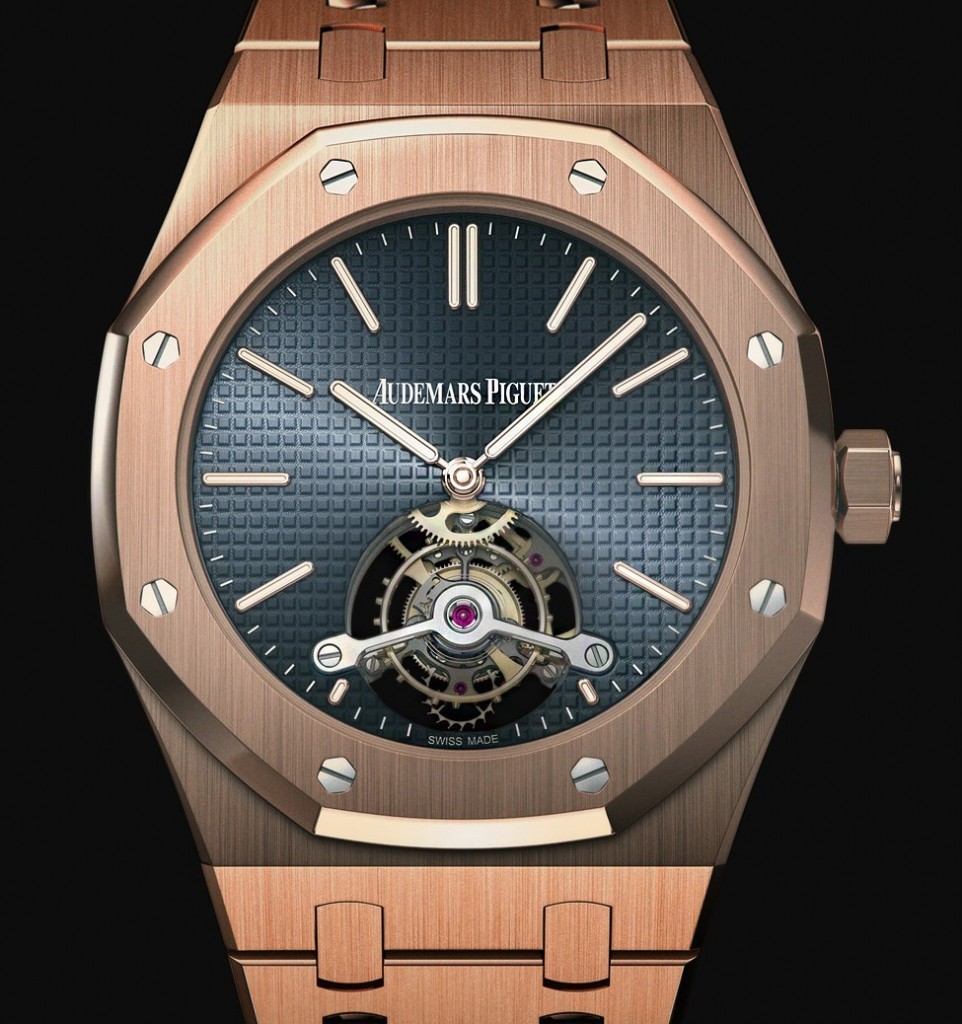 The Audemars Piquet Royal Oak Tourbillon is scratch resistant with a more durable black DLC coating -(not the same model pictured above but in the video below).

Audemars chronograph watches are very expensive and this is one of the most expensive watches in their collection.
The regular stainless steal version priced at $250'000 makes it one of the rarest watches in the world.
A Tourbillon is an edition to the mechanics of a watch making, developed around 1795 by the French Swiss watchmaker Abraham Ludwig, from an earlier idea by the English chronometer maker John Arnold, a Tourbillon aims to counter the effects of gravity by mounting the escapement and balance wheel in a rotating cage to negate the effect of gravity when the timepiece and the escapement are stuck in a certain position.
The Audemars Piquet Royal Oak Tourbillon DLC as you can see is a beautiful watch and famous for its craftsmanship, the solid stainless steal bracelet is the traditional royal oak kind of brick bracelet which has become the standard of its quality of bracelets.
You can see the AP logo on the clasp intricately carved which Audemars do on most of their watches, and this is certainly the part of the watch which puts it in a  class of its own, so if you ever want to demonstrate what a routing machine is capable of doing, this is the piece to show.
The entire case is built with such an uncompromising massiveness, there's nothing even slightly resembling flimsiness to be found, everything is twice as big and hefty as every other watch.
This watch is by far one of Audemars most rare and expensive watches on the market, where very few people have seen the stainless steal version in public and the DLC vesrion makes it even more unique.
[flat_button text="VISIT ON AMAZON" title="VISIT ON AMAZON" url="/Audemars-Piguet-Royal-Oak" padding="14px 24px" bg_color="transparent" border_color="#FF5C00″ border_width="1px" text_color="#8ECE2B" text_size="12px" align="right" target="_blank"]
[divider]