Gerald Genta Arena Tourbillon Review
[flat_button text="VISIT ON AMAZON" title="VISIT ON AMAZON" url="/Gerald-Genta-Arena-Tourbillon" padding="14px 30px" bg_color="transparent" border_color="#FF5C00″ border_width="1px" text_color="#8ECE2B" text_size="12px" align="right" target="_blank"]
[divider]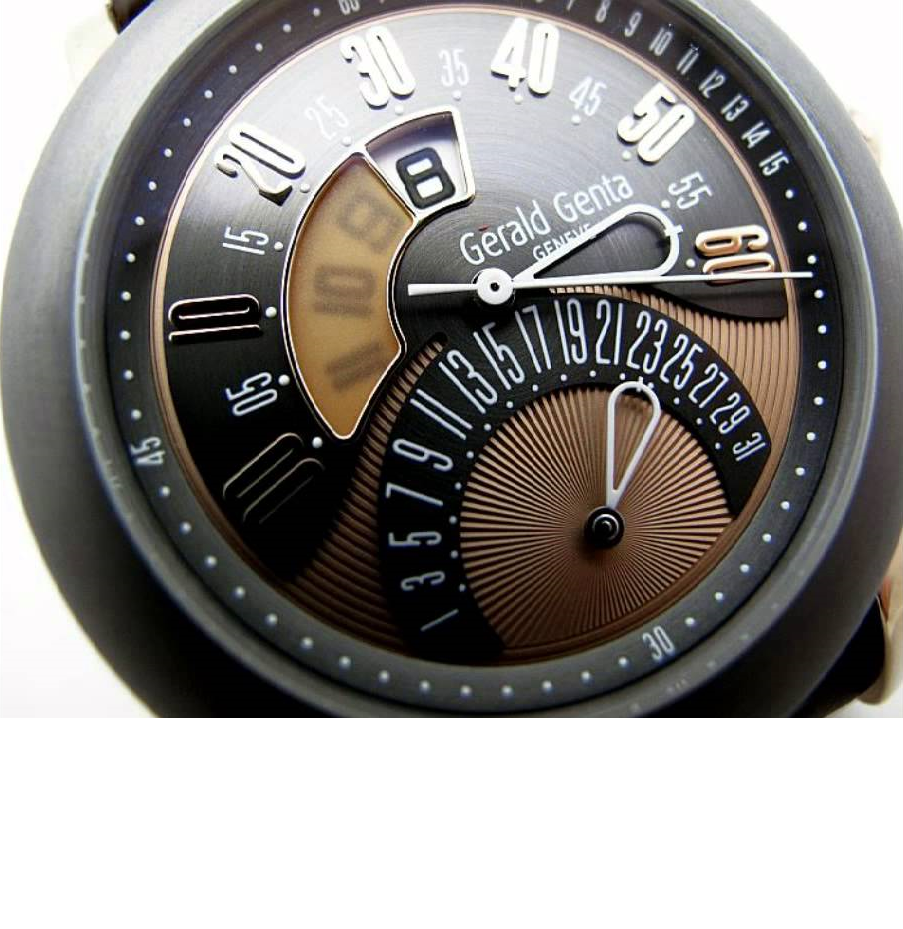 Reduced from $159'000 on Amazon, you save $77'320 by paying just $81'600!

Worrying sums indeed but one for the collector who would like to own a highly valuable a piece of horological history.
The Gerald Genta Arena Tourbillon Men's Automatic Watch has a leather band material, a gold dial and is water restistant up to 100 meters and with the soul of a legend and an identity of all its own, this is an exceptional watch which defines the adventourous spirit that Genta exuberated during his illustrious career as a watch maker.
The signature complication features a jump hour and retrograde minutes which draw on a complication that Genta himself preferred and pionered during his spell with the brand.
In 1996 Genta debued the first combination of the jump hour and the retrograde minute that traces an arc of zero to sixty then jumps back and when it jumps back, the hour jumps forward and the little aperture you see on the dial actually preconditions the luminovre on that hour disc so that when you get a new hour, you get a shining hour no matter what.
The bottom line is that this is incredibly difficult to do and in the modern era of watch making, Gerald Genta pionered this and perfected for wrist watches  a design which was previously finicky, delicate and impractical to implement.
By 2006 when this model debuted, not only had the company perfected this model but they were ready to add a wrinkle – a retrograde date, therefore a double retrograde or a Biretro – hence the name.
Arena was the sportier end of the brands collection and this design clearly fits that bill, with a 45 ml diameter face, it's incredibly striking, modern and different.
It's a confident watch, has tremendous presence and looks like nothing else.
Much like how the dodge viper inspires love it or hate it, gut, visceral reactions, this is what the Arena Tourbillon brings to the table.
It's not bigger than most sports watches, obnoxious, covered with diamonds or jewel studied, it doesn't have any weird customization, it's not co-branded by any celebrity or car maker – it's unique, a watch one simply won't miss, it will stand out across the room.
There is nice refinement that Gerald Genta adds and that's the use of two signature tones in delicate proportion, predominantly gold on the case.
Sloping down from the bezel to the dial, it's not just bi-retro but bi-planer, where the top portion of the dial is a gun metal grey and the lower half metallic grey, in keeping with the outer rim.
The anti reflective sapphire dial window is the most expensive type of window to cover a dial watch. Unlike acrylic or mineral, saphire is the most expensive and durable crystal, making it 20 times harder than acrylic and 3 times tougher than crystal.
However, if you turn the watch over it is simply stunning: based on the greats of horology, it's a pleasure to look at and adjustable in five positions, it's of impeccable provenance, it has a 3000 automatic winding movement with a 45 hour power reserve feature in what's termed as a "potter work gold plated highly pearlized finish", and is highly tuned and highly refined by the watchmakers hand.
This watch however since the buyout of Gerald Gento has sadly been discontinued by the new owners, so for the short run it had, this watch was a stand out piece.
It has a polarizing look but one that owners who love it find very difficult to let go, so, this brand that now belongs to the ages might be hard to locate online today but every now and then – as one is currently listed on Amazon – if you want a piece of history, the Gerald Genta Arena Tourbillon Men's Automatic Watch may be just that piece of craftsmanship you may wish to divulge and invest in.
[flat_button text="VISIT ON AMAZON" title="VISIT ON AMAZON" url="/Gerald-Genta-Arena-Tourbillon" padding="14px 30px" bg_color="transparent" border_color="#FF5C00″ border_width="1px" text_color="#8ECE2B" text_size="12px" align="right" target="_blank"]
[divider]