Ulysse Nardin San Marco Hour Striker Review
[flat_button text="VISIT ON AMAZON" title="VISIT ON AMAZON" url="/Ulysse-Nardin-San-Marco-Hour-Striker" padding="14px 30px" bg_color="transparent" border_color="#FF5C00″ border_width="1px" text_color="#8ECE2B" text_size="12px" align="right" target="_blank"]
[divider]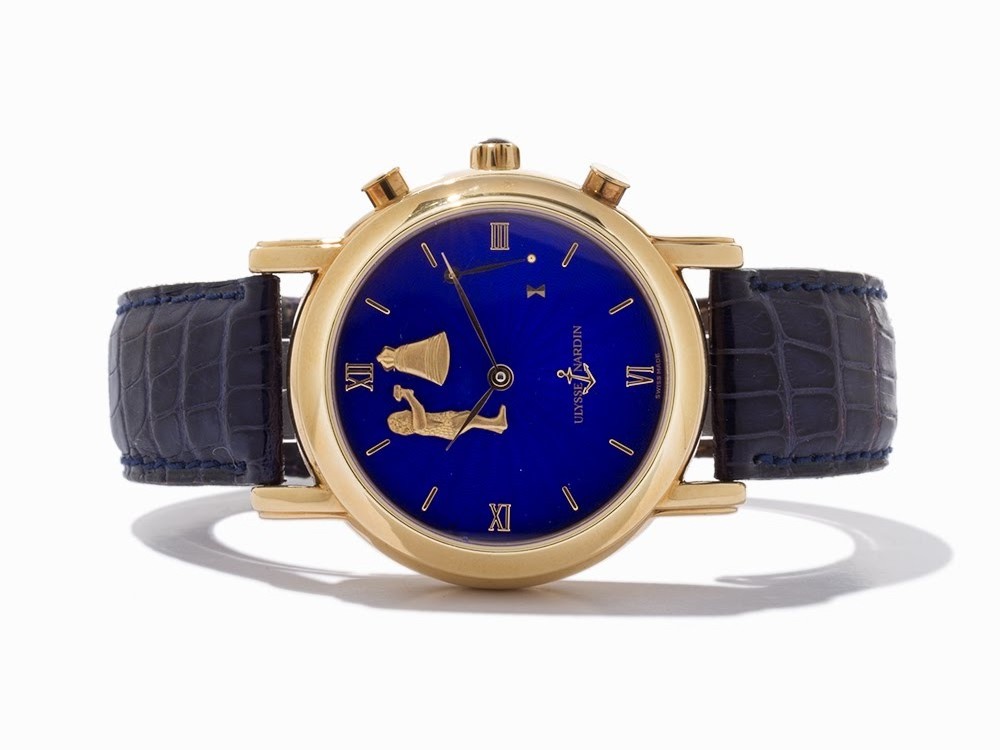 The impressive design of the Ulysse Nardin Hour Striker is based on the clock tower in the San Marco Plaza in Venice Italy.
The CEO and owner of the brand was inspired to create this watch after he stroll past it with his wife and this particular watch features a yellow gold case and a blue enameled dial which matches the colors of the clock tower.
The hour striker on the wrist watch matches the sculptured figure of the man chiming the clock on top of the the clock tower.
The blue enameled dials are meticulously crafted by carving the geo shaped pattern and then having 4 layers of enamel painted on top.
It is then heated in a kiln at over 800 Celsius and then polished to create the shiny glass texture.
The mechanism has an an on-demand strike hour and when it strikes the automaton hits the bell in tandem with the chimes.
Beautifully crafted, this is a very special piece inspired by a wonderfully charming and romantic spot in Venice.
[flat_button text="VISIT ON AMAZON" title="VISIT ON AMAZON" url="/Ulysse-Nardin-San-Marco-Hour-Striker" padding="14px 30px" bg_color="transparent" border_color="#FF5C00″ border_width="1px" text_color="#8ECE2B" text_size="12px" align="right" target="_blank"]
[divider]