Unique, Classy & Stark – The Bradley Timepiece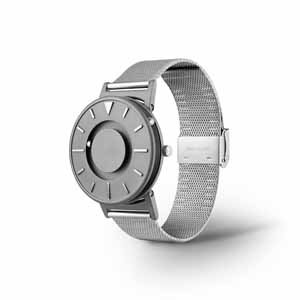 Note: They're are no affiliate links embedded in the links below.
The Bradley Timepiece first appeared on Kickstarter as a project started by former naval officer Lieutenant Bradley Snyder who was injured and lost his sight in Afghanistan, went on to win 2 Olympic swimming golds at the London Paralympics in 2012, and then created this stark, circular titanium watch face with no hands.
In fact it has been designed specifically for the blind but is proving a big seller to sighted people, where a ball-bearing rotates inset a centre groove embedded on the side of the watch to denote the minute, while a ball-bearing on the outside of the edge of the case marks the hour.
Strangely however these have shot up on Amazon where they were once $285 on their original website but are now a whopping $535.
Fortunately, one commenter on Amazon has left a link to where they can be purchased for at least $240 less than Amazon's asking price – See here at http://shopna.eone-time.com – Here they range from $275 to $295.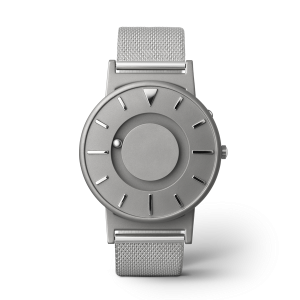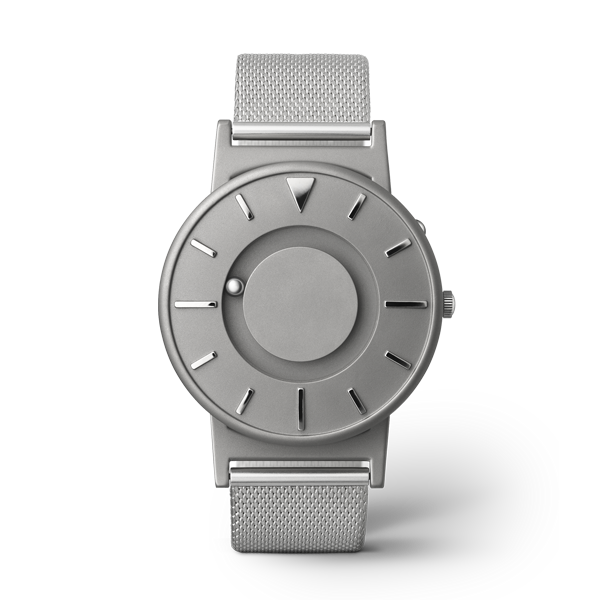 The Bradley Timepiece comes in a number of wristband designs, one black, one graphite and six different canvas colours with one in mesh, being a personal favourite.
At $285 the Bradley Mesh has a minimalist watch face with the mesh wristband constructed of stainless steal.
With a wrist size fitting of 6.25" to 8.5" – a 160-215cm wrist circumference, these watches are in fact unisex although they may appear more masculine in shape.
Eone Timepieces are such a simplistic yet beautiful almost 1930's design that it's kind of nice that they haven't really caught on yet – and hopefully won't, so expect to be complemented on a genuinely unique looking watch face.
The Bradley's run on a Renata 371 button cell watch battery that will bear the brunt of the wet and miserable English weather but are not fully water resistant so take off before swimming or bathing.
The ball-bearings are controlled by a magnet that moves freely around the external edge.
There is one additional advantage to wearing this watch – you can check the time in an understated manner with your other hand, without appearing rude or socially awkward.
As stated, the Eone Bradley Tactile Timepiece with Mesh Strap is listed at $535 on Amazon – That's $240 more than they can be found here at – http://shopna.eone-time.com/ – for only $275!
Note: They're are no affiliate links embedded in these links.