This Quick Extender Pro review, in contrast to the comfortable Phallosan Forte, deploy their DSS (double strap system) technology, which contributes to extra tension from the tip down, is cheaper and is very much the go-to choice for men today who are looking for some extra reach and girth.
With focus on comfort first, as it should be, the Quick Extender Pro is also prescribed to correct penile curvature which in itself, by the straightening of the shaft will reform it back to it's natural shape and fuller length.
How does the Quick Extender Pro work?
As they allude to, their DSS system is important when it comes spreading the tension on the manhood.
Unlike the Phallosan where the glans and foreskin are enclosed in a protective cap and an airtight sleeve for added comfort, the Quick Extender Pro uses a traditional support frame but with two silicone strap attachments, not one.
This enables the you to halve the tension on each strap but share the strain, resulting in less slippage, better distribution of tension and a firmer grip.
With its rods, attachments and tension systems made of durable aluminium, the Quick Extender Pro brands itself as a premium penis extender, composed of medical grade materials, that will go the distance and more.
What results should you expect from the Quick Extender?
Going by their results based on an average penis length of 5″ when erect, in the first month expect to see an initial gain of 1/4 to 1/2 an inch.
The longer it is worn, the greater the results as can be observed in this clinical trial with patients with Penile Dysmorphophobia in 2015.
The second month you should see a similar pattern of gain and so on and so fourth for 6 months should you wish to dedicate half a year to wearing this device, from a couple of hours a day to overnight for greater results.
The first month will be the more challenging as the tissue in your manhood will transition from its dormant state into growth mode.
By exposing your penis to a continual stretch, more blood will enter your penis chambers which first off will improve your current circulation rate, whereby in the first month you should notice a change in erections as they become fuller and harder.
From the second month on, the microtears that you will have created, form gaps in the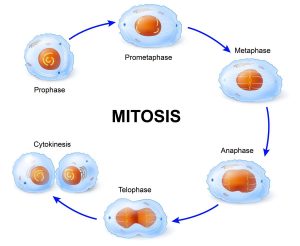 penis tissue and thus begins the process of mitosis, which you may remember from biology class, whereby cells in the penis begin to divide to fill the newly formed spaces.
From here on in, more noticeable changes in its girth and reach will take effect.
Cell multiplication in the corpus cavernosum – the squashy tissue the penis is comprised of – will be thrown into overdrive, as it recognizes the gaps between each cell that need to be filled, and these new cells will add to the mass of your penile tissue which thus translates into a longer and larger penis circumference.
Quick extender pro before and after testimonials
The Quick Extender Pro comes with a catalogue of video and email testimonials on their site from clients who have used this device in accordance with their exercise regime.
In general though, 4 hrs a day 5 days a week across a couple of months seems to be the mean, where approximately an extra inch coupled with firmer erections and a lower hanging penis are reflective in user's feedback.
You are protected by their money back guarantee of six months.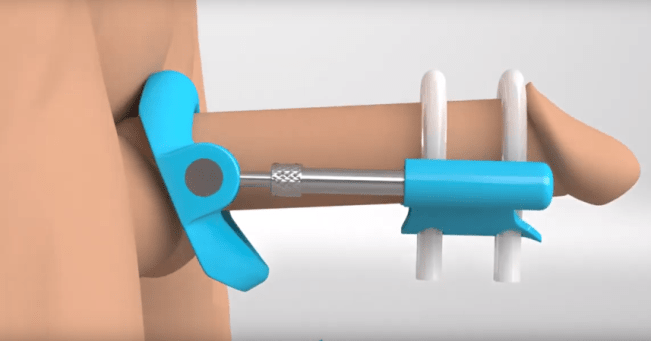 Quick extender pro for correcting curvature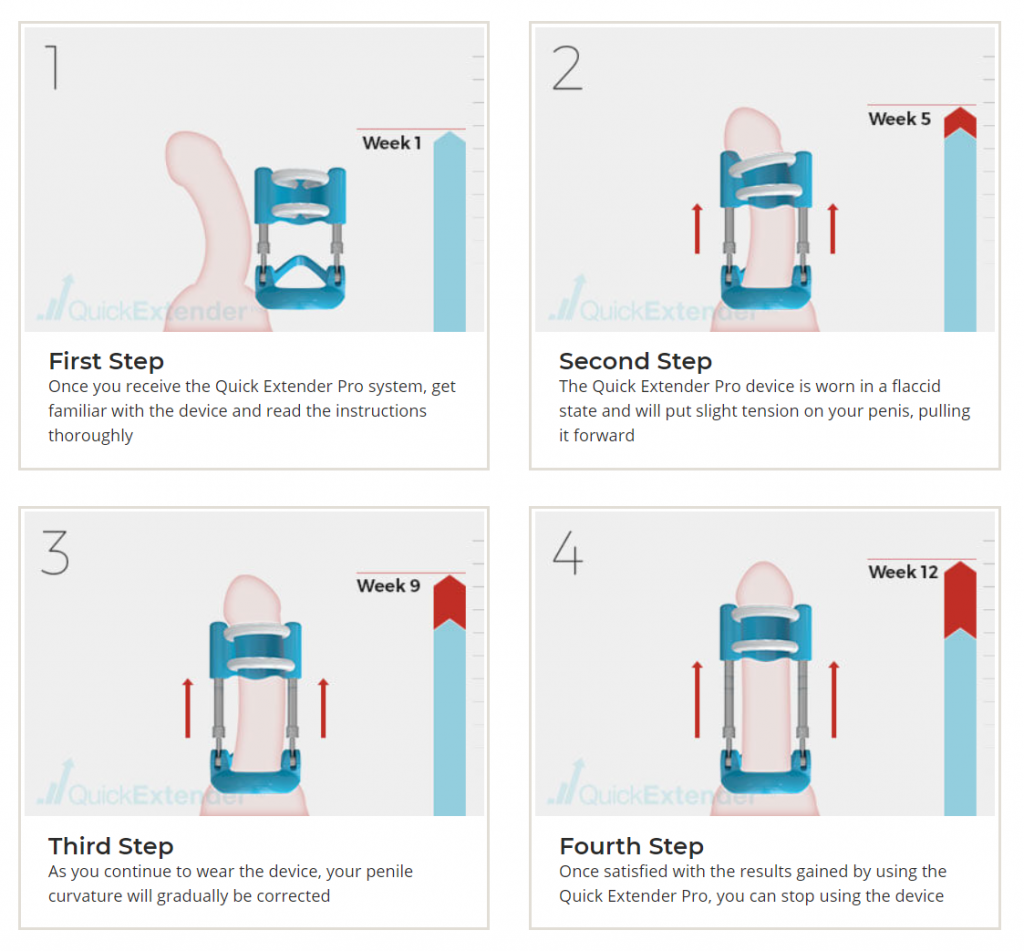 It is said the penile extension devices that come in the form of an aluminium frame are more beneficial to correcting curvature than increasing overall girth and length, and this may be true, although the added benefit of realigning your shaft will automatically add distance downstairs.
Peyronie's is a condition that generally occurs in middle-aged men and whilst rare, it's estimated that approximately 9% of men globally could have it.
It can also effect the pleasure both parties experience during sexual intercourse. It may be quite painful for the receiving party and it can reduce your chances of hitting the g-spot if your member is bent.
Published in the journal of sexual medicine in 2013, correcting penile curvature is thankfully not what was previously prescribed to straighten the shaft.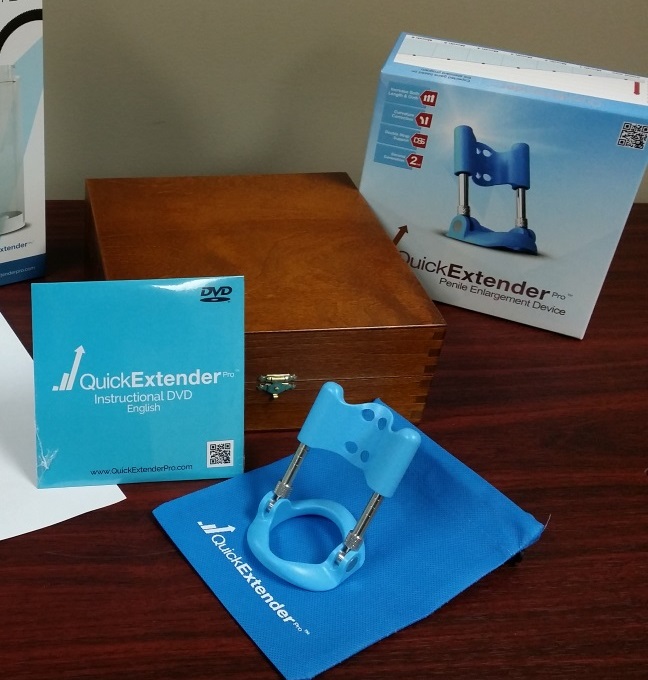 Modern aluminium penile traction systems now do wonders for what was once an archaic method carried out through surgical intervention.
This hardening of the tissue caused by the growth of fibrous plaques can have a debilitating affect on a mans psyche which can lead to undiagnosed depression, sexual withdrawal and a reluctance to voice ones concerns openly.
All negative effects on the mind and body which you don't need to experience in todays rat-race of a world as you can now do something about it, gently and safely.
Can I get a discount?
Yes; the company have kindly provided menspleasures.com with the following discount code – MENS20.
The size of discounts vary throughout the year, with holiday seasons offering the largest price reductions.
Does the Quick Extender Pro come with a money back guarantee?
Yes – 180 days.
---
Pro's


Easy to piece together

Can adjust the force

Two silicone straps not one to share the load

Good grip equals minimal slippage

Stylish travel pack

Comes with various accessories & replacement components

Thorough quick extender pro instructions

A six month refund policy
Con's


It is a light device but still a frame so may cause occasional discomfort

4000 gram force option potentially risky