If your packer's non-porous, which most are, then it can be submerged in water for prolonged periods of time, as can silicone ones, so if you're in the water regularly, a pair of penis packer swim trunks can really help for comfort and peace of mind.
Long term packer exposure however to chlorine will degrade it faster. Sea water and fresh water are no problem.
One FTM store ran a three day test on their non-silicone packers and all were reported unscathed after being submerged for this length of time.
Their weight was also measured and all came back no heavier, so promising there – but the challenge with swimming while packing lies more in eliminating any chance of your packer popping out than the wear and tear.
Therefore, a pair of trunks that will hold your penis packer securely is your best bet to stop old Dilbert wriggling free.
The chances of your conventional swimwear holding your packer in place are slim, so it would be wise to invest in some water friendly FTM trunks that you can wear as your swimwear or under it, that won't stretch disproportionally when doing laps and are primarily comfortable.
So what get the thumbs up?
The following 7 penis packer swim trunks and underwear stand out firstly as reliable swimming attire online, plus comfort and design also get a firm nod.
Note: If you are doing vigorous workouts, then a packing strap (with no leather parts) will come in handy underwater.
1. Pete Packing Underwear Freestyle Trunks
Material: Nylon, Spandex, Jersey
Size: 28″ to 50″
Price: $34.00 at FTM Essential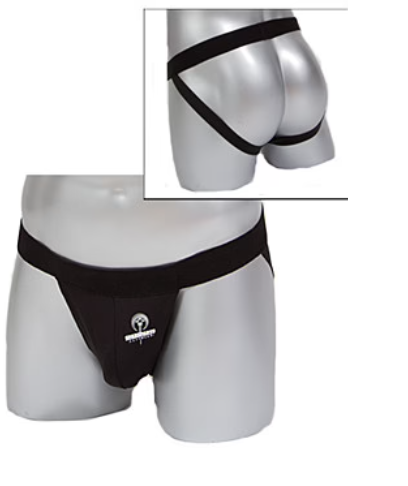 The Pete Freestyle trunks are perfect for any aqua recreation. Essentially, they're really a pair of jocks and a harness in one.
Perfect for a short or long dip, Pete's freestyle packing trunks are firstly soft and comfortable against your skin.
Made of light weight Nylon, Spandex and Jersey material, the Nylon and Spandex help Pedro breathe, while extracting moisture away from your body, allowing you to keep cooler and dryer.
While the Jersey is soft and stretchy, the knitted fabric helps keep everything in place, hugging and holding your packer lightly and closely against your skin.
The Pete Freestyle trunks are V shaped and contoured at the front and can be easily worn alone or beneath your swimwear.
Peter's secure fit, allows for free movement with zero worry of your packer escaping and bubbling up to the surface.
PROS
Hand or machine washable

Open fly front provides easy access & allows STP action

Option for shaft to sit outside via opening through front side

Good for wide leg motions, steps, restroom, demanding activities & swimming

Saves awkward fastening of packer inside swim trunks with a safety pin
CONS
Little awkward to use with large STP packer

Back straps might  chafe
2. Budgie Boxer Briefs – Packer Swim trunks + Quick Drying Underwear by Transthetics
Material: 85% polymide, 15% elastane blend
Size: 27″ to 34″
Price: $40.00 at Transthetics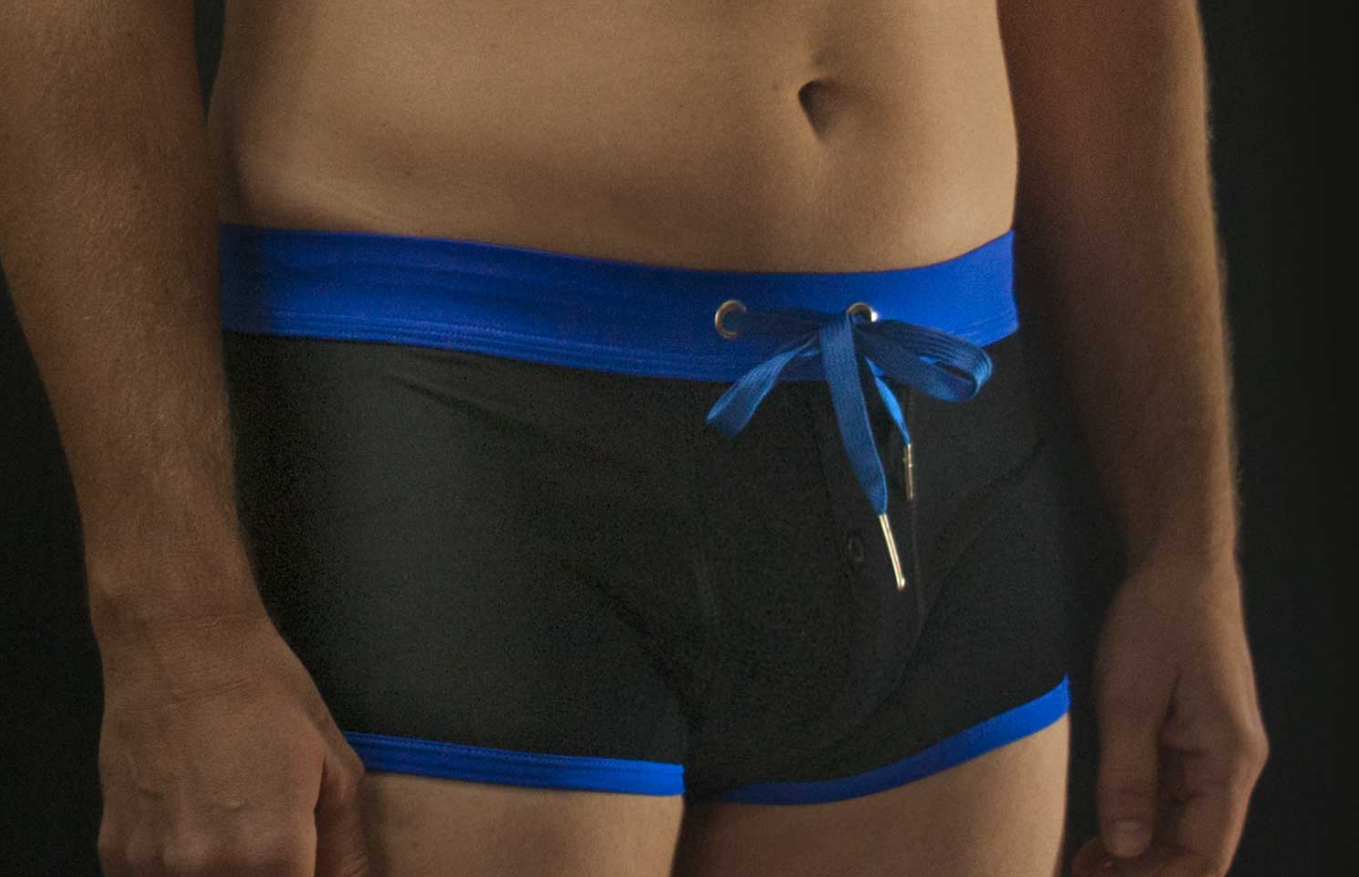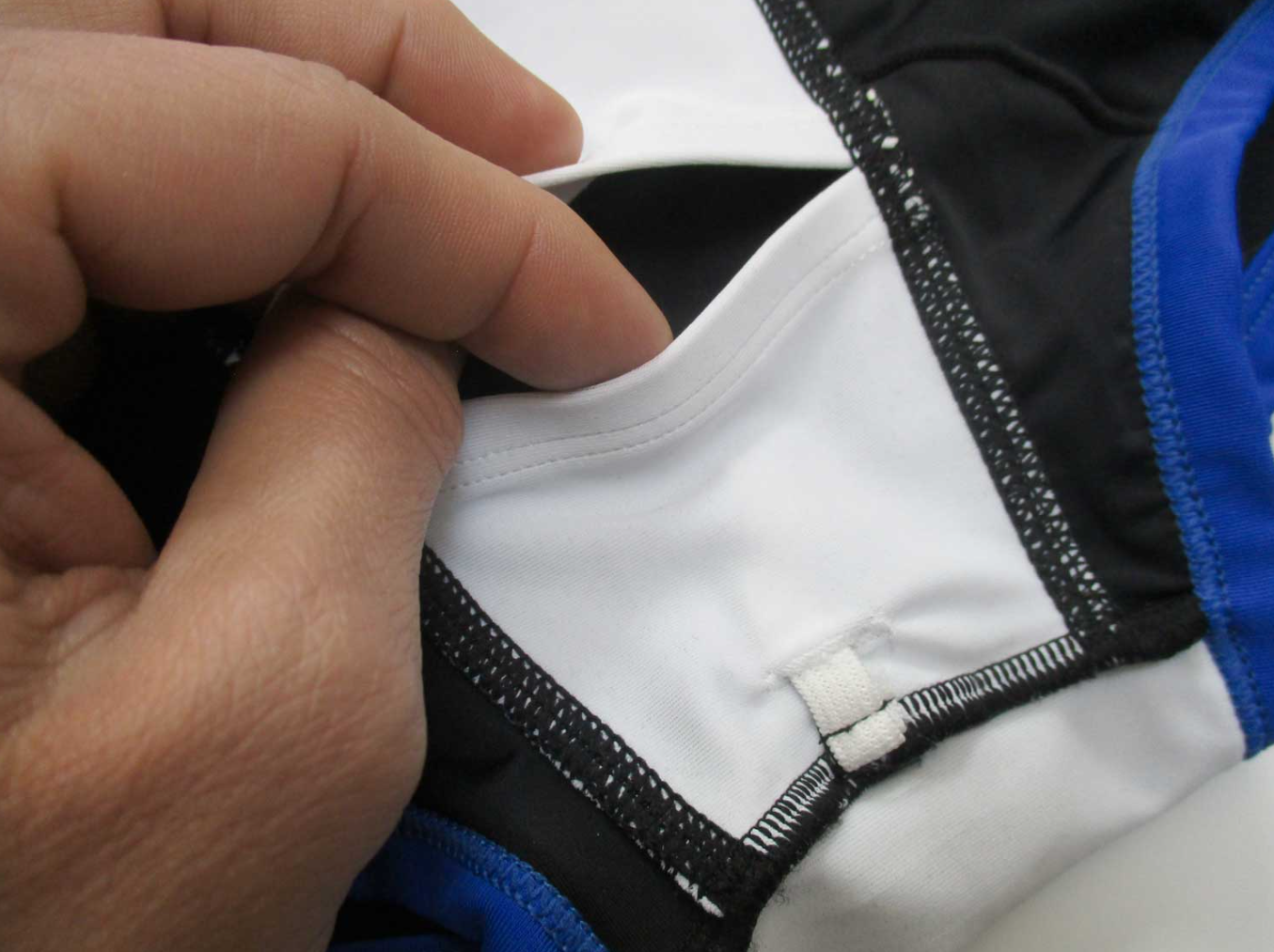 Tailored specifically to be used with Transthetics play packers and STP products such as the Joysyick and the EZP Junior respectively, these budgie smugglers should also fit a number of other packers which have similar measurements to these devices.
So if your packer weighs around 110g, and is roughly 15cm or 6″ in length and has a cup length (if it's an STP packer) of 3″(8cm) and a width of 2.4″(6cm), then they should be a snug fit.
Suitable for both women and trans guys, they can be worn as briefs and as boxer briefs, plus they have a reinforced crotch seam and an attachment loop for use with the Joystick packer by Transthetics – a harness free realistic FTM play packer which is a carrot shaped Joystick which sits inside the Joystick sheath and can perform ejaculation, urination, vibrations along the shaft as well as at the base, plus there are additional addons.
It's quite a piece of kit and is better explained by Transhetics here, but with the loop built in to these FTM swimming trunks, they essentially have the potential to harness other packers.
PROS
Boxer cut holds everything nicely in place

Suitable for women and trans guys

Reinforced crotch seam

Inbuilt loop to attach around packer or Joystick
CONS
Joystick works slightly better with briefs than boxer briefs

Transthetic's prosthetics in chlorinated water do not fare so well – salt and fresh water are fine
3. Jockmail's FTM Swim Trunks with removeable Bulge
Material: 85% Polyester, 15% Spandex
Size: 27″ to 38″
Price: $12.00 at MRIMIN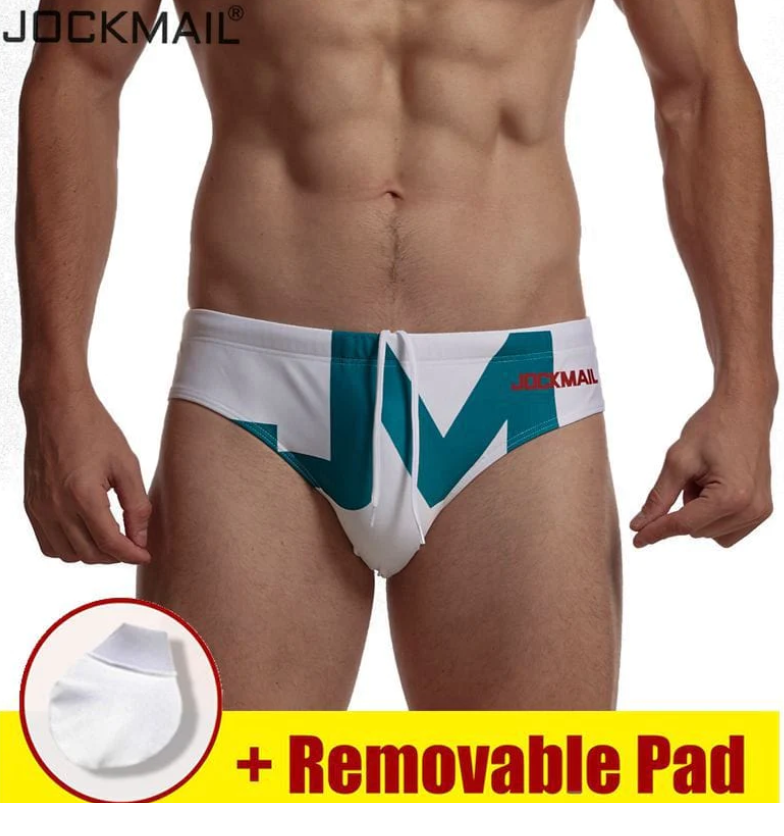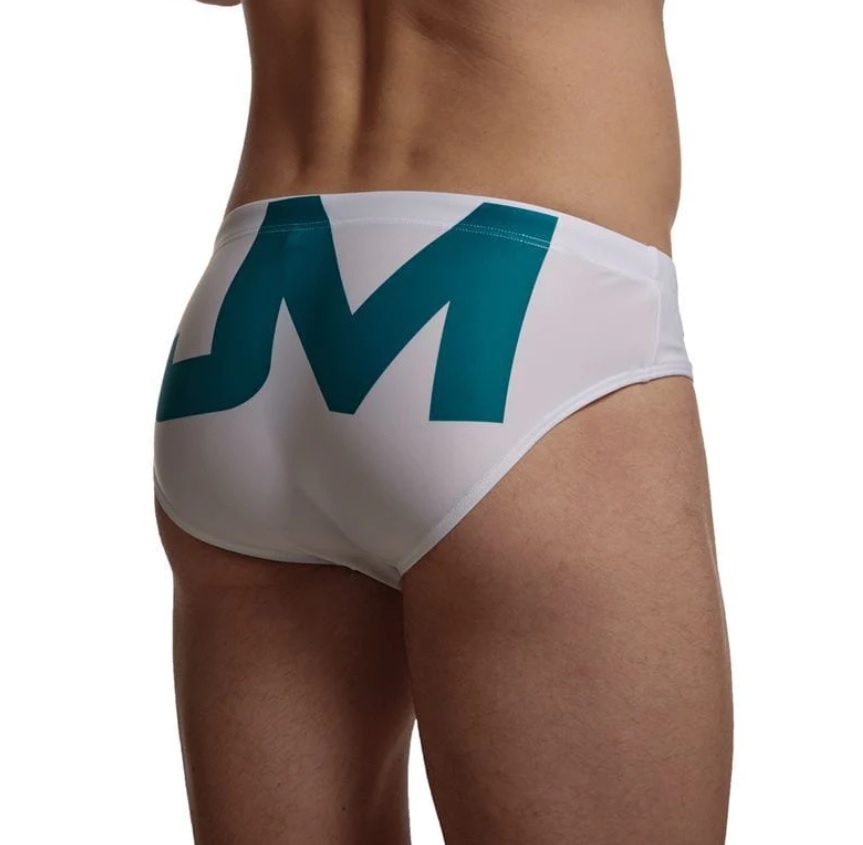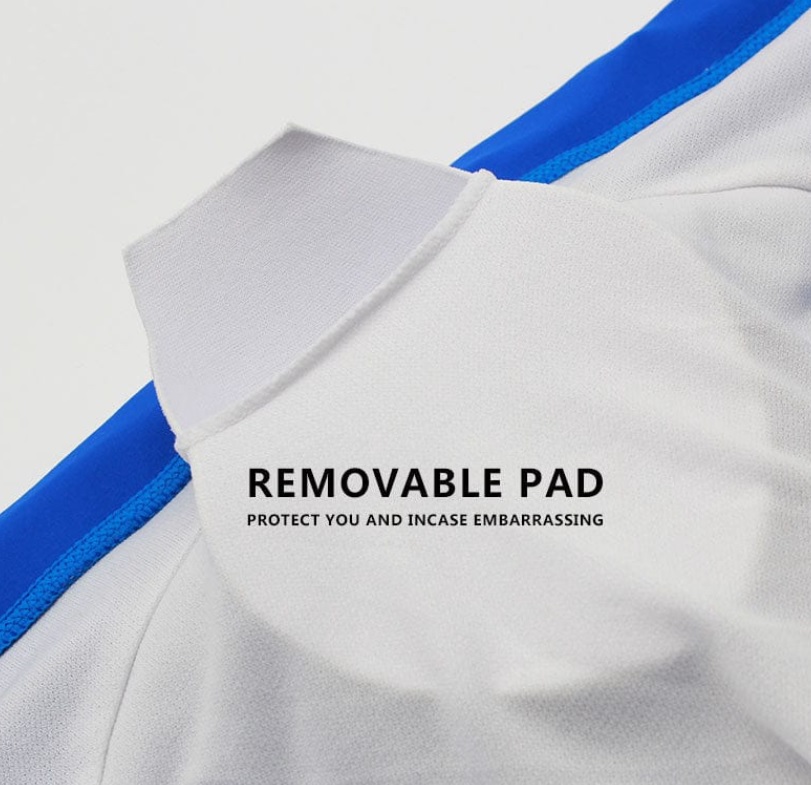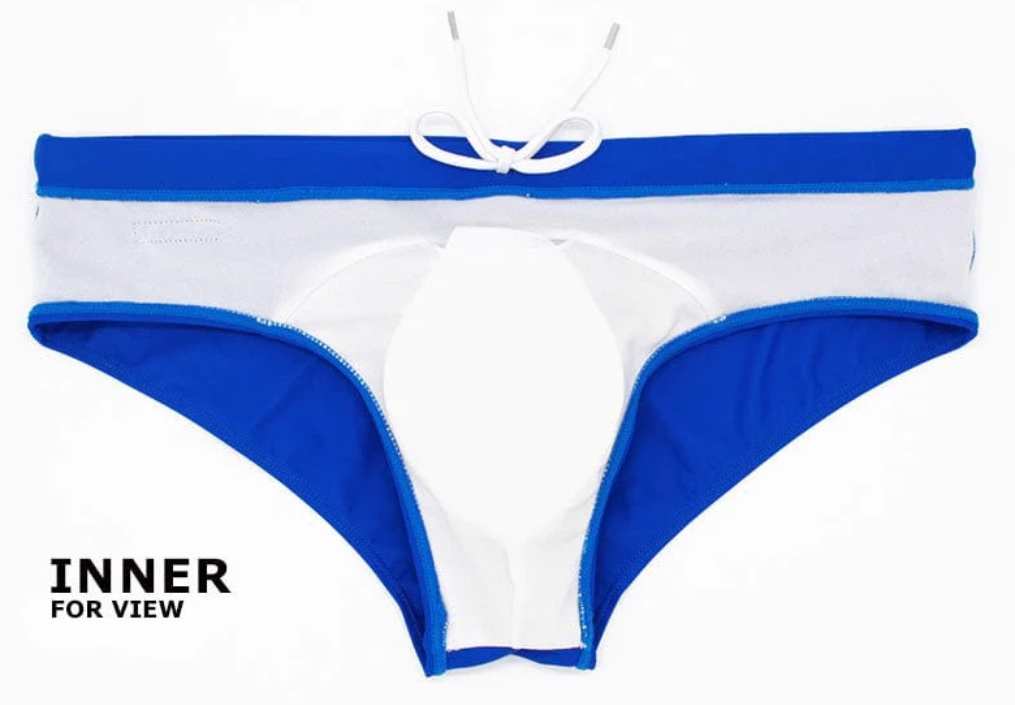 These stylish FTM trunks by Jockmail at MRIMIN, the only FTM Chinese company by the looks of things, based in Jinhua City, contains a removeable pad and is made of a quick drying, breathable fabric.
Word of advice by reviewers and the company is that their fit is slightly on the small side, so as rule of thumb, pick the next size up.
They are by far the cheapest pair of FTM swimming trunks listed here and whether you're in the US or UK, shipping is only an extra dollar.
Jockmail don't specifically specialize in FTM gear on their main website, in fact searching FTM comes up blank, but their alternative gear which includes trans attire and in this case a pair of penis packer swim trunks with a removable pouch is a perfect accessory for keeping your packer in place.
At only $10-$12 you could sew your own elastic loop in should you require that extra security.
PROS
Extremely affordable

Currently 5% off (09/02/2022)

Removable Pad

Solid swimsuit sports trunks with bulge
CONS
Choose one size bigger than you usually wear
4. Pete Packing Underwear Swimming Trunks
Material: Spandex, Jersey material and Nylon Spandex
Size: 28″ to 50″
Price: $40.00 at FTMEssential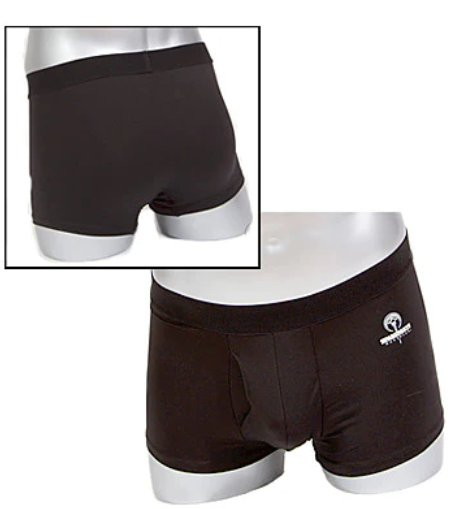 These short, square cut boxer briefs or "boys shorts" have open fly access so you have the choice of letting your packer sit outside the trunks while beneath some outer swimwear, but harnessed within Pete's trunks.
These briefs unlike the jock freestyle shorts by Pete have an open fly front so you have the option of your packer being harnessed on the inside but free to float outside away from your skin but obviously under some outer trunks.
Like Pete's budgie smugglers, the material is very breathable and are designed more for soft packers.
With having the flies option, they're good for STP action, and with their contoured pouch, even smaller packers will appear slightly larger on the outside.
PROS
Pete packing underwear is fully hand or machine washable and like

Breathable material

Holds packer comfortably against skin

Good for STP packers
CONS
Reports of faulty stitching
5. Jockmail FTM Bathing Suit with removeable bulge
Material: 85% Polyester, 15% Spandex
Size: 27″ to 38″
Price: $10.00 at MRIMIN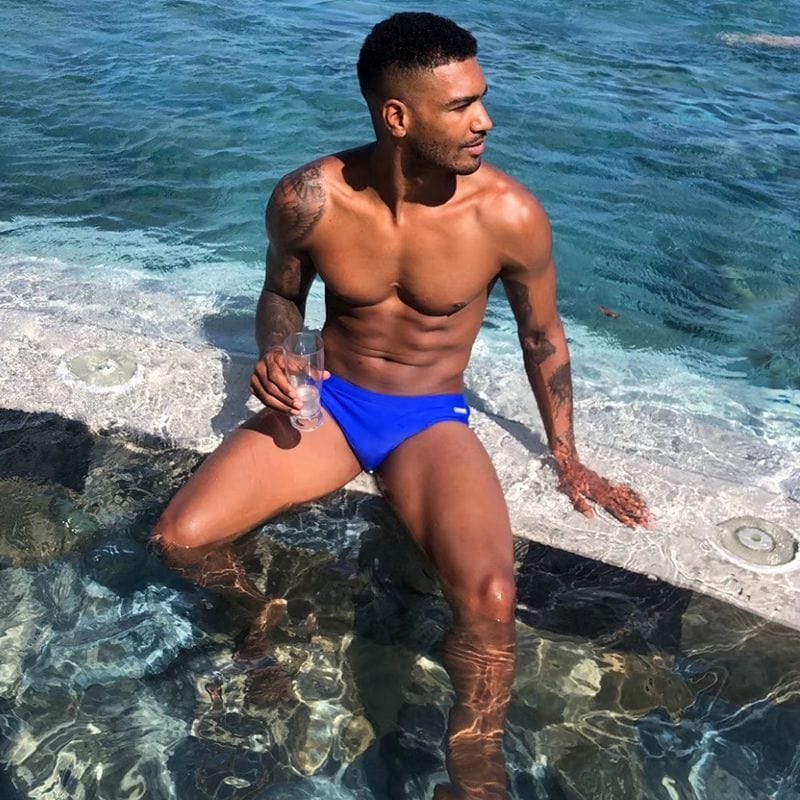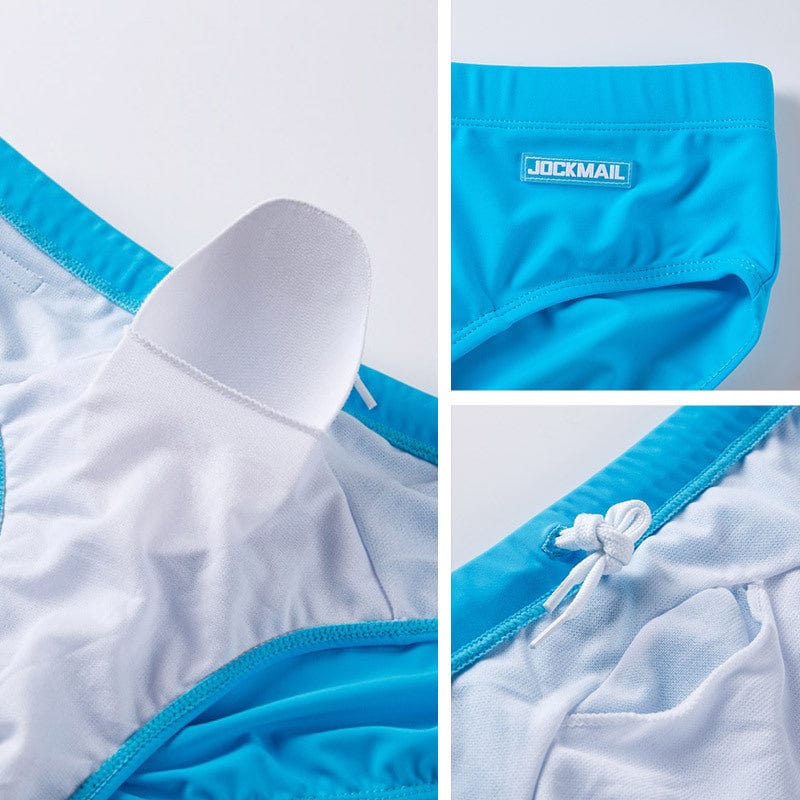 This second pair of Jockmail swim shorts are priced very affordably and shipping again whether to the US or Europe is only an extra dollar.
Again, best to order one size larger than your actual fit.
Available in 9 colors – turquoise, lilac, navy blue, red, sky blue, orange, grey, white and purple, the polyester and spandex make for quick drying material.
The removeable pouch allows for all sorts of water and non-aqua activities: running, swimming, gym, pool, beach – you name it.
PROS
Extremely affordable

Removeable packing pouch

Good for all sports

9 aesthetic color choices
CONS
Only go as large as 38″ waist
6. Jockmail's FTM Sports Packing Boxers – JM08
Material: 92% cotton with premium, soft wide logoed mercerized waistband
Size: 27″ to 38″
Price: $9.90 at MRIMIN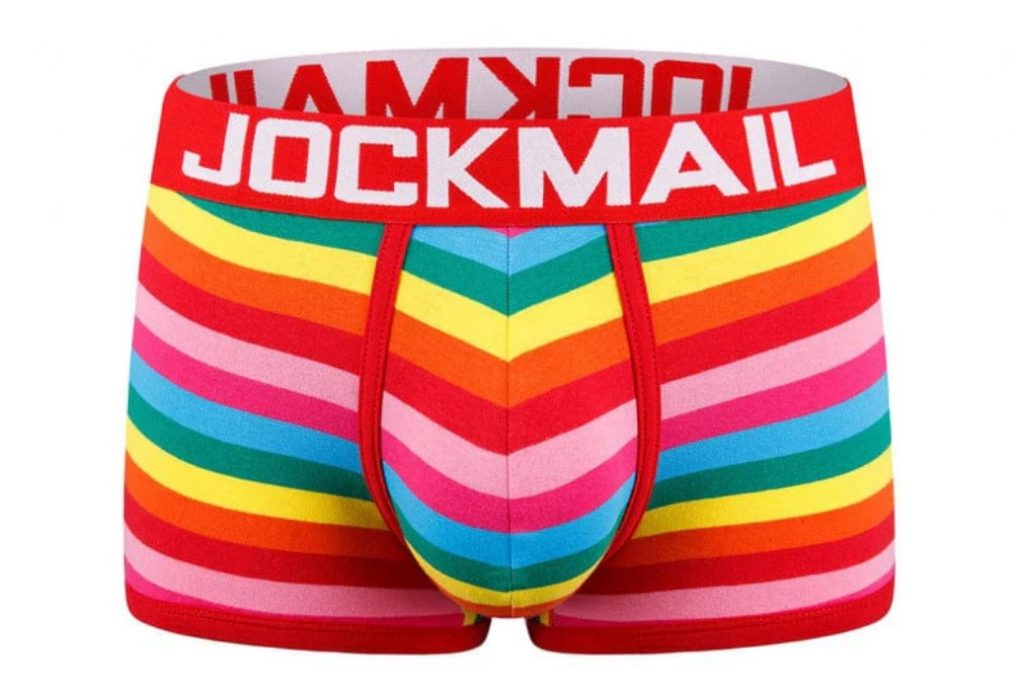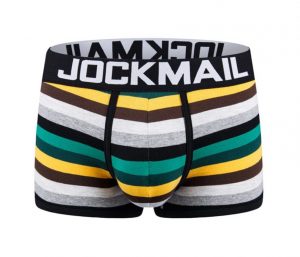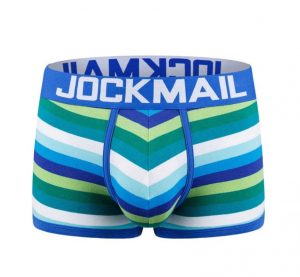 On design alone, these third pair of Jockmail swimming packing trunks have to be included.
Not specifically created for swimming per se, but even those advertised here with a front opening are advised by their manufacturers for you to wear an outer pair or swimming trunks for extra precaution, plus it's nice not to have your packer too close to your skin when swimming so as to avoid chaffing – so these boxers get the thumbs up for water sports.
Designed for workouts, as they're both 92% cotton and 8% spandex, they're made for sweating and all different terrains.
Additionally, being 92% cotton, they're mercerized which is a textile used for finishing a garment which improves dye uptake, tear strength and reduces potential fabric shrinkage, while imparting a "silk-like luster".
So they bind well without pinching.
Again, for just $10, they're a fantastic deal by Jockmail and their convex pouch is tailored with smooth flatlock seaming for style and comfort.
A unique pair of of penis packing swimming trunks.
PROS
Price

Convex pouch

House big packers

Unique & loud designs!

Double layered crotch for stronger support

Bind stylishly without pinching
7. Rodeoh 6 inch Penis Packing boxer trunks in black
Material: 87% polyester, 13% spandex
Size: 27″ to 59″ 
Price: $24.99 at Rodeoh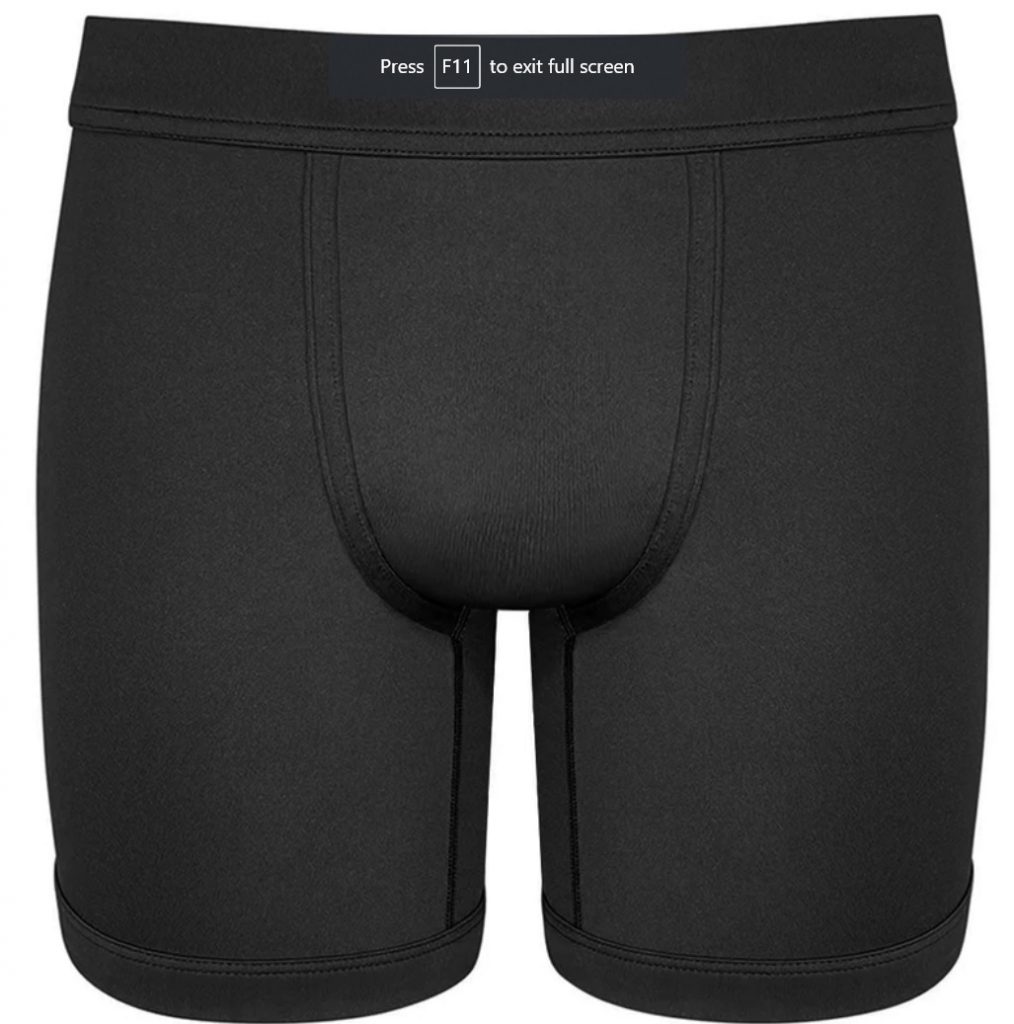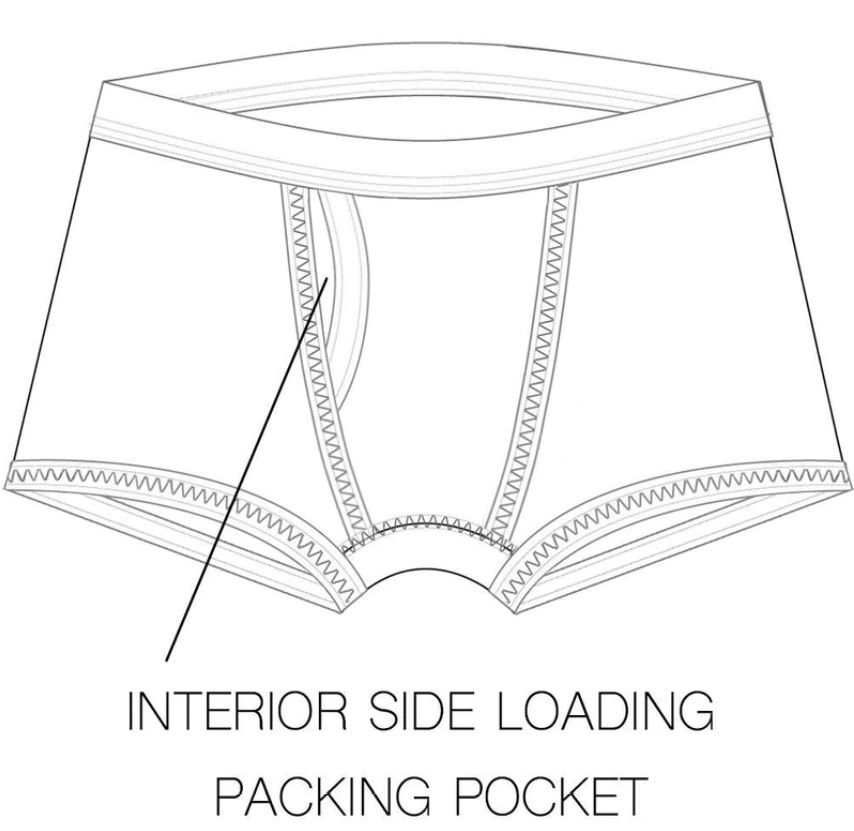 These FTM guys sports trunks are ubiquitous at accommodating most range of packers given their size range, from a small Mr Limpy to Pete's products or the full Archer line of packers.
A quick-dry poly blend of material for all sports really, but especially water sports and designed for all body types.
Comfort is key and Rodeoh get good reputation on softness and non-biting material.
They do a vast array of FTM guys underwear, not all for water related sports but they do do both O-ring boxers and briefs which is handy as these Rodeoh swimming trunks don't include an O-ring to harness your packer or STP device.
PROS
No logo for discretion

Quite affordable

Machine washable on cold plus can tumble dry on low setting
Tip for transforming normal briefs into penis packer swimming trunks
You can transform most budgie briefs into a snug fitting pair of trunks by sewing an elastic loop into the appropriate location (if your packer can be lassoed so to speak).