If you're on the lookout for a cheap pocket pussy that won't break the bank but still perform well, you have affordable Fleshlights at $35+, and then you have even cheaper pocket pussies – ones that aren't made by Fleshlight but will still create a variety of sensations and deliver powerful climaxes.
Based on popularity, ratings and overall value for money from Lovehoney, Adam and Eve and the like – here goes men's favourite pocket pussies under $20 for 2023, with prices compared where ever possible.
And remember: don't forget to warm up your pocket pussy, so as to increase its real-life suppleness and to add some appropriate male masturbator lube depending on the material, so no oils, saliva or silicone lubes on silicone products.
A water based lube is more often your best bet in this case as most of these pocket pussies under $20 are made from soft plastic, TPE or TPR and are all free of phthalates and toxins.
If you choose a reusable stroker, for longevity – don't forget to give your pocket pussy a good dry. 
Note: Many of these cheap pocket pussies had been reduced, so prices may invariably change. Products are updated regularly or are removed if they exceed 20 bucks.
Quick synopsis of the cheap pocket pussies featured below:
Best value – Elite Pocket Pussy, the only vibrating pocket pussy sleeve under $20 which comes with batteries and in a case.
Longest – Satisfyer Men's Sleeve Pressure pocket pussy, 7 to 8 inches.
Widest – Boundless Stroke measuring roughly 2 to 3 inches in inside circumference.
Most durable – Mstr B8 Clear View Stroker gets the thumbs up for design, wear and tear and is 50% cheaper than on Amazon.
Most popular – Lovehoneys Reversible Double Textured Stroker gets the most positive reviews on Lovehoney.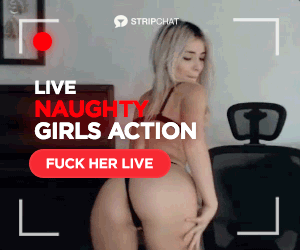 1. Elite Vibrating Pocket Pussy
Material: Fanta flesh (non-silicone)
Inside depth: 6.5″
Inside girth: 1.5″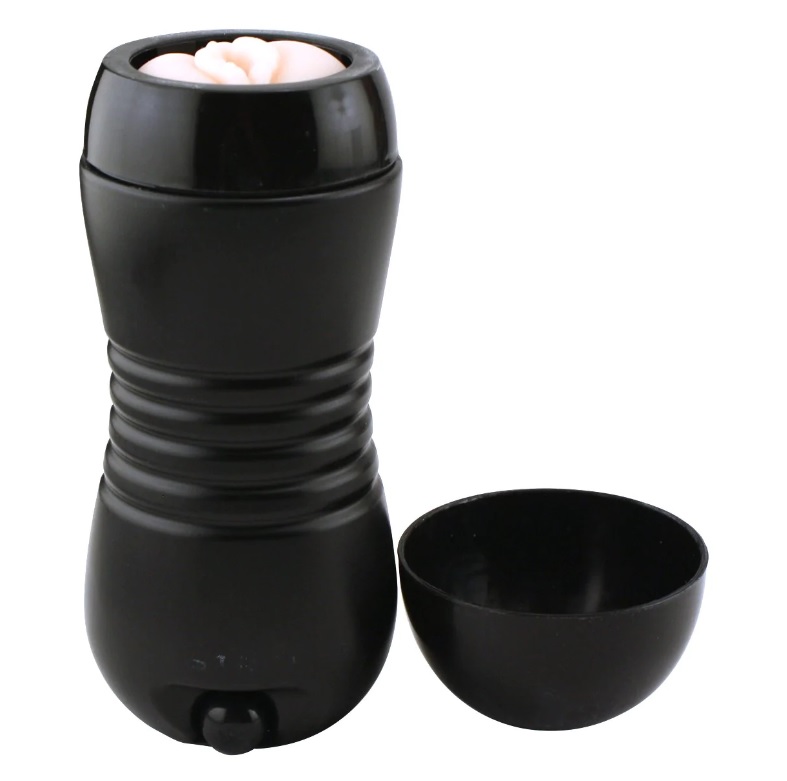 Down from $38.99, this is probably the best deal here.
This is the only vibrating pocket pussy (bar the open-ended vibro cock sleeve) available for under $20, that comes in a case and the sleeve is removable.
The pulsating bullets will send shockwaves right up your shaft, while you're all engorged within a moist and lifelike patterned sleeve.
Plus, while reduced from the high thirty dollar range, batteries are still included and you can apply a silicone based lube as the material is of a life-like plastic texture so will handle oils.
With a detachable cap at the the top, you can see at the bottom of the device there is button to get the party started.
PROS
Only vibrating pocket pussy under $20

Removeable sleeve for ease of cleaning

Includes Bullet Vibrator

3 LR44 Batteries included

Super discreet shipping with Vibrators.com
CONS
Rudimentary but still quite a powerful vibrating pocket pussy
2. Rinse & Repeat Whack Sleeve by Global Novelties LLC
Material: Bodysafe & phthalate free
Inside depth: 3.75″
Inside girth: 1.5″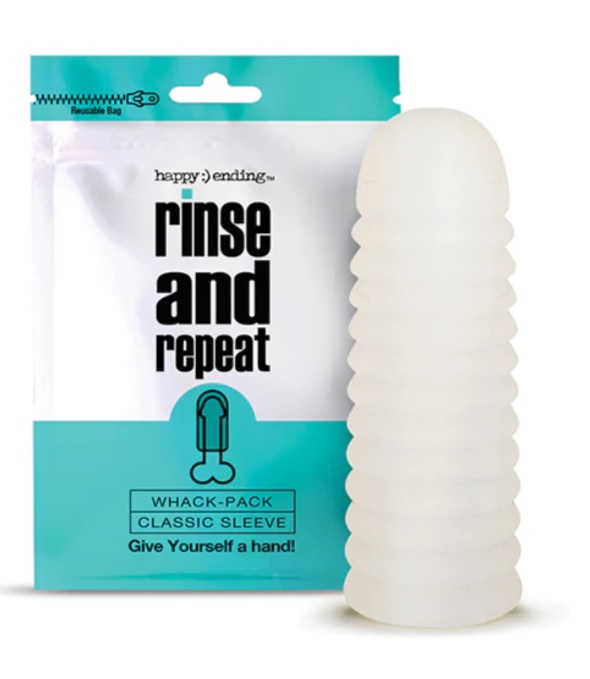 This rinse and repeat whacker sleeve does exactly what it states: you lube and stroke and then simply rinse and repeat or call time out.
Very stretchy and super soft, it's almost 4″ in total height so it won't fully engorge all shafts but for under ten dollars, with some additional warm lube which can be silicone or water based, it's certainly affordable and will last some rounds as it's designed to.
Ribbed from just below the crown and then all the way down, the Whack sleeve impersonates the throat more than the vulva and is reversible so the more angular ribs on the outside can be used for pleasure to and it comes in a semi-translucent sleeve.
PROS
Affordable gift

Comes with resealable storage pouch

One size fits all
CONS
Unsure as to its durability

Only 3.75″
3. Rinse & Repeat Whack Cuff sleeve, open ended by Global Novelties LLC
Material: Bodysafe & phthalate free
Inside depth: 2.5″
Inside girth: 2″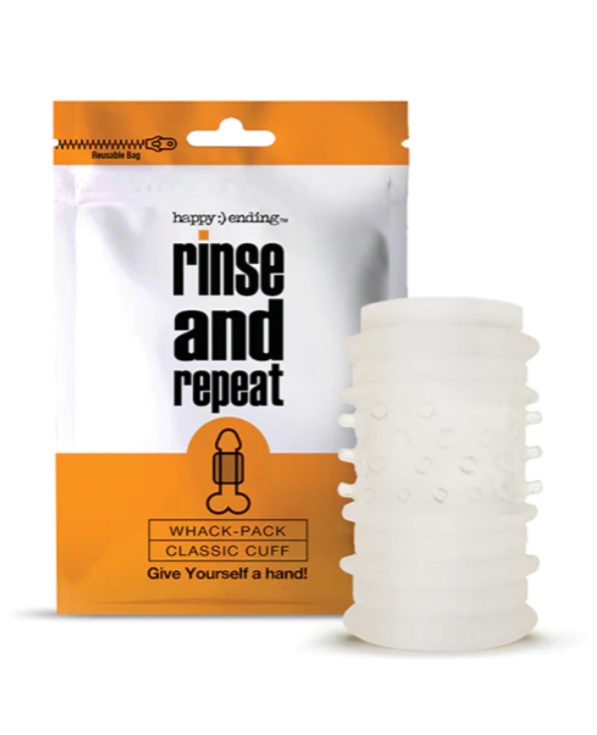 Unlike the Rinse & Repeat Whack Sleeve, the Rinse & Repeat Whack Cuff is open ended so you're free to slip and slide it up and down from crown to base.
Like its cousin above its pretty self explanatory: lube, stroke, rinse and pause or get back to it.
There are two noticeable differences though.
One, it's shorter at only 2.5 inches.
Two, it's a little wider at 2 inches.
Resembling more a sea creature with protruding wobbly bumps and the occasional ring, rather than a ribbed throat, your pleasure levels will still be titillated in a different fashion.
Don't expect a throbbing, gushing, fully realistic pussy engorging experience like the Fleshlight Thrust, but it'll still tickle the senses.
Global Novelties LLC do make just add water sleeves which are very similar in 3 designs: one covers top and mid-shaft, the other is open ended and one is egg shaped designed to fraternize the frenulum.
The only difference here is as it states: you just add water as the sleeve is made of their "revolutionary self-lubricating material" – priced a dollar forty more.
PROS
Price

Textured and reversible design

Comes with resealable and reusable storage bag
CONS
Straight forward pocket pussy
4. Krakatoa Stroker by Evolved Novelties INC
Material: TPE, phthalate & latex free
Inside depth: 2.1″
Inside girth: 2.1″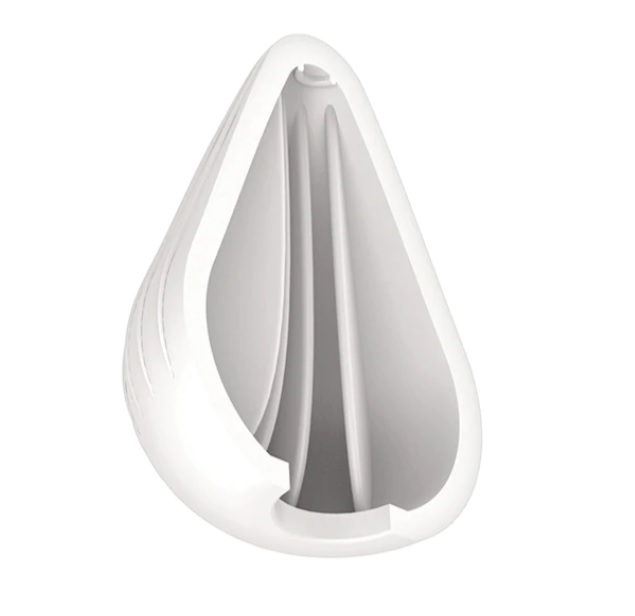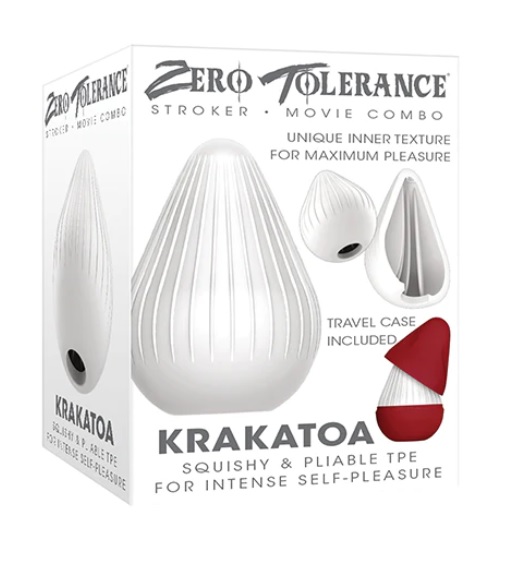 Looking for some seismic eruptions?
This $10 pocket pussy head stroker comes with a 5 year warranty so Evolved Novelties INC must be confident of their low priced semi-love tunnel.
Volcano shaped with pleasure flaps, this travel friendly, thin walled pocket pussy comes in a durable ABS plastic maroon case.
Quite different as love tunnel patterns go, this follows the grain with vertical flaps.
PROS
5 yr warranty

Good travel buddy with case

Unique climax flaps

Easy to clean
5. Yes Strokin It Masturbatory by Si Novelties
Material: TPR
Inside depth: 6″
Inside girth: 1″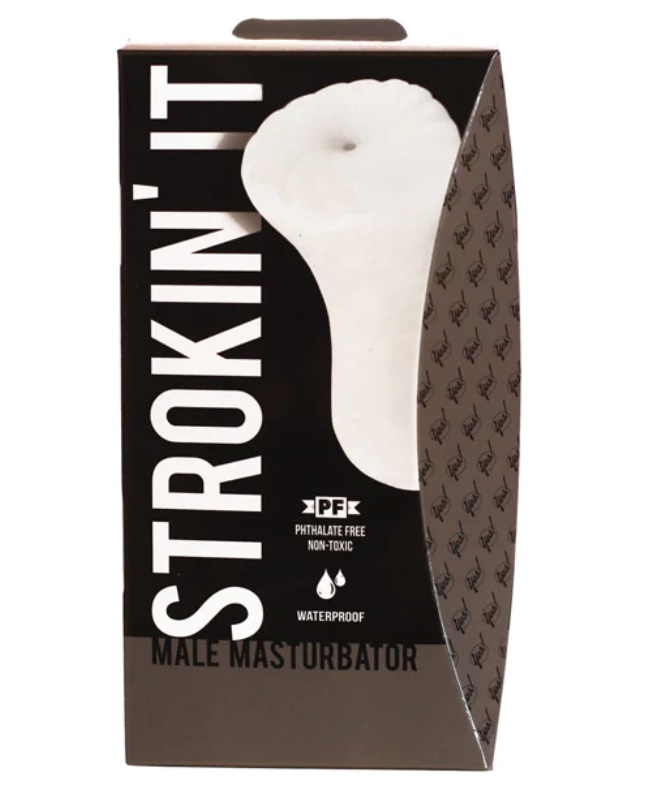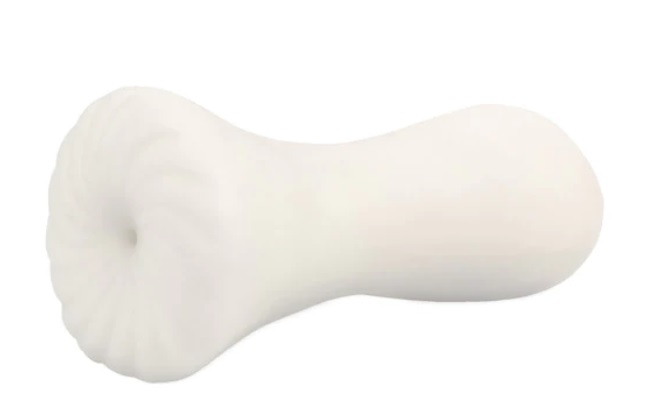 This six inch slip and slide stroker has a swirly opening with an entrance akin to a tiny butt hole.
A 3″ (not 6″) version is sold on Amazon for the same price with mixed reviews.
Obviously being white it will gather some usage discoloration after a few rounds.
That said it's easier to clean than a love tunnel without two openings but you can't flip it inside out as that would ruin its structural integrity.
PROS
$10 for a 6″ stroker

Tight

Double entrance
6. Get Lucky Quickies Ridges & Knubs Pocket Pussy by Thank Me Now INC
Material: Skin safe
Inside depth: 5-6″
Inside girth: 1.5-2.5″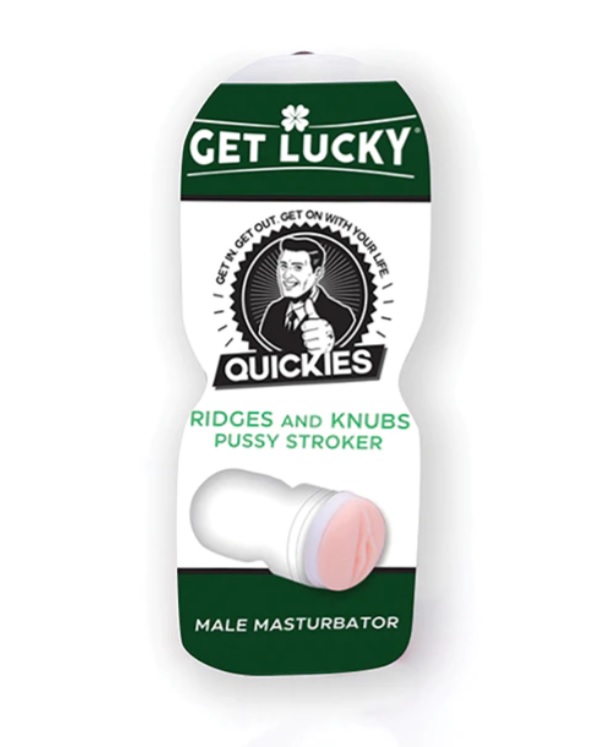 This knubs and ridges cheap pocket pussy by Thank Me Now measures in at roughly 5 to 6 inches, it features a ladies front orifice and the sleeve is removeable to help with cleanliness.
Get Lucky's love tunnel is lined with knubs and ridges as per its title but the product doesn't go into any further detail and while available at Joy Love Dolls at the cheaper price, it lacks reviews and any inside measurement specifications.
As far as drying goes, like most of the pocket pussies listed here, a lint-free cloth aka a microfiber towel is advised so as to remove any unwanted fluff.
PROS
Case + Sleeve under $13

Removeable sleeve
CONS
Inside dimensions not listed

Exact material not described
LATEST PRICE AT JOYLOVEDOLLS   LATEST PRICE AT PINKFOXXX
7. BlowYo Intense Ticklers Textured BJ Pocket Pussy
Material: TPE
Inside depth: 2″
Inside girth: 1″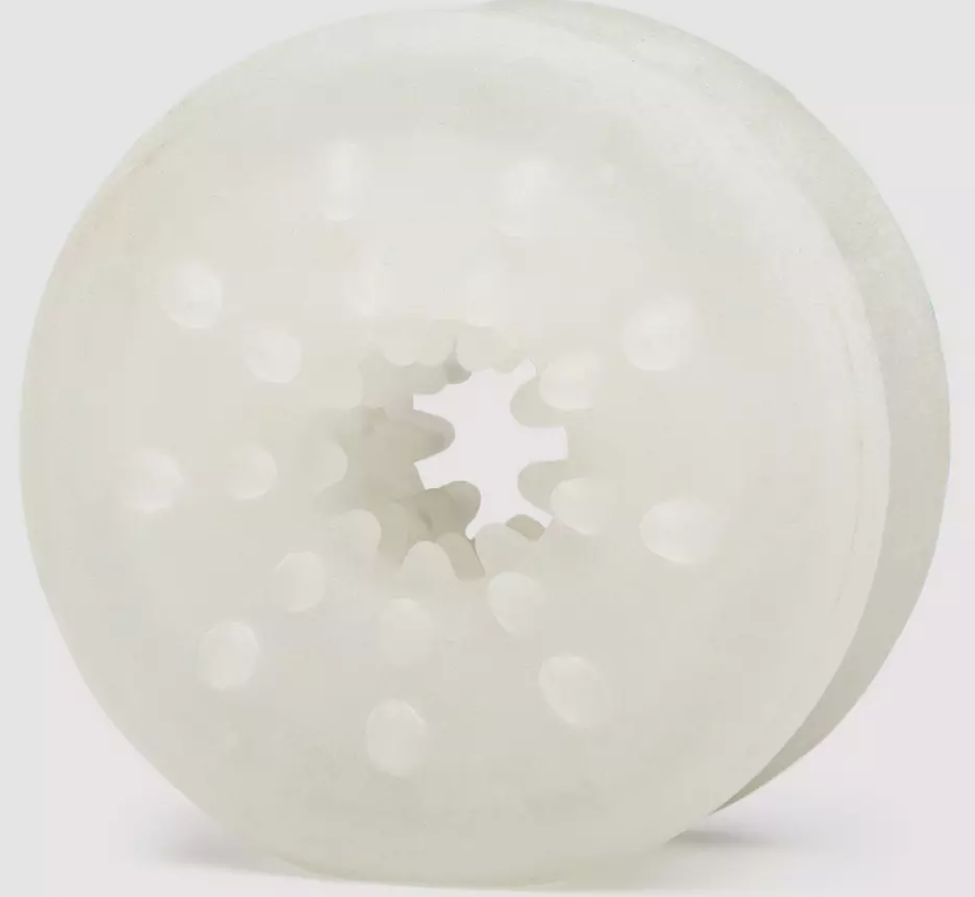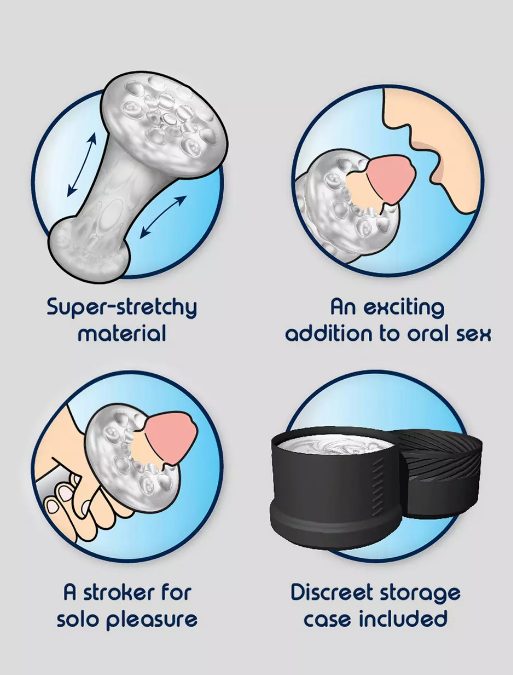 At only two and a bit inches in insertion length or closer to 6cm, the BlowYo is exactlty what you'd expect, except it is deceivingly wide.
The rings at both ends where you insert and pop-through are a little tough to stretch even though the outer circumference is soft and malleuble, so some lubing is definitely necessary.
Check the diagram below. As you can see it's designed for solo or use with another and it's down to your grip and twist whenever you want a tighter, firmer sensation.
Easy to clean given it's open ended and one of the few pocket pussies here to come with a case, the BlowYo, reduced from $30 to $9, is probably one of the best value for money designs listed here – although pleasure is always subjective.
PROS
A rumbly ordeal

Includes black storage case

Textured 360 degrees with soft shaped nurdles
CONS
Material attracts fluff

Some find tricky to hold
LATEST PRICE AT LOVEHONEY US   LATEST PRICE AT AMAZON
8. TENGA Egg Lovers Heart Textured Pocket Pussy
Material: soft plastic
Inside depth: 2.5″ with 12″ stretch
Inside girth: 2.5″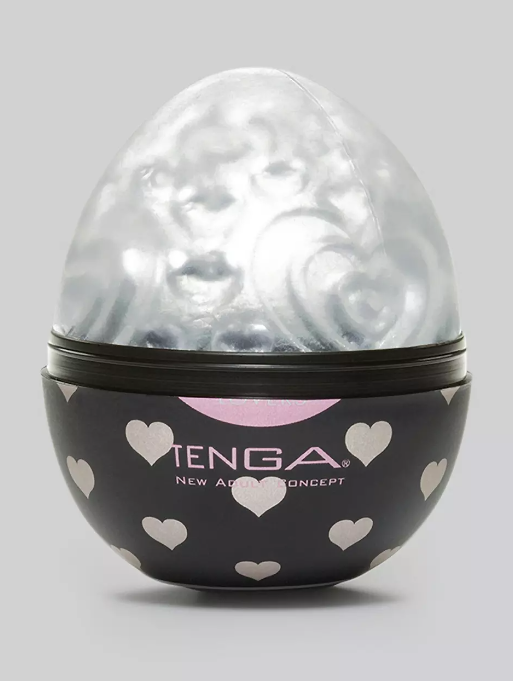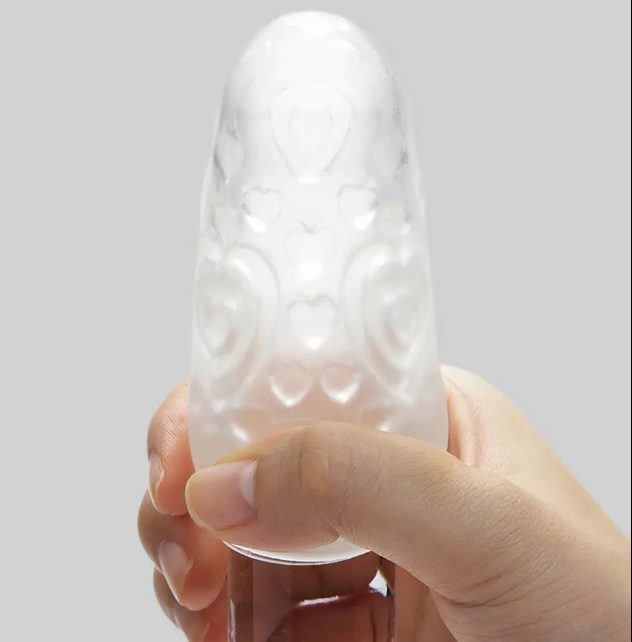 At only $9.99 Tenga's heart textured male masturbator is a cute little gift for the modern male.
It really just sits over the head and frenulum and is super-stretchy with heart shaped inner mounds for extra sensation.
A nice romantic touch for a getaway weekend, it will sit on your crown and over the top half of your shaft, with those convex heart shapes pleasuring away, while it can actually stretch up to 12″ apparently.
A Japanese sex toy by creation, it pops on like a condom and if treated well – i.e a good pocket pussy cleanse and a thorough dry of your stroker afterwards and constant lubing – it will last more than its single-use design.
It also comes with a free sachet of lube. Not bad for 10 bucks.
PROS
Easy to use

Soft, realistic, comfortable feel

Fits all sizes
9. Zolo Original Pocket Stroker by Xgen
Material: TPE Phthalate free
Inside depth: 5.7″
Inside girth: 2.5″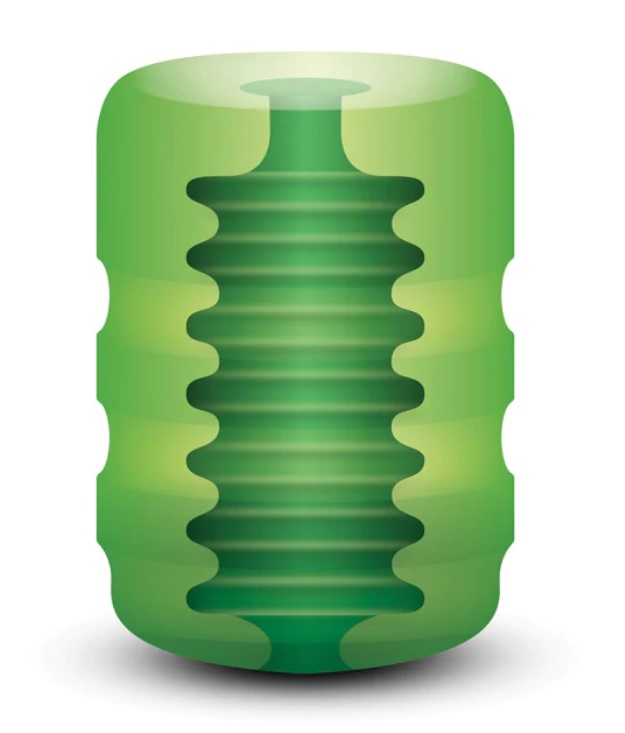 This beaded rib textured original pocket pussy by Zgen is created to maximise oral play through a green, luminescent open ended stroker.
Designed for quickies or more drawn-out affairs, being open both ends you can still receive head while pleasuring the shaft, with more intensity in conjunction with a water based lube.
It's advised not to be cleaned with an alcohol or an ammonia-based toy cleanser.
Zolo also provide the Zolo Girlfriend Pocket Stroker which is textured internally more like the vulva – same price.
PROS
1 year warranty

Soft & supple

Stretchy

Unique crystal green transparent pocket pussy
CONS
Smaller than expected

Too stretchy
Update 02/17/23 – only fire red available for now at The Enhanced Male
10. Blush M For Men Stroke Sleeve
Material: TPE
Inside depth: 5.5″
Inside girth: 1.25″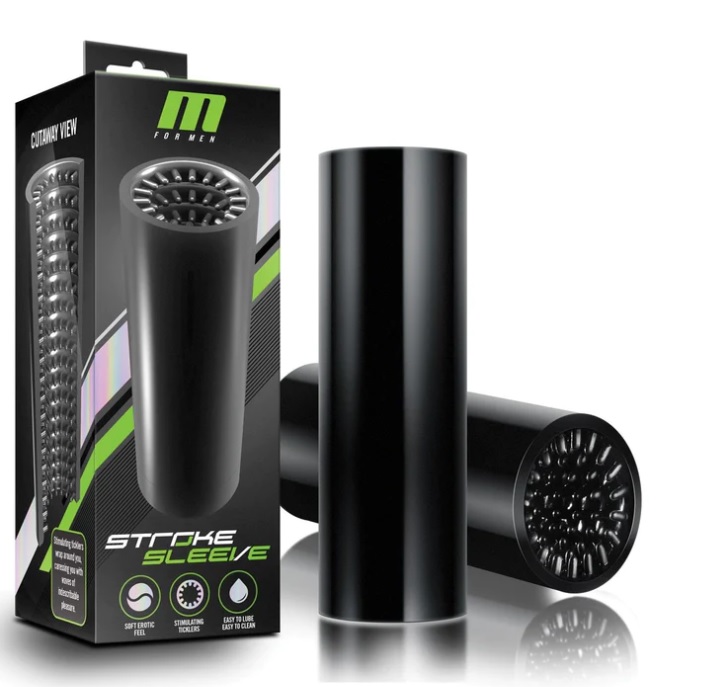 The Blush M for Men is quite a rare pocket pussy to be found now, but began life as one of the few strokers around the $10 mark.
Delivering a soft erotic feel, with stimulating ticklers, it's a reversible sleeve not at all dissimilar to Lovehoney's interchangeable double stroker.
Lube is definitely advised which will compliment the ventholes function of increasing or decreasing the pressure within.
Encased in a black case from Adam and Eve or transparent on Amazon, they are priced one dollar apart.
Both are textured with a tower of throaty ribbed rings all lined with a millipede of pleasure bobbles.
PROS
Pliable material

Easy to grip
CONS
Vent holes are screechy

Unnatural texture

Small & tight
LATEST PRICE AT AMAZON   LATEST PRICE AT ADAMSTOYBOX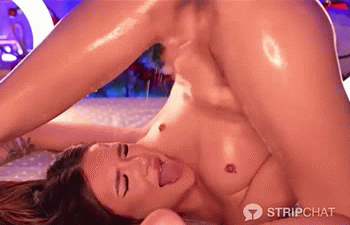 11. Showgirl Pocket Pussy
Material: Pureskin TPE/Silicon
Inside depth: 4.75"
Inside girth: 2.25"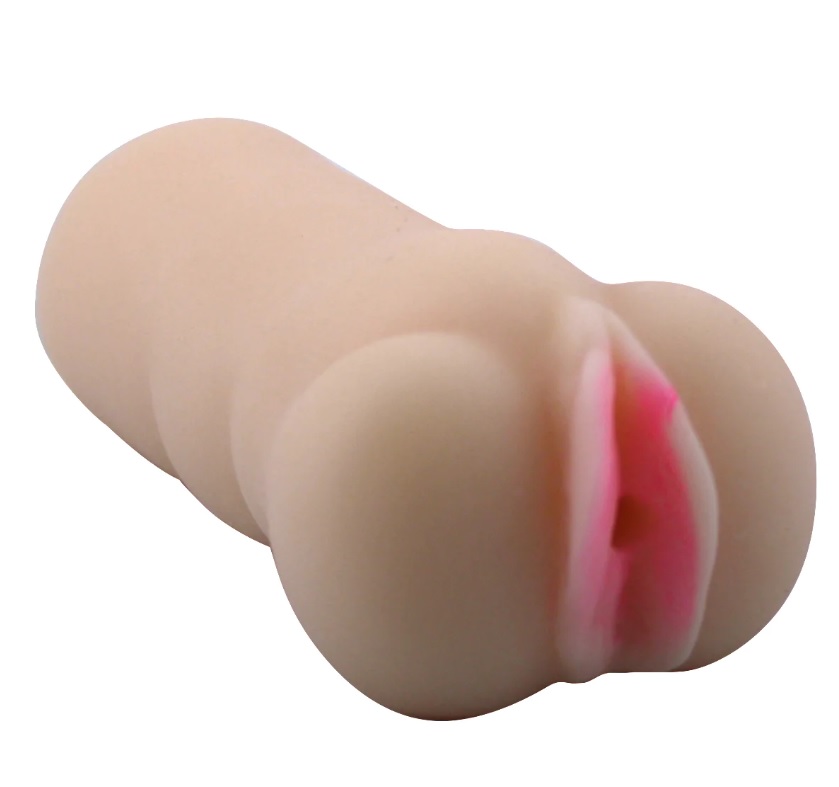 This affordable pocket pussy begins with a vulva shaped opening with a tiny stretchy entrance leading into a lifelike inner chamber and measures in at almost 5 inches, so it will house most of your schlong.
If this is your first stroker and you're not too well endowed, it should do a fairly decent job although when it comes to plunging yourself into a real McCoy Fleshlight versus this Showgirl Pocket Pussy – you might say the Showgirl is more of a novelty item.
PROS
Better than expected

Good feel fully engorged

Decent texture for the price
CONS
Not for folks with a long unit
LATEST PRICE AT VIBRATORS US   LATEST PRICE AT AMAZON
12. Lovense Max 2 realistic replacement sleeve
Material: soft plastic
Inside depth: 6″
Inside girth: 1-2″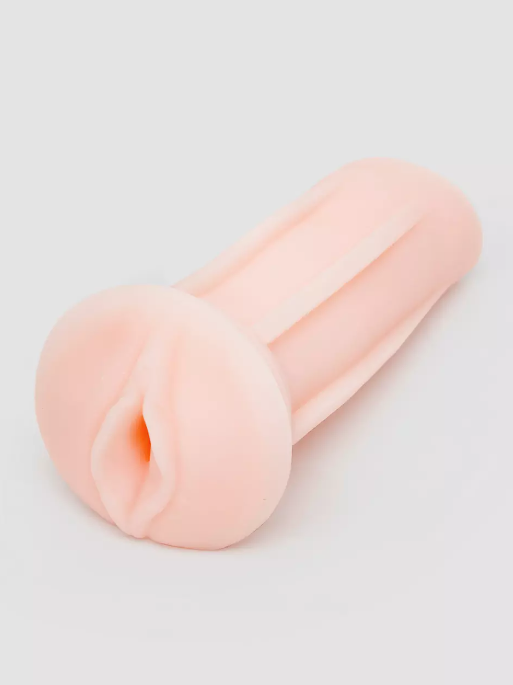 Do you love your Lovense Max 2? (it's an automatic male masturbator), but fancy a different kind of sleeve inside or would you rather just pick up a sleeve at a fraction of the cost of a complete Fleshlight sleeve and improvise your way to glory.
Either way, Lovense's Max 2 replacement sleeve is a perfectly respectable love tunnel, given the price is currently only $13.99 and with a little ingenuity it shouldn't be too hard to find something snug to fit it into.
You can try one of these homemade Fleshlight case designs – or pick up a cheaper one at one of these cheap Fleshlight case locations, or simply free-style and use it without the case.
Unlike most of the anatomical orifices listed here, the Lovense Max 2 replacement sleeve actually has a smooth vaginal opening so no need to use your imagination!
PROS
Great value for money for a sleeve

Textured inner canal for max sensation
13. Lovehoney's Head Master double textured BJ pocket pussy
Material: TPE
Inside depth: 2.5″
Inside girth: 1″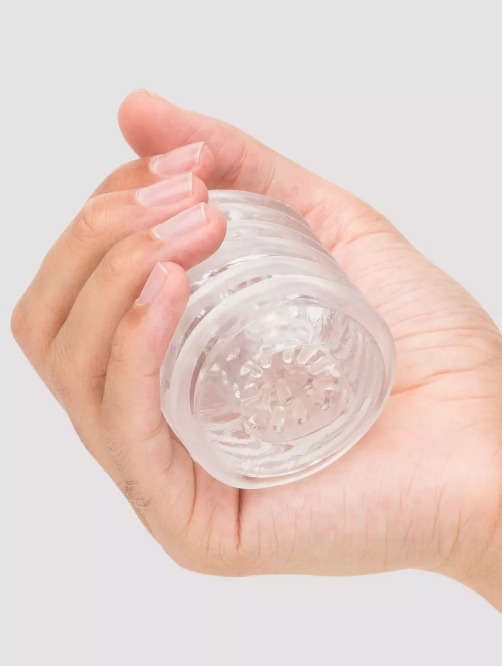 The term "BJ pocket pussy" might in itself be an oxymoron but this little friend of yours will travel easily at only 2.5 insertable inches and is designed to replicate a solid deep throat experience alongside a vulvic encounter.
There are two linings inside. One provides intense stimulation while the other offers a smoother ride with a lifelike texture.
It's not your Fleshlight turbo as one reviewer adds (at more than double the price) but that would be comparing apples and pears.
As a portable pocket pussy goes, it's discreet and twinned textured for versatility, while open ended so it will accommodate all male phalluses.
PROS
TPE sleeve

Good for stamina increase

Fits and grips small to medium size erect penis's perfectly

Reversible option gives bit of freedom to mix it up
CONS
Awkward to hold after lubing
14. A rare stretchy pocket pussy for FTM guys by Calexotics
Material: Soft stretchy plastic
Inside depth: 2.5″
Inside girth: 1″ roughly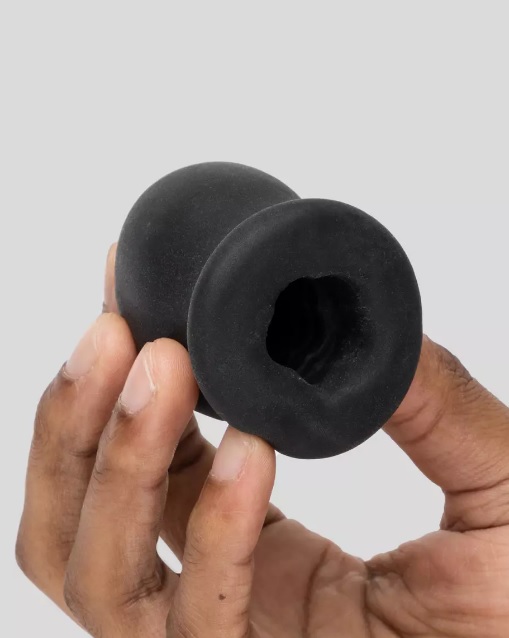 Sex toys for FTM guys are still pretty sparse when you you compare what cis guys have on offer, but Lovehoney's stretchy FTM stroker is one of the first pocket pussies to tackle FTM pleasure and is also used by cisgender men as a pleasure buffer, hence its inclusion.
For T-enhanced clits slash small dicks, it gets modest reviews.
Some say it's too wide to be able to grip bottom growth properly while others with more girth are able to benefit from it's softness and inside texture.
Not dissimilar to the Buck-off Official Buck Angel in design (but without the vibrating bullets of the Buck-Off 3-Speed Bullet Vibrator) and at half the price, if this is your first FTM stroker and you want to try out a cheaper bottom growth toy to learn whet the sensations might be like – at the lower end of the quality spectrum – this stretchy FTM stroker should deliver you some pleasure.
PROS
Use lube to make it 3 times better

Very soft material

Feels similar to skin around a vulva or anus
CONS
Too soft & squishy for some anatomy's

Slightly larger opening than most FTM strokers
15. TENGA Original Vacuum Deep Throat Onacup – Pre-lubed & ready to roll
Material: Soft plastic
Inside depth: 5″
Inside girth: 1″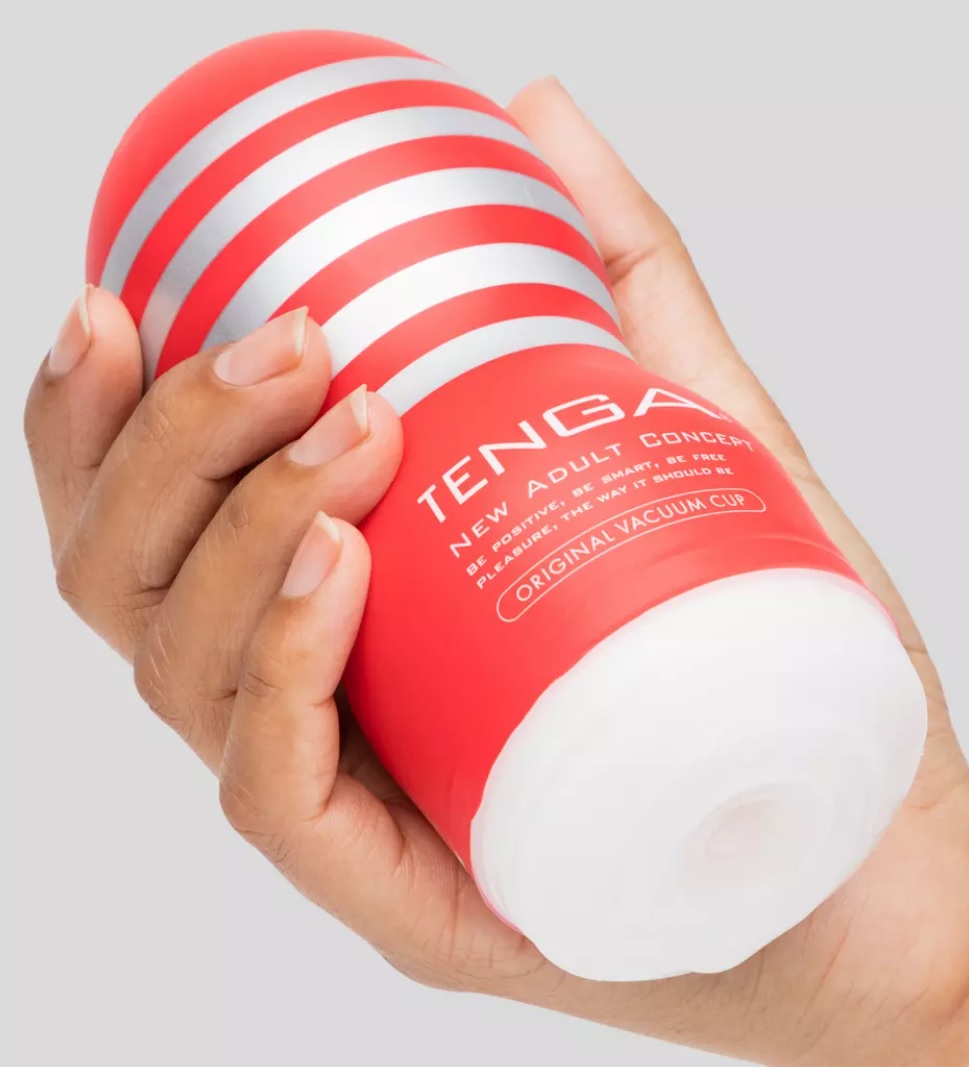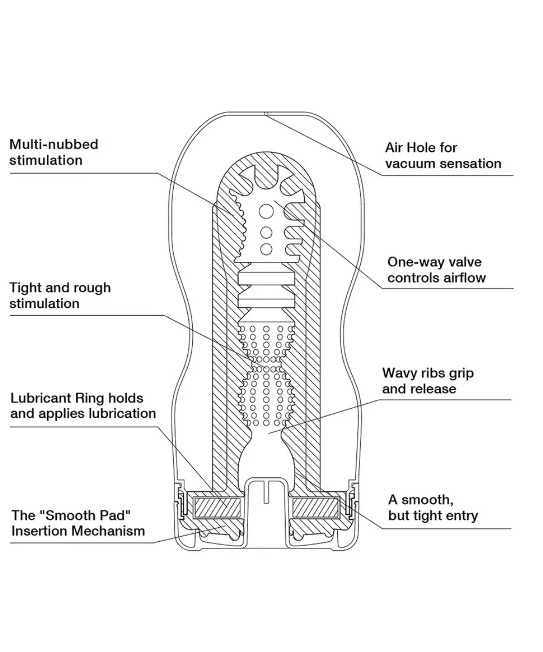 Like the Head Master above, Tenga's original vacuum pump onacup, was one of the Japanese companies first male masturbators and is again here to provide you with a one-off deep throat rib-liscious ride.
Unlike the Head Master though, this pocket pussy is for one-time use only and comes pre-lubed, so you probably won't be recycling this pleasure toy.
That said, you're mileage may vary and strokers do go passed their use-by date, but they'll need to be treated with some hygienic TLC.
Alternatively, the Tetra Spinner can be used like a normal reusable pocket pussy or the Tenga Air-Tech – $26.99 and $21.99 respectively.
As of now, Tenga don't have a reusable pocket pussy for under $20.00 – aside from the Eggs, which don't fully engorge without stretching.
PROS
Easy to use & tight

Great texture

Pre-lubed & ready to go
16. Lovehoney Heads Up Clear Textured Stroker Pocket Cup
Material: TPE
Inside depth: 5.5″
Inside girth: 1-2″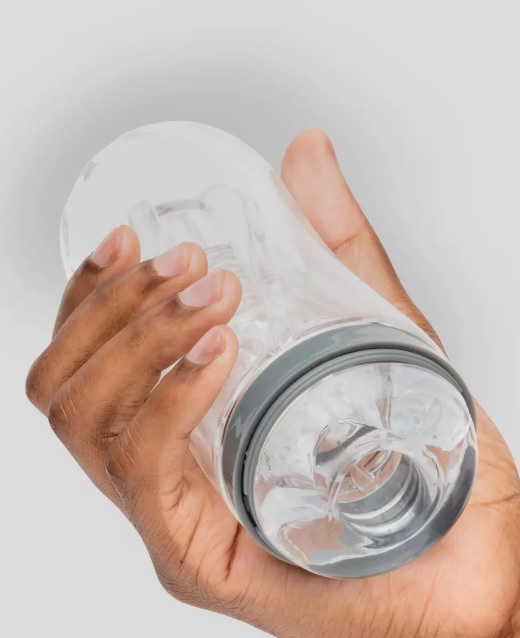 At half price and the fact you can see through it, makes this new pocket cup/pussy a very fun addition although there are a couple of pointers to note.
If you are wide then this could be a struggle – as one partner noted: she'll pass it onto her ex, and there is a silver ring on the outside which will impair its stretch, however others concur this helps keep it's shape and can be used in a fixed pocket pussy mount.
Tip: give it a good squeeze to reduce the vacuum before diving in, however having a vacuum pressured translucent pocket pussy at this price is a novel addition and is its clear selling point, so once in – give it a few good squeezes to ramp up the pressure.
Another suggestion is it definitely compliments a tingly or warming slash warm lube.
It's a bit fiddly at first with the air getting trapped inside but after a few squeezes it will loosen up and will feel pretty bloody great.
PROS
Good for edging

Great stroker for the price

See-through with built in vacuum
CONS
Vacuum takes a bit of getting used to
17. Tracey Cox EDGE Good Head Mini Pocket Pussy
Material: lifelike ULTRASKYN (soft plastic)
Inside depth: 5.5″
Inside girth: 0.75″
Best price: $16.99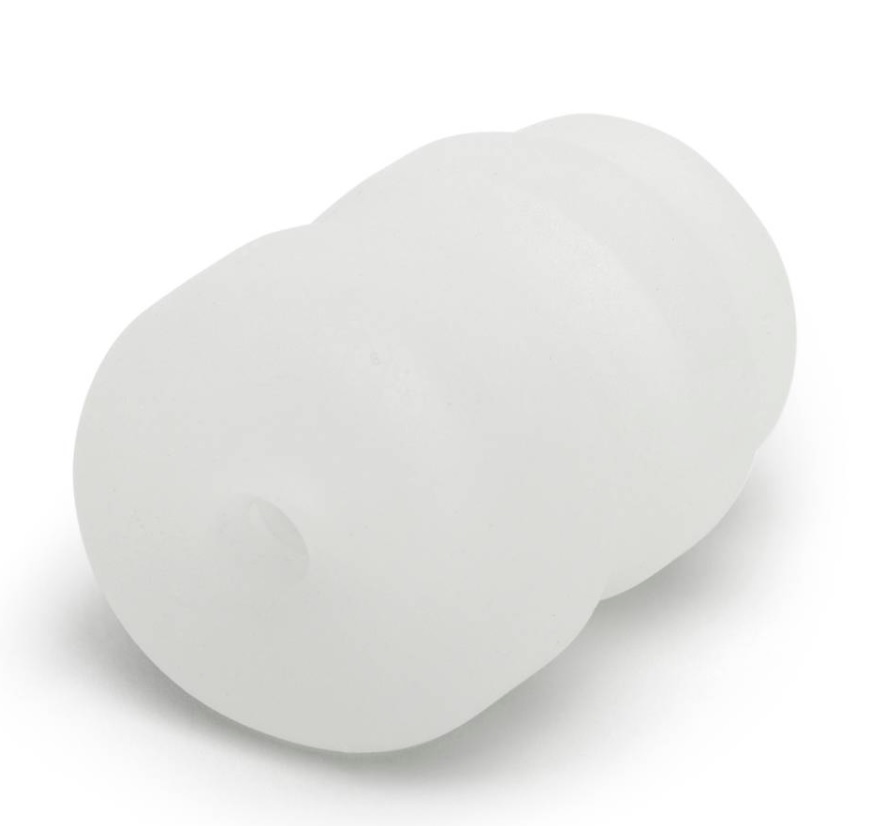 Good for bumper sex – to stop you fully penetrating, this head stroker which essentially slides all the way down to the base also comes with an intimacy step-by-step guide by Tracy Cox.
You can download the Tracey Cox EDGE Stamina App at Apple or Android, which was released way back in 2014 and gets updated every now and then.
It essentially trains guys how to last longer by acquiring the skills of "peaking" while climaxing solo.
In essence it's a masturbation stopwatch that comes with a 2 week training regime with tips and techniques.
Anyway, it's a good beginners model that's easy to use, easy to clean and is far better than the hand and can be carried around.
PROS
Very soft

Mild clit suction

Professional design & easy to use
CONS
Needs lube to warm up elasticity

Not the largest
18. Lovehoney's Super Bubble Textured Stroker
Material: TPE
Inside depth: 5″
Inside girth: not specified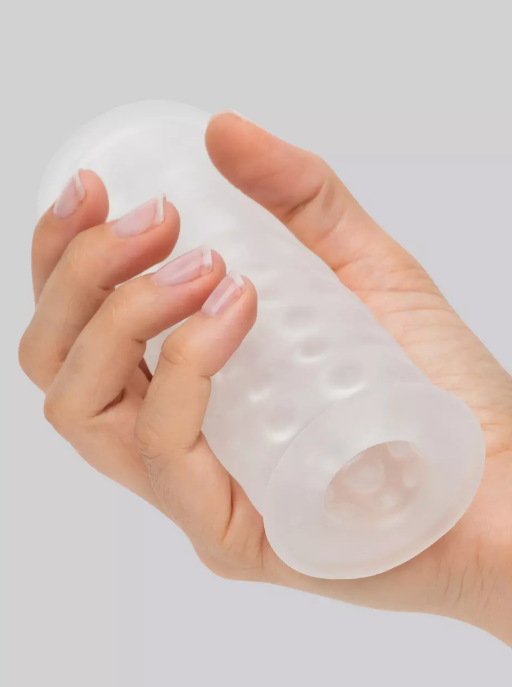 At only $6 this stretchy penis stroker eclipses the hand for starters, with a bumpy bobbly texture of 5 sweet translucent inches which will slide up and down your codger nicely and all the better enhanced with some water based lube.
You can't go wrong at this price so don't expect it to be quite as pleasurably efficient as the Go Torque for example – one of Fleshlights best cheapest models, but it does what it says on the tin – and some!
If this is your first attempt at a stroker, it's a nice smooth soft texture that loosens up after a little friction.
PROS
Open ended

Good for the smaller guy

Cheap and cheerful
19. Blush M For Men All In Clear stroker by Blush Novelties
Material: TPE Phthalate free
Inside depth: 6″
Inside girth: 2-2.5″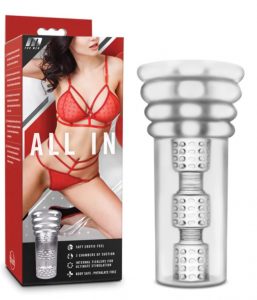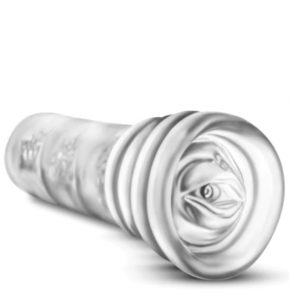 With an authentic oral entrance this 6 inch transparent love chamber by Blush Novelties contains 3 inner sections as one would expect through great oral: hot lips, a mouthy texture and then the ribbed larynx.
It will engorge a 6 inch manhood and as it's made of soft X5 slash TPE, both watery silicone and non-silicone lubes will compliment this pleasure toy.
PROS
Super soft feel

Open ended

Multiple chambers

Room for inserting vibrating bullet at either end

Easy to clean
20. 3 Piece Set – Head Master Triple Header Flexible Pocket Pussy
Material: Soft plastic
Inside depth: 2″
Inside girth: 1″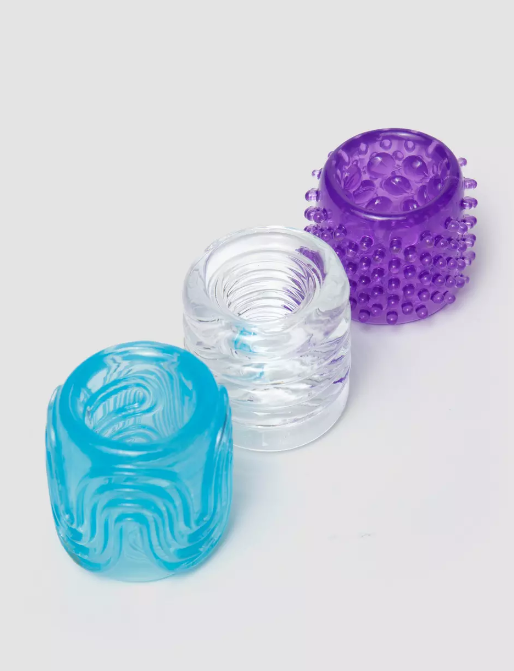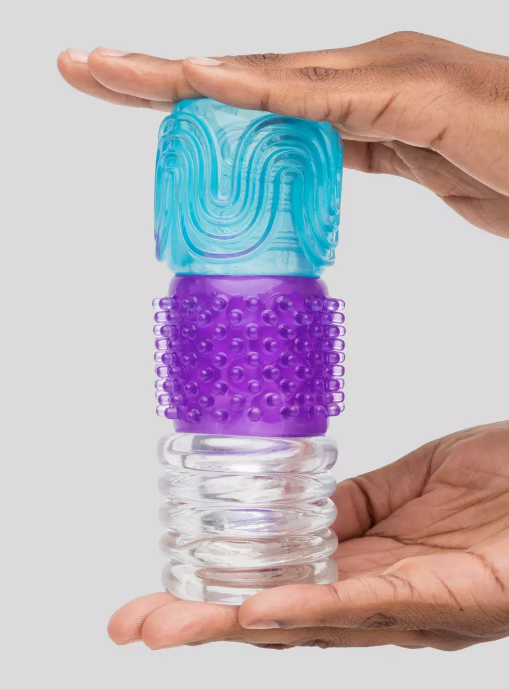 The Head Master Triple Header by Lovehoney as you can tell in the picture above comes with 3 very different types of pocket pussy textures – each designed to titillate the head of your member with some frenzied frenulum attention.
You can stack them as well as flip the textures around, so essentially – if you're a lengthy chap (more than 8″) you potentially have 9 different overall sensations (2.5″ x 3) of stroking to choose from.
You've got the purple one with a bubbly texture of small nurdles on one side and larger flatter bulbs on the other.
Then you have the ribbed translucent one, with finer ribs on the inside and larger on the out.
Finally, you have the strange looping spirally turquoise head stroker which is a pattern not often seen in pocket pussy love tunnels.
Similar to being ribbed but less throaty.
PROS
Good for ED (erectile dysfunction)

Multiple textures and

colours

 – to remember which you like

Slightly different lengths

Softness
CONS
Single use (lubed) have tendency to fly off your penis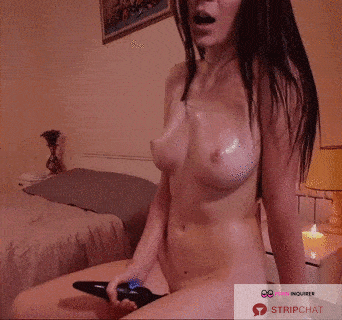 21. Satisfyer Men's Sleeve Pleasure Pressure Pocket Pussy by Eis INC
Material: TPE rubber
Inside depth: 7-8″
Inside girth: 1.8″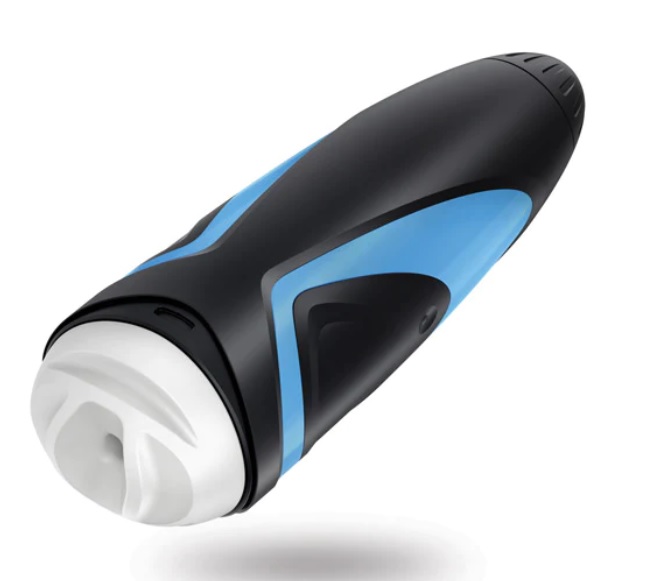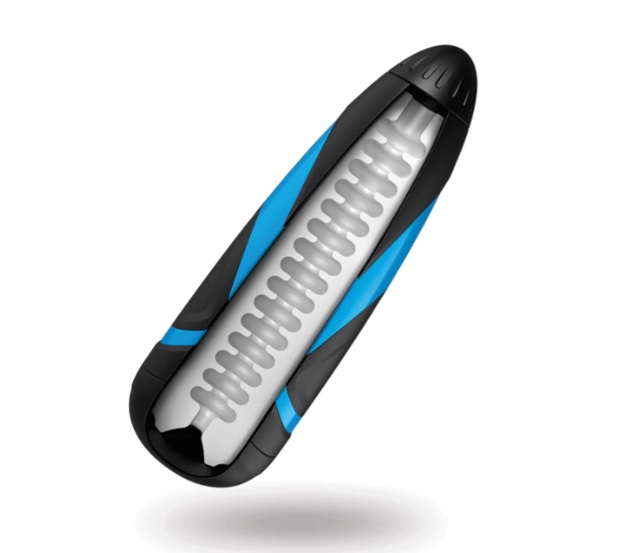 This spirally pressure pocket pussy is the longest pocket pussy listed here with its outside casing measuring 8.6″.
Inside depth however is still fairly formidable at 7 to 8 inches so definitely suited to the larger male.
The Satisfyer Men Sleeve Pressure Pussy is available in different sleeve textures.
Their swirly one on Amazon doesn't get great feedback, but this ribbed throat-ish lining at $20 more on Amazon but $17 cheaper at ToyHero, does a sturdier, more professional job as reviews stress.
This is not a battery powered pleasure chamber as some mistaken buyers have been disgruntled to find out – it is just a manual stroker.
Going on depth, reversibility & removability, it's a reliable pocket pussy for excellent climaxing.
PROS
50% cheaper at Toy Hero than Amazon

Removeable top & bottom screw caps

Deep 7-8″ depth suits longer males

Reversible ribbed sleeve

Discreet flashlight casing
CONS
Not battery powered as some are mistaken
22. The Original Zolo Cup by Xgen
Material: TPR
Inside depth: 6″
Inside girth: 1″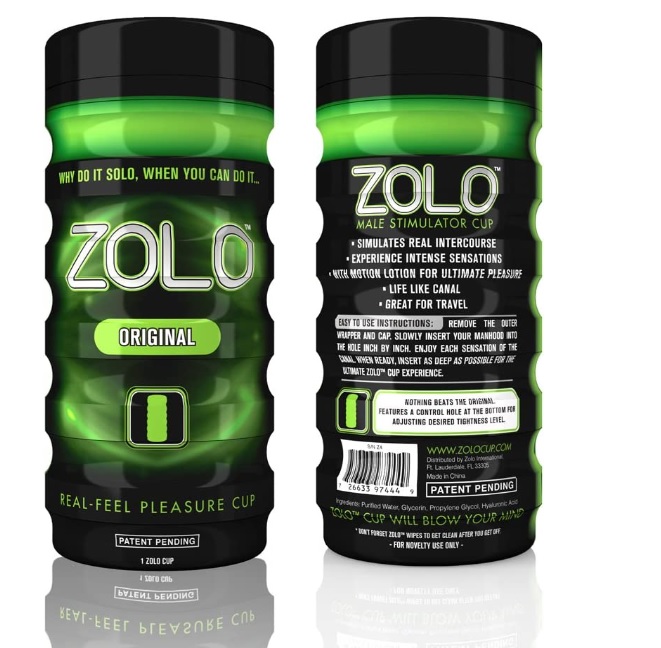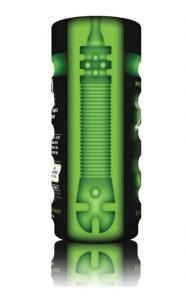 This green fleshy monster was the built with ergonomics in mind.
The case is designed to be gripped by the yours or your masters hand and once inserted you have 3 chambers to burrow through.
The first contains 3 large rings to pass with some bobbly bits, then a long ribbed chamber awaits and you finish off with a symmetrically quartered jigsaw pleasure section.
It's a triple whammy of luscious lubey fun that will not disappoint.
You can adjust the suction using your fingertips over the two holes on the side of the case.
PROS
One year warranty

Transparent green visual viewing

The original Zolo cup soon to be discontinued so one for the collectors too
CONS
Takes a bit of time to thoroughly clean

Won't last as long as a legitimate stroker – 1 month approximately
LATEST PRICE AT COED STORE   LATEST PRICE AT AMAZON
23. Boundless Stroke by California Exotic Novelties
Material: Life-like pure skin
Inside depth: 5.5″
Inside girth: 2-3″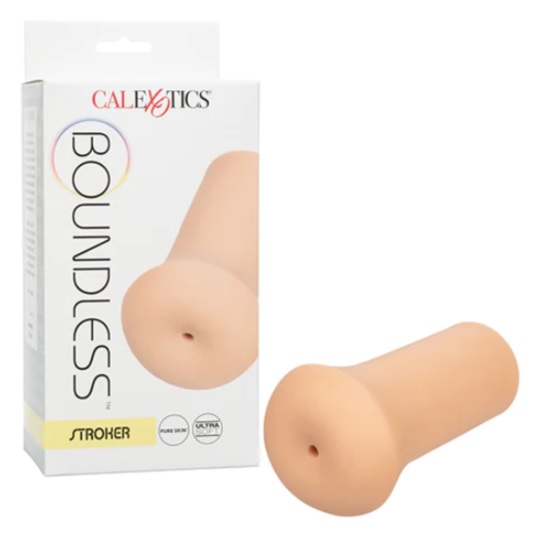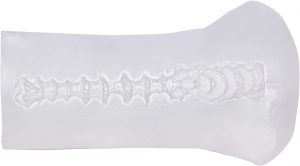 A very tightly ribbed chamber, you can just about see on the packaging image just how narrow it is, but it is also super soft and very stretchy.
Five point five inches from base to tip, stretchable girth is not specified but overall width falls just under 3″ so wider members should be more than accommodated.
California Exotics' boundless pocket pussy has a multi textured chamber for varied satisfactions and is available not just in an opaque white but a light and dark tanned skin tone.
PROS
Slick looking stroker

Tight throat texture

Closed ended for superior suction
24. Rinse & Repeat Classic Pussy
Material: Bodysafe & phthalate free
Inside depth: 6″
Inside girth: 2.5″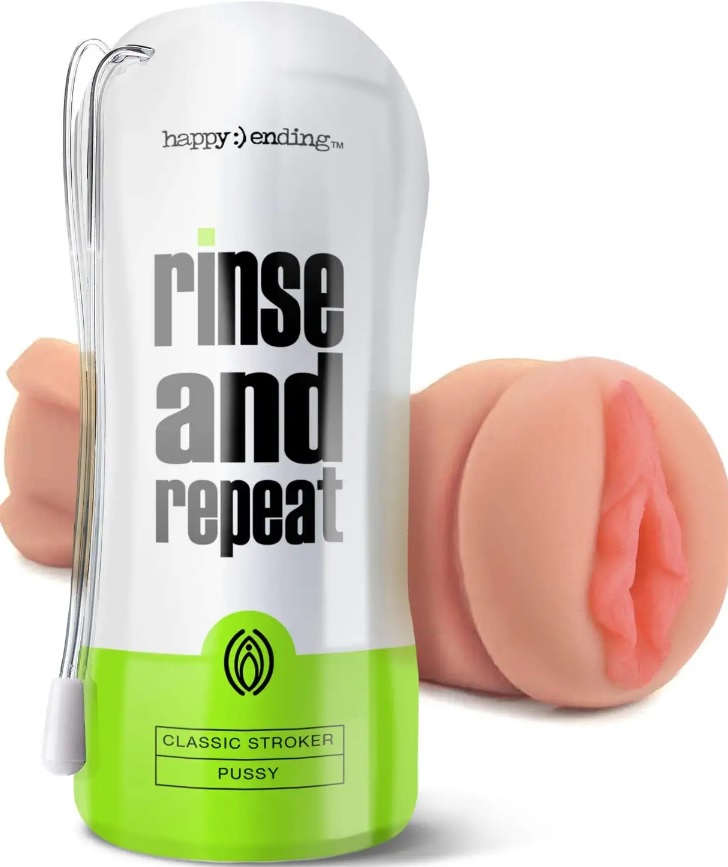 Unlike the Rinse and Repeat models by Global Novelties LLC at under $10, this more expensive stroker at $19.49 is an improvement in sleeve length and overall quality.
The tunnel is more tightly textured, you can adjust the suction through two airflow holes and you can use it with or without the casing.
The entrance is vaginal unlike the cheaper Rinse and Repeat models which are androgynous open ended cheaper designs, but most importantly it has a 6 inch depth, not a 2.5 inch submersible orifice and has the feel of a proper stroker.
PROS
Lubes nicely

Available in pussy, arse & mouth (pink or opaque)

Easy to clean

Squeezable cup

6″ Rinse and Repeat not 2.5″

Long lasting stroker
CONS
Unclear of love tunnel pattern, appears to be stacked slash ribbed
25. Mstr B8 Clear View Stroker by Global Novelties LLC
Material: TPE
Inside depth: 6″
Inside girth: 2.25″
Best price: $19.49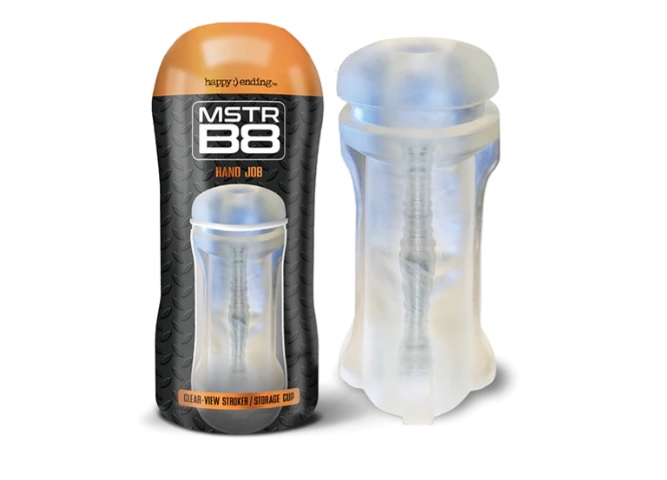 A good sturdy stroker, measuring in with a depth of 6 inches and a width of 2.25″, the Mstr B8 model is a pocket pussy sleeve in a cup stroke case.
Delivering some frenzied frenulum stimulation at 6 inches it will massage almost most entire shafts.
Rather anthropomorphic in design, it's sculpted with a blue-ish transparent bulbous head with the sleeve housed in the case it arrives in, although not the most subtle of containers so you may wish to park it somewhere discreet.
Definitely lube this bad boy with a slippery watery choice of your own.
PROS
An average mans depth

Most durable cheap pocket pussy under $20

The closest replica to a Fleshlight model – perhaps the Thrust
26. Chocolate Curve Novelties' Home Grown Delicate Daisy
Material: TPR Ultra premium lifelike BioSkin
Inside depth: 4.25″
Inside girth: 2.25″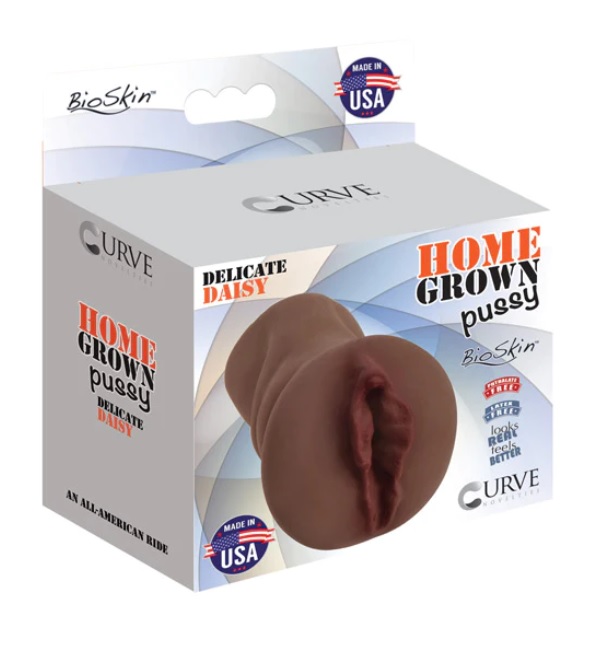 There is definitely a dearth in skin tones and for now under $20 Curve Novelties have created their own (and one of the few) homegrown chocolate pocket pussies called Daisy.
By homegrown, this lifelike Bioskin pussy is actually handmade and hand painted so there's nothing ubiquitous about these pleasure chambers – they all have their own hand crafted pleasure signature.
With a compact, tightly ribbed pleasure tunnel, it's open ended so easy to cleanse.
It's recommended that you use Daisy with a watery silicone lube for best effect!
PROS
Specially soft bioskin

Use with watery silicone lube for ultra slurpiness

Handles girth well
CONS
4.25″ insertion length so a bit on the short side
27. Dual Power Vibrating Masturbation Sleeve
Material: TPE
Inside depth: 4-5″ roughly
Inside girth: 1.1″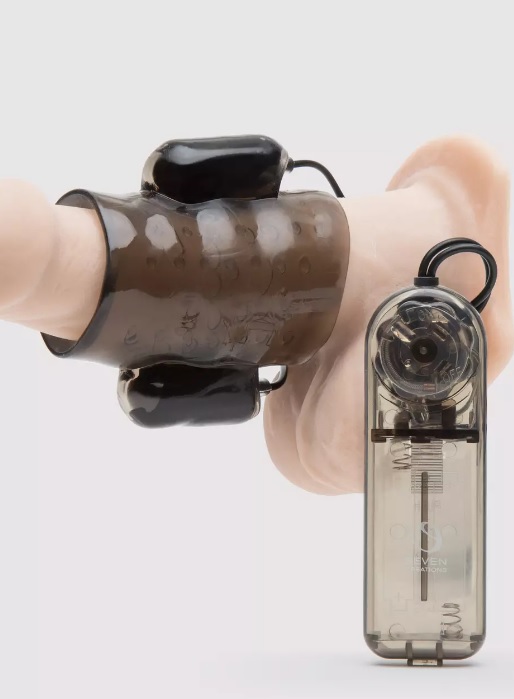 Ok, so it's not your typical pocket pussy but at the reduced price of $19.99, this vibrating cock sleeve adds a new dimension to the pleasure department as it vibrates your fella at a fairly good tempo.
Don't expect titanic vibrations like those of the Handy or Keon or quite the turbulence of a pulsating cock and ball ring, but a steadier ride with the power adjusted through the scroll wheel.
The bullet vibrators can be controlled independently so there is room for diversity with you or your partner.
Suits longer guys perhaps more than shorter fellas as at 4-5″ it's quite a long open-ended sleeve.
That said, while some more versed vibrating cock sleeve enthusiasts don't rate it astronomically high, there are many reviews that suggest otherwise, specifically those that lube to the max and then lie back and reap those pulsations!
PROS
Material & vibes

Fairly strong vibrations

Easy to clean, detach batteries and wires and rinse under tap

Snug fit
CONS
2 x AA batteries not included

Only speed settings – no patterns

Not throbbing
28. Lovehoneys Reversible Double Textured Stroker (Available in XL)
Material: soft plastic
Inside depth: 5.75″ – 7.5″
Inside girth: 1″ – 1.5″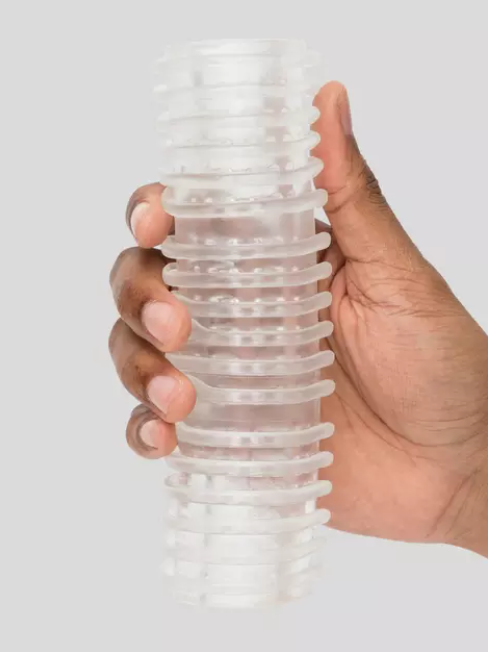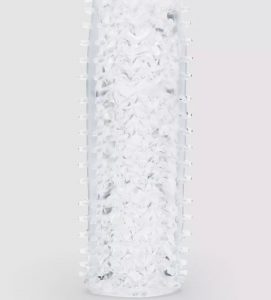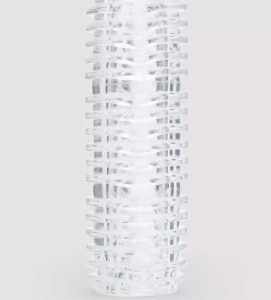 Scrapping in just under the $20 mark, Lovehoney's reversible double stroker is described as an intense tickler – one that tickles the whole shaft and not just the frenulum, the most sensitive part of your codger – with twin textures, hence its interchangeable sensations.
Resembling an ornate translucent looking object, this double tickler is closed at one end which means you can experiment with suction based on the amount of watery lube you apply and the small air whole that you can place your fingertip over.
Plus it has a nice ribbed canal which stretches to accommodate the length of members over 7 inches in XL models which are priced the same.
PROS
Nice addition to your party draw

Intense frenulum tickler

Good warming up device

Lightweight & a lovely lubed feel
CONS
Bit tight for the wider male
LATEST PRICE AT LOVEHONEY US   LATEST PRICE XL AT LOVEHONEY US
29. Open ended Dorcel Deep Stroker
Material: Silicone jelly
Inside depth: 5.7″
Inside girth: 1.8″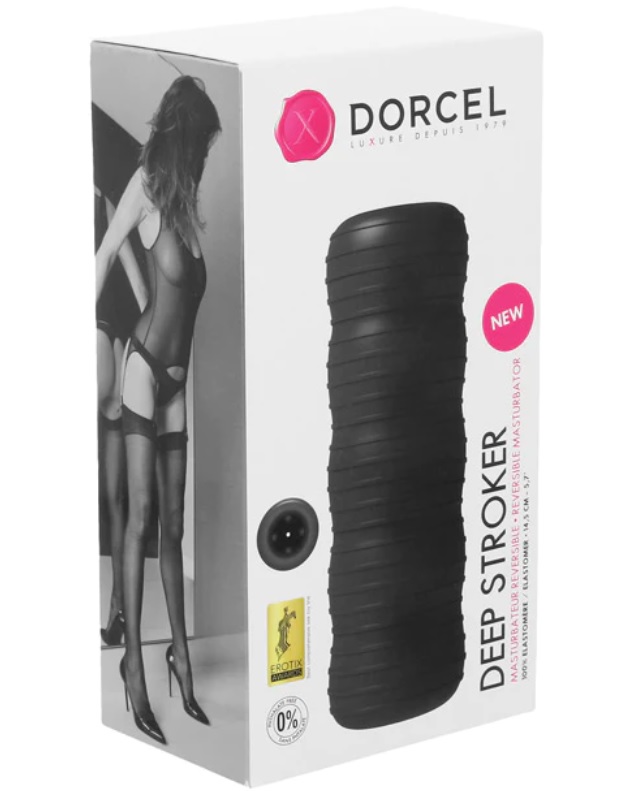 A reversible deep stroker by Dorcel, its inner sleeve is layered with bumps and ribs and when stood upright resembles a Dalek from Dr Who, that is open ended at almost 6 inches long.
It's very stretchy and can be seen in more detail in this French review on Pornhub – graphic site.
Available on Amazon UK but not Amazon US, COED Store do stock it at the same price.
Remember to use a non-silicone water based lube as this time their reversible and removeable sleeve is made of silicone.
PROS
Silicone sleeve

Reversible + removeable sleeve
30. Doc Johnson Super Sucker Masturbation Sleeve
Material: lifelike ULTRASKYN (soft plastic)
Inside depth: 5.5″
Inside girth : 0.75″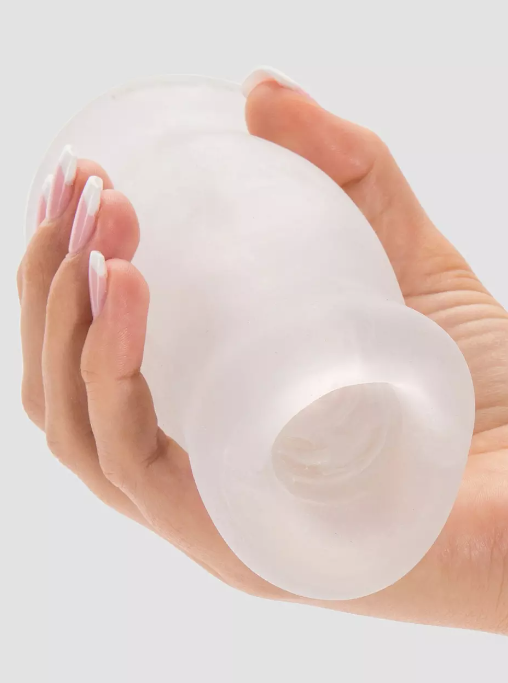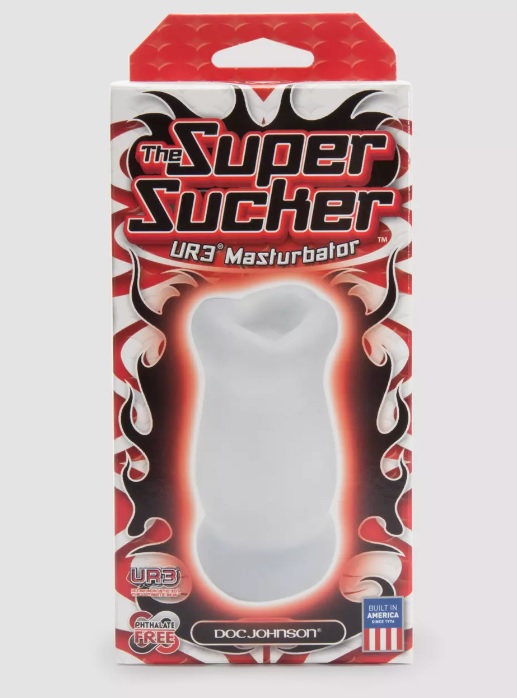 A "seductively textured tunnel" – Doc's super sucker sleeve is another ribbed affair and feels squishy and of good construction quality given the price.
As a tip, it works best with a little heating lubricant or a lube warmed up – (a water based lube for 10 seconds or so in the microwave will do the trick).
It's a good ride strokers purport, where the texturing is described as mid level on the pleasure scale and there's a vent hole too so you can adjust the suction.
Overall a pretty decent pocket pussy for under $20.
PROS
Pliable texture enables super tight squeeze

Great value for solo play + time with others

Feels well made
CONS
Vent hole could be tighter