FTM sex toys are still quite a rare commodity. Unlike affordable Fleshlights, if you've been searching mainstream online adult stores, you'll find their shelves a rather bereft of FTM goods.
Take Lovehoney for example, if you search "FTM", only the Stretchy Stroker pops up, that's it. 
However, if you dig a little deeper, you'll discover that some of the best FTM sex toys have already been unearthed through trial and error by experimental trans peeps, who incorporate both cis guy and cis girl sex toys into the mix, as well as new creations by designers who have a vested interest in this business.
Listed below then are a collection of bestselling, unusually popular and some may say the leaders in their field, in suckers, rimmers, sleeves, dildo's, rabbit vibrators, transformers, pumps, prosthetics and other species of sex toys that serve the trans man.
10 Best FTM Sex Toys
1. Thumping FTM Rabbit Vibrator
50 Shades of Grey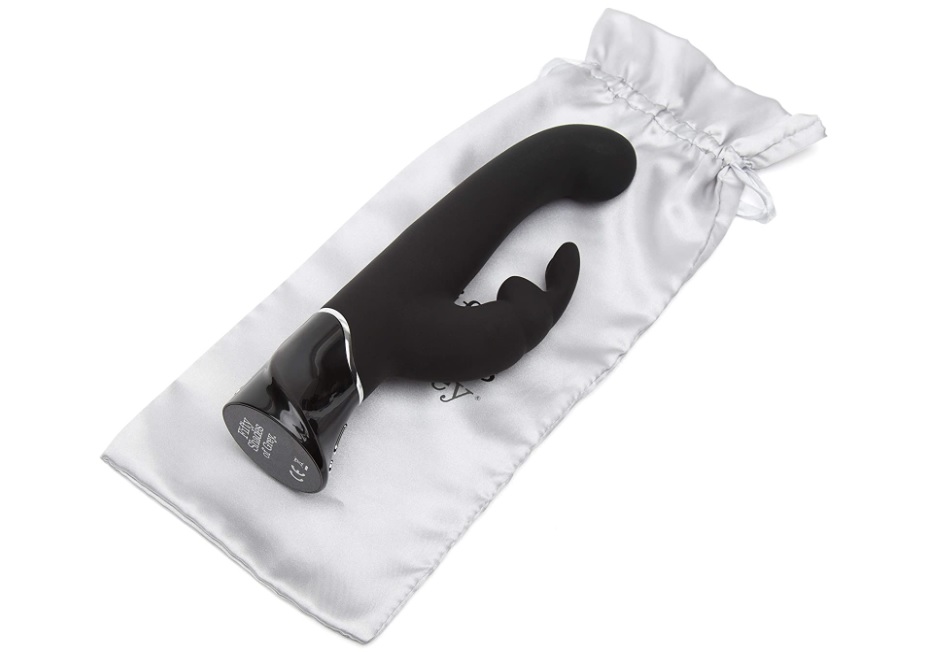 Not to be mistaken with thrumming, this signature rabbit vibrator is a classic "thumping" device.
Regular G-spot or rabbit vibrators just don't do it for a lot of trans guys, as it's rare for trans men to orgasm through internal stimulation.
However the Fifty Shades of Grey is unusually popular in trans circles, as it essentially "thumps the clit" like few other rabbit devices.
It's a clit thumping tool, which – if you are a fan of the  'come-hither motion', you will definitely dig this vibrator.
Benefits
  Delivers blended clitoral & vaginal orgasms
  Recommended FTM rabbit vibrator
 Rare thumping device
 A come-hither clencher
2. Powerful FTM Vibrating Dildo
Desire Luxury Rechargeable Strapless Strap-On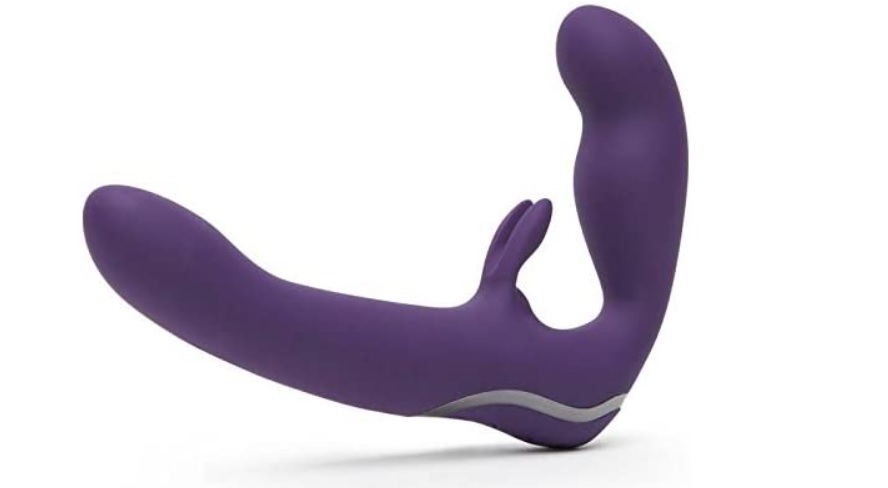 Trans guys certainly have a lot of fun with this vibrating dildo, although it's not openly advertised as an FTM pleasure device.
Two people can use it without wearing a harness, as the bulb is designed to hit the g-spot while the ears will stimulate your partners clitoris – or vice versa.
Unlike other strapless toys, this one rarely slips out, which allows you to psychologically bed in, letting you feel like it's your own fella penetrating your partner.
Smooth, firm, high quality, easy to clean and a battery that lasts for a long stretch, it's a popular sex toy for both FTM couples and solo artists.
Benefits
 

12 speeds
 8 vibrating patterns
  Waterproof
3. Popular FTM Prostate Massager
Unimat "Thrumming" Prostate Massager
As endorsed by Braden Kink on manyvids
The Unimat "L" shaped prostate massager naturally warms up to 42 ℃ for extra lifelike feeling, with the vertical of the "L" slotting up your anus and the shorter end resting on your balls, perineum or frontal.
There's a ring that moves up and down inside the prostate end of the toy, while the frontal end vibrates, and both ends are manipulated through a remote control with varying levels of stimulation.
The Unimat's angle of attack is slightly full-on, but in a positive way,  as vibrations are strong and come in different patterns, with the choice of "thrusting" at top speed proving most popular .
Putting someone else in charge of the remote makes it a couples favourite.
The touch and feel of the Unimat is not dissimilar to the more expensive rabbit vibrators.
Benefits
 Thrumming prostate pleasurer
 Double pleasure high quality FTM toy
 Remote control for ease of use
4. Brilliant FTM Rimming Toy
The b-Vibe Rimming Plug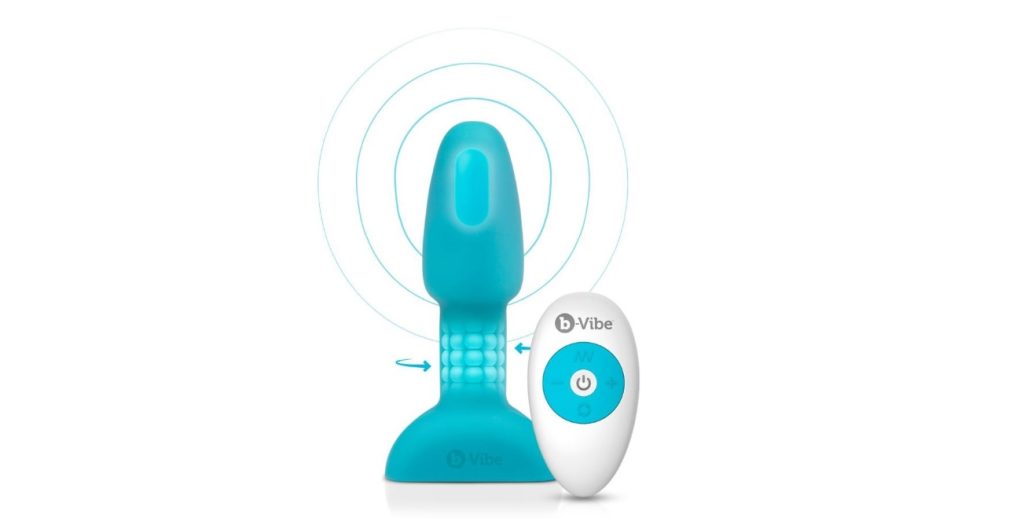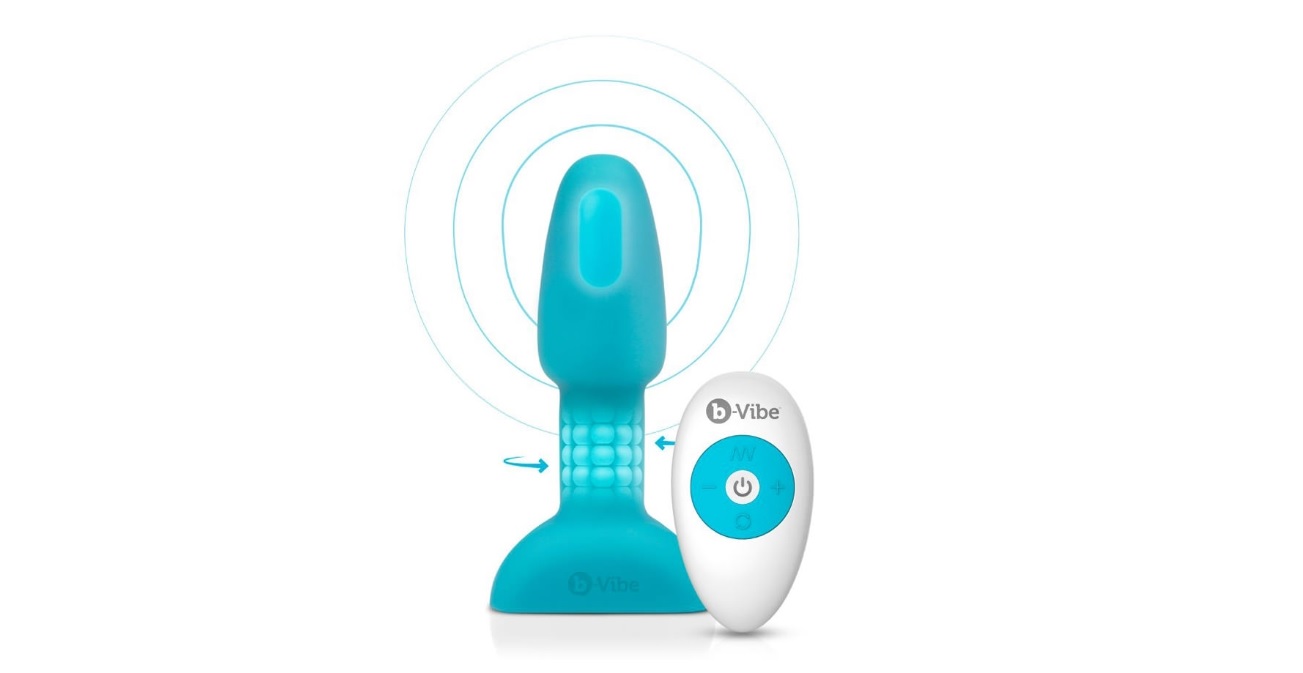 Clint Eastwood was right when he said "opinions are like arseholes, everybody's got one".
On a slightly different note of course, but butts are a universal pleasure station, and the sphincter is a wonderfully sensitive muscle, whatever your tipple.
Rimming if you're unaware is the art of licking and sucking the back entrance.
The b-Vibe is a vibrating, remote-controlled anal plug, that houses rotating beads in the plug's shaft so as to simulate the rimming sensation.
If this is your first rimming expedition, it's advised you start out with a slightly smaller sized rimming model, but if you're a seasoned explorer, by all means go bigger. 
Reviews are scorching, in a good way.
Benefits
 30 ft remote (good for couples)
 7 rotating bead modes
 6 vibration patterns in the interval vibe
5. Unique FTM Sleeve
Wild Flower Enby 2 for smaller sizes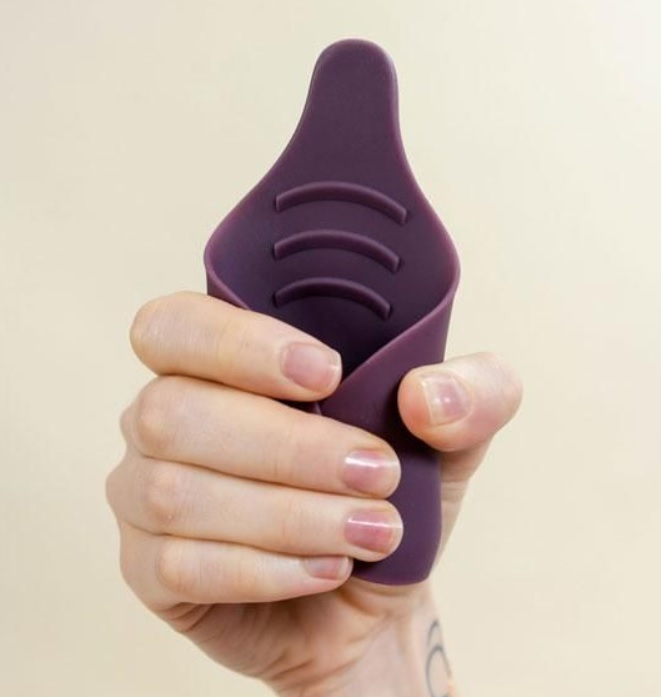 Designed as a gender-neutral toy, cofounder and CEO at Wild Flower Amy Boyajian (they/them) explains that its inception came from a friend of theirs, who was transitioning from female to male and had to ditch all their normal cis toys.
Enby 2 by Wild Flower is made to be a universally inclusive sex toy: it can hump your genitalia, it can tuck into a harness for hands-free and travel friendly pleasure, plus it can flex itself into a firm masturbation sleeve.
It also pleasures beautifully reviews concur when slid between two lubed bodies.
Benefits
 Gender-neutral toy
 Hump, tuck, flex or go hands-free
 Created by trans folkx 
6. Prosthetic FTM Oral Toy
Lollipop Prosthetic Penis for Oral with Suction Pump
The Lollipop by Transthetics creator Alex and his crew, is a prosthetic hollowed out penis that comes with a syringe pump, with the opportunity to upgrade to an electronic rechargeable suction pump for mightier pleasures.
You place the base of the prosthetic penis – lightly lubed of course (it's silicone so Fleshlight lubes will work), against your natural genitalia and as your partner sucks your silicone schlong, the suction from the tip will pleasurably draw in your anatomy.
Secondly, the Lollipop comes with a manual suction device that can be used by placing it in the tip of your prosthetic penis, moistly schlurping on each pump or you can upgrade the pleasure by choosing its electronic version.
Benefits
 Created by true pro
 Unique oral suction device
 Aesthetically a masterpiece
7. Best FTM Transformer
Picobong multi-tasking transformer by Lelo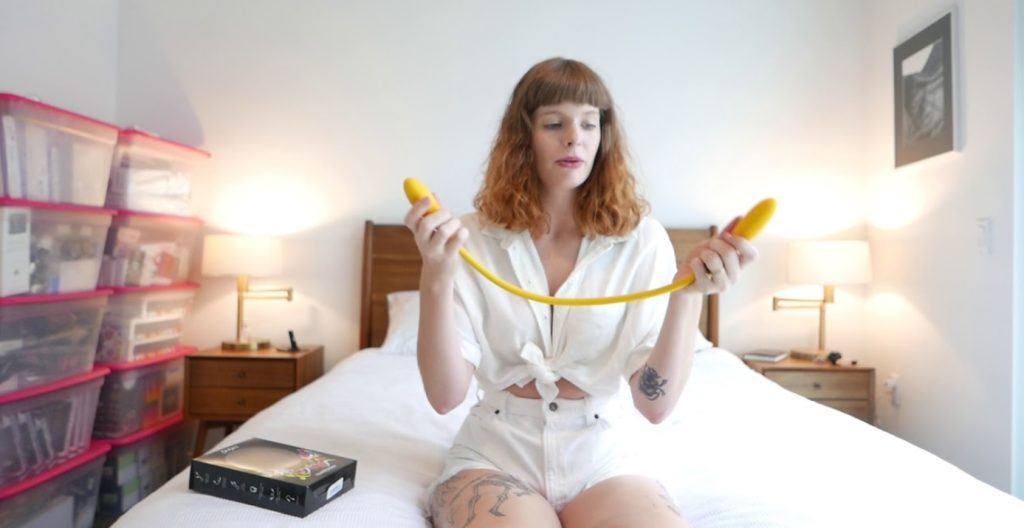 Designed initially for cis female genitalia, the Transformer toy from Picobong offers two vibrating ends.
It can be a pulsating rabbit vibrator, a clitoral massager, a  prostate ring, a double-ended dildo or even a vibrating penis ring as the centre is malleable and will bend to your girth.
Its versatility means that it can give and receive so perfect for solo or couples play.
It's not cheap but it's a quality sex toy, built to last by the Swedes.
Benefits
 It's LONG & BIG
 Multi-task FTM pleasure tool
 Perfect for singles or doubles
 Expensive piece of kit but built to last
8. Rumbly FTM Wand Vibrator
Ollie Vibe Wand glow in the dark vibrator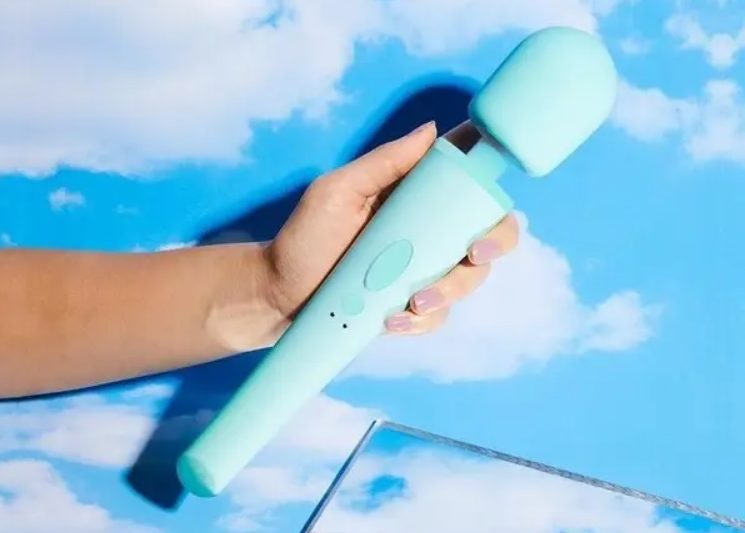 The Ollie Wand like many wand vibrators took its cue from the Hitachi Magic Wand, the first of its type, but for trans guys, the Ollie Wand ranks up the top of the best wands list for FTM and transmasc peeps.
In the beginning trans/enby folk can often face a traumatic time when exploring each other sexually, as bottom half dysphoria can create immeasurable difficulties.
But the Ollie Wand has helped some smash these gender sexual barriers.
Comfortable, easy enough to use use on someone new to wands but powerful enough for the seasoned pro.
It's especially enjoyable when you cover Ollie Wands head with lube or better still – Jolt gel, which tends to any dry patches.
Benefits
 Erase painful dysphoria's
 Comfortable & easy to use
 Very powerful
9. Bespoke FTM Pump
TRANS MASC PUMP 2.0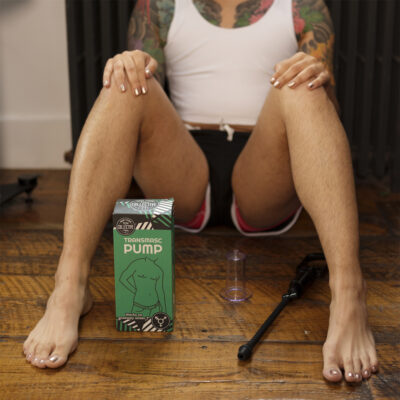 Specifically designed for queer, transmasculine and nonbinary people, this unique pump is created to improve stimulation in the growth areas that may require a wide flared pleasure base.
This helps avoid causing pain to any sore areas.
Being translucent also allows you to see just exactly where you are placing the pump.
Helps provide relief for folkx with certain dysphoria's especially bottom dysphoria, and some go as far as to say that it's a "massive quality-of-life upgrade".
Benefits
 Comfort
 Wide flared base limits causing any pain
 Easy to assemble & easy to handle
 Encourages bottom growth
10. Bestselling FTM Suction Toy
Puff Forehead Kisser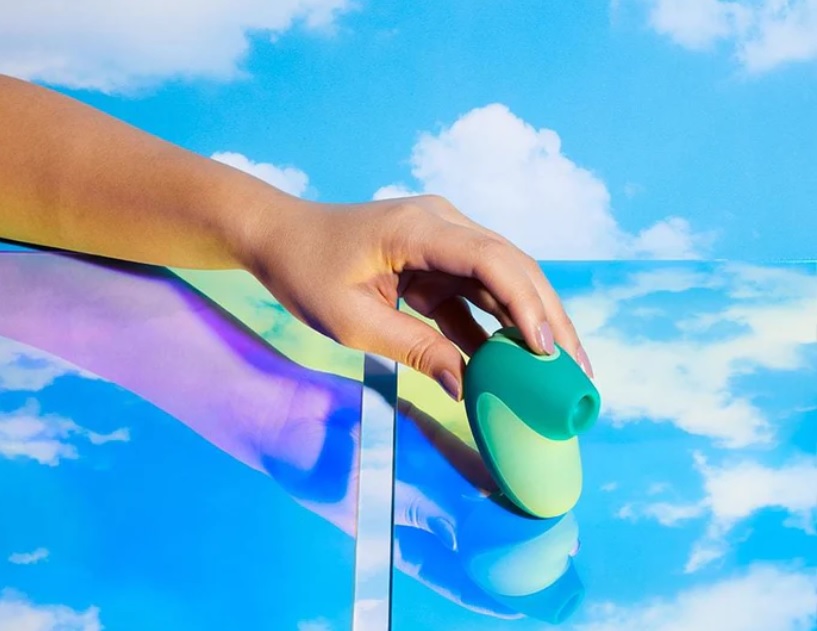 Who knew something could suck so well?
With over 2000 five star reviews on Unboundbabes, on overall vibration strength it hovers somewhere between just right to powerful.
On vibrator size, small to just right makes it the perfect travel friendly companion.
And for ease of use, it's simplicity is another of the Puff's selling point.
For under 50 bucks it also makes it one of the cheapest FTM sex toys listed here, making it much more accessible.
This little sucker gives the sweetest suckling on many of the areas, especially with one leg perched.
Popular with transmasculine folkx who have a bit of bottom growth, it's complemented well with a little jelly-type lube.
Benefits
 Excellent little sucker
 10/10 smoochability factor
 Waterproof 
 Very quiet