The new Fleshlight Turbo Thrust Ice, now available in purple just pips the new Boost Blow as Fleshlights top selling oral pleasure toy for 2023, and is still one of the best blowjob toys out there.
Total length: 9.75″
Insertion length: 8.5″
Orifice: Non-anatomical

Quite unique in its avant-garde design, it is akin to giving 5 star electrifying blowjobs through a set of pursed anatomical lips, a ribbed throat and a realistic uvula – that dangly piece of tissue that hangs from the roof of your mouth.
The Blue Ice comes with 3 insertion points designed to deliver either a very tight firm grasp over the tip of your fella or the spine tingling orgasm synonymous with deep throating.
Not to be confused with the Turbo Ignition, (although both are designed to replicate a stellar oral affair) the sleeve within the Turbo Thrust Blue Ice Fleshlight begins with a five ribbed chamber, mimicking that of a tightly gripped oral entry.
Related: 10 best cheap Fleshlights under $50

New purple Fleshlight Turbo Thrust Ice chamber features an updated sleeve, with initial oral opening, followed by lips & a tongue sensation & an uvula to boot! Then the ribbed throat begins.
Take a look at the vid below to see how you can alternate the finger tip fittings to secure your perfect grip.
Nudity exempt.
With insertion length standing at 8.5″ and a standing height of 9.75″ complete with both an exclusive texture and a non-anatomical orifice, it's its futuristic chamber which separates the Blue Ice Turbo Thrust from literally any other Fleshlight or 3rd party repro.
Unique Thrust Orifice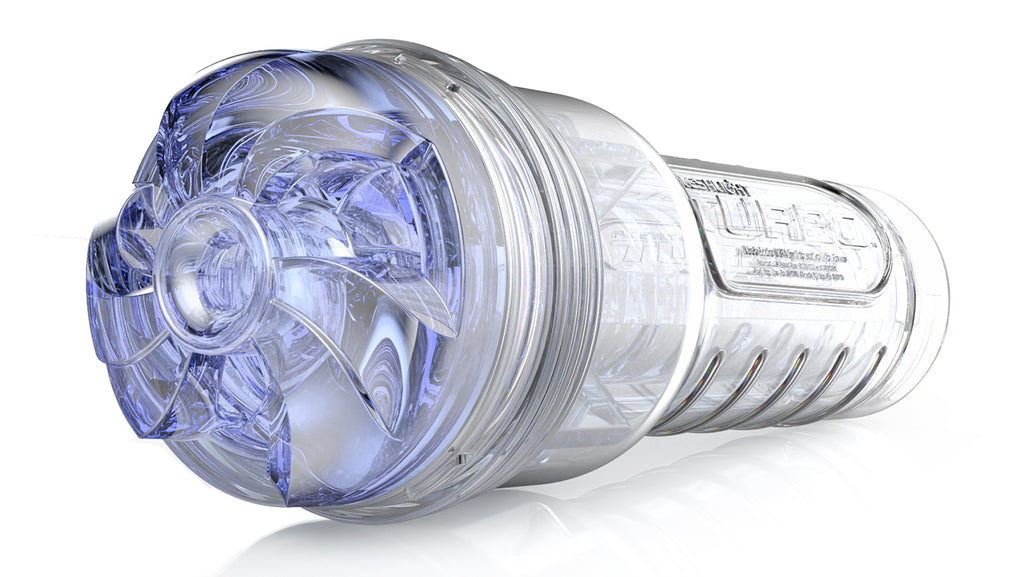 Close up the orifice of the Turbo Thrust Ice resembles a pair of lips blowing a kiss.
The opening doesn't seem large enough at all, but with a little water based lube for enhancing this incredibly pleasurable BJ chamber, you'll fit right in.
Clear Turbo Case

Do you enjoy seeing your member work the motions? Well, there're others who might.
In truth, after Fleshlights very first model the Pink Lady, there was much clamour for a see-through case and it's no wonder why.
It looks very sleek.
New Thrust Texture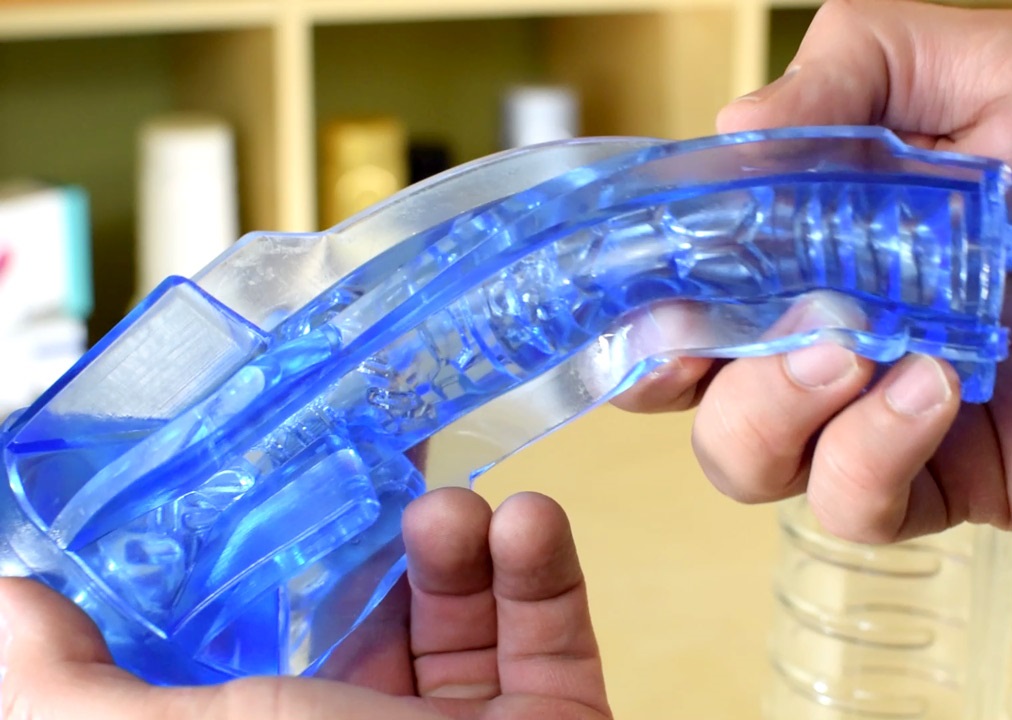 Fleshlights super-flexible skin is moulded using medical grade silicon which is a nonporous material, which means it'll keep for a lifetime.
Ultra-supple, the Thrust's texture engorges your organ literally like it's being engulfed by a mouth.
Use & care instructions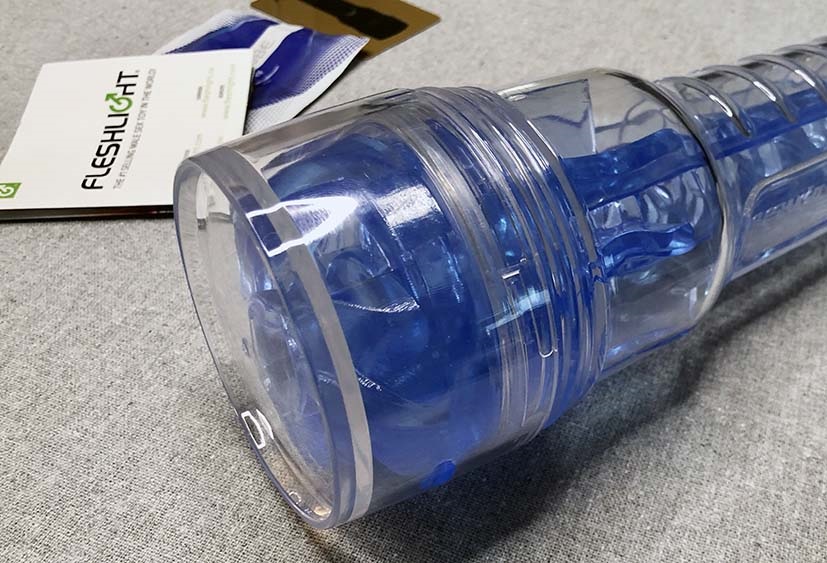 Some instructions are included in how to dismantle and clean the Thrust.
Fleshlight advise using their own brand but lukewarm hand soapy water will do, finished off with corn starch or pure talcum powder on the insert surface for extra care.
5 Anecdotal Fleshlight Turbo Thrust takeout's
Feedback from verified purchasers list a number a pro's that may enhance your experience should you tempt to try on the Turbo Thrust Blue Ice.
1. Get a warming sleeve: It's essentially a heating bar mounted on a stand that heats up the Fleshlight in a few minutes and then tapers off so as to maintain a safe temperature – a heat of the same degree a mouth might emit.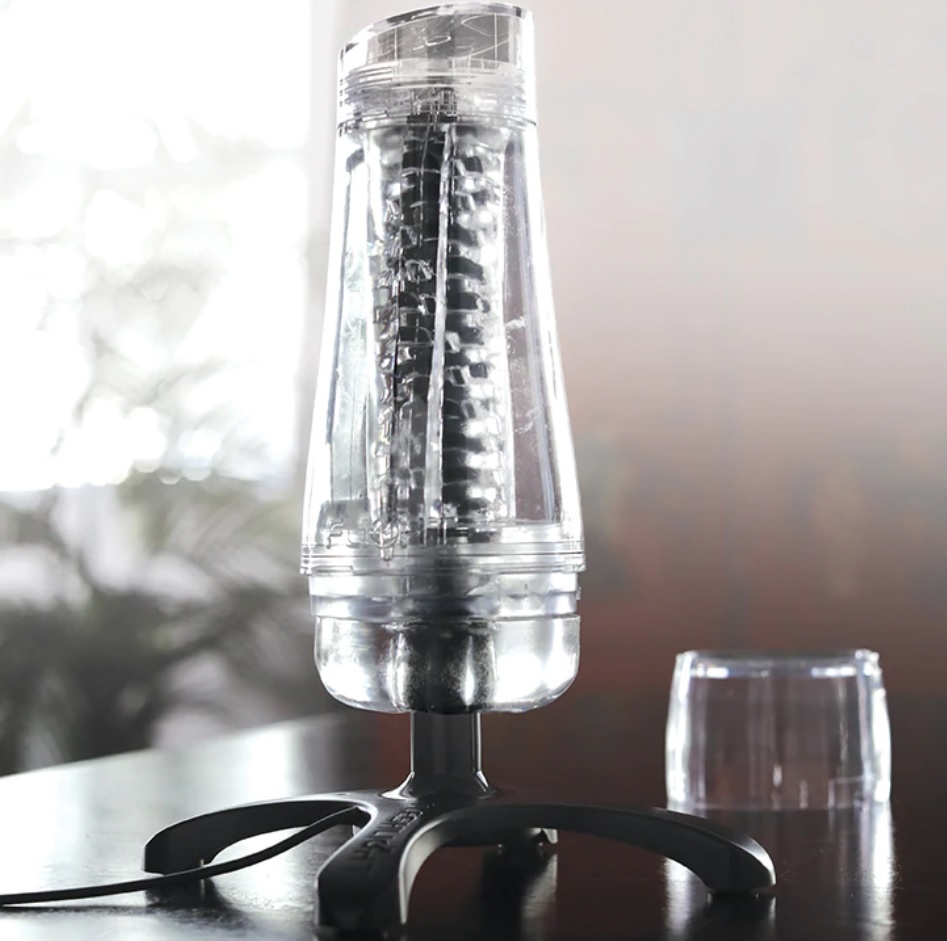 2. Totally unique experience: Mentioned above already but cemented by reviews, the inner chamber of the Turbo Thrust cannot be compared right now with any other existing fleshlight device.
3. Best BJ texture to date: Nothing compares to the real deal, that's a fact – but, as manual BJ products go, its texture is perhaps more realistic than others to date.
4. Best one-time purchase Fleshlight: As a one-off Fleshlight purchase, many agree that when it comes to choosing which orifice, texture and design to pick, this is probably their best product.
5. Get a shower mount: A couple of reviewers reported back in the review section on the Turbo Thrust Fleshlight page adding that when fitted on to the suction based adjustable shower mount, it provides a BJ experience more comparable to other designs.
Or you can build your own Fleshlight mount.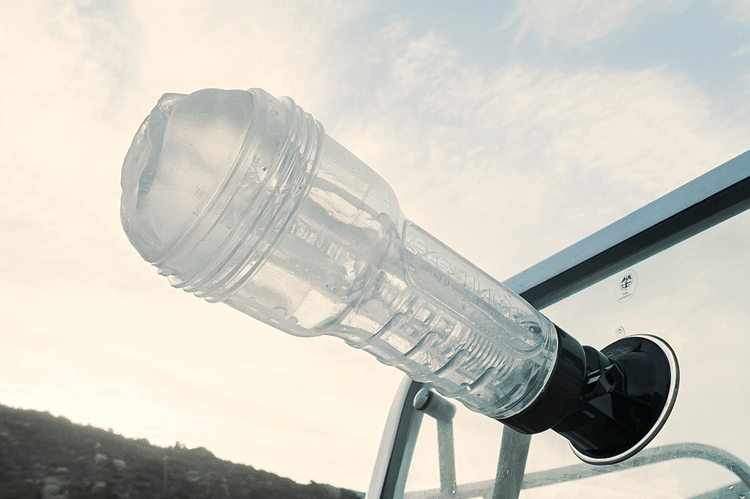 Pros

 Turbo ones are especially popular as they have controllable suction
 Softer & stretchier (maybe a nod to previous tighter models)
  Very airtight
 Varying sensations
 Excellent design – preferred by users over other non-anatomical models
Cons

 Bit fiddly to clean
 Too sensitive for some