The Fleshlight Universal Launch toy is a game changer. It might have a couple of flaws but if you seriously want a decent machine that will thrust any stroker with genuine gusto – handsfree, the UL is without peer.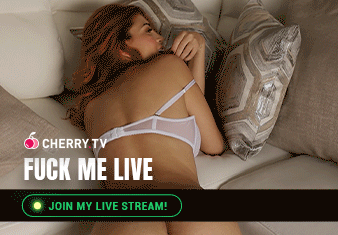 In truth it's a simple motorized stroker, with just speed, stroke length and shaft position buttons, ergonomically placed like a Formula 1 car's thumb-touch steering wheel.
This in turn allows the Fleshlight Universal Launch to stand free on your pelvis, meaning you can kick back with one of the best automatic blowjob machines, slip on your headphones, and select your favourite erotica.
It will house any Fleshlight model and it goes like the clappers at 250 strokes a minute on full length strokes, so faster than its predecessor the Fleshlight Launch, a collaborative effort by Kiiroo and Fleshlight that delivered 180 strokes a minute, and the Keon at 230 a minute only in shortest, fastest mode.
The Handy is the fastest at 600 strokes a minute, but then you're limited to only one stroker and no battery.
Still, 4 strokes a second isn't shabby, and if you already have your own stroker, the Universal Launch's ratchet system keeps things simple, letting you slip your favourite love tunnel straight in and you're off.
The Fleshlight UL Toy review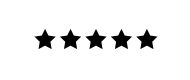 Max stroke length: 3″ at 3 adjustable locations
Insertable length: depends on Fleshlight/FeelStar/Pocket Pussy
Max girth: as per stroker
Max strokes per min: 250
Comes with sleeve/toy: no & yes/deals
Battery run time: 1 hour
Charge while using: yes
Grip/feel: Stroker dependant
PDF instruction manual: yes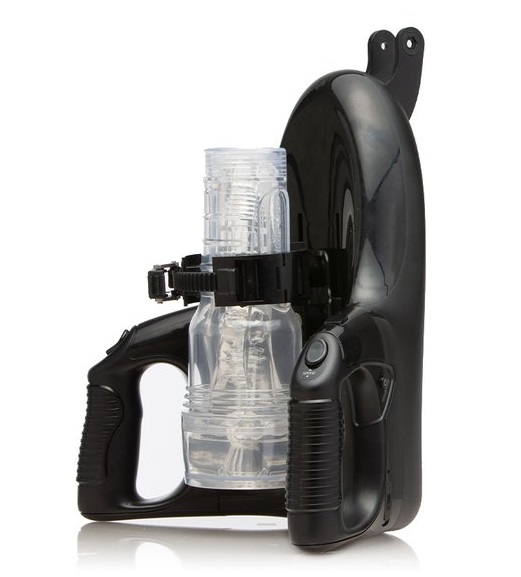 How does the Fleshlight Universal Launch work?
In short, you have 3 settings:
Stroke length – 3 to 4 inches on longest stroke, half an inch on shortest.
Stroke speed – 4 different speeds with fastest on full length at 250 per minute.
Stroke position – choose the base, middle or head, the latter being most intense.
To use the Fleshlight Universal Launch, you first need to connect it to your compatible stroker.The device has an adjustable ratchet grip that can accommodate various sized Fleshlights, FeelStars and other pocket pussies provided they're in a case or hard shell.
Once attached, you can control the speed and intensity of the stroking and thrusting motions on your desired location, be it the base, mid or crown, using the buttons on each handlebar.
The Launch is equipped with a rechargeable battery, so you can use it wirelessly. It lasts over an hour on full whack.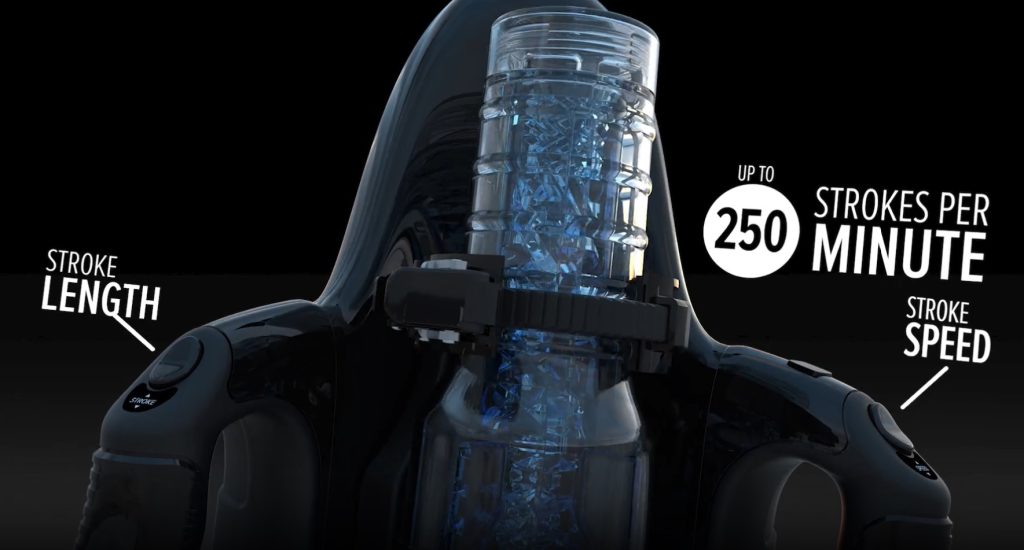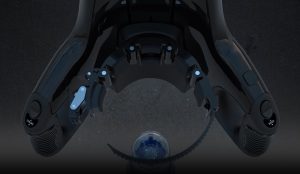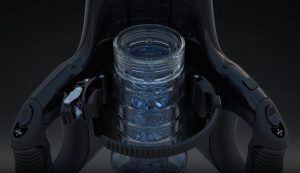 Why buy the Fleshlight Universal Launch?
People who buy the Fleshlight Universal Launch, generally do so because:
a) They can afford it.
b) They already have their own Fleshlight, FeelStar or different sized Onahole that can be used in the machine.
c) Have no use for bluetooth or any pairing ability; or prefer manual mode. (Note – you have the PowerBlow now which you can add to make your sleeve interactive around your crown).
d) Want to have the versatility to use plugged in, while also taking it for a roam, so a good battery.
e) Want a machine stroker that withstands frequent use.
f) Prefer a blowjob machine that will stand handsfree.
Can you use the Fleshlight Universal Launch for interactive content?
If you'd had asked before July 9th 2023, the answer would have been a no, and to be clear the Fleshlight UL is still without bluetooth, so it has zero pairing capabilities.
However, you do now have a new machine powered suction accessory called the PowerBlow, which screws directly into the end of a Fleshlight or FeelStar.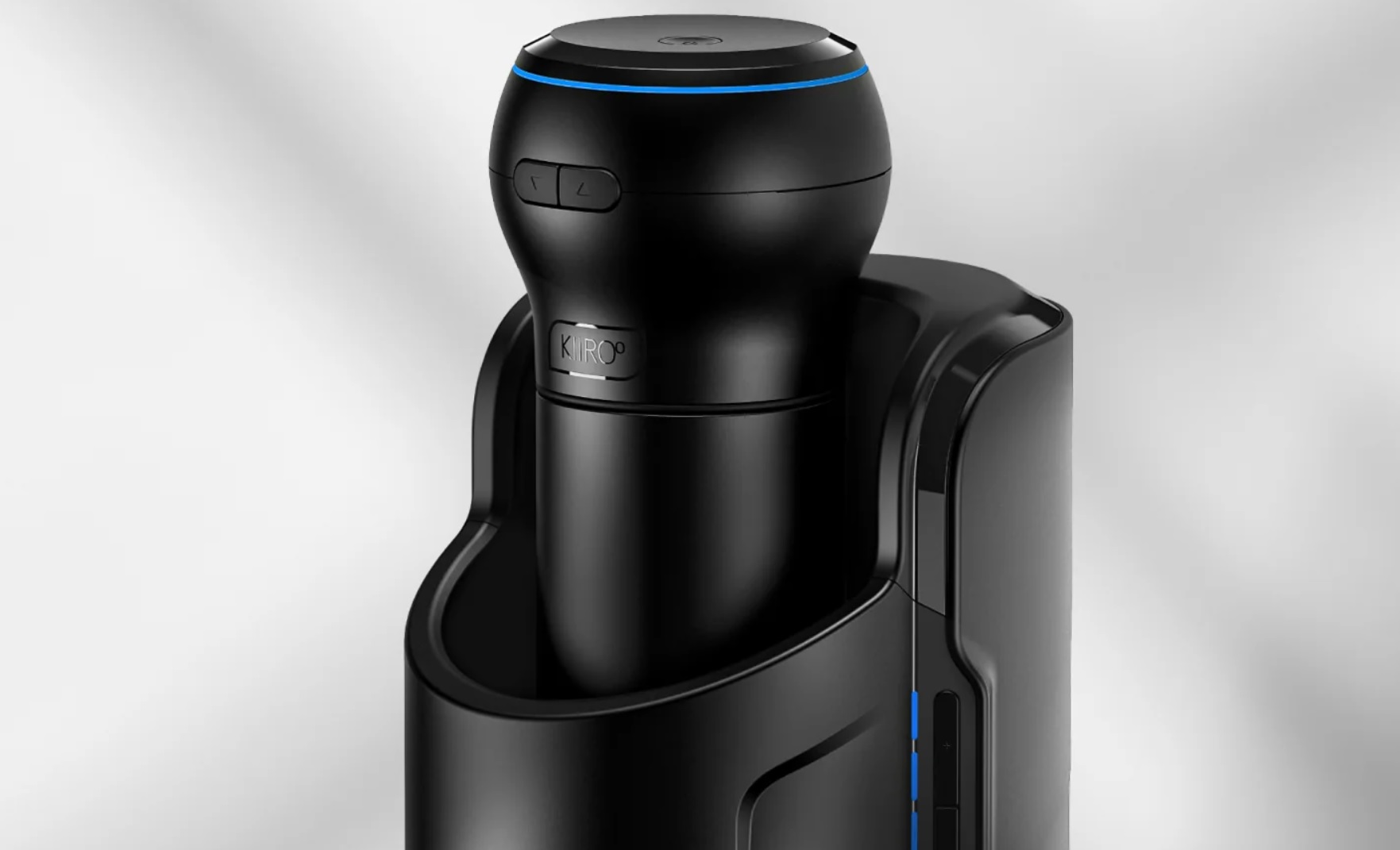 The PowerBlow will sync with 2D and 3D content, pair with your partners sex toy and revamp your 2D porn archives into interactive material.
So while the Universal Launch is stroking your column, the PowerBlow will treat your head to variety of interactive and pre-programmed BJ patterns, or you can just select manual.
Kiiroo is at the forefront of men's pleasure interactive technology, and should you be seeking a more immersive, interactive experience then the Keon would be a better fit.
Tips for using the Universal Launch
Switch to lowest or second lowest speed with the largest stroke setting for drawing out your orgasms.
If using a full size fleshlight, be sure to house it as high up in the UL as you can before plunging in, as it may chafe your pubic region, if you set its stroking position to base.
Get yourself the Turbo Thrust – it complements the Launch beautifully.
Cure your Death Grip Syndrome – DGS, when you experience desensitization of the willy through excessively firm masturbating.
Shortest stroke length is mostly benign, the second stroke setting works better for edging.
If balancing for a handsfree ride is proving difficult, try propping it up against an object like a desk or table, while sat reclining in your office chair. Alternatively, one of these Fleshlight mount ideas may prove helpful.
If you're without a stroker, grab yourself one of the best cheapest Fleshlights and save yourself at least $20.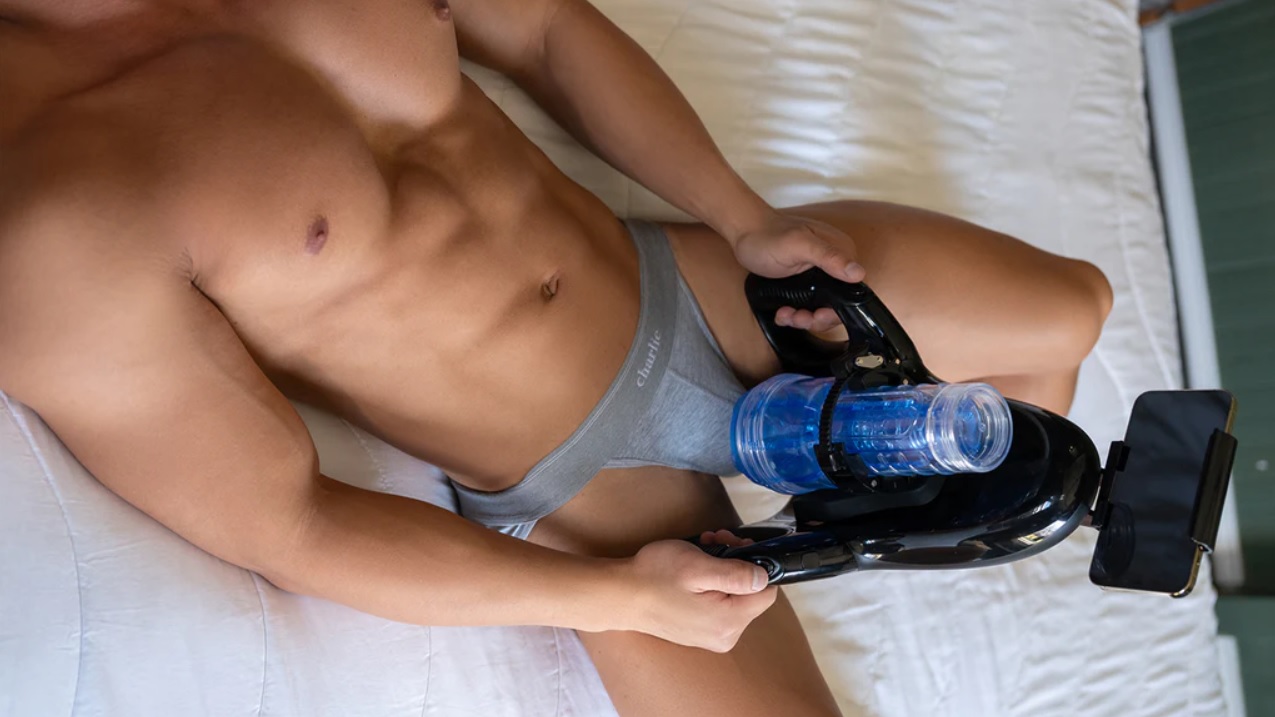 Which strokers will the Fleshlight UL hold?
The Universal Launch fits all the fleshlight models, even the Flight series and the Aviator which has been disputed, plus the Quickshots, although they do have their own Launch version which is fractionally cheaper by 10 bucks.
The entire FeelStar range, plus any cheap pocket pussy in a case will also slot straight in.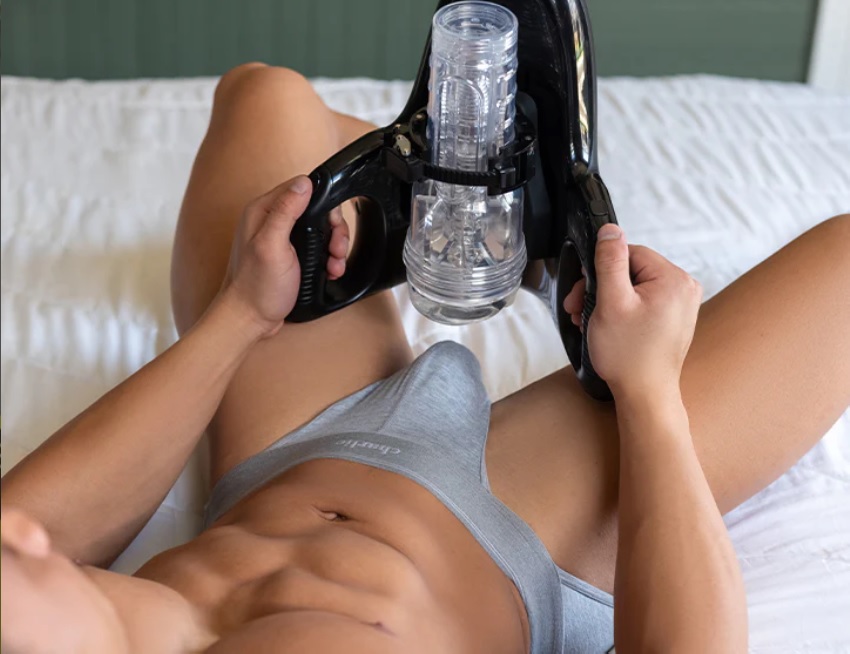 Which strokers won't the Fleshlight UL hold?
Essentially, any love tunnel not housed in a case can't be strapped in, plus smaller Fleshlights like the Pilot, Aviator and the Quickshot range won't fit.
However, if you own Magic Eyes say, you could potentially build your own Fleshlight case, but better off buying a Fleshlight case for 20 bucks or 3D printing one for peace of mind, to house your onahole, provide it's the right fit.
Fleshlight magic happens when the case and the sleeve work in concert.
Live in action

 on PH - warning, graphic content.
Pros

Strong speeds
 Stands handsfree
 Holds up to frequent use
Very relaxing
 Use plugged in (great for long sessions)
No need to clean (unless using open ended stroker)
 Long lasting battery (one hour plus)
Sleek ergonomic controls
Great for stamina training
1 yr warranty
Cons

 It's quite loud
Could go even faster with fractionally longer max stroke
 Missing random mode
 Phone holder not necessary
Not waterproof
Summary
Out of all the retail automatic machine strokers on the market for 2023, the Universal Launch still has one of the most powerful motors and delivers perhaps the smoothest strokes.
And gripes aside, it's absolutely worth the price when you compare to its contemporaries.
For example the Keon won't go as fast on longer strokes and can't be plugged in while in use, while the Handy won't allow any old stroker to drop by, plus in contrast it has no battery.
Price wise your paying the cost of 3 sleeves for a strong BJ machine – $200, roughly the same price as the Keon without the stroker.
It's a toss up over the Keon at the end of the day, if you want to use your own sleeve and have practically the best overall functions.
Easy to use, seriously sturdy, will hold practically any stroker – this bad boy will operate round the clock if need be.