Are you searching for one of the best automatic blowjob machines that can go faster than the hand and suck like a pro?
These 5 excellent automatic schlong strokers chosen below on grip, suction and rate of knots (max speed 10 strokes per sec) – do just that. 
A quick point in reference – electronic male masturbatory devices are generally either referred to as "auto bj machines" or "hands free male masturbators".
The former ideally replicates the sensation of the mouth, the other the honeypot, but essentially it's down to the sleeve you use.
You can strap in your own butt, vaginal or non-anatomical textured sleeve no problem, unless of course the sleeve is built in to the device.
For the purpose of this review then, auto blowjob machines are considered alongside hands free male masturbators as they set the same agenda – to create a mechanized controlled device that impersonates one or more stimulated orifice.
Whichever you decide to opt for, you'll want one which is a genuinely powerful machine (for speed and longevity), delivers great grip and has a decent run-time – of at least an hour.
Preferences like weight and size, while important, should be your secondary concern for now if you want your automatic stroker to have some decent power and mimic the real deal. 
Unfortunately, the technology doesn't exist yet for more travel friendly pocket-sized auto bj stroking devices although Kiiroo are working on something.
Without further ado, here are the best automatic blowjob machines right now in order of overall quality on grip, suction, speed, ergonomics, stroke length and other crucial features.
5 Best Automatic Blowjob Machines
Sale:

 Labour Day holiday – 25% off single Keon machine until September 7th 2023
1st – The Keon
On Power & versatility

Max stroke length: 0.8–2.56″
Insertable length: 9″
Max girth: 5″
Max strokes per min: 230
Comes with sleeve/toy: yes
Battery run time: 40-130 mins
Runs from mains: no
Grip feel: soft/tight-ish/flexible or your personal sleeve
PDF instruction manual: yes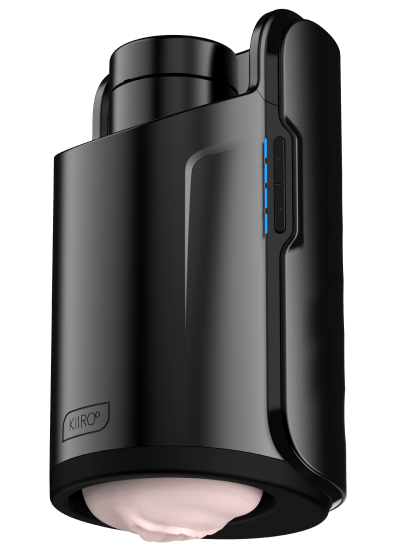 When Fleshlight and Kiiroo went their separate ways after collaborating on the Fleshlight Launch which for now is no longer, Kiiroo took it upon themselves to take note of users suggested improvements as well as dislikes and applied most of them to create the new Kiiroo Keon.
This is how the Launch looked at almost 13″, … yeah right. The Keon is 4 inches shorter than the Launch. It stands at 8.7 inches.

Firstly, Kiiroo kept and improved the VR capabilities of the Launch which allow you to download scripts and then sync up with various porn scenes in real-time through using the Feel Connect 3.0 app available on both stores or through new interpretive tech from FeelMeAI.
You can also link up with other devices so they move in tandem, such as Kiiroo's sex device for couples.
Additionally, while it comes with an excellent sleeve – soft, gripping but neither too tight nor too loose for most men due to Kiiroo's classy patented designs, you can replace it with a sleeve of your own.
Just check the dimensions of the casing don't exceed 3.3 inches in diameter or there abouts.
Like the Universal Launch below, the Keon will hold most of Fleshlights models as well as the Feel Stars by Kiiroo.
The Kiiroo Keon can just about be used handsfree on the lowest or highest speed with the shortest stroke settings.
It should stay in place, but you may find a pillow will help for support or you can grab one of their neck straps if you fancy a wander.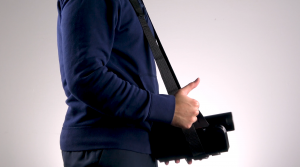 When you tilt it to the side you'll find it grips your shaft firmer and higher speeds mean invariably you won't last as long, but this could be a good way to work on your edging – when you come close to climax then pull out. 
Like the all the best automatic blowjob machines, battery time varies depending on speed.
If you go at it at maximum velocity, on full charge this equals about 40 mins , regular speed around 1hr 30 and charge time takes about 4 hours.
The Kiiroo Keon is an improvement on the Launch on a few fronts but there's no denying that when the Launch originally came out it, there was nothing to match it.
It was the first high quality automatic male masturbator of its kind.
But the Keon fortunately trumps it and it has improved as follows.
How the Keon compares with its predecessor the Launch
 

The Keon is quieter, more compact and full of more throttle.
 

Easier to hold with just one hand.
  Controls are positioned on the side of the device which is a nice touch.
 

Feels a more solid & powerful high-end device.
 

Easy interactive app syncs perfectly with downloaded scripts.
 

The casing is 4 inches shorter than the Launch.
How does the Kiiroo Keon work?
The Kiiroo Keon has 2 modes, one manual one interactive.
There is a two second pause when you switch between the two.
On manual you can control speed and stroke length on the machine.
On interactive, this requires you to turn on your bluetooth and fire up the Feelconnect 3.0 app.
From your device you can manually control the Keon through the apps touch control options.
Alternatively, your partner on a video call can take up the reigns, or cam girls at freemium sites like Stripchat (caution, nudity follows), which features a new live VR porn room full of mostly women for now.
Dollars are needed for privates.
For reliable syncing and seismic sensations, interactive VR adult content cuts the mustard.
How best to prepare for the Keon?
Getting set up for the Keon, the warming lube which comes with it is a must or alternatively a decent Fleshlight lube or a watery based household lubricant will be fine.
Just no oils, saliva or silicone lube on silicone products.
Warming lube isn't actually warm when you apply it, but after a few strokes it lives up to its name.
Try to avoid adding it to the tip as it might be a little over sensitive in this machine, but each to their own.
The Keon does pack a bit of weight but it's compact and it'll rest comfortably on your pelvis. 
How does the Kiiroo Keon Feel Stroker feel?
The manual Feel Stroker sleeve which accompanies the Keon features a sleeve rich in bulbous knobs, which creates a delicious sensation along the shaft and around rim. 
And when these tender shaped nurdles combine with the warming lube and swivel around your member at 5 strokes a second – lying there with your arms behind your head, can be a deeply blissful experience.
As mentioned, the Keon will adapt to most of Kiiroo's Feel Star sleeves as well as the lions share of the Fleshlight range.
You can also take the sleeves out of their original casing and slip them straight in as long as they're no wider than 3.3 inches.

Tips for using the Kiiroo Keon from the pleasure forums
Fleshlights Turbo Thrust (blue one – not the copper one) which provides a nice jelly fleshy experience works a treat.

Try using some gun oil h20 – strokers no'1 choice.

Other recommended brands which compliment the Keon: Aniston Fit, Mini Lotus, Caliente, Swallow.

Keon case offers better suction with the cap on tight, same goes for most Fleshlights. 

Tighten to come faster or loosen or remove for drawn out edging.

For ultimate pleasure Keon should be used hands free – try one of their holders from their site.
• Read in full: Kiiroo Keon Feel Stroker review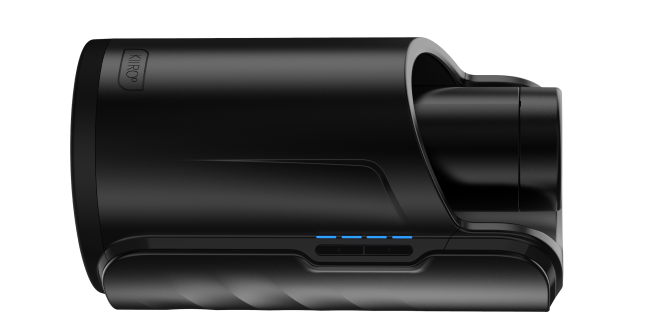 Live in action

 on PH - warning, graphic content.
Pros

 

The Keon is quieter, more compact & full of throttle
 Adjustable stroke positions
 8 depth modes
 Good stroke length
 Fits multiple sleeves
 Made from ABS, PC, Silicone
 Manual, bluetooth, wifi enabled
 Downloading Feelconnect 3.0 app (play or apple) connects Keon to VR videos
1 year warranty
  Works well in a mount
Cons

 Interactive streams may require switching to manual mode 
 Bit cumbersome for traveling
 2kg – but necessary power comes with weight
2nd – Universal Launch
On Strength & stroke length

Max stroke length: 3″ adjustable at base, shaft or tip
Insertable length: depends on choice of stroker
Max girth: as above
Max strokes per min: 250
Comes with sleeve/toy: no & yes/deals
Battery run time: 60-80 mins
Runs from mains: yes
Grip/feel: dependant on your fleshlight
PDF instruction manual: yes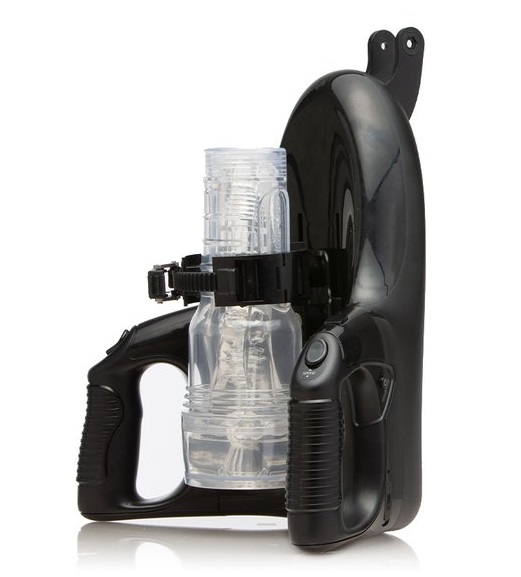 Sure, it's bulky but it's the one of the few automatic stroking machines that gets consistently good reviews on speed and specifically stroke length.
The Universal Launch by Fleshlight comes a little after the release of their "Fleshlight Launch Interactive Male Masturbator" where Fleshlight teamed up with Kiiroo, another brand of interactive sex toys to produce something users feel a little sad to see discontinued, however Kiiroo took up the mantle and went on to create a new improved version called the Kiiroo Keon.
The Universal Launch is an automated device which locks in your fleshlight of choice – full size versions only although it will hold other non-fleshlight strokers, and using the light-up rocker switches you can choose between 4 variable stroke lengths and 4 different speeds with max delivery at 250 strokes a minute.
It's advised to use super slippery lube like Astroglide with the Universal Launch and preferably an orifice which isn't too tight, the Go Torque Ice comes user recommended.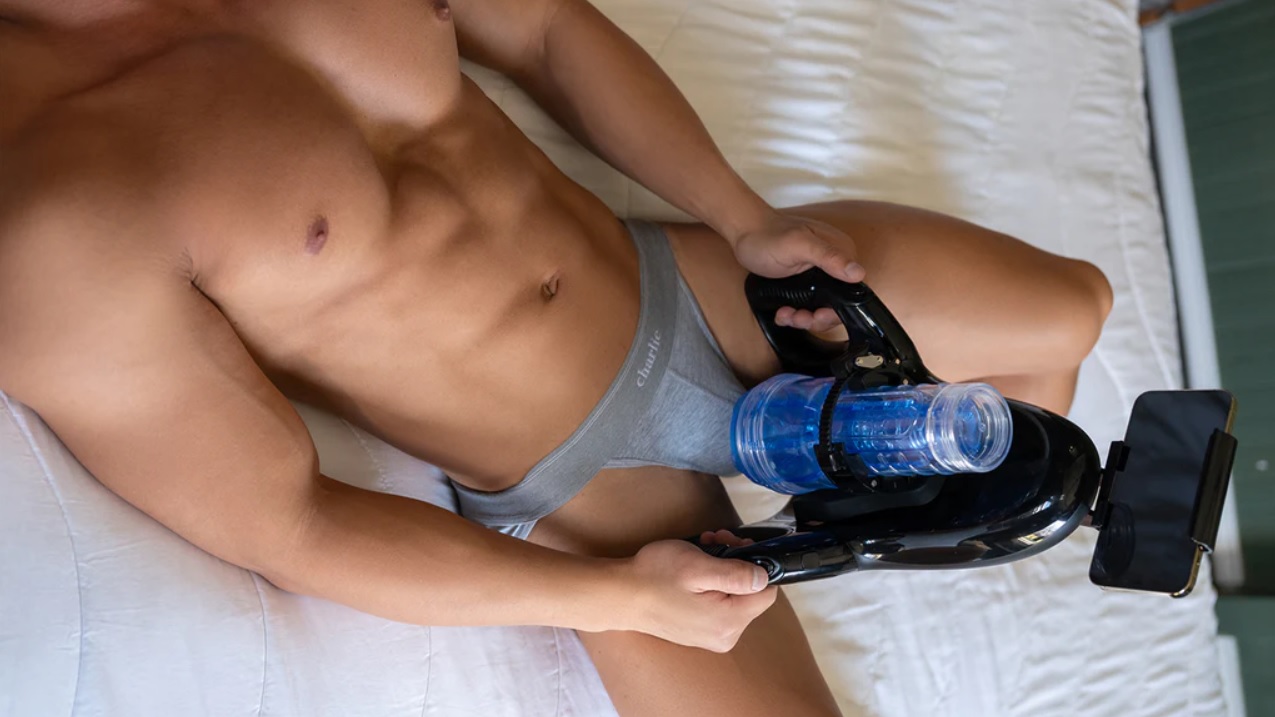 Which fleshlights the Universal Launch works with
As to which fleshlights slot into to Launch, they are the following ranges:
– Fleshlight go
– Fkeshlight ice
– Fleshlight turbo
– Stamina training unit
– Original fleshlight
– Sex in a can
– Fleshlight vibro
– Fleshjack boys
– Fleshlight girls

The Launch is by no means the most convenient travel companion.
In height it stands 15.25 inches with a phone mount on top for extra measure, but with its design it's able to deliver pleasure to three different member zones: the base, shaft and tip and weighs in at only 3.2lbs.
On a full battery you're good to go for an hour, not the two hours you got with the first Launch but you can plug it in and charge while using unlike the Keon.
It also delivers the same stroke speeds and stroke lengths as the original Launch which were the main appeal of Fleshlights first automatic stroker.
A couple of major bonuses with the Universal Launch are that it accepts multiple fleshlight sleeves, meaning excellent devices are readily available, and having the ability to target a 3″ stroke length at any particular point on the shaft means it doesn't feel too limiting like its cousin the Quickshot Launch.
• Read in full: Fleshlight Universal Launch Machine review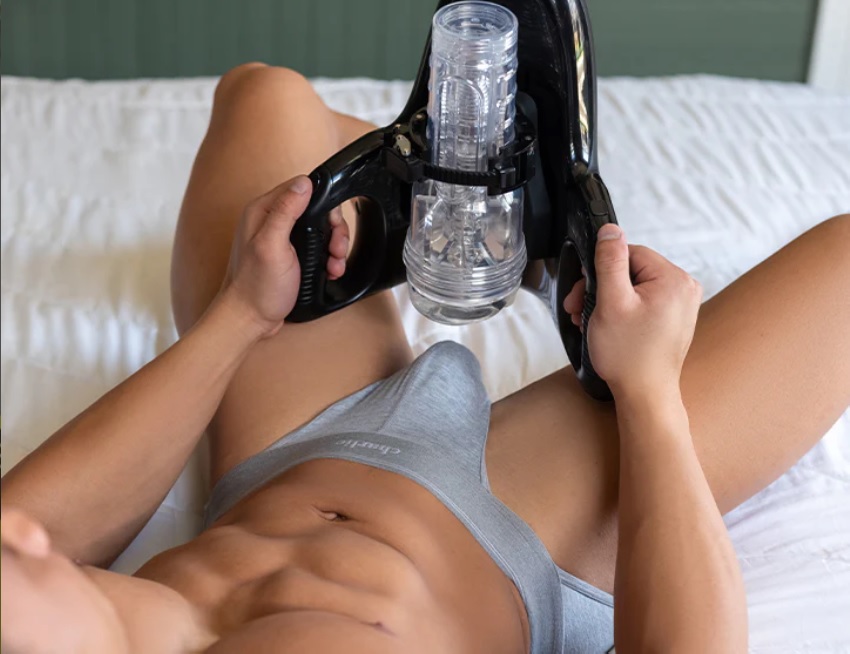 Live in action on PH - warning, graphic content.
Pros

 Strong motor
 3 inch repositionable stroke length
 Use while plugged in
 No compromises on speed/stroke length from original Launch
 Comes with handles unlike original can-shape
 Will rest on thighs hands free
 Manual controls
 Can be used horizontally
 Accepts multiple devices meaning excellent sleeves available
Cons

 Bit steep with no fleshlight included
 No

pre-set

 Launch patterns
 Not wifi or bluetooth enabled
3rd – The Handy 
On speed

Max stroke length: 0-4.3″
Insertable length: 4.3″ (no' of Handy sleeves)
Max girth: 8.6″
Max strokes per min: 600
Comes with sleeve/toy: yes
Battery run time: no battery
Runs from mains: yes
Grip/feel:  6 inhouse choices lined with bumps & pleasure beads
PDF instruction manual: yes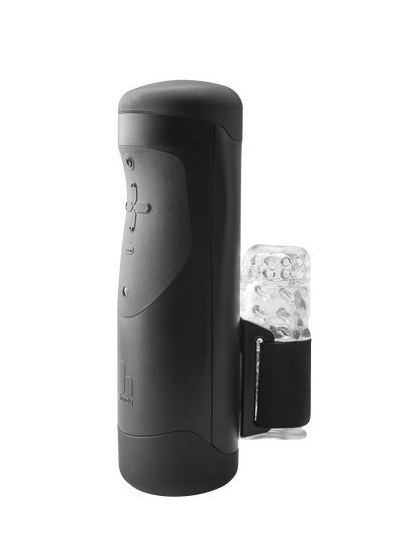 The Handy focusses on speed. At max speed it can deliver up to 10 strokes per second, that's 600 per minute – how long you can last though is the question.
It also runs straight from the mains  – no battery, so time is not your enemy, but being away from a power source is.
Unlike the Keon and the Universal Launch, your pleasure toy sits outside the male masturbatory-machine, it's not encased within it or cloaked around it.
Designed in Oslo, The Handy gets rave reviews on reddit although some should be taken with a mild pinch of salt, as they do read a little manufactured.
Getting to the nuts and bolts of how the 3 best automatic blowjob machines chosen here compare, forums often provide better insight. 
How the Handy compares with the Keon & Universal Launch
  Sleeve – like the Keon it comes with its own pleasure sleeve in a case or others can slot in.
  Performance – it has the highest speed stroke at 10 strokes a sec.
  Price – slightly cheaper of the three.
  Hygiene – can be cleaned inside out.
 No battery – runs on mains, would increase weight & ruin its ergonomics but restricts travel capabilities.
Tips for using the Handy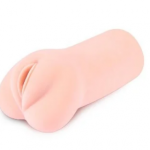 Using their zero tolerance perfect stroker with the handy works great as it deploys great suction, sucks you in and prevents any pinching. It keeps you separated better from the motor, protecting you from potential burns.

The Extra True Grip Band that comes with it will also help prevent your todger getting hot.

The Tenga spinner works well with the Handy.

Doesn't work well with onaholes.

Can use removeable zip ties for extra grip, work well with Pilot & the Aviator.

Will hold the Stamina Quickshot with it although it's open ended, so one tip is to use the cap from the Fleshlights shower adapter, which  closes the sleeve. 
Ideas that have been posited to the Handy in their latest sleeve design competition on reddit include creating a self-lubricating sleeve and one more cone shaped, so it gets skinnier towards the top – something that pushes down on you for more sensation.
Also a softer sleeve.
The sleeves are soft just like the Fleshlights, but for extra soft, there is clearly a market for that. However, smaller & regular Fleshlights will work.
Related: The Handy with Fleshlights
And while they're piecing together their new design they have also released in beta version the Handy Feeling, you just need your connection key and you can then sync up.
The Handy Feeling hosts many more videos and VR capabilities so if you don't like their readily available content, the Handy Feeling App hosts a lot more.
A Thumping 10 strokes a SECOND!
• Read in full: The Handy BJ Machine review
Live in action

 on PH - warning, graphic content.
Pros

 Fastest out there – 10 strokes a sec
 Decent twisting torque sleeve
 Good online script player for VR interaction
 Use plugged in
 Holds small/medium sized Fleshlights/Onaholes
 Made in Norway
1yr warranty
Cons

 Standard sized fleshlights require Pro Grip $20
4th – Quickshot Launch
On Reliability & ergonomics

Max stroke length: 4″
Insertable length: designed for open ended Quickshots
Max girth: as per Quickshot model size
Max strokes per min: 250
Comes with sleeve/toy: no
Battery run time: 60 mins
Charge while using: yes
Grip feel: depends on Quickshot & combo arrangement
PDF instruction manual: yes
The Quickshot Launch gets overlooked by first time buyers, but a number of frequent users say they prefer it to its cousin the Universal Launch in almost every department, except its highest speed setting on long strokes & it's inability to hold regular sized Fleshlights.
The other obvious questionable issue to this brawny auto-BJ machine is getting your expensive phone covered in lube and man juice by using an open ended stroker, but this is solvable by attaching two Quickshots together and popping the end cap on.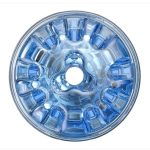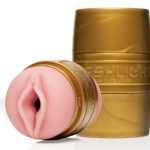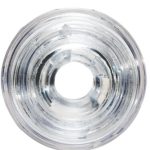 Plus while a phone holder might look snazzy, its A positionally not practical and B, why not watch whatever on a larger screen, unless you're on the move, .. with a 14″ tall automatic BJ machine?
However, it's biggest selling points are both its ergonomics and its reliability.
Universal Launch users ogle with envy when they compare their design to the QL's side handle bars, with racing car control buttons.
And it's not just the aesthetics, it makes it easier to manually control while lying down, as it will sit on your lap hands-free.
Its reliability is key too.
The Quickshot Launch is as sturdy as hell, built on the old school Launch engineering design.
Key improvement needed for the Quickshot Launch
You get 250 strokes a minute at top speed with the QL, but only on the shortest stroke setting, so the lengthier the caressing, the slower the strokes.
Faster speeds for longer strokes would therefore be a benefit, or you can pay an additional $10 and get the Universal Launch to avoid this drawback.
You will need your own stroker of course but you'll be engorging in a fully sized Fleshlight.
That not to say you can't deploy a Quickshot or two on a Universal Launch mission.
Read in full: Fleshlight QS Launch review
Live in action

 on PH - warning, graphic content.
Pros

Better for shorter guys
 Use plugged in
 4 variable stroke lengths
 4 different speeds & sensations
 Target base, shaft or tip
 Easy to press buttons lying down
Cons

No Fleshlight Quickshot included
 Doesn't hold regular sized Fleshlights
Stroke lengths shorter & highest speed slower than UL
5th – Lelo F1S V2A
On Trembling oral oscillations
Max stroke length: zero – it oscillates
Insertable length: 4.3″
Max girth: 4.36″
Max pulses per sec: 63
Comes with sleeve/toy: yes
Battery run time: 120 mins
Charge while using: yes and no – if using in bath/shower
Grip/feel: wide to slim ribbed silicone sleeve
PDF instruction manual: yes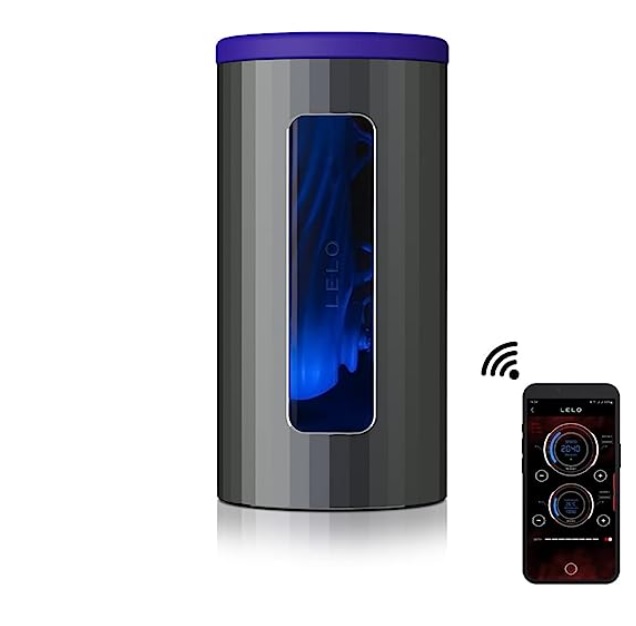 You may find that the Lelo F1S V2A gets rave reviews across similar male sex toy websites to this one, but digging a little deeper there are couple of important features to note.
First, this is not a stroking machine that you can pummel (although this is feasible), but a pulsating one.
The Lelo F1S V2 essentially pulses and vibrates your buddy at different strengths according to your desired settings.
At full whack, with your frenulum pressed hard against its two pulsating motors, you experience a different kind of orgasm than just roughing it alone.
Deeper and more powerful than regular wanking?
Well, it's your state of mind which pulls the shots here, but if you're looking for little help, phoning your friend vLelo F1S V2A would be a good call.
Better than being stroked to death by a machine with your favourite Fleshlight though?
Nope.
Second, it's a bit tight.
Should you be over 5.9 inches in circumference then you won't be able to fully insert into the Lelo F1S V2A.
Extra lube will help assist those who fall on the edge of this measurement, but if you're over 6″ in girth, then this trembling blowjob machine isn't for you.
These two issues aside however, if you're after a more shlurpy oral experience, then the Lelo F1S V2A will still stimulate you fantastically well if you're the right fit.
But with very a different set of sensations compared to thrusting up and down.
Sonic waves will pound your fella when you use the Lelo F1S V2A, not long, short, fast or slower strokes.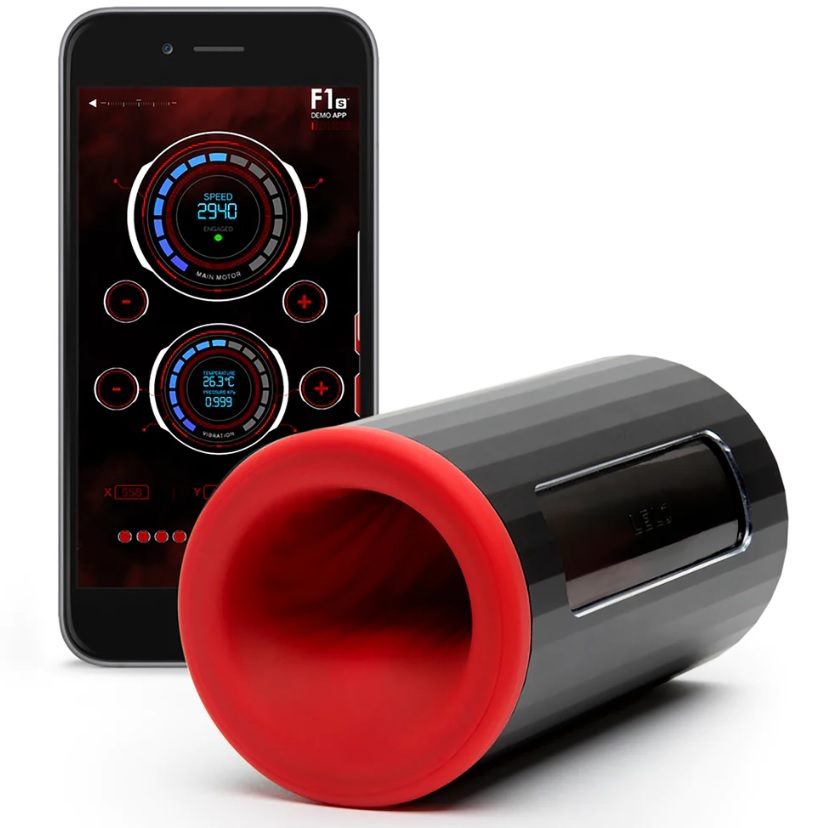 How does the Lelo f1 v2A feel?
Cutting to the chase, this is basically the most pressing and ubiquitous question the Lelo f1 v2A faces from its potential buyers.
What are its sensations like, does the machine provide an authentic BJ feel, does it swirl or reverberate on the spot, and will it genuinely perform well?
Extracted from machine stroking communities, only real users who have spent their hard earned bucks and aren't financially invested in the product can answer these queries with candour.
Here's what they report.

  Ribbed silicone sleeve – the  wide to narrowing love tunnel recreates a more throaty texture. 

  New type of orgasm – its frenulum oscillations reverberate at very fast speeds, top reverb at 63 beats per sec.

  Doesn't stroke but it can – manually you can still pound it 4.3 inches in and out.

  Titillates the head – it mainly pulsates and pleasures just the tip of your dick.

  Cruise Control Technology – allows for constant uninterrupted throbbing.

  Twist & turn without reprogramming – it maintains your chosen rhythm if you rotate it.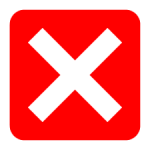 Timid compared to machine strokers – not quite the hardcore treatment you may be yearning.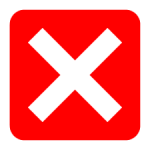 Tight ride – as mentioned, its feel relies on your structure, under 6″ girth you'll reap the benefits, over 6″ – give it a swerve. 
Tips for avoiding Lelo F1S V2A's trapped air issue
A number of first time users appear to hit the same stumbling block when cracking open their Lelo F1S V2A.
The trapped air issue.
The solution: insert a straw into the machine and pour some molten lube down it.
Well, obviously don't heat your lube up too much, (here are some lube warming ideas), and then insert your also pre- lubricated schlong.
You'll now be able to bottom out by sliding past the straw, no problemo and then you can smoothly withdraw the straw.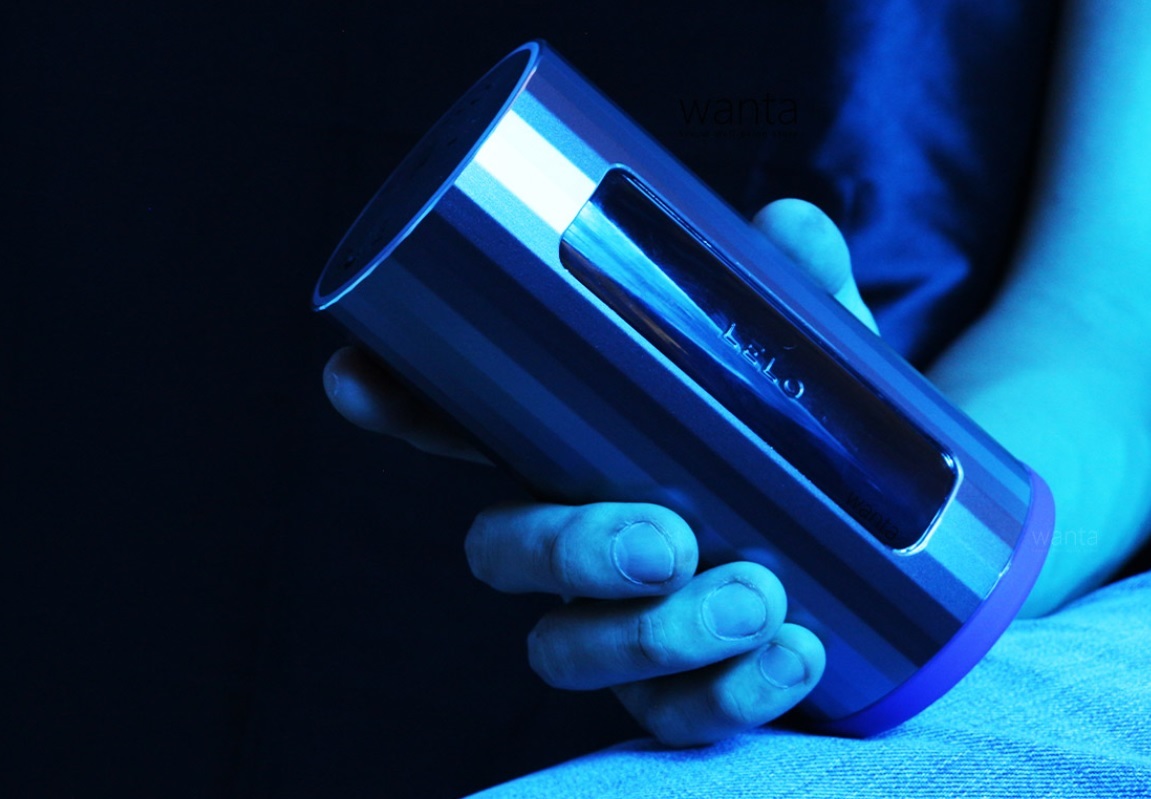 Live in action on PH - warning, graphic content.
Pros

 63 beats a sec max speed
 Waterproof – can use in bath/shower
 10 performance sensors
  4 customizable programs with 7 patterns
 Better than original  F1s V1 release & cheaper by $100
 Cool little window helps you peer inside
 Made in Sweden
Cons

 Bit noisy
  It's tight – max girth 5.9″
  Similar price to Quickshot Launch
 Not as hardcore as the machines
Summary
In summary of the best automatic blowjob machines – the Keon, Ultimate Launch and the Handy are getting all the plaudits for now in machine based masturbatory technology.
This review will be amended in due course when new products or upgrades emerge.
When it comes to deploying a pleasure toy to your member, there are manuals and then there are automatics.
Only recently has automatic blowjob machine technology improved over such a short space of time that those looking for some handsfree relief will now know there are a number of electronic male masturbators that will fit the bill perfectly. 
Outside of listing these models as the best automatic blowjob machines the market currently has to offer, there are just a few more which may be of interest to you.
More expensive, but efficient and fascinating to say the least:
(Links open in new tab).
Venus 2000 SR6 Open Fun Scripter – see youtube video