Getting your mechanical sex toy to work in concert with your live or recorded material can at times be tricky, & this can be true when switching the best bj machines to interactive mode, but what if there was a way to know how to make 2D/webcam porn interactive?
FeelConnect 3.0 is the go-to app for hooking up interactive sex toys with your partner or to scripts, and failing that Funscripts are the way forward but what if you had a piece of software that could interpret the movements on screen and relay them back to your stroker in real-time without the need for scripts.
Cue – the new FeelMe AI chrome extension and mobile/tablet video browser app.
In short, FeelMe AI chrome extension uses machine learning to analyse the movements from your favourite vids, and conveys these movements back to your Keon via bluetooth.
What is the FeelMe AI chrome extension/app?
Created by Kiiroo and FeelRobotics who are behind a number of mechanical sex toy collaborations, the Dutch company Feeliate released their FeelMe AI chrome extension in October 2022 and it does just about what it says on the tin.
It will make the following whitelisted sites completely interactive through the use of a chrome extension and potentially any videos of your own also interactive through their video browser app on smart devices.
You can also deploy the FeelMe AI software on your private treasure trove and bring to life those old vids!
The software generally works best when there is just one model in the frame and is naked.
What websites work with FeelMe AI?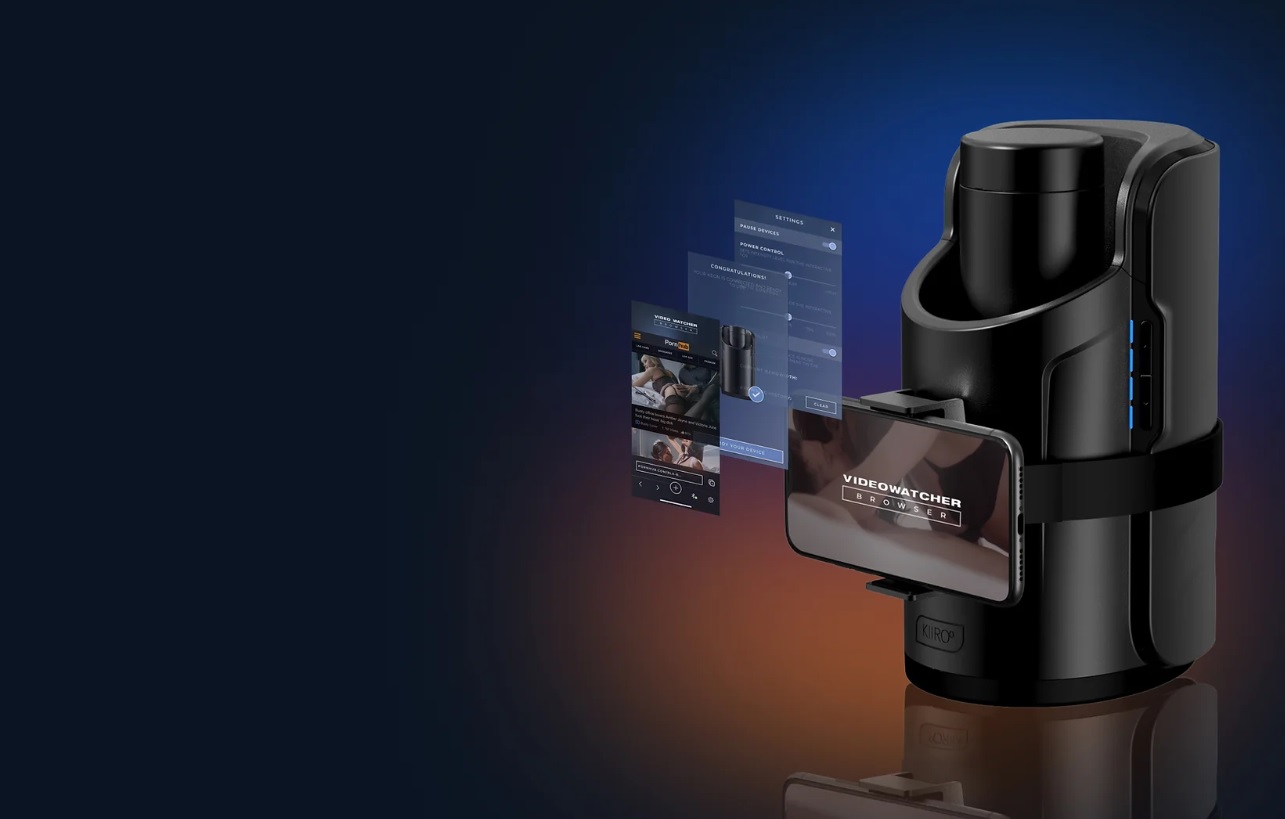 FeelMe's AI whitelisted sites so far include:
Fremium sites – Stripchat (the biggest) Bongacams, Charturbate, Imlive.
Premium sites – Manyvids, LiveJasmin.
Porn sites – Pornhub, XNXX, Spankbang, xVideos, Epornerx, xHamster, Incestflix, Dorcelclub, MyPervyFamily, Adultprime.
Virtual reality porn sites – Sexlikereal, Wankzvr, FeelXVideos.
Should you have a preferred website, just email FeelMe support at support@feelme.com headed "Whitelist request" or fill in their Contact Us form on the FeelMe AI homepage.
How to make non-whitelisted porn sites interactive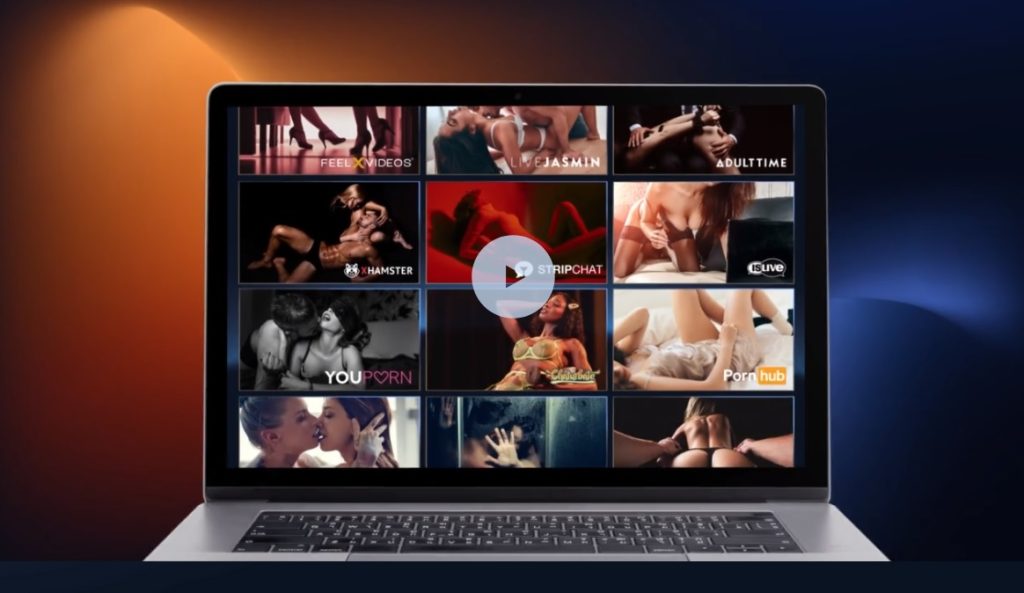 Additionally, most adult sites that feature a single model naked either by themselves or with a gentlemen – aka vanilla sex – will also allow interactive stroker sex.
Those sites not whitelisted can be added as mentioned above, just drop them an email. Turn around time is fast.
Once approved, open up the FeelMe app video browser, choose your 3 day free trial or another package deal and on the right click "connect device".
Make sure bluetooth is turned on on both devices – Keon and connecting pc/laptop – and click "pair".
Also make sure to keep FeelMe AI open in another tab or this chrome extension won't work.
FeelMe AI works in incognito mode too but you will again need to keep your FeelMe login page tab open and you must select "allow in incognito" under the apps extension settings.
Then head to your newly added whitelisted website and under FeelMe's settings icon select "auto-pilot" and click play or you can play around with speed and stroke depth settings.
How to make personal webcam/porn videos interactive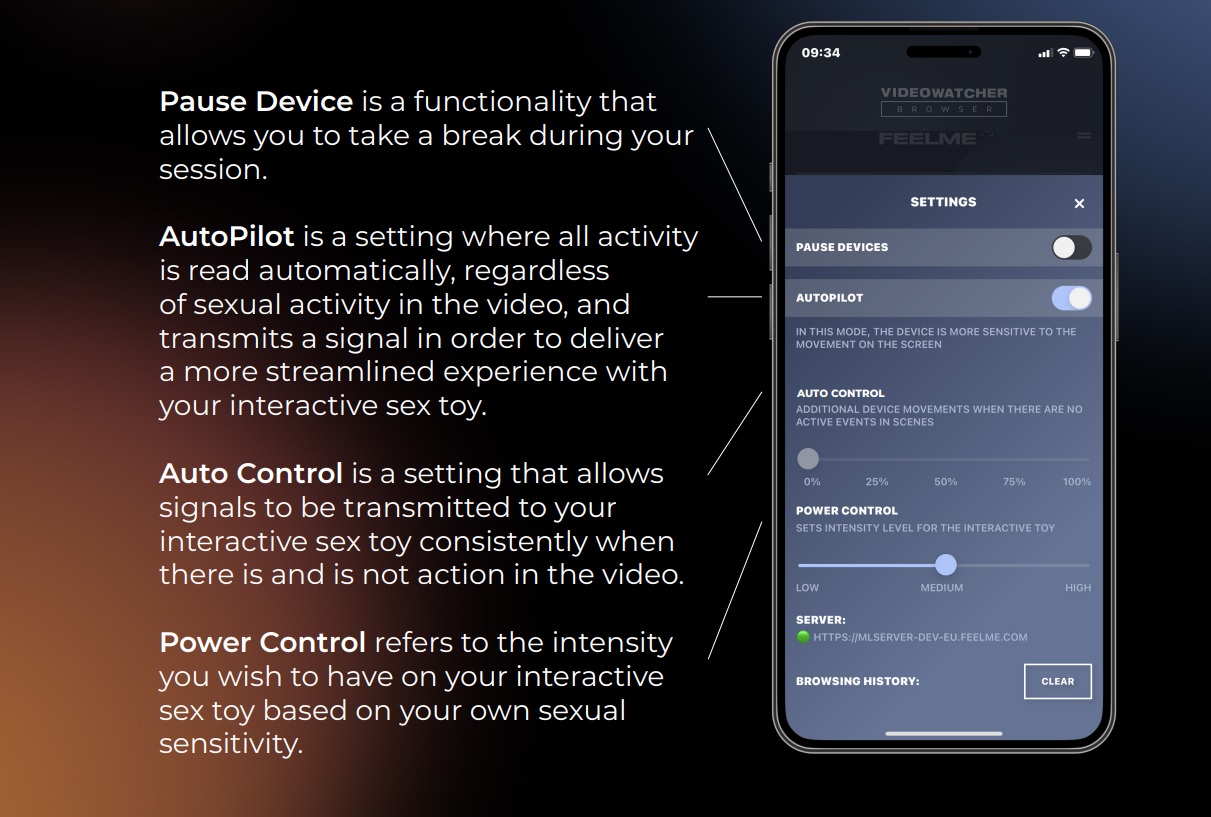 You can also make your own material interactive by uploading your pre-recorded porn or webcams to one of FeelMe's whitelisted sites.
This is the icing on the cake!
Unfortunately dragging and dropping your video file onto your chrome shortcut icon on your home screen won't work for now but you can still right click your chrome icon and "cast" it to your TV so you can watch and experience the movements in much better visual quality.
You will most likely need a laptop for this as PC units are unlikely to have a bluetooth function.
If your video is filmed at an odd angle it may have difficulty interpreting strokes but otherwise FeelMe actually works surprisingly well.
If twerking is your tipple, it appears that models that are naked replicate movements better than those clothed.
How to create & record your own interactive sex machine patterns
How to create your own stroking patterns: there is no nudity in this vid but it does feature Kiiroo's range of strokers which means you'll need to head over to youtube to view.
Using the Kiiroo Keon, separate from FeelMe AI, you can create your own patterns should you wish for a more bespoke journey.
Detailed in this clear youtube video above, while the Keon has been used as an example of how FeelMe AI and a sex toy per se hook up, unlike other sex toys, the Keon also has the ability to create its own patterns (scripts) which you can then save.
Note – if your device isn't listed and appears under unsupported toys, just email FeelMe as previously listed on their contact us page and request that it be made compatible by typing your sex toys name and brand.
How to have distant interactive sex with your partner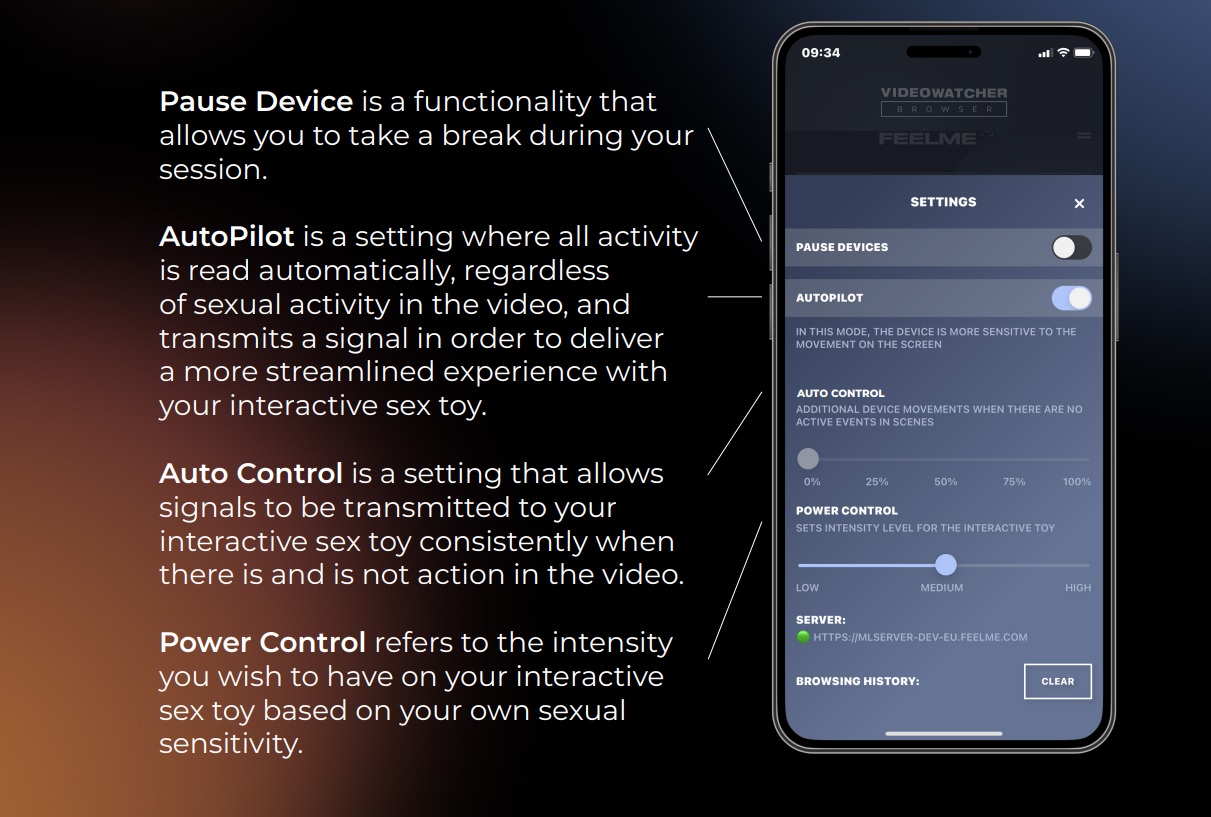 You can use FeelMeAI to hook up easily with your partner whether 3 blocks away or across the pond.
Interpret her thrusts straight through your machine, she doesn't need a bluetooth toy to pair her endeavours.
Thanks to AI and the apps creators, knowing how to how to make 2D/webcam porn interactive has just got a whole lot easier.
Ring up your partner and invite them into some saucy behaviour on screen or go revitalize your private porn collection now!