Apparently, according to Adam & Eve, only 57% of men cleaned their affordable fleshlight in 2017. Worse still, 33% said they'd never washed it, period.
Not a good thought, and fast forward to 2023 – the stats haven't really changed.
Well, lets move on to a positive then and find out how you can avoid a urinary tract infection by learning the art of fleshlight cleaning in 5 simple steps.
Related: How to dry a Fleshlight
Not scaremongering, but you genuinely can get sick if you have an open wound around your member and your unclean fleshlight decides to breed a few nasties.
You'll be able to tell when dark patches begin to appear and the smell is unlike it was the day it arrived.
The problem is, is that most fleshlights are porous, so you have to keep on top of cleaning.
All fleshlight models as well as Tenga ones are a silicon blend, this allows for the super-skin texture but the slight drawback is that the skin is permeable.
However, Fleshlight and Tenga are singled out by sex bloggers as they are toxin-free.
If you want to avoid the risk of toxins from materials like PVC, rubber, plastic and jellies, entering your body and nervous system, then you're safe with these brands.
The Art of Fleshlight Cleaning in 5 Simple Steps
Step 1: 

Wash case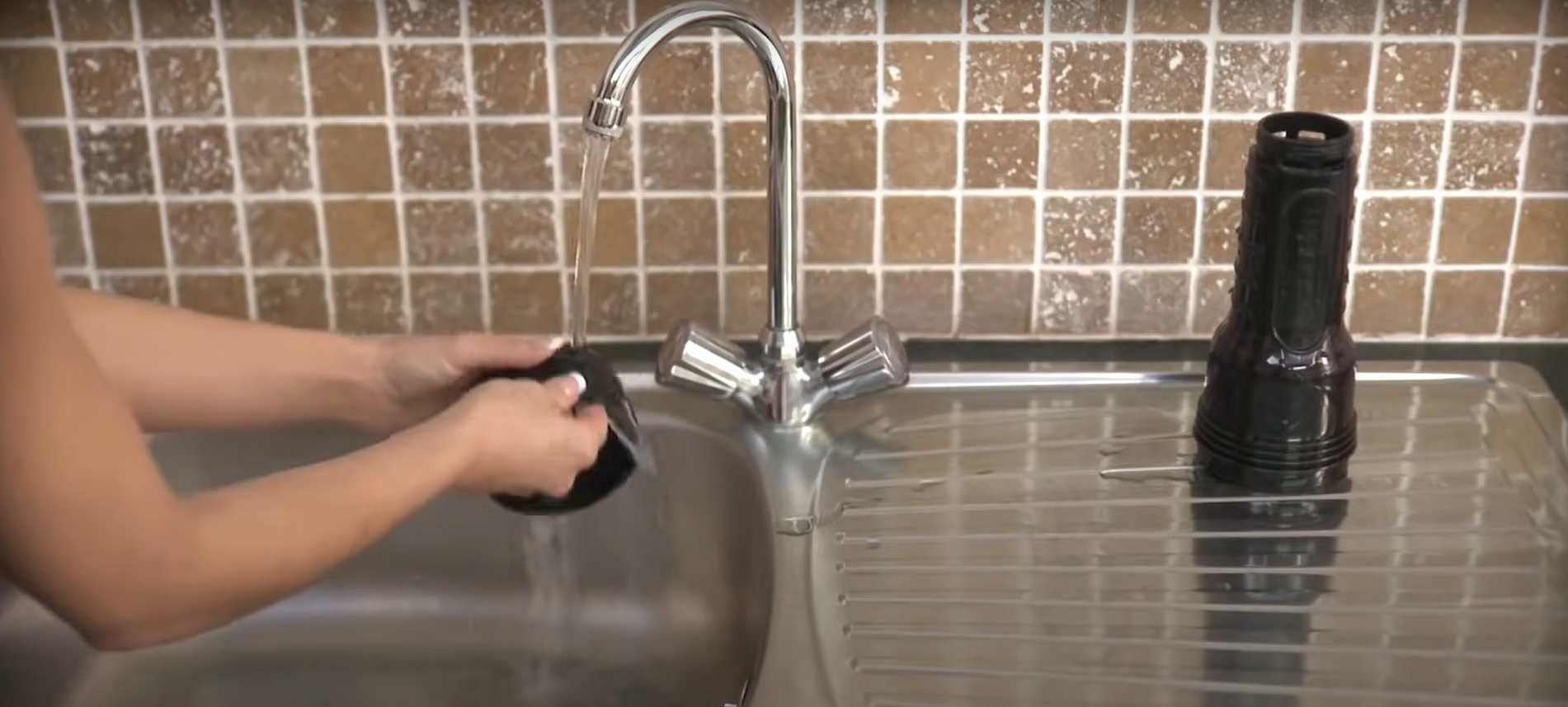 Remove the case first.
Here you are allowed a little soap with some warm water, but obviously no soap for the sleeve.
Rinse and dry.
Step 2:

Rinse sleeve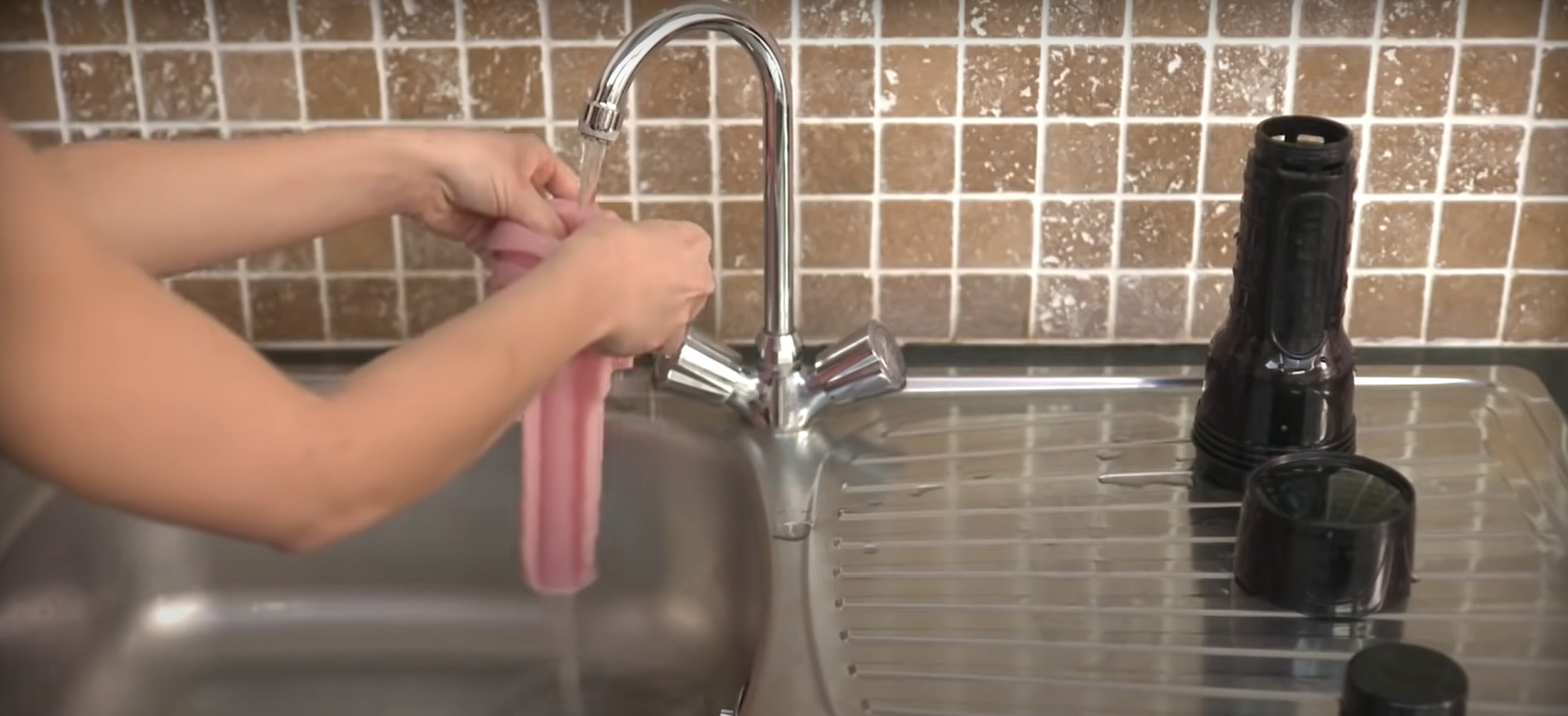 Note 1: a fleshlight sleeve is sensitive to too much heat.
Note 2: never use a regular soap as it can degrade the lining of  the soft Superskin material.
Now onto the sleeve, once removed, rinse it with just warm, not hot water, in one end and out the other – again, do not use any soap.
With the water running, use your digits to get in to the little pockets and remove any waste.
You can try rinsing it another way, by covering up one end, letting it fill with water, then giving it a good shake before rinsing further, again prying those fingers into the crevasses.
Step 3:

Apply cleaner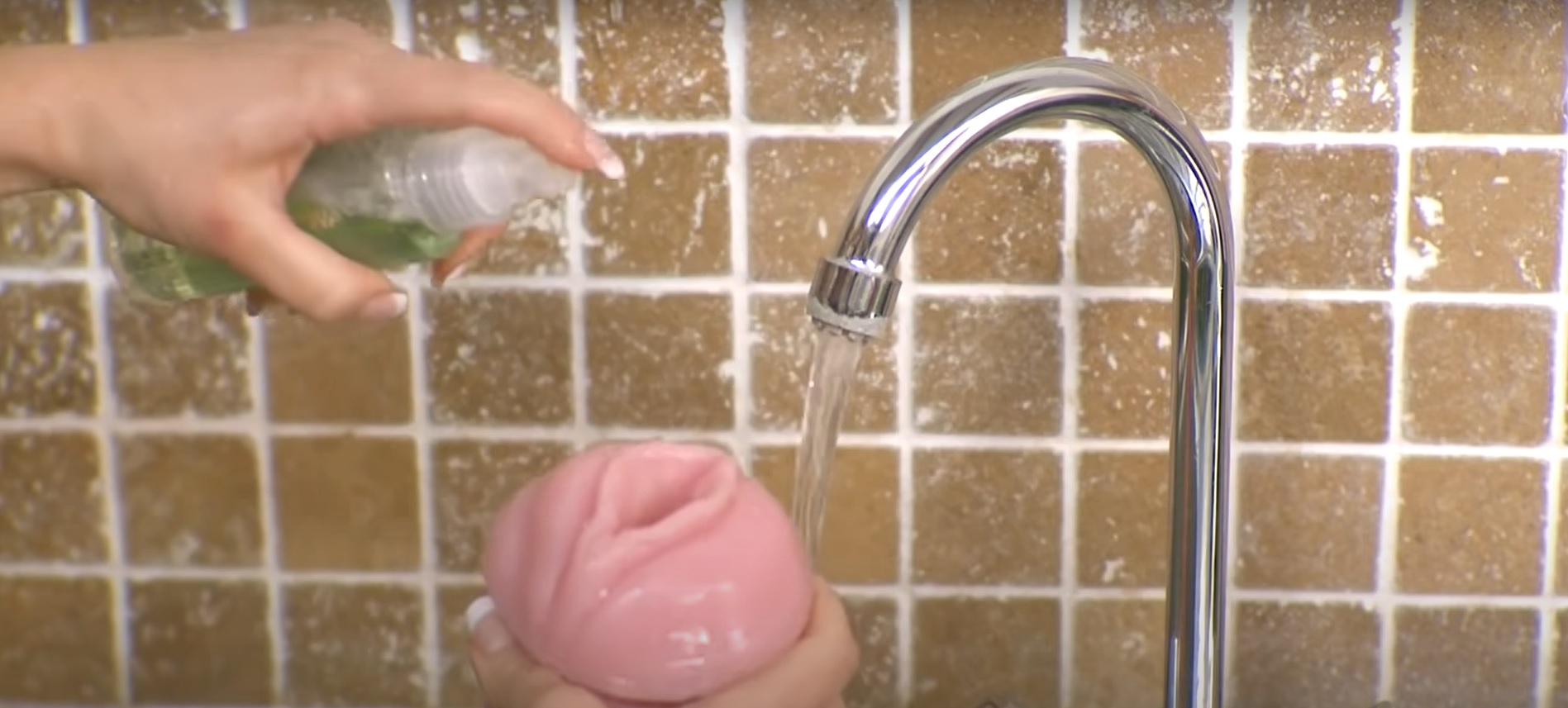 To eradicate any last remains, you can either use a specific cleaner like the Fleshwash, by giving it at least half a dozen squirts and then a rinse – or:
Use a neutral toy cleaner should be ok.
However, the first tip below is an excellent additional way to destroying the germs.
Step 4: 

Dry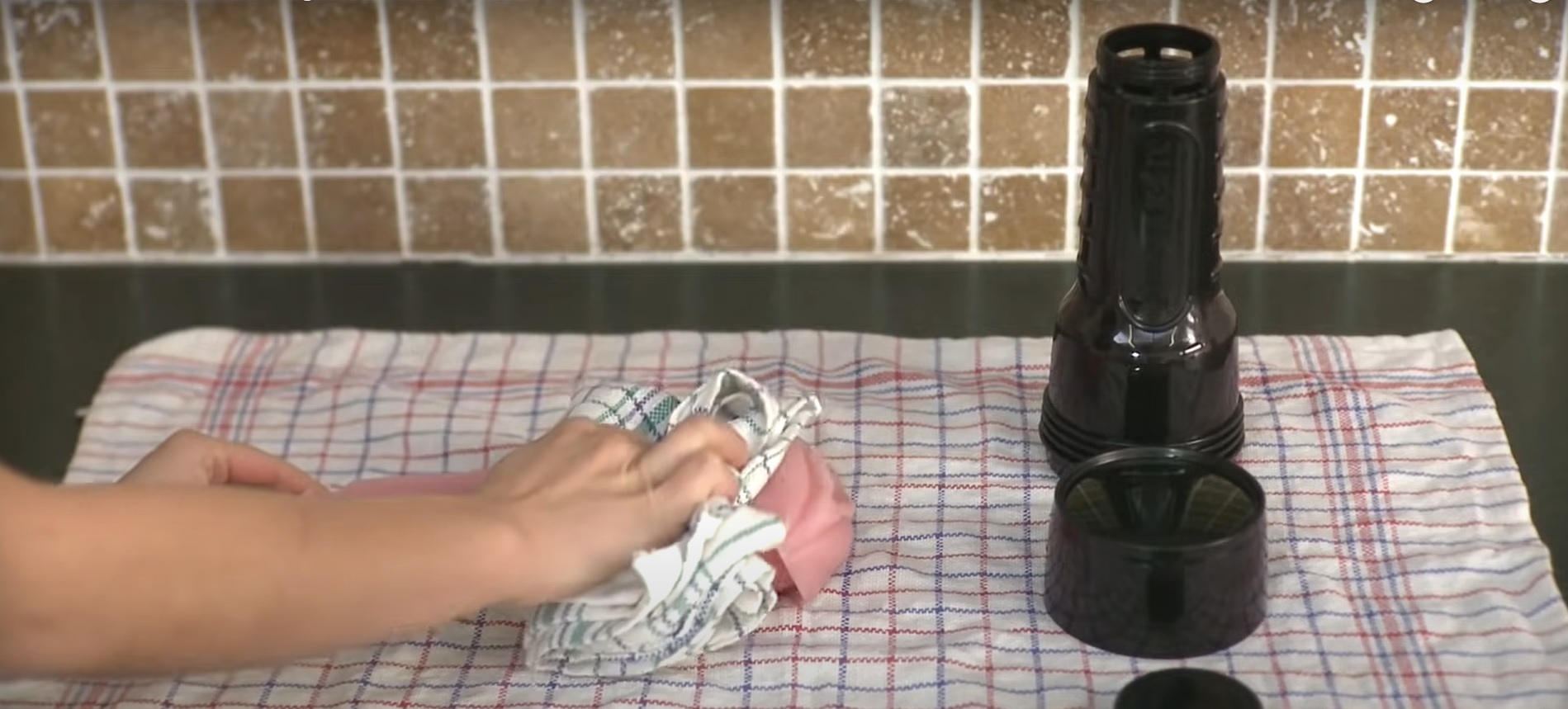 To dry, just a paper towel will suffice followed by an air dry.
Do not attempt to take a hairdryer to it or any other artificial heat although on a cool setting will be ok.
Stood vertically, this will allow the excess water to drain. A good shake prior won't hurt.
Now place it on something that will allow the air to dry it in full, like an iron radiator switched off or on a tea towel by the kitchen sink if like below.
Or, you could of course get a machine to do the drying for you.
Take a look at the Fleshlight Air below.
Once your almost 10 inch love chamber is sat on top, it's a sight to behold!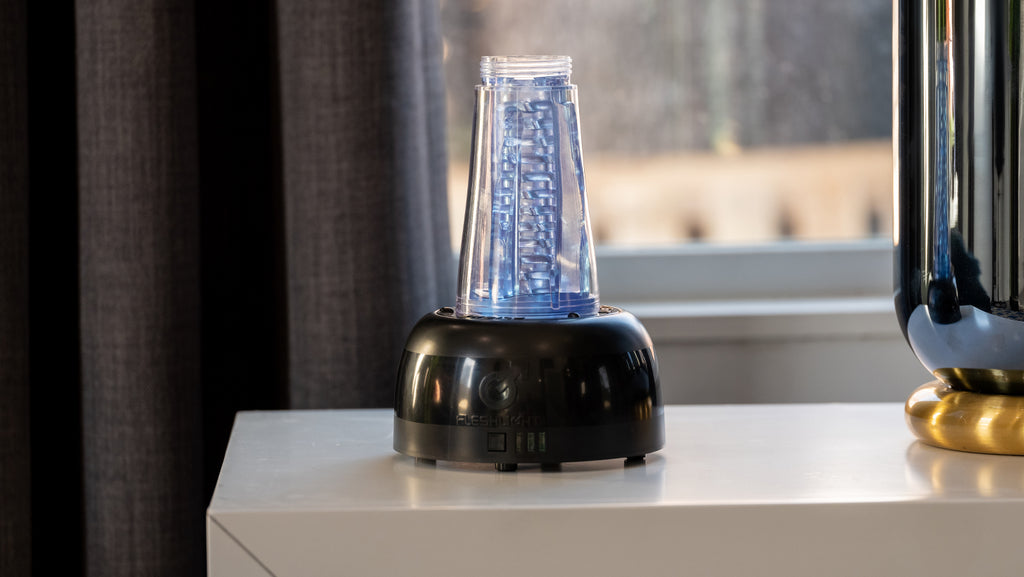 Step 5:

Sprinkle renewing powder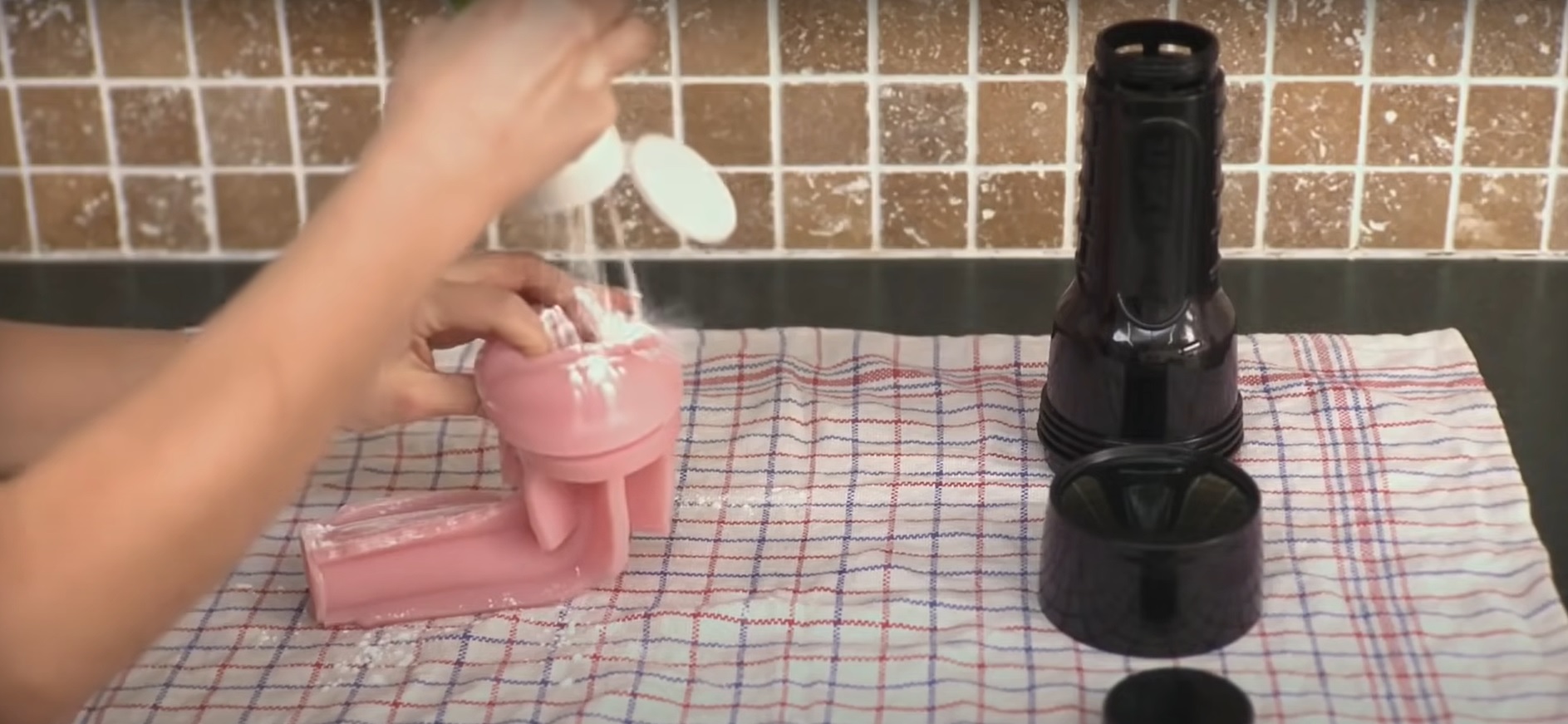 Now that your sleeve is dry it's time for the party trick. Sprinkle some neutral talcum powder over it, especially in the orifice.
Give it a good dousing, rub it inside and all over. Put it back in its case and at your next outing you will find that your pleasure buddy will be bone dry.
Additionally, you can use their prescribed Fleshlight renewing powder (at roughly the same cost) for keeping it soft and fresh like the day you first bought it.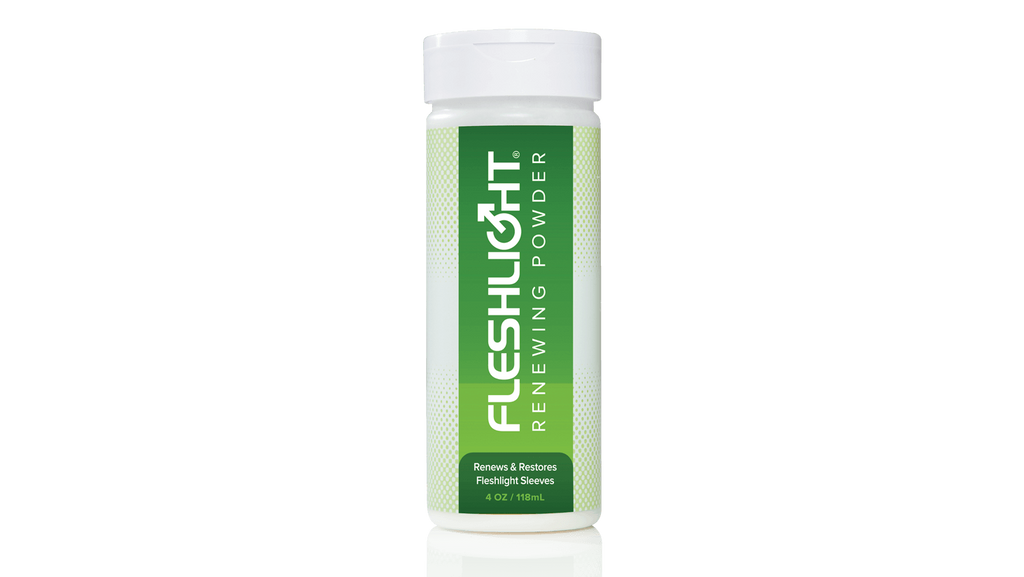 And 3 Pro' Tips
Tip 1: Fleshlight users swear by 70% isopropyl if you can get your hands on it. It has a double whammy effect: it will kill off remaining bacteria and also it helps the sleeve dry quicker.
You should be able to buy isopropyl at your pharmacy. It's effectively a rubbing-alcohol antiseptic. It's present in antiseptic wipes but these maybe contaminated with other toxins, so 70% pure isopropyl is advised.
Tip 2: If you'd rather just do an initial cleanse before a deep clean, unscented baby wipes will do the trick and fend off the bigger job until the morning.
Tip 3: Apply cornstarch on your dick stroker after it has dried, especially on the insert surface. It's excellent at drying out those hard to reach chasms and areas that are unable to naturally fully air dry. The Air is designed for this.
Source: this article was derived from this very clear fleshlight cleaning Lovehoney video on Youtube. It is age restricted but features nothing explicit, just the toy.