If you're already familiar with making a homemade water based lube, oil based lubes can be just as easy to prepare, only less need for so much moisture.
Firstly some important pointers, you should not use homemade oil based lubes on sex toys per se, especially silicone ones, as it's very difficult, nigh impossible to extract an oil from these permeable surfaces.
Oils provide a breeding ground for bacteria to flourish, which may in turn cause infection or affect your pH balance, so it's very important not to be too gung-ho with your new oily DIY potion.
Nor should they be used with latex condoms which an oil will break down, and if you have been using an oil based lube, it's always best to go for a thorough wee after some action, to stave off any urinary tract issue.
However, horror stories aside, used in moderation and not for penetration, knowing how to make a homemade oil based lube, which you can store in a sanitized airtight container for later, is an easy and useful skill to know.
Related: Best lubes for Fleshlights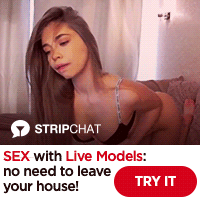 1. Oily avocado lube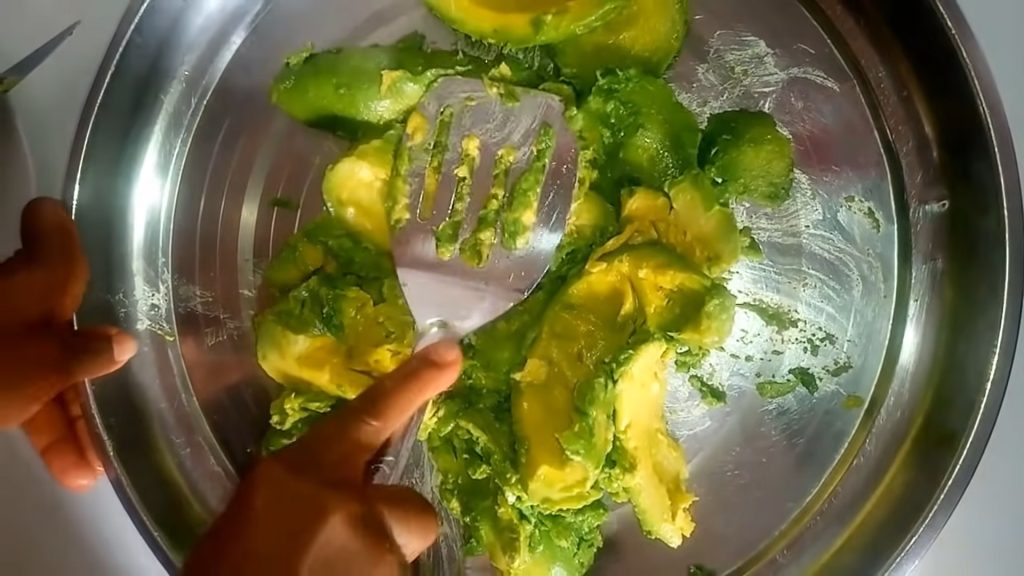 Rich in vitamins A, D and E, avocado oil is revered for its moisturizing qualities. Steer clear of using latex condoms with avocado oil.
Here are 3 of many ways to use avocado oil as a lube. The first is the quickest method.
What you'll need:
Mixing tray
Spatula
Avocado/s
Water
How to make Avocado oil lube:
1. Grab a clean mixing tray.
2. Place your desired amount of avocado into the jar, sliced for easier churning.
3. Use a mixing spoon or spatula, stir the avocado thoroughly so a smooth oily texture develops.
4. Once blended, your avocado oil is ready to lube. You might find that it's still too thick or you haven't eliminated all the chunks, so you could add a little water and warm it up in the microwave.
Whisk to fuse or better still use a blender.
2. Avocado oil paste lube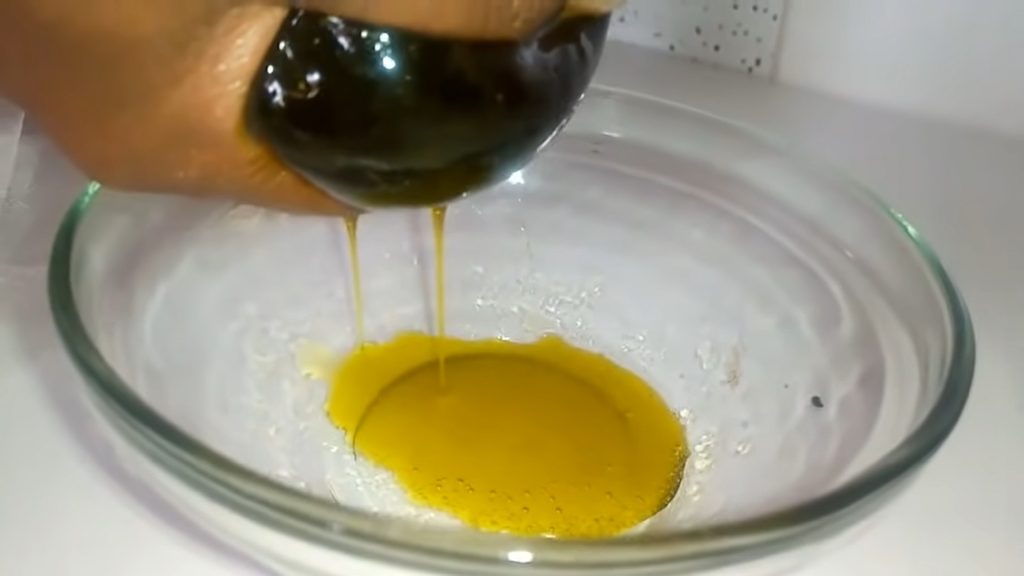 This second way is the long version and takes a day or two.
The wonderful video below from Onyx Food Hill details just how to extract oil from an avocado once dried into a paste.
What you'll need:
Avocados
Spatula
Mixing bowl
Tray
Cheese cloth
A jar
How to extract oil from Avocado paste to use as a lube:
1. Have a clean mixing tray or bowl ready and place your fresh avocado in with stone and skin removed and mash into a paste.
2. Spread your avocado out on a tray and leave somewhere warm and free from curious critters.
3. Give it 12 hours and you'll notice the top layer has dried to a dark brown color. With a spoon, mix it up again as it'll still be moist green underneath and comeback in another 12 hours.
4. Hopefully thoroughly dry now, spoon the paste out onto a sheet of cheese cloth, wrap it into a ball, twisting and tightening it around the top, like you are wrapping up a toffee apple.
5. As you squeeze the ball of avocado paste tighter, the oil will seep out into a bowl you have ready,
6. This neat avocado oil extract can then be turned into a water based lube, complimented with an essential oil or used solely on it's own. It's incredibly rich in healthy vitamins and minerals so great for skin and hair care.
3. Avocado & coconut lube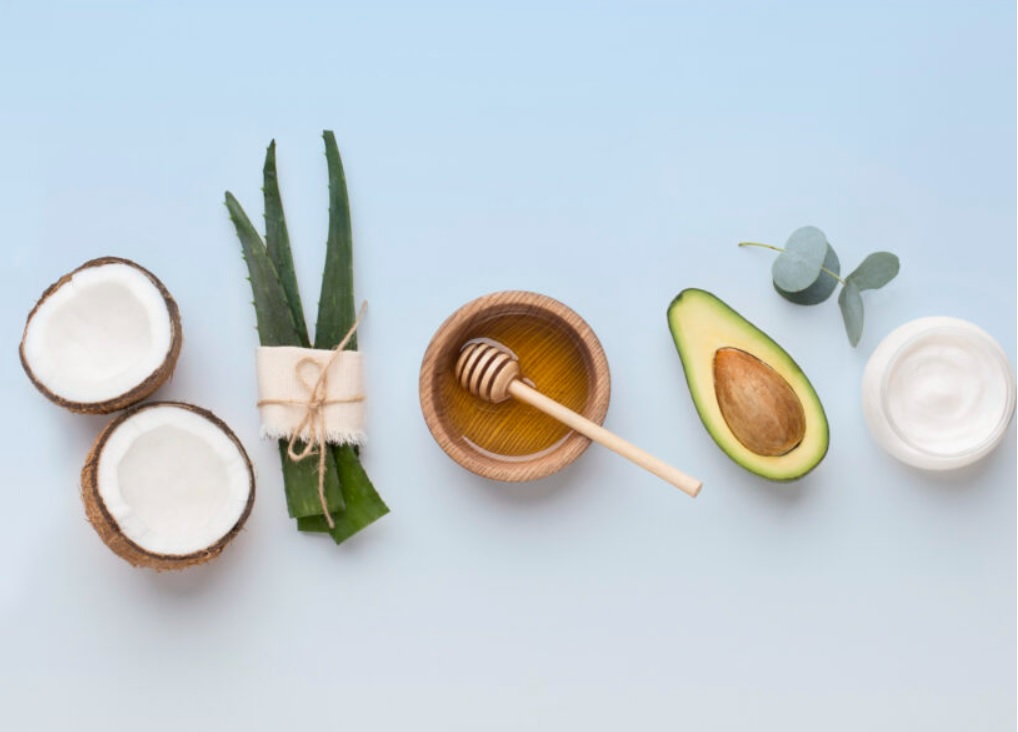 This third take on creating a lube from avocado oil involves combining blended avocado with some coconut oil and sticking it in the microwave; it's wonderfully easy.
What you'll need:
1/4 cup of fresh avocado
1/4 cup (baby) coconut oil
Few drops of your chosen essential oil (avoid with toys)
How to make an Avocado & Coconut lube:
1. Using a blender or by hand, churn the avocado up and place in microwaveable bowl.
2. Pour in the coconut oil and give it 15 to 20 seconds or the required amount of time until the two oils melt together.
3. Let it stand for 2 to 3 minutes and then off you go or you can store some for later in a vacuumed container.
4. Olive oil lube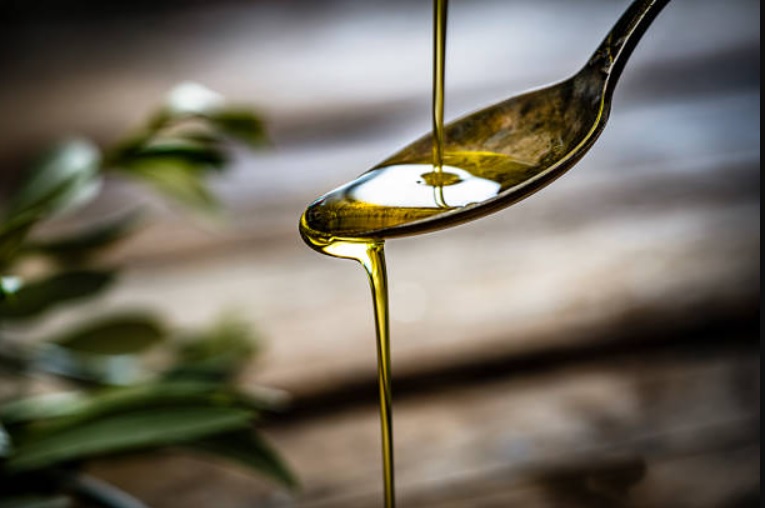 Olive oil is another great option to use as a homemade oil based lubricant. Readily available, it can provide a more temporary greasy relief than a water based lube.
If you go overboard, you can remove it with a warm wet cloth by holding it over your oily patch for 15 seconds.
What you'll need:
Extra virgin olive oil (organic, if possible)
Clean glass jar or container with a lid
Mixing spoon or spatula
Add favourite essential
How to make Olive oil lube:
1. Make sure your glass, jar or container is clean and dry.
2. Pour your required amount of olive oil into the jar. Begin with about a tablespoon, and adjust if necessary.
3. If you're in a warm climate and your olive oil has solidified or thickened, you can gently heat it to return it to its liquid state.
4. Now in liquid form, use a mixing spoon or spatula to stir it thoroughly. This will help ensure that it is blended smoothly.
You can obviously pour straight from the bottle, but stirring and airing it first makes it more slick.
5. Scantily add some of your own essential oil to make the scent more sensual.
5. Coconut oil lube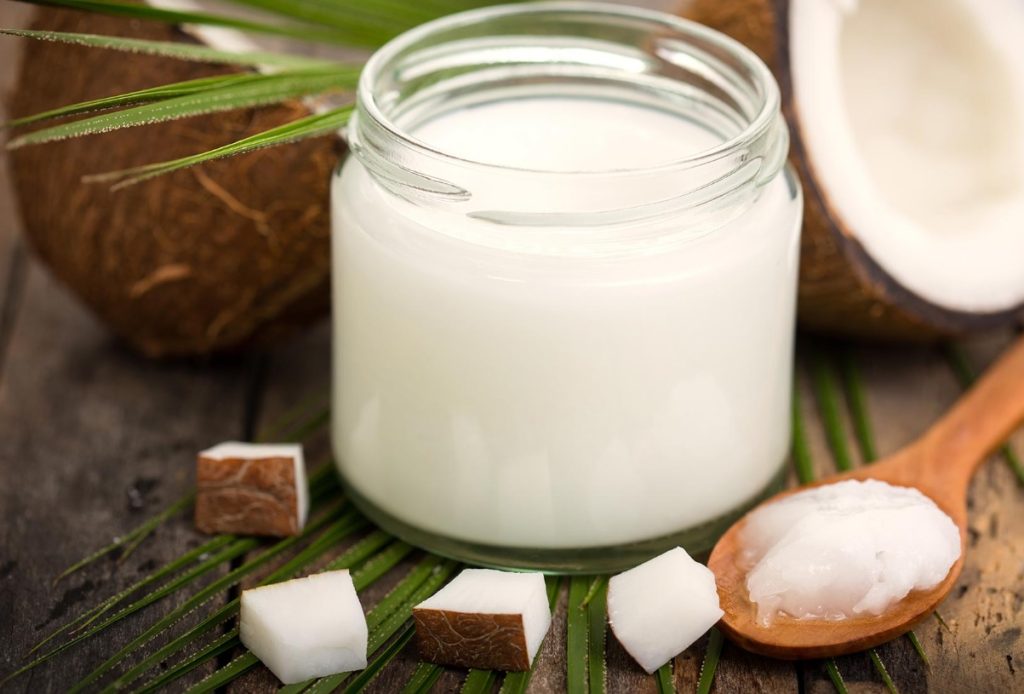 Thicker than other oils with pleasant taste, coconut oil is a popular natural lubricant with antimicrobial and antifungal properties, and as previously used with avocado, in this instance, you can fashion your own lube from coconut oil alone, in its molten solid form.
What you'll need:
A coconut or two
Bowl
Table spoon
Heating device
Somewhere cool
Optional – add Shea Butter
How to make Coconut oil lube:
1. Get a big clean bowl.
2. Scoop out a desired amount of coconut into the bowl. There may be no oil, so start with a small amount, such as a tablespoon of solid coconut.
3. You can gently heat it to melt it down. Place a scoop of coconut into a bowl and heat it in short intervals until it begins to liquidise. Careful not to overdo it.
4. Once the coconut has broken down into an oil, let it then solidify back to its natural state. You can do this by leaving the bowl in a cool room temperature or place it in the fridge for a faster cooling.
6. Once the coconut oil has solidified, you now have your very own homemade oily lube!
7. Lube lovers recommend adding up to 25% Shea Butter for a milkier smooth experience.
Simply scoop out a small amount with clean digits or a spoon, and apply it to your erogenous zones.
6. Almond oil lube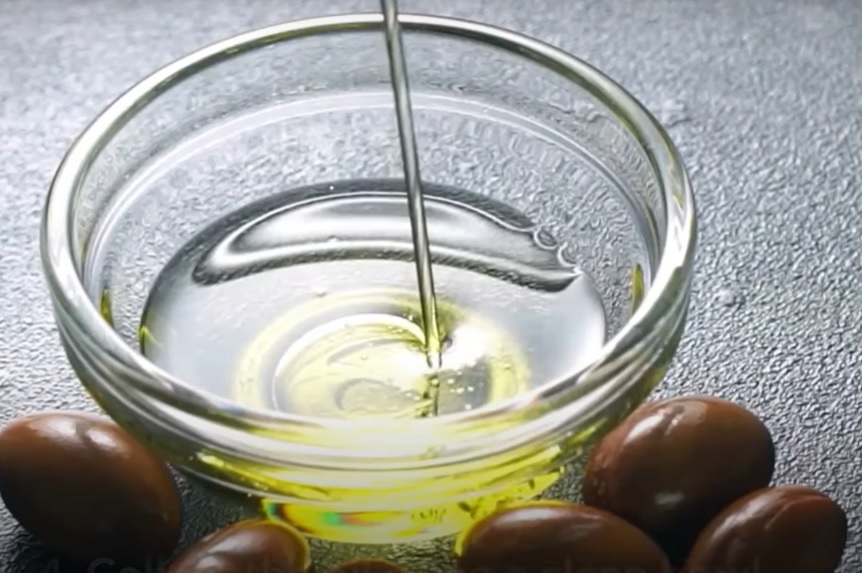 Assuming you don't have any allergies, almond oil is a gentle scented moisturizing oil that can be used as a safe homemade lubricant.
It also enriches your hair, soothes itching, rejuvenates dry skin and can be used to remove makeup.
If you don't have any almond oil to hand, but you do have some raw almonds or almond seeds and a free hour, you can follow this 10 step recipe.
You'll deserve a pat on the back at the end.
What you'll need:
Cheese cloth
Fine strainer
Few containers or bowls
Frying pan
Airtight jar
Water
Almond seeds
How to make Almond oil lube:
1. Slowly crush the full sized almonds in blender.
2. Once in small pieces, switch to higher setting until you have a smooth paste.
3. Add water to dissolve paste and add to frying pan.
4. Cook for 10 mins then remove from heat, this helps separate oil from paste.
5. Strain the milk into another pot using the cheese cloth.
6. Place the strained milk back on the boil on medium heat until most of the water has evaporated.
7. Reduce heat and cook the paste on a low heat, stirring until the oil starts to appear on top and all the water has completely vanished.
8. Remove pot from hob, let it cool and then place about 4 table spoons of the white almond paste into a new cheese cloth, and strain into a new bowl.
9. Pour the extracted almond oil through a final fine strainer to remove any unwanted particles.
10. As you've gone to all this effort, why not save some to rejuvenate your skin around your eyes or improve your hair health.
7. Aloe Vera gel & Vitamin E lube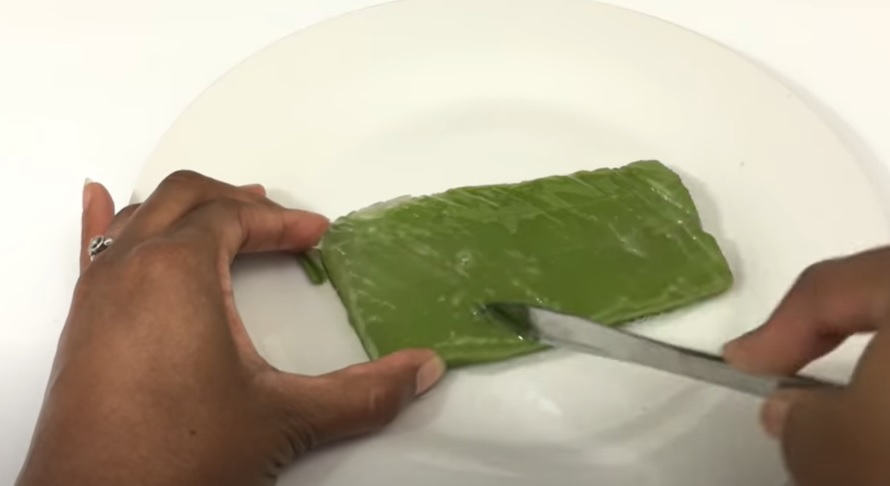 Vitamin E oil is often used as a moisturizer and can be applied as a lubricant. However, it is important to ensure that it's pure vitamin E oil without any added ingredients, as some formulations may not be suitable for intimate use.
Jojoba oil is a natural form of vitamin E so you have this water based homemade Jojoba lube recipe, then you have this more oily textured number, coupled with some medicinal Aloe Vera gel, which also features as a stand alone Aloe Vera water based lube.
What you'll need:
1/4 cup of 100% pure (extracted) aloe vera gel
Few drops of a pure vitamin E oil (or olive oil)
2 bowls
Storage container
Water
A ladies stocking
How to make an Aloe Vera & Vitamin E lube:
1. If you have an aloe vera plant you'll need to dissect it and drain it of its amazingly healthy gloopy gel.
1. Pour both ingredients into a bowl and blend with a wooden spoon.
2. Whisk away until oily smooth and add a little water which really compliments these two ingredients dissolve.
3. Once whisked to death, pour the mix into a stocking and squeeze until all the gel is removed from the pulp.
4. Pour in your vitamin E oil, or in Sharatia Bank's case, olive oil, stir and you're all set!
That's all the homemade oil based lube recipes for now folks.