Getting a naughty oil massage in the virtual reality world has its advantages and obstacles. While the best VR porn sites know how to deliver luxury spa settings, in binaural sound with delicious scopes, you are missing the actual tactile sensations that make an oily massage so erotic.
In real life, when the masseuse whips her digits past your barracks, grazing your boys at light speed, it can be utterly titillating.
So you don't get that in a virtual reality oil massage, but you do get the sensual and holistic benefits that VR can offer in a seductive spa setting.
Benefits of sexual VR massages
Reduce stress and anxiety levels.
Improve meditational experience.
Take you out your mind more by planting you in a beautiful environment.
Haptic hand technology allows you to feel by giving but not receiving a massage.
Pair with essential oils for each location.
Build closer kinship with your partner.
Have more than one masseuse.
Plus a break from the hustle and bustle of daily life, where you can escape to an oasis each day.
So what are the best oily massage porn videos for a fully relaxing, immersive greasy rub and tug?
1. Oil Privatization in Riyadh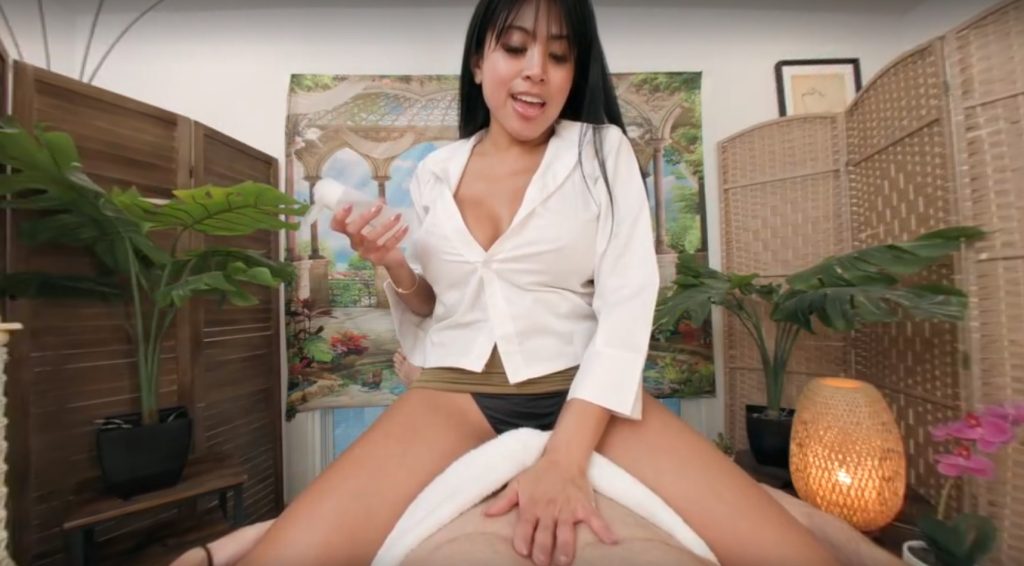 The Ember Snow oily massage trailer did the rounds pretty quick on the VR porn hubs when it came out in December 2022.
You are passing through Saudi Arabia on business and decide to select the hotels VIP service for the night.
Ember greets you with a warm embrace and gets you set up on the massage bed, where she begins her traditional soapy treatment by smearing your torso in ointment.
This highly erotic 180° massage and the ventures that follow, gets firm reviews from VR enthusiasts with have a penchant for soapies.
2. Oily Massage with Happy Ending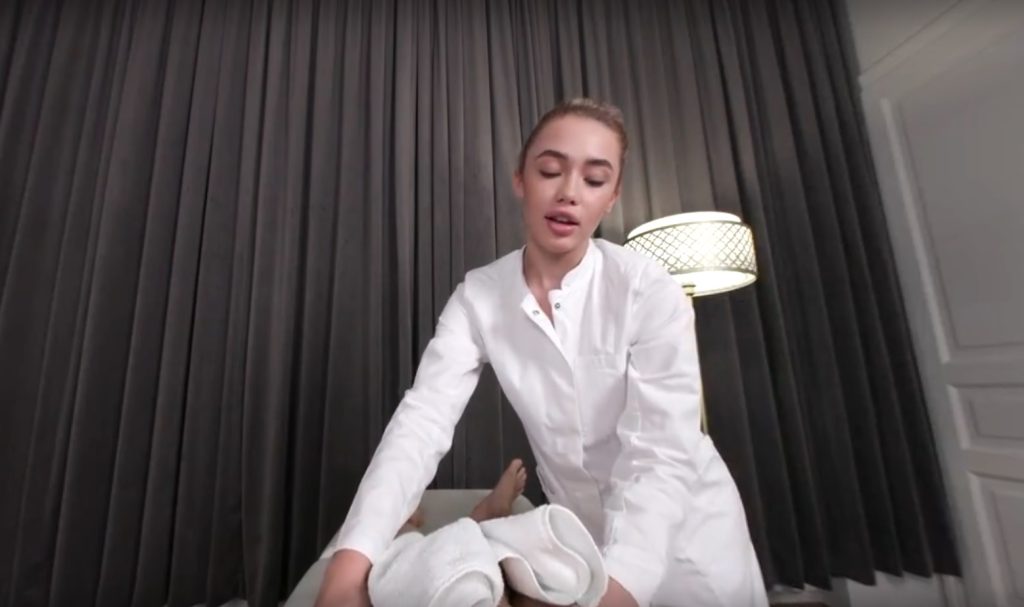 Oily Massage with Happy Ending sees young Rika Fan commence proceedings like any oil massage should, with slow rhythmic sweeps and swirls, circulating from your feet up, to around your loins.
Rika neatly folds your towel covering your private area, gradually reducing its surface area until it's time for you know what.
Greasy, shlurpy sounds emanate from her body on body massage and Rika is quite the natural, inside and out with not a single tattoo and her own young real breasts that hopefully haptic hand technology will one day be able to interpret.
A nice oily massage entrée for 2023.
3. Hot Oil Shower & Pussy Massage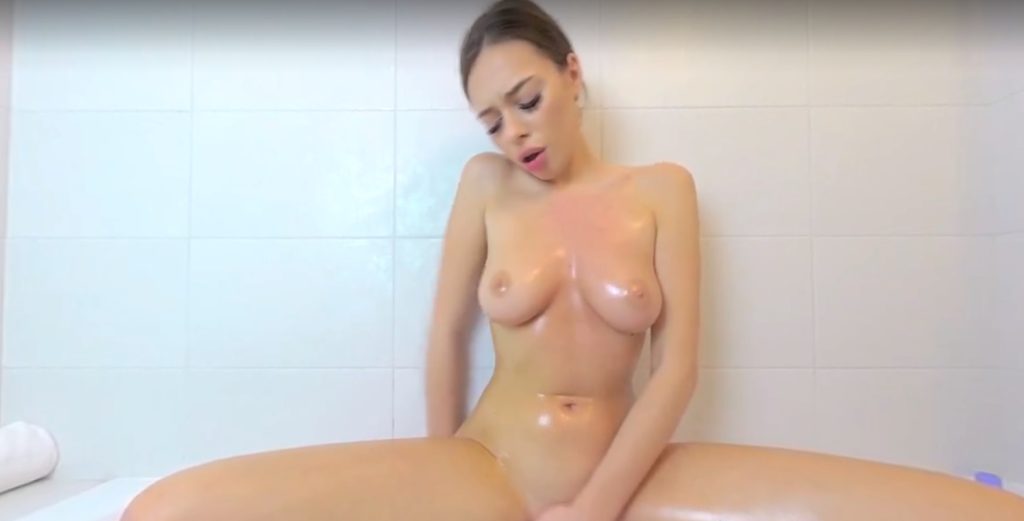 Released May 31st 2023, this VR soapy features a solo performance by Bella Young, a young women in her early twenties whose unblemished body is a beautiful sight to behold.
With a not much forestation, her labia is wildly pronounced which may or may not be your tipple.
This show is for the soapy connoisseur, who appreciates the beauty of the female form, glistening from nipple to naval and beyond, being oiled and rubbed in crystal clear commentary.
There is no 2 way action here, it's a 15 minute performance for lubed body lovers.
4. Special Oil Massage Treatment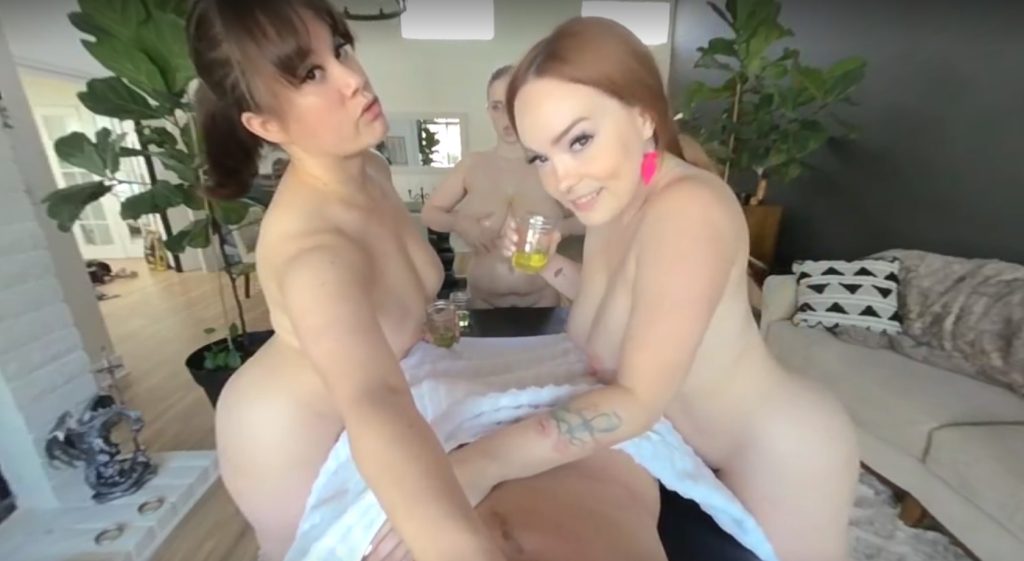 If you fancy a foursome oil massage, these are quite rare in the VR porn world but Summer Hart Studios do provide.
Essentially, three busty babes walk straight in to the room where you are lying on a massage table, and get straight to it, so there's no build up, but the story unfolds a little later on.
The POV is such that when riding commences, their mammaries fling wildly around your face as you pear up and out across your groin.
Codi Vore steals the show and the sounds of encore ring loud in the comments section.
5. Do you have a Huge Load for Both of Them?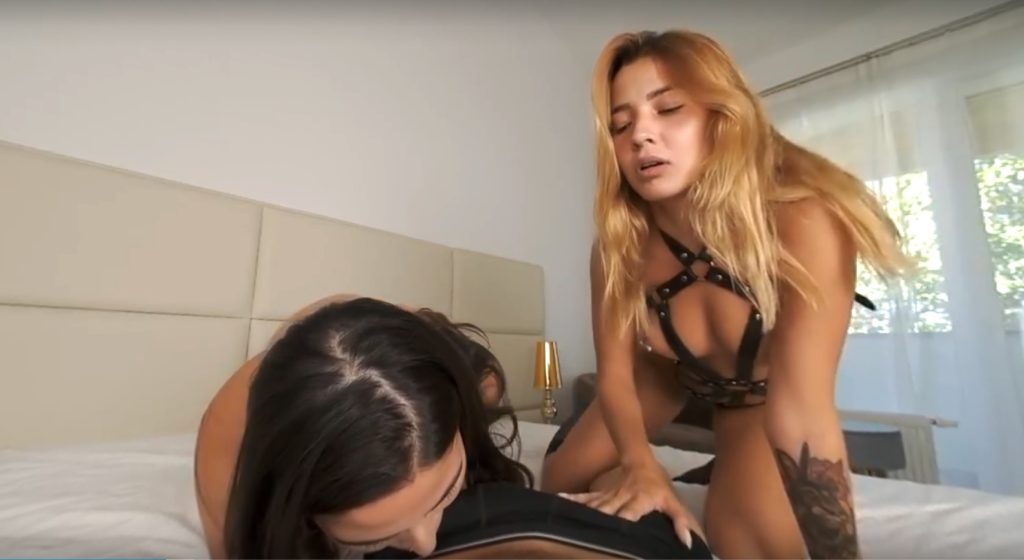 From foursomes to threesomes, VRedging have produced this little number that doesn't really explore massage too much, but there is a lot of oil in use.
You have 25 minutes with two girls in their early twenties, who don stockings, the odd piercing and one surprisingly hot tattooed forearm.
You begin with a foot job, some oiling and then some licking and caressing with wanting looks beaming back at you.
2D never does an oil massage justice, but you can get a rough idea of how the environment might feel from your POV and setting.
Two very sultry women with beautiful skin tones.
6. Taboo Massage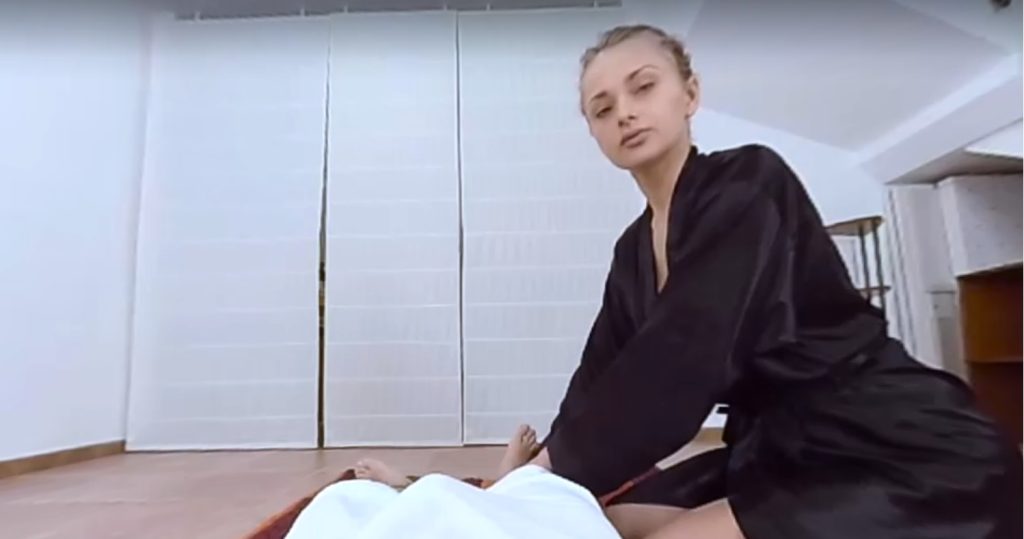 Virtual Taboo host only a few massages, and their most popular spa scene casts Ukrainian Ivana, taking the reigns in her dark robe, easing you into it with a slow leg massage, working her way up to the top of your thigh and then spending time there.
You play a Spanish guy who's in a little pain and needs attending too.
This is oldie but a goodie from 2016 and while the footage is a bit yesteryear, it's still a hot VR massage with a genuine fair haired stunner.
7. Women's Full Service Spa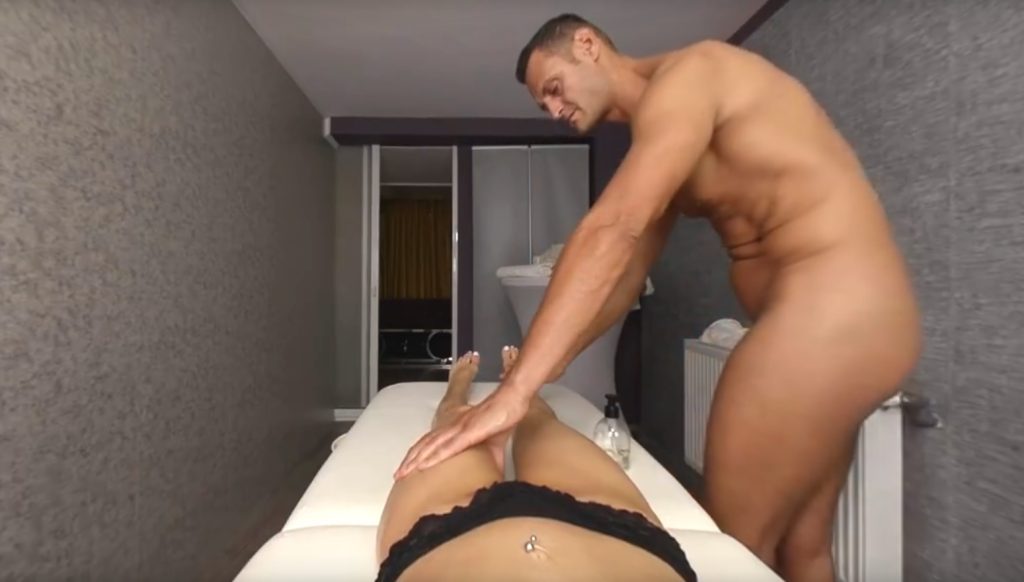 Something for the lady here or guy who likes to take in the women's perspective.
Female POV massages are very rare, even Virtual Passion who cater solely for the woman feature just one massage video which is listed next.
As you lay there with your tanned middle aged man, bearing down on you, oiling you and massaging you, you give him calm instructions of what you'd like done to your body.
Of course, you might like him to go down on you, which he obliges to, and then you steer the course from there.
Kowka Coxxx plays the femme fatal who is game for different kinks.
8. Strong Sexual Energy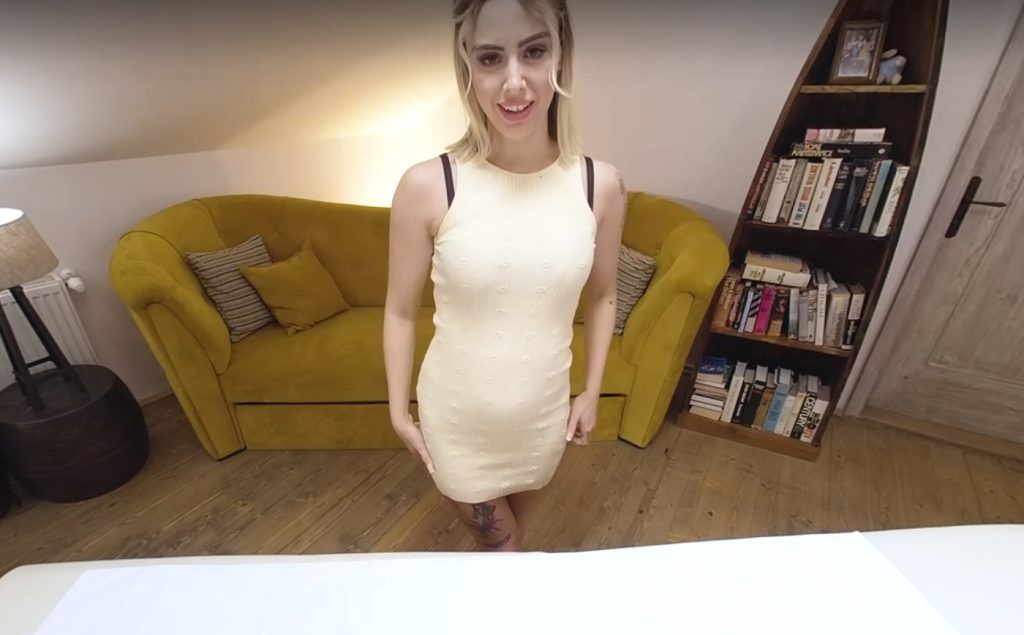 So a young little blonde named Lya has invited you over to give her a massage; you are a masseuse of course.
This tiny thing has a strong sexual energy and a toned flat belly, and you some talking a tattoos to take in during foreplay, before the main course.
Lya is forthright and doesn't mince her intentions, unlike you plan too, thrusting her pelvis into your face.
There's poonani on poonani action, nipple on nipple, labia on tongue.
You could always attempt to recreate the sensations by burying your lips in a fresh mango, peach or fruit of your choice.
9. The Masseuse & the Trainee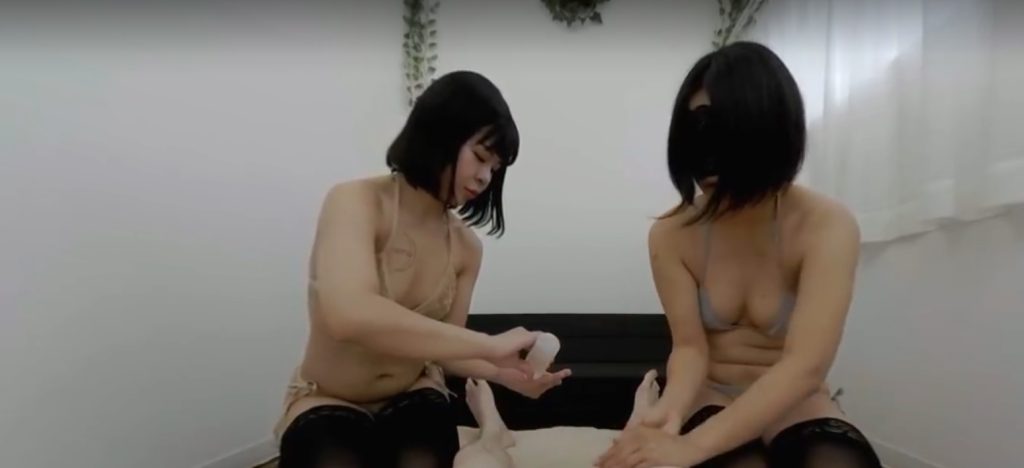 Covert Japan is an awesome VR site from the far east, whose stars know exactly how to double up for an oil massage.
The Masseuse & the Trainee will attend to your white, untanned body, like you've just stepped out of arrivals in Tokyo.
You are their test subject and the trainee is blindfolded, so she can learn to navigate your body just through touch, as her master guides her verbally.
"That's right dear, now place your hand here" she instructs in Japanese.
But her apprentice doesn't need guidance and you are not holding back either, so it becomes a oily ménage à trois eventually.
10. Massage your Girlfriend Miriya, then Cum Inside Her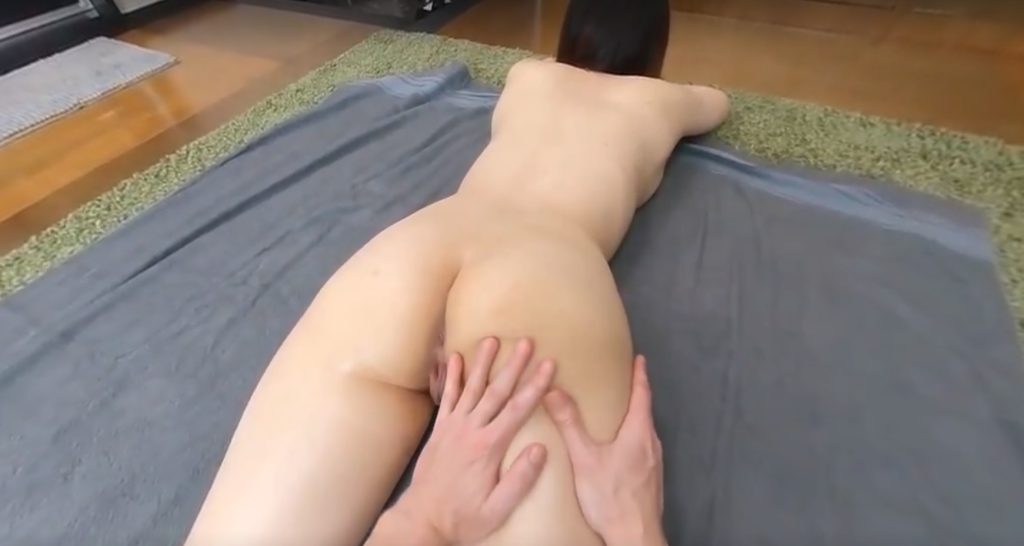 Finally, something for the giver not the taker.
You conduct this wonderful oily massage on your Japanese girlfriend, who enters the room, undresses and assumes her massage position.
Her white twenty something body, glistens and shines as you sensually move your hands up and down and over buttocks repeatedly.
Shaved, teasing and with different positions to take on, this is a greasy fun-packed oily massage session with your virtual reality girlfriend.
Best way to experience a VR sexy oil massage?
1. Give yourself a sexual oil massage
To get set up right, you can recreate the seen of a massage parlour in your room, and then give yourself a semi-oil massage while viewing.
This will be a relaxing and therapeutic experience, that's only amplified by immersing yourself in an erotic visual spa.
a. Choose the right oil – Select an oil that suits your skin type and preference.
You can use coconut, almond, olive, or sesame oil.
Warm the oil by placing it in a container of hot water for a few minutes.
b. Find a secluded spot – Choose a comfortable and warm spot where you can lie down.
You can use a towel or a mat to avoid oil stains.
c. Apply oil – Pour a small amount of oil on your palms and rub them together to warm the oil.
Apply the oil to your body, starting from your feet and moving upwards.
Use large circular strokes, working down to smaller circles, massaging the oil into your skin.
d. Focus on erotic areas – Pay extra attention to your nipples, the inside of your thighs, your perineum and of course your frenulum if you're not using an auto bj stroker.
Use more pressure and knead the pelvic muscles gently to release the tension.
e. Relax – Take deep breaths and relax your body.
Your VR oily massage setting will likely play some soothing music.
You can always play the sound of Koi ponds or the leaves rustling in the wind to transport you to your spa kingdom.
f. Wipe off excess oil – After your personal VR oil massage, use a towel to wipe off the excess oil.
Take a warm shower to remove any remaining oil.
Note – if you have a partner willing to share in your oily VR massage experience – all the better.
2. Get a luxury massage chair
Immersing yourself in a virtual reality soapy, while sat quavering in a luxury massage chair is the bees knees. A massage chair can do pressure point massages, roll stretch massages and beat massages.
3. Buy a your own oil massage bed
Lying on your own oily massage bed, with your VR headset on and your auto-BJ machine in tow, is a pretty sweet way to cast yourself off to a hot spring oasis or shady room in downtown Osaka.
More VR massage viewing tips
Use a fan for a little natural breeze.
Don't watch porn but try 3D immersive massage relaxation techniques instead and lose yourself.