By foursomes, we're talking three girls and a guy in this review, not another fella in the room, although there's plenty of that online. However, for specifically 3 women to a man, what are the best VR foursomes to treat yourself to you may ask?
Lets get to the nitty gritty of some of the most popular VR foursomes which have sprung up of late, given that most men have a taste for the triple header.
Footage from some of the best VR porn sites and a few less well known ones feature below, at a time when the virtual reality porn industry is still making its mark.
New genres are constantly being infused into racy adventures, where there's always a sub plot for a teen girl squad or a fourgasm.
So lets take a look at what you can expect for your three course sausage supper.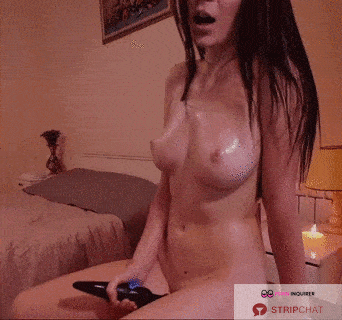 10 Best VR foursome videos
Oily foursome
1. Oily Birthday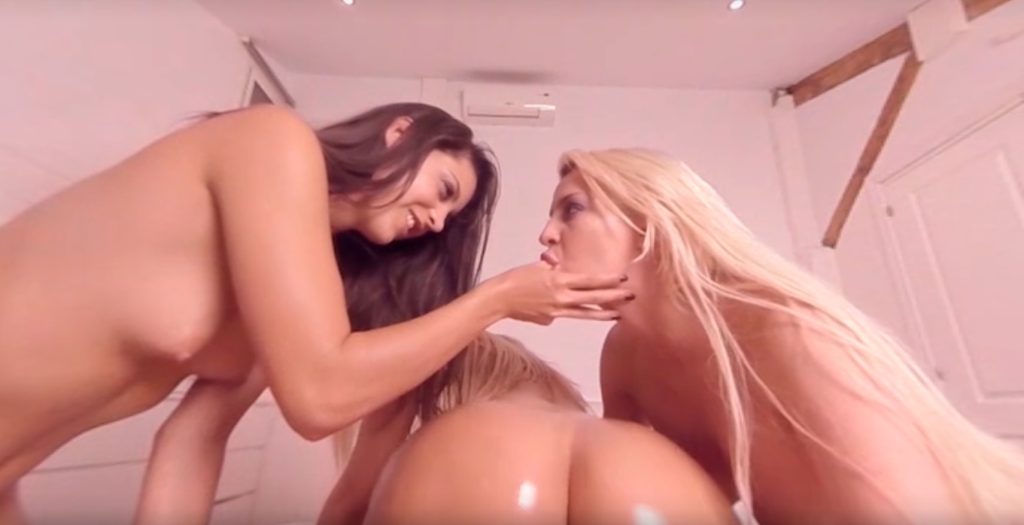 It's your birthday – Congrats!, and you feel like treating yourself to a little escapism.
No, that's not the porn stars name, but how do two blondies and a brunette sound?
Keon compatible, you get to slot your favourite stroker into the machine and experience the foursome in concert with all their moves.
Your birthday challenge is to climax at the same time all three girls do which means holding out for 20 odd minutes.
There are no oily sandwiches, or a girl riding each of your thighs while one attends to your manhood.
It's more vanilla style oily VR porn, but it's a birthday treat to remember all the same.
CGI foursome
2. Dream Playroom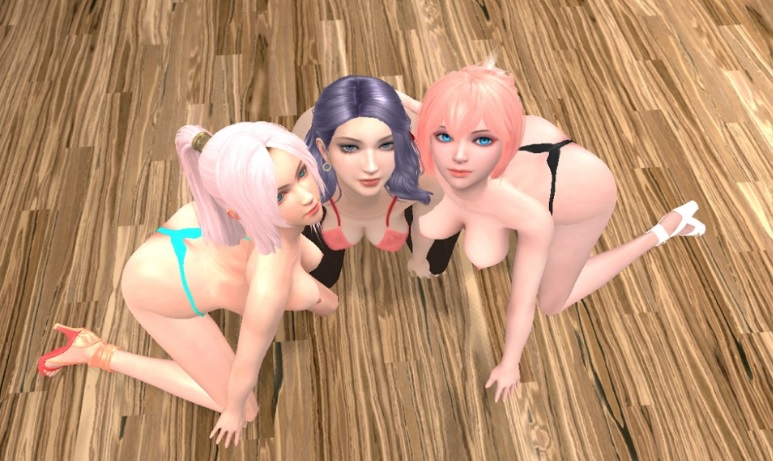 There are no CGI foursomes available per se right now, but you can create 3 bespoke ladies in some VR porn games, and cater to your own delights.
One such game that you can tailor to a triple header is Dream Playroom, where you're allowed a max of three characters.
Here you get to design your own models for the night, and then wine and dine them at a party your good friend gave you the address to.
However, you're under strict instructions not to disclose the location and as such find yourself fairly outnumbered, where some pretty leftfield adventures take place.
The graphics are not quite on par with what the latest CGI has to offer, but they are still pretty sensational, and VR porn games are often in constant upgrade, as is Dream Playroom over at VRPorn.
It also features WebXR hand tracking, you can read more about that here.
Super fun and interactive.
Gym class 4-way
3. In the back of Aerobics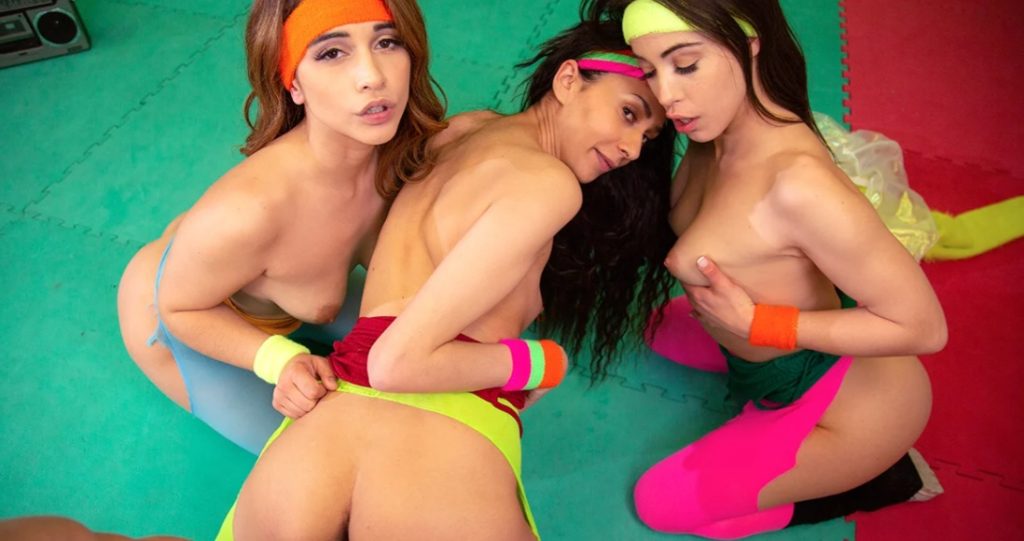 Ever fancied joining an aerobics class?
Maybe not one full of fit young women who might distract you from your workout, albeit you'd love to tone up, just not literally in the middle of class.
Well thanks to VR, you get to play this suppressed fantasy out by being a voyeur in the beginning of the lesson, and then venturing into a scene that is highly unlikely to ever happen.
Thus is the beauty of VR.
The girls are bit peeved in the beginning when they think they catch you lingering a little too long, albeit accidental or not.
However, after a tense interlude, common sense prevails and it's only natural that you should all just burn of a little steam.
So why not make the most of the tuition, as you've got nearly 50 minutes to play with.
Christmas foursome
4. No Christmas Celebration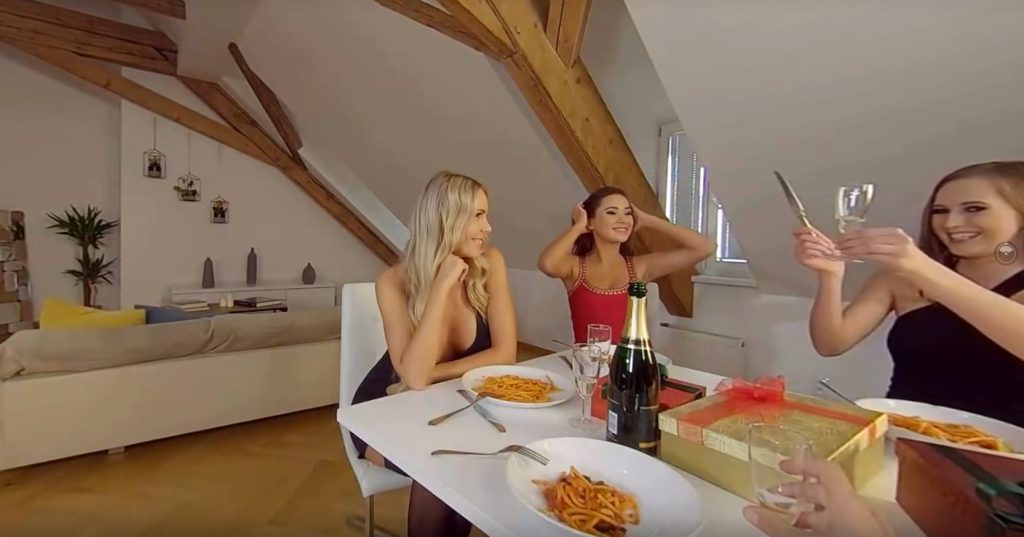 If you thought your birthday was a treat, then Christmas has something new in store for you.
Although the invitation specifically says no celebration, so you wonder if you should have gone to your cousins after all.
It was a wise call.
There are no Christmas jumpers awaiting you, but three voluptuous ladies are waiting for you to fill their stockings.
And some.
They do have a little surprise for you that you get to unwrap, and no it's not a box of golf balls or a pair of socks.
No Christmas Celebration is a forty minute foursome if that's not too long.
Valentine threebie
5. Plenty of Love for All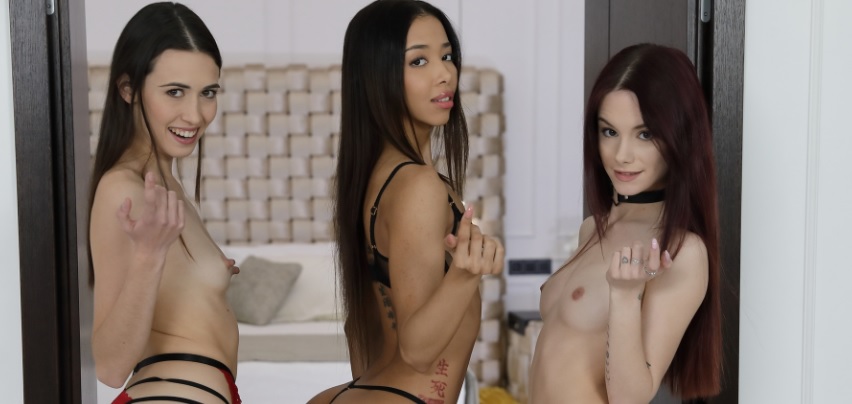 OK, so you've celebrated your birthday, a national holiday and now it's time for Valentines Day.
Sandralyd is your first port of call.
She plays your girlfriend in this VR foursome, and has a sweet present to give you, as you in turn pass on your Valentines love with a gift of your own.
Then things start getting a little heated.
Jealousy creeps in and her friend who's perched off screen, enters the foray, tempted by your sergeant who's stood to attention.
Low and behold though, a third girl turns up who tries to intervene.
It all gets a bit messy in a good way, and you're left wondering if you shouldn't have come more prepared on the pressie front, given the generosity you're been treated to.
Classroom fourgy
6. Final Exam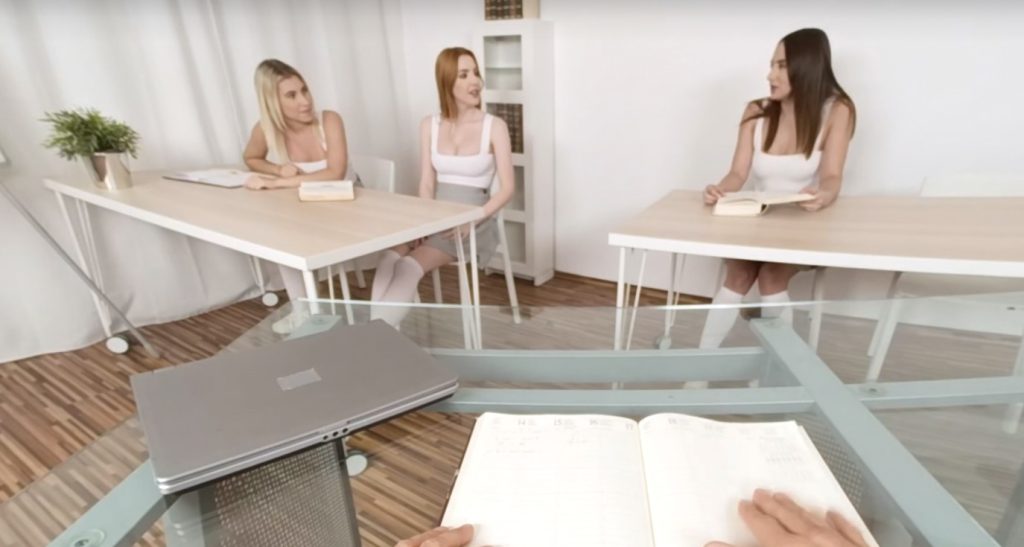 Not to be confused with the Hentai production with the same title, Final Exam in this VR setting features 3 real life young women who are about to finish their studies, before enjoying their long hot summer break.
You play their professor and as much as you try to wear two different hats, the girls are relentless in their pursuit to play with their teacher while you try to mark their final papers.
Your fantasy inevitably begins to unfold, albeit as much as you try to fight it.
Each of the young graduates have their own story to tell, but eventually narratives align and after 45 minutes, it's time to wrap things up and get the hell out of there.
Awesome foursome
7. Family Foursome Is Awesome!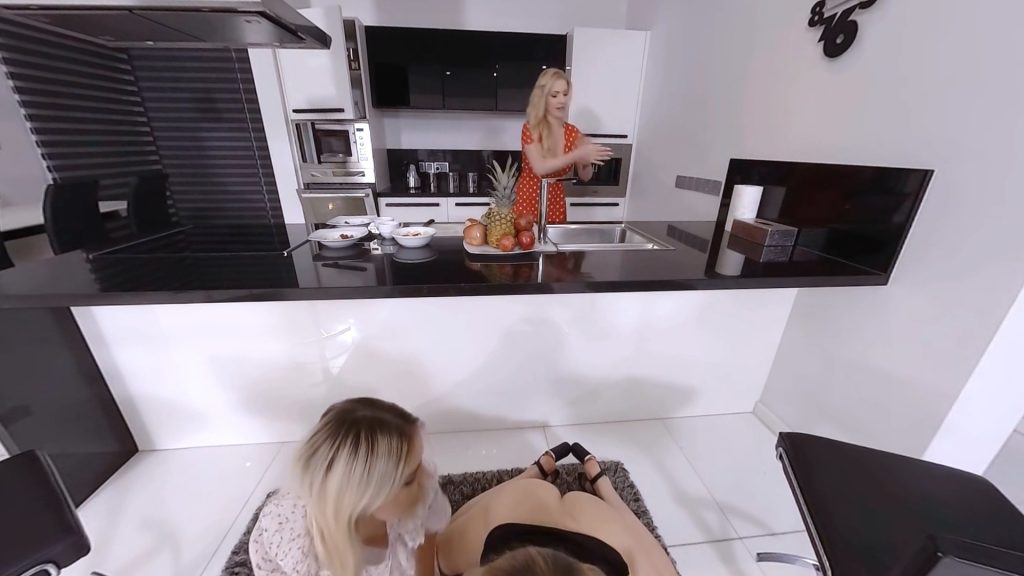 Foursomes are awesome, but less than one percent of men will ever experience an actual fourgy.
Hence the need for VR.
Family Foursome Is Awesome is rated the best foursome of all time on Virtual Taboo, and features the mum – who's smoking hot, her daughter and her friend.
You play the step-son, who's completely unaware of the morning he's about to have.
Without spoiling the plot, there's not much in the way of foreplay as all three damsel's are keen to get started.
This orgy lasts for three quarters of an hour, where a fourgasm is on the cards if you're on cue.
Triple header with games
8. Weird Games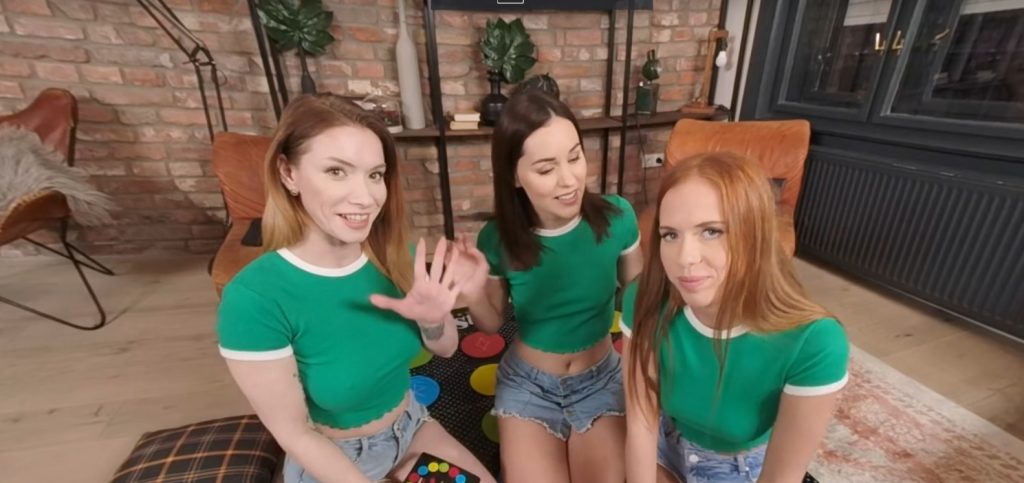 This is a cracking foursome if you like adding a few games into the mix.
Which cis guy doesn't get turned on when a group of scantily clad young women start playing twister together.
Weird games covers a few VR porn niches such as a lot of cowgirl action, teen models, tattooed and unblemished ladies.
It also features a rare auburn haired VR beauty.
Poolside fourgasm
9. Pool Season 4-Way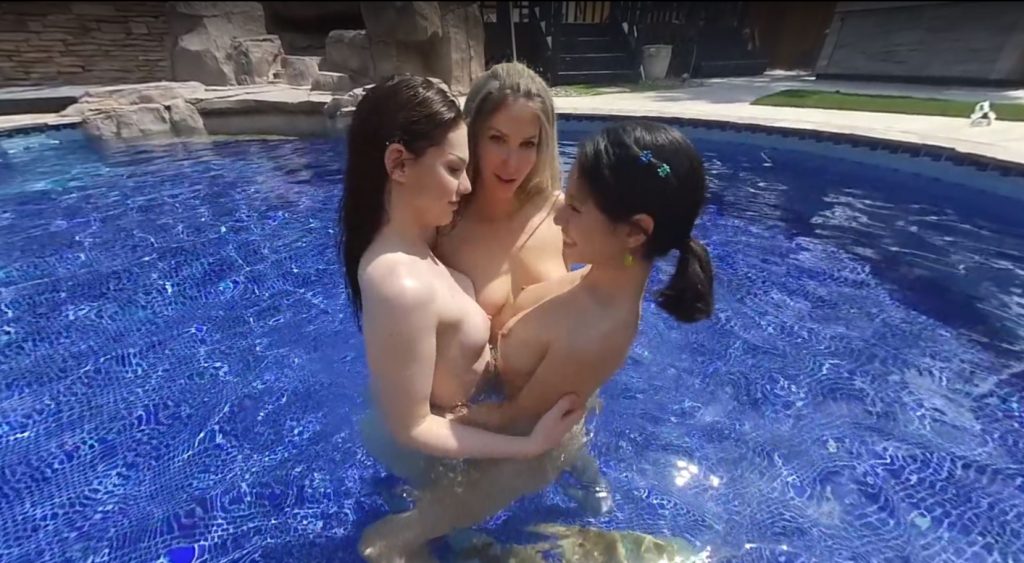 It's time to get wet and slippery with a little bit of pool fun.
Three hotties partake in Pool Season 4-way, and it all begins pretty full on with a triple anal entre inside, before escaping outside for some air.
The girls join you and they continue their shenanigans in the pool between themselves, leaving you time to recuperate before getting off your sunbed and into the water.
Here's the 2D trailer version fyi on Manyvids.
Check the comments on VRporn below the vid for reviews, which don't require a subscription to read, if Pool Season 4 tickles your senses.
There is vaping in this foursome which you may or may not like.
Taboo foursome
10. Big Cock Lesson from our Teacher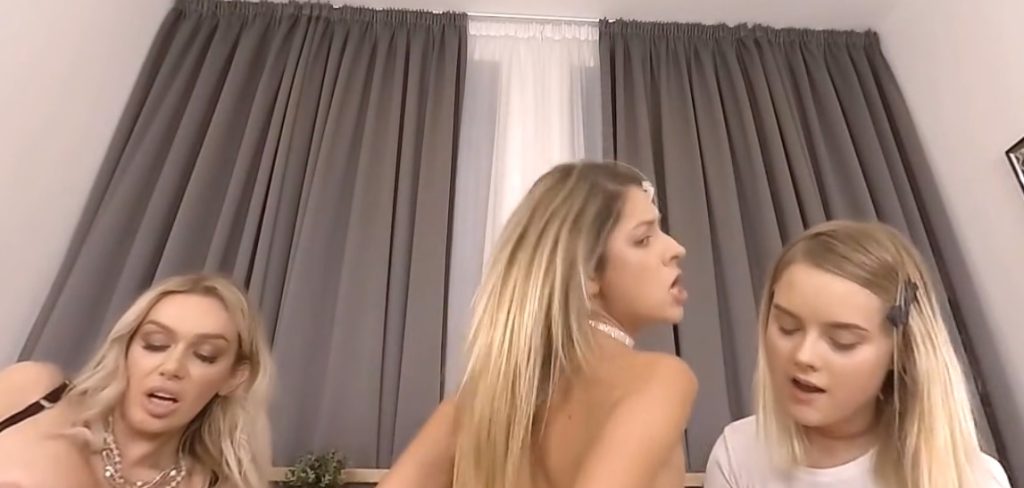 The clues in the title although there is more of a twist to this VR school escapade than you may think.
Virtual Taboos second most popular 4-way VR movie, it's your step daughters female teacher who drops round to pay a visit.
Well, less a visit and more a word on her behaviour.
You summon your daughter downstairs, to work through what went on at school earlier and well, better not to spoil the surprise, but she has a friend helping her with her homework, and, so yeah .., things do escalate.
Needless to say, it's pretty taboo subject matter, but for some it's one of their best VR foursomes in this niche, as you can see in the movies comments section.
Racy stuff.