BDSM virtual reality porn videos aren't ubiquitous online, but there are a few excellent VR porn sites both sides of the equator that produce some pretty kinky VR scripts worth exploring, if the sub dom theme tickles your pickle.
Most BDSM VR vids featured below assume the male POV – point of view, with one exception for the lady, trans guy and gay guy.

There's some good and quite physical lesbian BDSM going on too, especially in the first acts of scenes, before drawing you in to the plot.
For folk who haven't tried a little BDSM, in short, played within your boundaries, it can relieve stress, enforce emotional relationships that sex without bondage can't, and importantly heighten your sexual performances and climaxes .
So slip on that headset and enter the world of domination and captivity, where you choose what BDSM fantasy you relish.
11 Cracking BDSM VR porn videos
1. Bondage Cowgirl Queen
Straight | POV – male
Some Japanese bondage first.
There are some seriously attractive women in Japanese bondage movies and if push came to shove, they make the best BDSM porn videos right now.
And it's not just BDSM, there's cosplay, furries, sci-fi and other genres that like to sprinkle a little bondage in too.
If you make it through to the end, there's a sequel to sink into.
2. Flowers, Cross, & Anal Submission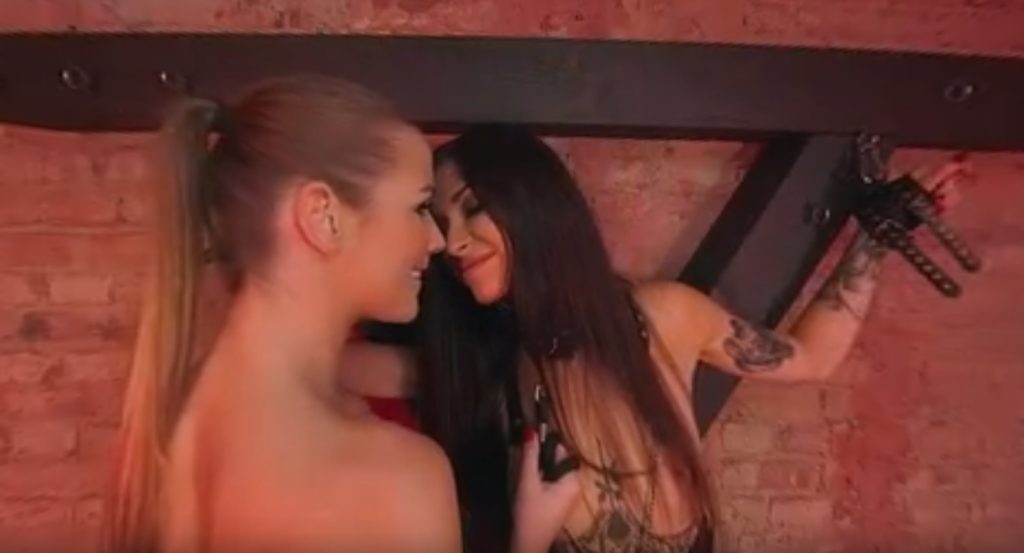 Lesbian/straight | POV – male
This SinsVR 2022 production sees Alexis invite her friend Tabitha over who's the very submissive type.
Shackled and chained up to begin with, Tabitha the entrée is harnessed to a wooden post in star shaped fashion; then the double act takes over.
Both brunettes, they are rabid from the off, delighting you in a helping of all their six orifices.
No whips or torture, more a restraints and cosplay theme.
3. Alone in the Woods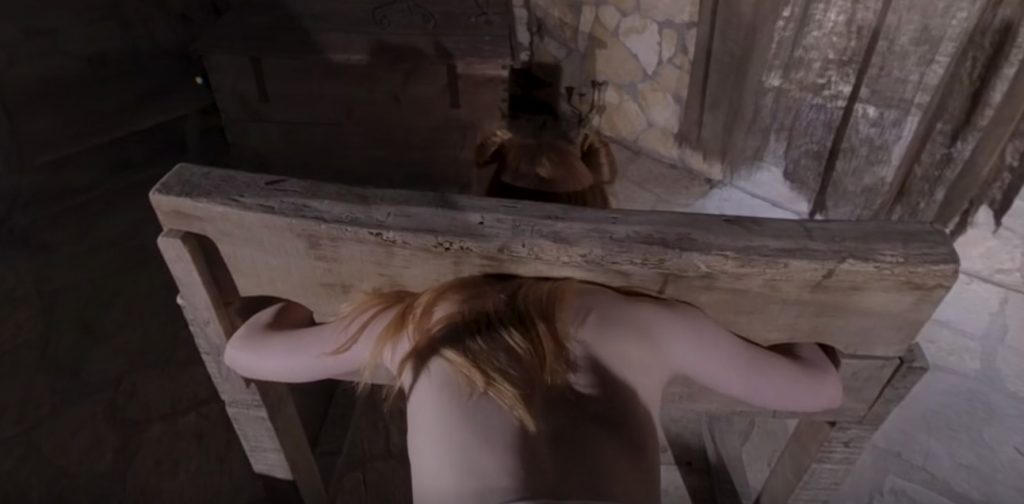 Straight | POV – male
So you own a cabin in the woods and one evening you get a knock on the door.
It's a frightened young damsel who's running from some strange pilgrims she stumbled into, on her way home.
You offer her sanctuary of course, but the quid pro quo that's unbeknown to her just yet, is that she will get accustomed to your bondage furniture over the course of the weekend.
No tattoos here, just fresh young milky smooth breasts and a delicious poonani.
4. Watch me Fuck your Boyfriend Bitch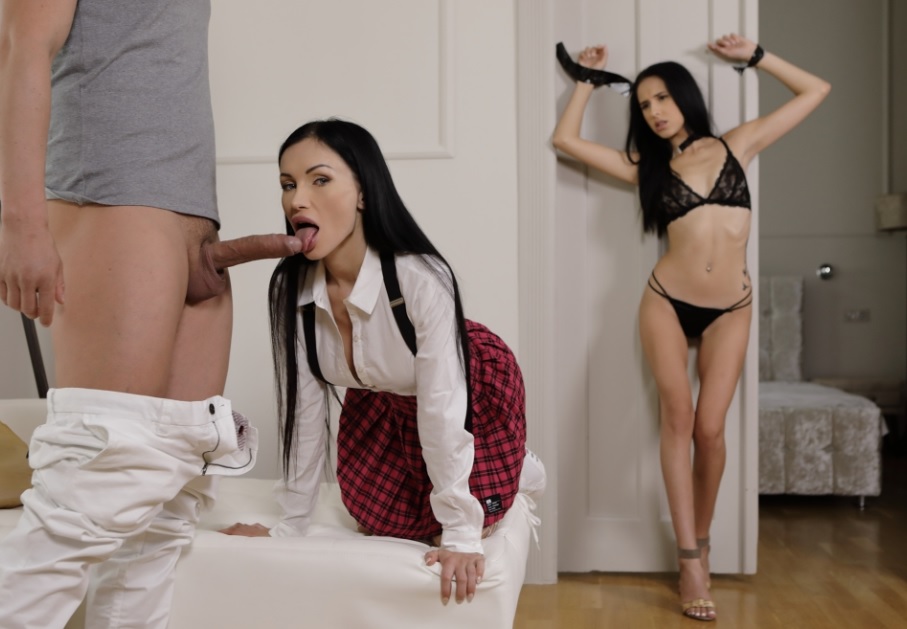 Lesbian/straight | POV – male
You begin this story as the the guy who's got his doubts after finding a condom in your bedroom which clearly wasn't yours.
Long story short, it turns out to be her younger sisters boyfriend who's cheating on her.
Just back from school, all hell breaks loose.
The student is clearly vengeful and has an inquisitive eye for revenge.
She wants to try out a little bondage on you to begin with and then move onto the main course, where you can show her what an adult male can do.
5. Thanksgiving Bondage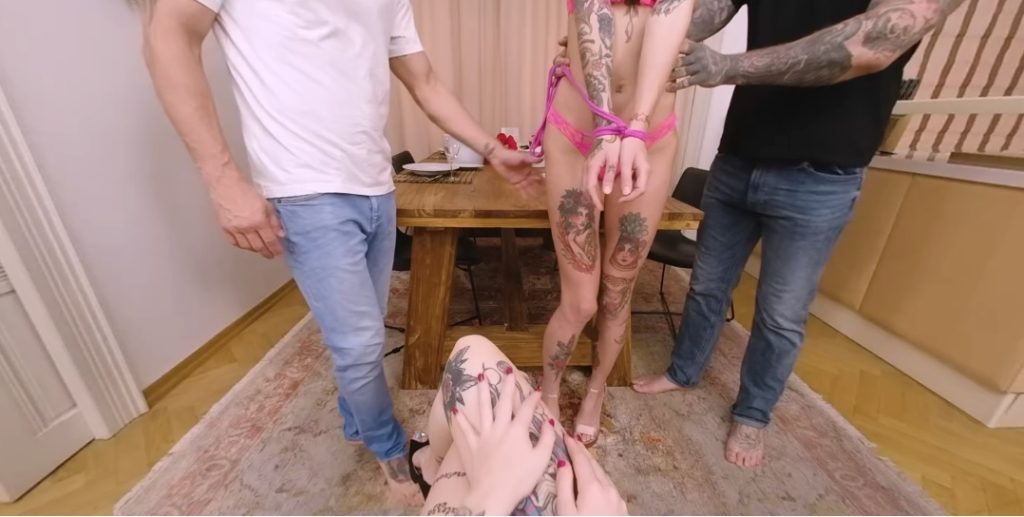 Lesbian/straight | POV – female
This time it's the femme fatal who's taking in the action.
You form part of a foursome, well threesome until a tattooed bunny enters the scene all bound up and you're wondering what on earth is going on.
It doesn't take long before the two white studs start initiating proceedings.
This goes on for 25 minutes.
It's a drawn out pummelling session with a bit of BDSM thrown in.
6. Terror Movie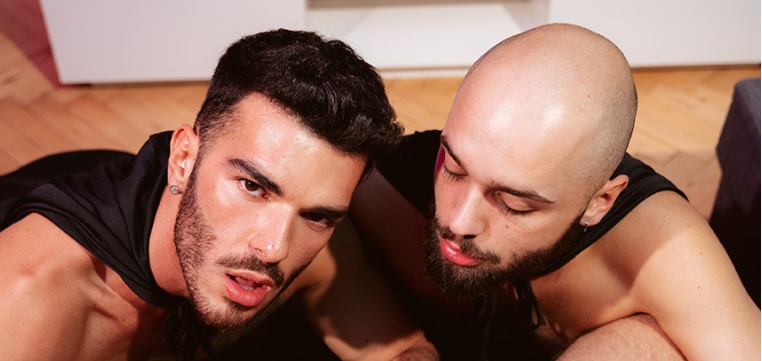 Gay | POV – male
A light BDSM script, this gay narrative is one many a homo sapien has dreamt of over the years – actually meeting your superheroes in the flesh and having your wicked way with them.
Here you fall asleep after watching action heroes Pol Prince and Theo Kami doing their thing.
You awake to these two movie stars staring down at you, hooded, holding a knife, a piece of rope, a dildo and a velvet cord.
This is where your fantasies begin and play out over the next 40 minutes.
You conclude by then waking up, wondering if it was all a dream.
7. Bondage girl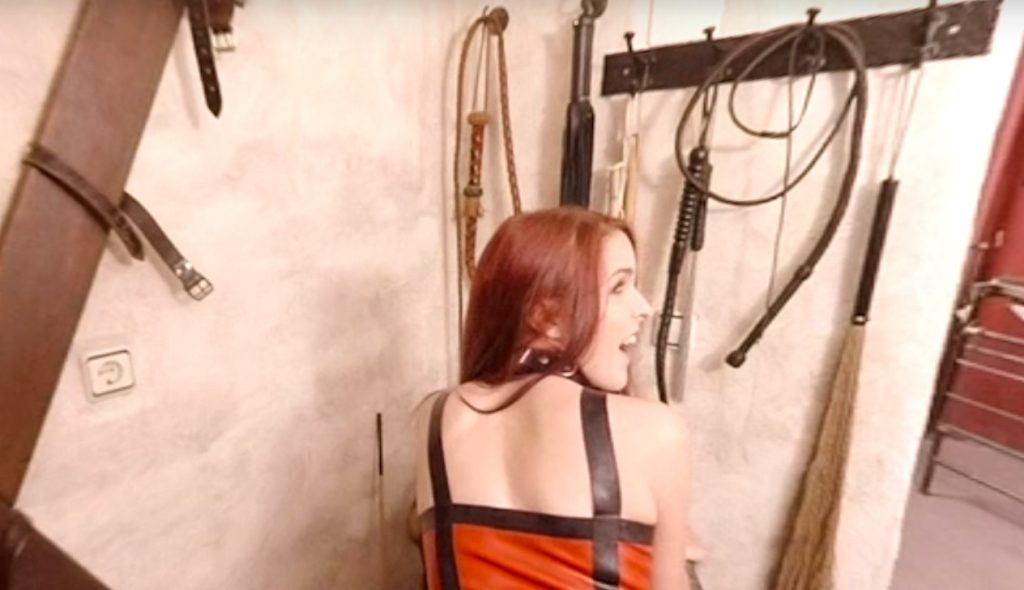 Straight | POV – male
Finally some ropey bondage, nipple clamping, whips and more BDSM fun to be had when you enter Bondage Girls.
Spanish girl Amarna has a fully decked out BDSM dungeon, and you get a 180 degree horizontal field of view – FOV, 45% more than humans.
So relax, take a deep breath, and push open the door to her dungeon.
She plays both your sub and your dom.
You get 25 minutes inside.
8. Obedient girl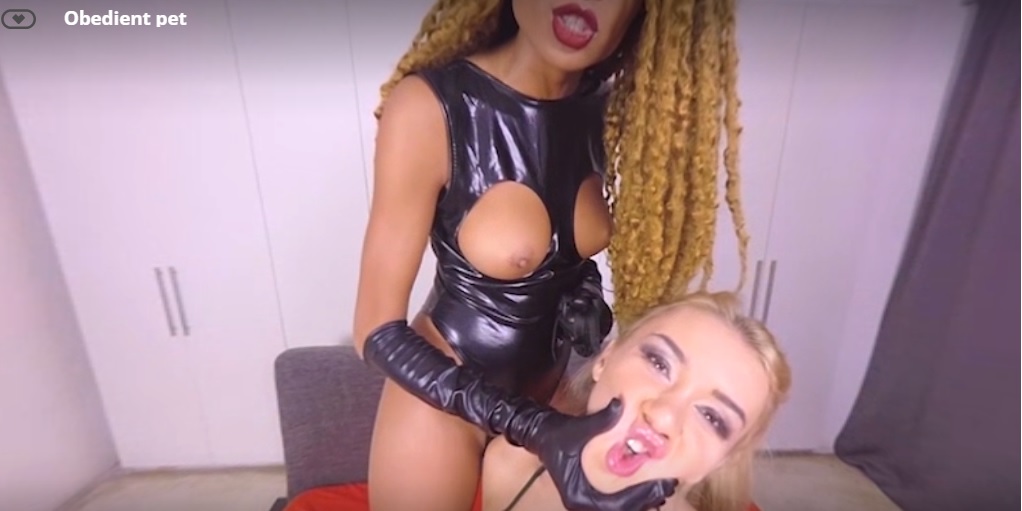 Lesbian/straight | POV – male
Obedient Girl has a killer script and the ebony dominatrix revels in her role, getting pretty physical with her blond sub.
They're both spanking hot and you watch on in the first act, while Luna the slim tropical honey enforces the law.
Clad in high heels and a rubbery all-in-one corset with easy entry holes, you start getting involved in act 2.
Enjoy as you become the new sheriff in town, demoting or promoting women at will.
Pretty hands-on as BDSM VR porn videos go.
9. Seduction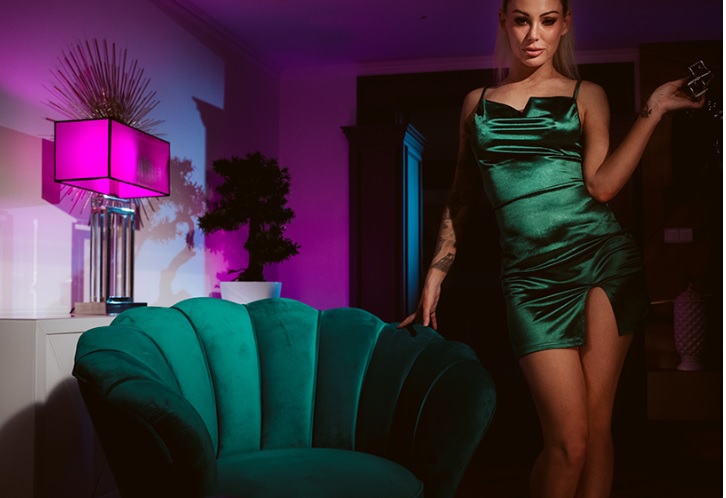 Straight | POV – male
One night your wife pins you down and handcuffs you to the bed posts.
You keep schtum as you're loving every second.
She slowly undresses and then starts riding you, screwing you quite violently and then spinning into reverse cowgirl position, with her arse thrusting back and forth in front of your face.
And fortunately the whole story is interactive so you can hook up one of your devilishly naughty automatic BJ machines, and experience the debauchery with real-time precision.
She will play the sub too and she loves being tied to a chair.
10. Tied hands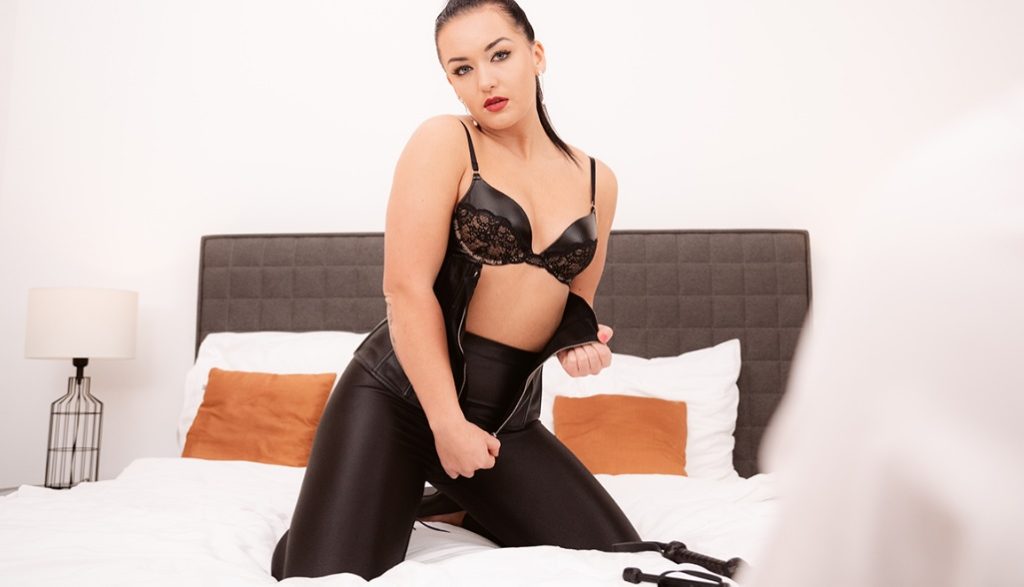 Straight | POV – male
If you like playing the submissive type, step right in to Tied Hands, it's a world of BDSM baboonery.
Zuzu begins by tying you up and engaging in a little light whipping foreplay.
She then embarks on your shaft before ordering you to the bedroom to begin further inspection.
Donned in a latex corset, her shaved paradise shines through.
11. Halloween at Home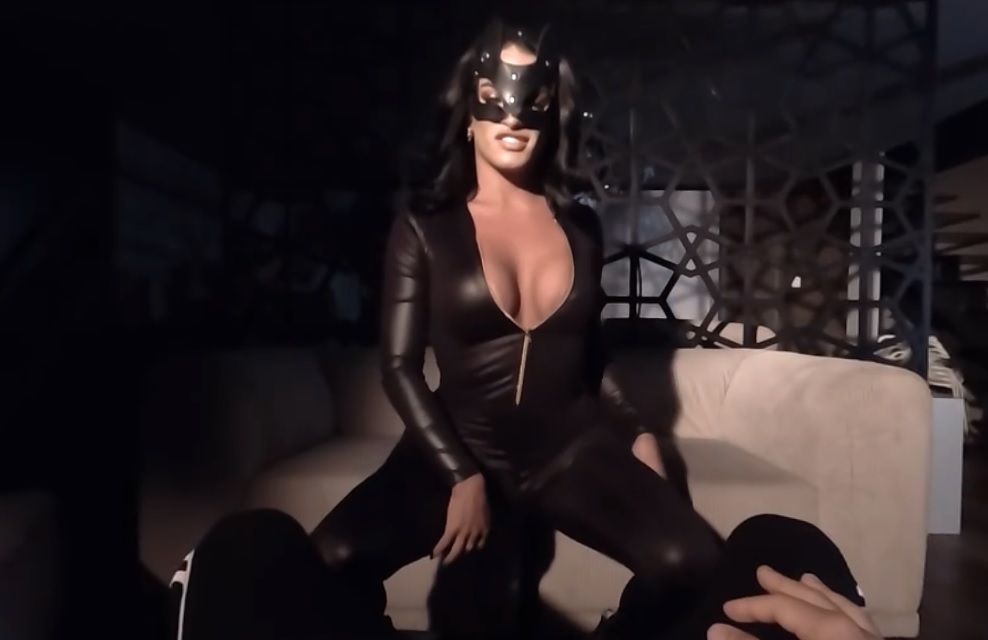 Trans | POV – male
One of the few trans BDSM VR porn videos, not much hardcore bondage occurs to be fair, but your trans girlfriend Caroline Martins is decked out for a Halloween night to remember.
Head to toe in a latex catsuit she commands and obeys without hesitating.
She leads you from one scene to the next, commandeering your cock and letting you drill her first before she repays the favour.