This updated Kiiroo Onyx teledildonics review is even more relevant today, given how it's firstly been renamed as the Onyx Plus, and more importantly how the best VR Porn sites have now embraced this technology whole heartedly.
Kiiroo were onto a winner five years ago, and it paid off in their future designs, which have now become some of the best auto-BJ machines on the market..
The term Teledildonics was originally used to describe electronic sex toys operated by two horny parties over the internet, but it's now taken on a new mantle, covering virtual sex encounters that use networked, electronic sex toys in real or animated 3D worlds, so that either party is immersed in sub or dominant fun.
You get to control, stimulate and deliver someone else's orgasm, while you in turn you have the ability to hand over the reigns of your Keon say, where you are completely in the dark as to their next move.
Kiiroo's self-proclaimed "only interactive masturbator for two-way pleasure online" might have stood at the time, but the Keon is superior now when it comes to stroking, however the Onyx is less a stroker and more an oscillator, so it has its individual shine.
Different strokes for different folks.
Related: Onyx Vs the Keon
Kiiroo Onyx Teledildonics review 2023 Update
How does the Kiiroo Onyx Plus actually work now?

The Onyx Plus, an elegant black male masturbator with sleeves designed by Fleshlight – the leading design manufacturer in this niche – consists of 10 contracting internal rings triggered into action either by the external sensory pad for solo action or through signals received from the Kiiroo pearl vibrator when licked, stroked or inserted.
This is argued to create the most advanced interactive sexual experience online so far.
In short, info is relayed from the 5 capacitive touch ring pearl Kiiroo vibrator via bluetooth to a pc, which then transmits it to another computer then via bluetooth to the Onyx interactive male masturbator.
In the past, the Onyx worked just one way – by receiving data from the Kiiroo, but now the future has caught up and you can deliver pleasure too.
Essentially, you can connect to anyone anywhere in the world using this device, so should you be single or fancy experimenting with other people around the globe, there are forums where such interests are explored, notably the best free live cam sites but also regular dating sites as well.
How the Kiiroo Onyx connects
1:  Connect the Touch Ring Pearl Kiiroo vibrator via bluetooth to ladies pc/tablet/smart device
2.  Ladies pc then connects to mans pc
3.  Man's pc/tablet/smart device connects via bluetooth to the Onyx interactive Fleshlight male masturbator .. and your off ! .. or vice versa. Each of you then have control over the others device.
Here's a video update of the now Onyx Plus
Onyx provides feedback via a capacitive touch sensor on the outside of the case and features 2 automatic modes and a manual mode and charges via USB cable in 4 hours and provides 1 hour usage time.
With its patented Fleshlight sleeve inside and enhanced Video Chat platform, the Kiiroo Onyx is probably best suited for 1 of 3 types of people.
Who is Kiiroo Onyx Plus for?
↑

Extremely busy couples constantly away on business
↑

Single guys with enough money to afford to hook up with a cam girls whenever they want to get off
↑

Cam girls themselves
Onyx Plus Features worth Noting
↑ Onyx can be used solo, you don't have to be connected to the Pearl vibrator↑  There are 3 solo modes – Manual, Fast Automatic and Slow Mode
↑ Movement – Squeezes rather than strokes: rin gs on the inside move in pairs of two and squeeze in a horizontal motion from the top to the bottom.
↑ Sound – not too loud but noticeable
↑ Twisting it into a different angle will enhance squeezing on the shaft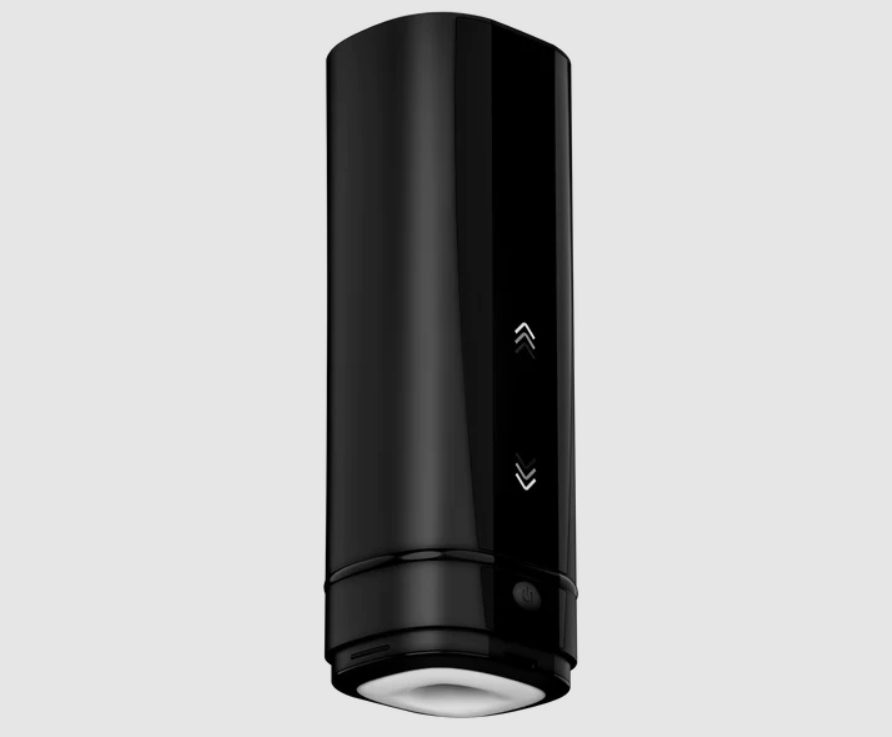 Summary
The future of interactive sex toys may be just past its infancy, but translating real sexual pleasure through cyberspace has so far proved a highly complex feat, rife with shoddy designs, bad technology and bizarre innovations.
The Onyx Plus took the leap and is not half bad.
For the time being, this Kiiroo Onyx Teledildonics review hopefully highlights how it bridges the distant connection gap, and opens the door to new online intimacies of your choosing whether through the Feelconnect (which is ubiquitous across interactive videos), FeelMe AI, or just through your own explorations.
CHECK OUT ONYX PLUS