As important as penis packers are for making you feel comfortable in your own skin, chest binders are equally if not more formidable at removing a great chunk of gender dysphoria, so lets take a look at some of the best cheap chest binders on offer that won't break the bank or a ribcage!
On a serious note though, it is important that your binder doesn't inflict short term pain or long term tissue damage so the following 7 chest binders deal with chest compression safely, while it's ones own responsibility to not over-wear one – no more than 8-12 hours is the mean.
Please note Men's Pleasures prefers to steer clear of Amazons cultural hegemony and other consumer giants and promote small businesses wherever possible.
Quick heads up: in case you are unaware of how to gauge which is the correct sized binder for you – you should measure as follows: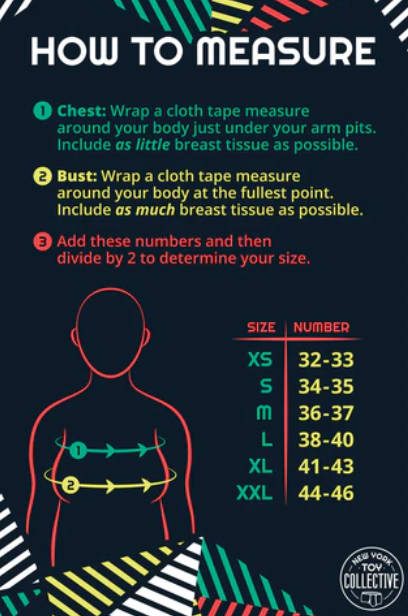 1. Take one snug measurement under the breast line.
2. Take a second measurement over your fullest part – not too tight or loose.
3. Take the average measurement by dividing by 2 and apply that result to the respective binding scale chart.
Unlike NYTC's range of sizes pictured above, binders more often begin at 28-31″ and hit a ceiling at around 52-55″.
7 Quality Cheap Chest Binders Under $50
1. Binder – Extreme Chest Concealer by Underworks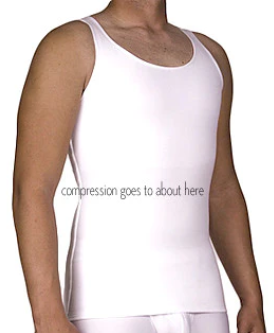 Available in seven different sizes from XS 28″ to XXXL 55″, this binder provides a lot of concealment up top but is loose over the tummy and can be tucked in.
This cotton binder is reinforced by two powernet panels which comprise of 30% Spandex and 70% Nylon which are present on the top half and upper back, leaving a relaxed fitting with only slight compression over your midriff.
It won't suck in your gut put it that way.
This Extreme Chest Concealer by Underwork can be hand or machine washed but only on a cold setting and must not be ironed.
Also dryers are a no-no. Just a drip dry or a flat dry is recommended.
It's a durable, good quality, sturdy and comfy binder.
---
2. Binder – Econo Tri-Top by Underworks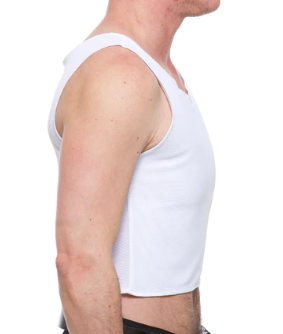 From 28″ to 52″ the Econo Tri-Top by Underworks is the cheapest binder listed here and if there is one complaint, it's that the material is a bit scratchy.
One way around this is obviously to wear a soft thin garment beneath, however it scores well on the compression front.
This second binder by underworks comes with a single front and back supportive layer using the same ratio of materials up front – 30% Spandex and 70% Nylon, and provides maximum comfortable chest binding that can be used for sports related activities that require binding as well as for protection in certain occupations.
As you can see it's a mid stomach length binder.
---
3. Binder – Long Tri-Top (997) by Underworks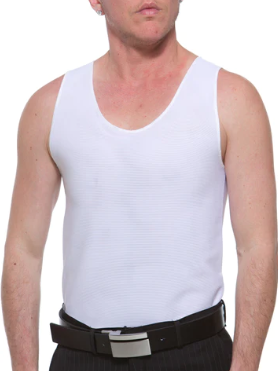 This long Tri-Top by Underworks contains two robust powernet panels at the front, creating a compression over both the chest and mid section.
Including the same medical grade Spandex and Nylon consistency, it's a full length tank binder that is designed to shape-shift as you twist and turn.
Ergonomically designed to fit all body types, it's barely detectable beneath your clothing and sizes begin at 29″ and go on up to 55″.
Designed to be tucked in, it still hugs the tummy so depending on your body type, it may or may not compliment you.
It gets good rep on reddit but if you'd like it looser around the stomach, the 988 by Underworks may be better as it doesn't bind this area.
---
4. Binder – Cotton-Lined Tri-Top Black by underworks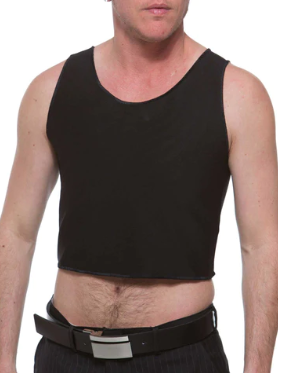 The fourth binder by Underworks (and apologies for not diversifying manufacturers but they have become pretty much the leader in this field), is their black bottom lined tri-top.
With a soft lining and invisible side seams so no digging, this extra comfy binder feels very smooth against the skin and is lined with a cotton spandex skin.
Made in the USA like all of Underworks products, it is reversible and its pièce de résistance are the seams as mentioned as unlike many binding tops, they won't "bite" into the skin, partly due to the cut which is similar to wearing a shirt.
---
5. Binder – Cotton-Lined Tri-Top White by underworks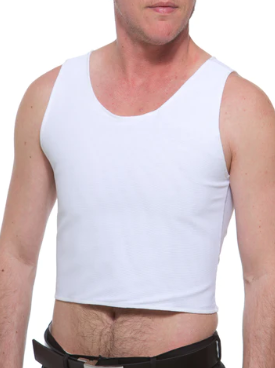 The final binder by Underworks is their white cotton-lined Tri-Top which is designed for extra comfort with a very soft lining and no exposed seams.
As one reviewer mentions, slipping it on over a D cup size practically flattens ones prominence.
It's better suited for slimmer tummies, although should you find you've picked the wrong size, the FTM small businesses listed here do provide exchanges.
---
6. Binder – NYTC Long by New York Toy Collective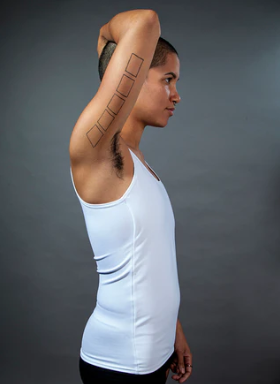 New York Toy Collective are a small company and are a relative new comer to the binder market.
They are a bit pricier than other manufacturers but the price is reflected in their quality.
They are a little stretcher than most at the back, while the upper front is lined with one zero-stretch panel to flatten your bust.
Quick note, the smaller NYTC binders may be a little on the larger side, so to err on the side of caution, if you fall between two sizes, NYTC advise you order the lower measurement.
Feedback suggests that those who have tried a number of binders have finally found their match with the New York Toy Collective range.
Described by a few as the most effective and comfortable binder they've ever worn, for ultimate flattening, this NYTC long white binder might just be the ticket.
The outside material comprises of 86% Poly and 14% Spandex, while inside it's 100% Poly.
---
7. Binder – NYTC Short by New York Toy Collective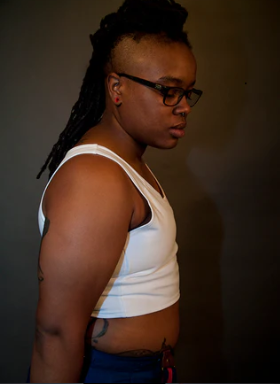 NYTC's shorter version is tailored practically identically to its longer cousin above.
Again, if you fall between two sizes, NYTC advise choosing the lower fitting.
Comfort is its forte, while the fabric is rated by some as higher quality than Gc2b binders.
Available from 32″ to 46″, not quite as wide as Underwork's range of sizes, they have certainly cornered the binder market in terms of softness and feel.
---
Summary
The only slight drawback to these 7 best cheap chest binders listed here are their limited colour range.
For a more diverse but slightly more expensive selection of binders you can also try GC2B's or Gendergears, or for smaller binders try T-kingdom.