FTM packers or strap-on penises, whether flaccid or erect have sky rocketed in sales over the past year and while lockdown may have contributed to this in various ways, it's the transgender FTM guys and cisgender communities that prosthetic companies and sex toy manufacturers argue are fuelling the demand.
Obviously the former is due to being able to feel like yourself and in part to help with the dysphoria accompanied with masturbation when you feel you are trying to experience pleasure with the wrong organ.
One angle around this is to wear or play with a flaccid or an erect penis during masturbation with or without your partner.
Cis females alternatively have a desire for wanting the real feel and the look of a bulge while straight females also see the advantages of a malleable dildo if you like as opposed to a rigid mechanized member.
There is pleasure to be procured here as well for the nonbinary soul.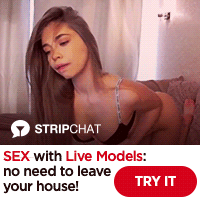 1.
California Exotic
Silicone Packer 4″ & 4.5″
Shaft length: 4/4.5″
Weight: 200g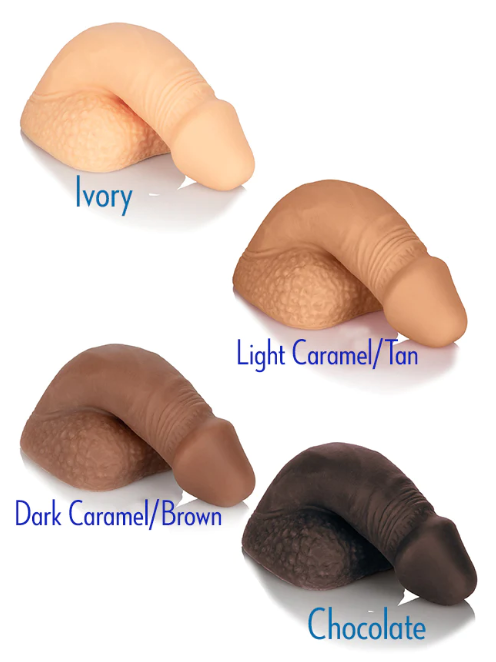 For affordability, the lions share of the opinion suggests that Cal Exotics brand ticks most of the boxes: it's 100% silicone so non-porous, feels comfortable, rarely falls out of place, it's quite delicate as it's made from pure silicone and will not need to be replaced for 2 years so it's durable.
Available in 4 skin tones and slightly on the larger side than the average guy, one reviewer points out how it helps him with bottom dysphoria, where there is a lot of give and squish between the thighs rather than a hard packer that can get in the way and make it hard to manoeuvre.
In tight jeans in a harness it will give off a realistic and comfortable bulge, and can be sterilized through boiling – unlike non-silicone packers.
Pros
100% silicone

4 skin tones/2 sizes

Real feel, life like, light weight, non irritating

Attractive to Cis woman that want to play with a soft peen

Feel is velvet soft with squishy consistency

Baby powder or corn starch will help it from sticking

No smell

Fits nicely in boxers or briefs, with or without harness

A good 'swing' motion
Cons
Bit prominent in shorts for some

30g over natural weight
2.
Classic Mr. Limpy 
Real Feel Superskin

3″
Shaft length: 3″
Weight: 170g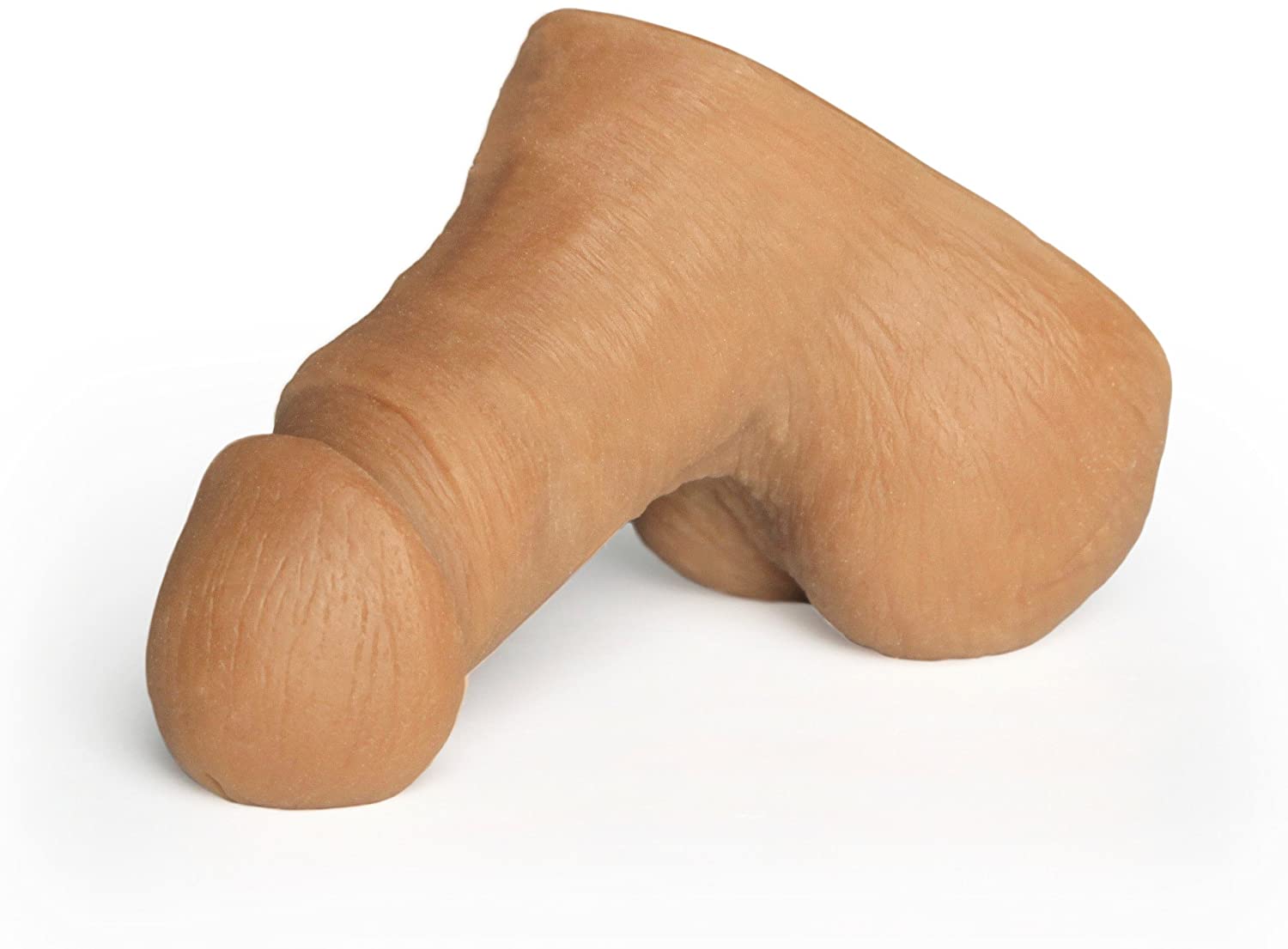 Made from the same material as Fleshlights 'Real Feel Superskin', who cater more for the masturbatory device, the manufacturers have adapted their inner sleeve material which is normally laden with pleasure bumps and excitable ridges, into a droopy, modest & very replicable 3″ flaccid packer as well as a rather larger one at 5.25″.
Available in vanilla and caramel, the Classic Mr Limpy receives the most ratings of an FTM packer across the affordability spectrum however it's its squishiness that is most convincing.
For someone of medium height or shorter, it should fit the briefs pretty snuggly and unlike the different materials penis packers are molded from, this non-silicone patented structure gets good feedback.
Most affordable, the small version is the most popular and given that it very accurately mimics the average flaccid size of a man with an identical weight of 170g, it should be a snug, comfortable and decent fit.
You cannot boil Mr Limpy as it's not manufactured strictly from silicone, however it's latex-free, phthalate-free and uses body-safe materials, as it states on the box. 
Pros
Excellent first-time FTM packer

Cheap, durable, comfortable

Small is described as perfect size for packing

Worn with pocket boxer briefs it should stay in place even when running

Laying it down to one side gets good rapport

Good sized balls unlike the larger Fleshlight Mr Limpy's that are argued to be too small in relation to shaft

Good detail for affordable packer
Cons
Not intended for intercourse as it's flaccid + porous
3.
Limpy Soft Packer 5.25″
Size: 5.25″
Weight: 227g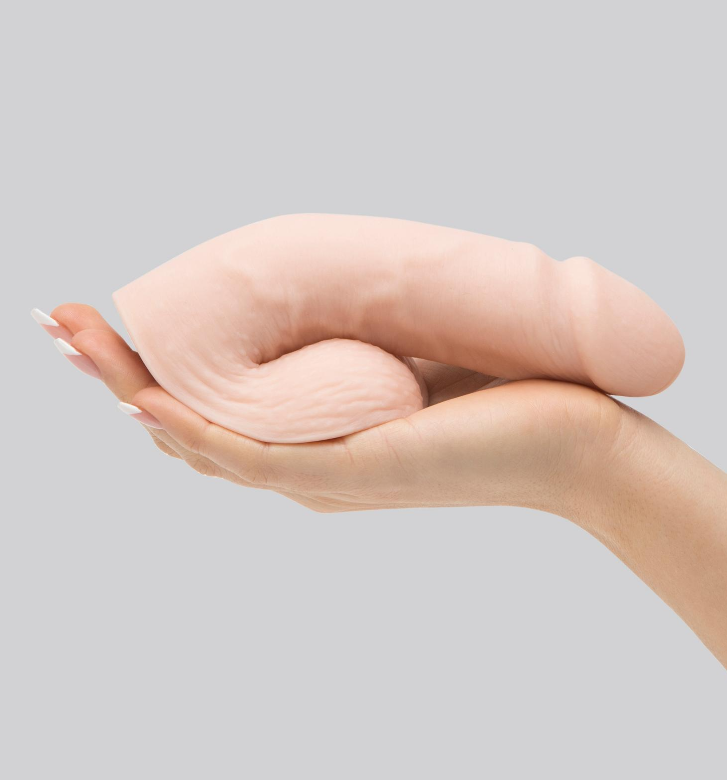 Mr Limpy's medium sized packer is another great starter edition into the world of penis packing. Under $20 it's, durable, passes the "grab test" forum reports reveal and is more prominent from the outside – which may or may not appeal to you.
At 5.25″ shaft length, you'll want to be able to do all the normal things, sit, stand, dance, run for the train. Such everyday normal activities might not sound a big deal but when you are wearing a prosthetic either in a harness or secured somehow within your jock strap, it may take some getting used to.
To be clear, the average size of a flaccid penis in men is more like 3 to 3.5″. When erect however 6″ is more the mean. Carrying around an almost five and a half inch flaccid member is quite a volume and one which may be too large for a number of folk.
Constructed from temperature-responsive TPE – it is porous unlike medical-grade silicone so best worn in a harness or jock-strap to be on the safe side, plus you will invariably begin to sweat more while carrying a prosthetic touching your skin as opposed to it sitting in a support.
Still, it is not made from PVC or alternative cheaper materials which cannot be sterilized and as a result may go on to emit a sour odour over time.
Pros
Cheap

Durable

Passes the grab test

Malleable with a bendable frame inbuilt

TPE so cleans well

Natural looking head

Flat base so should sit well
Cons
Quite light for size

Porous but waterproof (see instructions)
4.
Blush Super-Flexible
Realistic Packing Dildo 4″
Size: 4″
Weight: 164g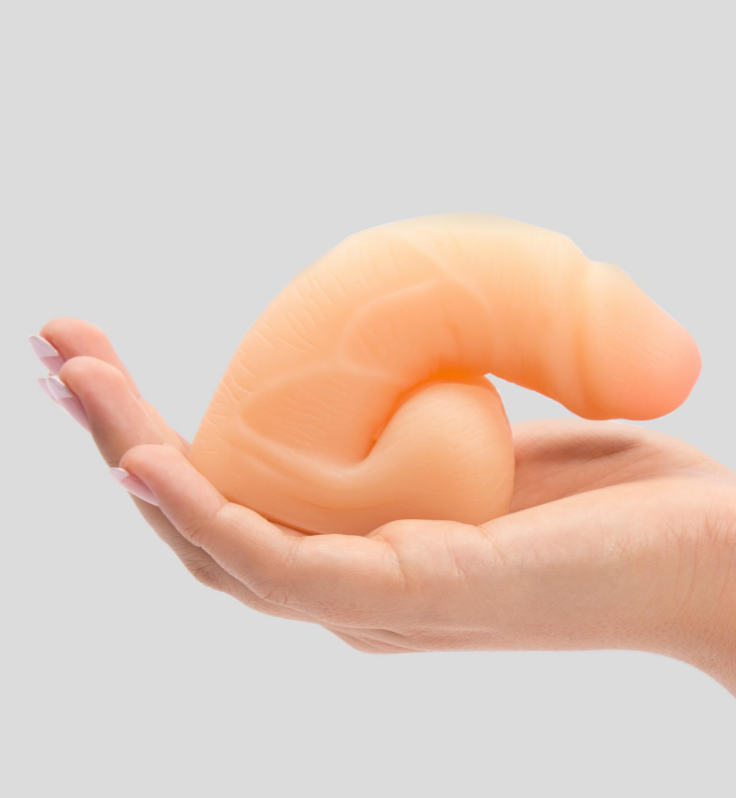 The Blush Super-Flexible is shorter at 4″. Well its overall length is roughly 5″ but when worn moulded into normal position when one is stood up, it's more like 4″.
Unlike Mr Limpy above, the balls are vaguely more realistic although bald as a coot, and posable as well, you may shape this packing dildo into an erect state and indulge in penetrative sex where a water based lube is advised.
It doesn't mention it is made from TPE but rather temperature-responsive skin-safe rubber, which presumably means it can be boiled for cleansing – no more than 2/3 mins.
Pros
Nice color, great for play, shape, size & bulge

Realistic beginner's packing dildo

Semi-lifelike testicles enhance external stimulation

Posable spine for penetration

Suitable for anal play
Cons
Balls need to be fuller without their length attached to the shaft

Tiny bit thicker would help

Lack of girth

Careful not not bend the balls out of place

Attracts dust and fluff

Okay for packing but not for sex, potential to break when rigorous with it
5.
Calexotics STP
(Stand to Pee) Packer 5″
Size: 5″
Weight: 120g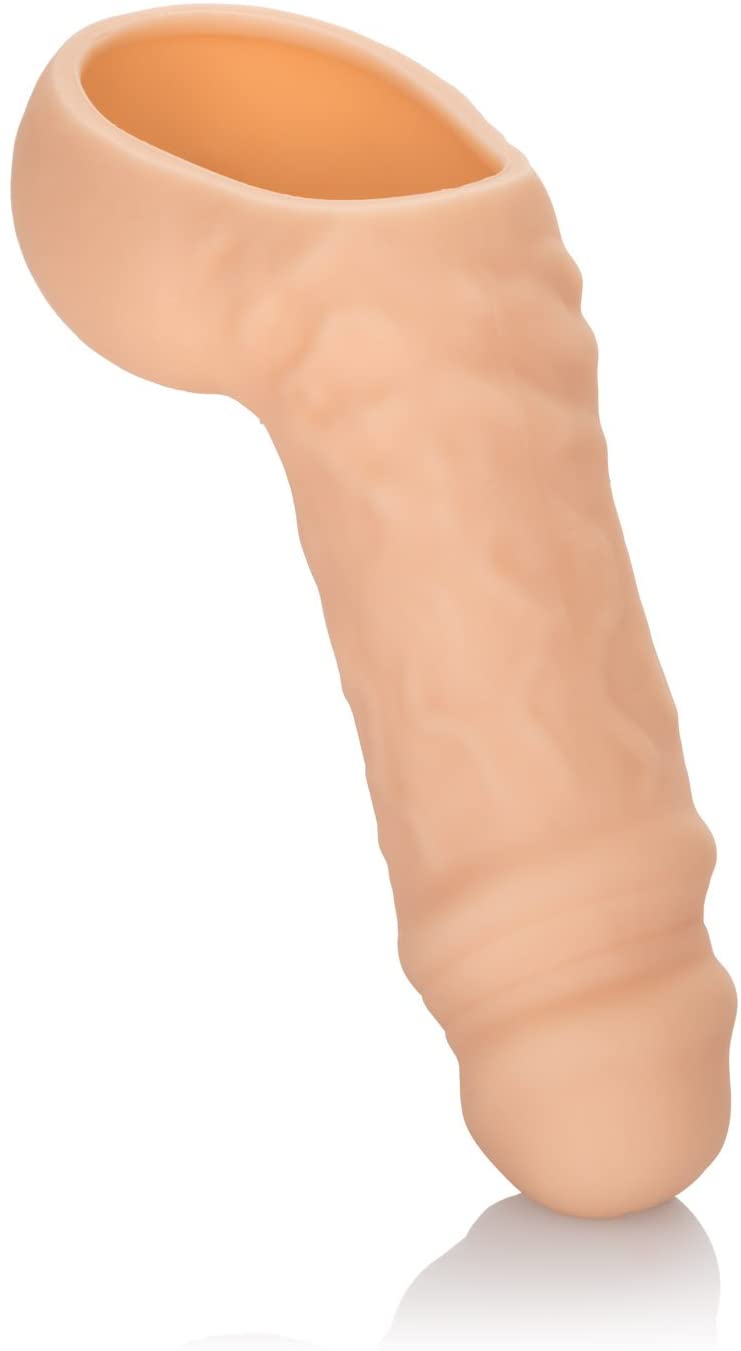 This unique packer design has a hollow shaft and wide opening with FTM stand-to-pee functionality. A slight step up from the previous three, it is sculpted to fit most harnesses, is made from pliable silicone and body safe materials.
Reviewers suggest that it will need a harness and when it comes to standing upright and peeing, this can prove a little challenging for some. The testicles are designed to fill with your urine, so with a little practice, you should be able to start peeing in a men's urinal which can be an incredibly life changing event for FTM fellas.
At only $20 don't expect this to be one of the best FTM STP packers and with more advanced "stand-to-pee" packers out there, should this be your prime objective, it may be prudent to go higher in price. That said, check the reviews on Amazon, some purchasers don't seem to have a problem it.
Pros
Soft & comfortable

Start peeing standing which is exciting

Good shaped prosthetic for all day wear

Posable silicone (can be rendered into shape)

Available in brown
Cons
Silicone is very stiff and the hole in the tip is quite large

Difficult to pee stood up for some
6.
California Exotic
Novelty Packer 5" – Brown
Size: 5″
Weight: 300g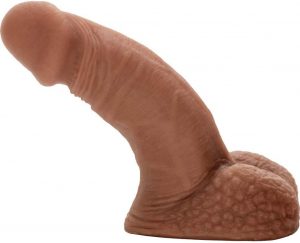 Much like the ivory toned 4 incher above, this slightly larger 5″ from California Exotic Novelties comes in black skin tone.
Reviews are mercurial. From disappointed to over the moon. Amazon is very hard to gauge at times and you wonder how kosha verified user reviews really are. That said, its overall rating is satisfactory.
At under $15 you get good definition in the dimply scrotum and veins and arteries that run around the shaft.
It's unclear what material is deployed to manufacture this black penis packer but it appears not to be silicone or TPE, which is recommended – or PVC for that matter which isn't.
However it doesn't inhabit that crayon-like smell silicone sometimes does so that's a plus.
Pros
Good first packer

Feel of a Doc Johnson packer

Realistic look
Cons
Too larger a bulge for shorter people

Product is too soft, not realistic in touch

Greasy scent

Bit heavy for some at 300g
7.
MASHO FTM Packer – 4″
Size: 4″
Weight: 190g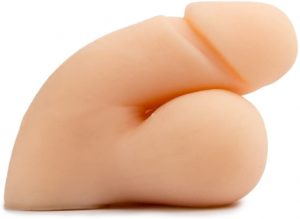 Available in three degrees of firmness, soft, regular or hard, it gets excellent feedback on Amazon and is perhaps on par with Mr Limpy and not too dissimilar.
Small for some but well within the average flaccid side of a man, the Masho FTM does not have a firm inner core like a
Pros
Small & discrete

Soft

Durable

Turns sideways if you push the shaft to the side (without a harness or pouch)

3D balls

Nice details for an inexpensive packer
Cons
Made of cyberskin, not silicone

Not completely realistic
8.
Doc Johnson Pack It
Lite Penis Sleeve 5″
Size: 5″
Weight: 110g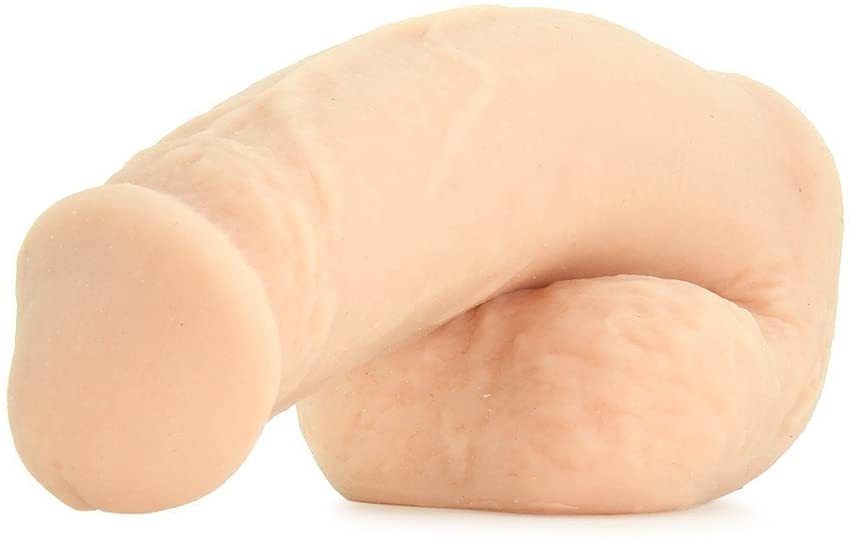 Designed for comfortable all-day wear, while it states it's a sleeve it is not hollow so it cannot be worn over a smaller shaft, it is a packer that likes to point downwards apparently and is on the lighter side at 110g.
Reviews are mixed and as with any FTM packer in this price range there are limitations in this price range. No STP option, it hangs a little vertically whole it can be molded into alternate shapes and reports of tearing receive the odd mention.
The scrotum receives favourable feedback on the detail while the shaft is maybe a little too narrow but ample in girth and it is made from from ULTRASKYN which is not silicone or TPE so the material is at the lower end.
Pros
Lightweight and soft

Good for packing with tight boxer briefs and jeans

Holds up well

Packer likes to point downward
Cons
Flesh may tear from the shaft to the balls

Cheap quality

Doesn't sit well

Too skinny
9.
Fleshlight Mr. Limpy
Medium Fleshtone 6″
Size: 6″
Weight: 236g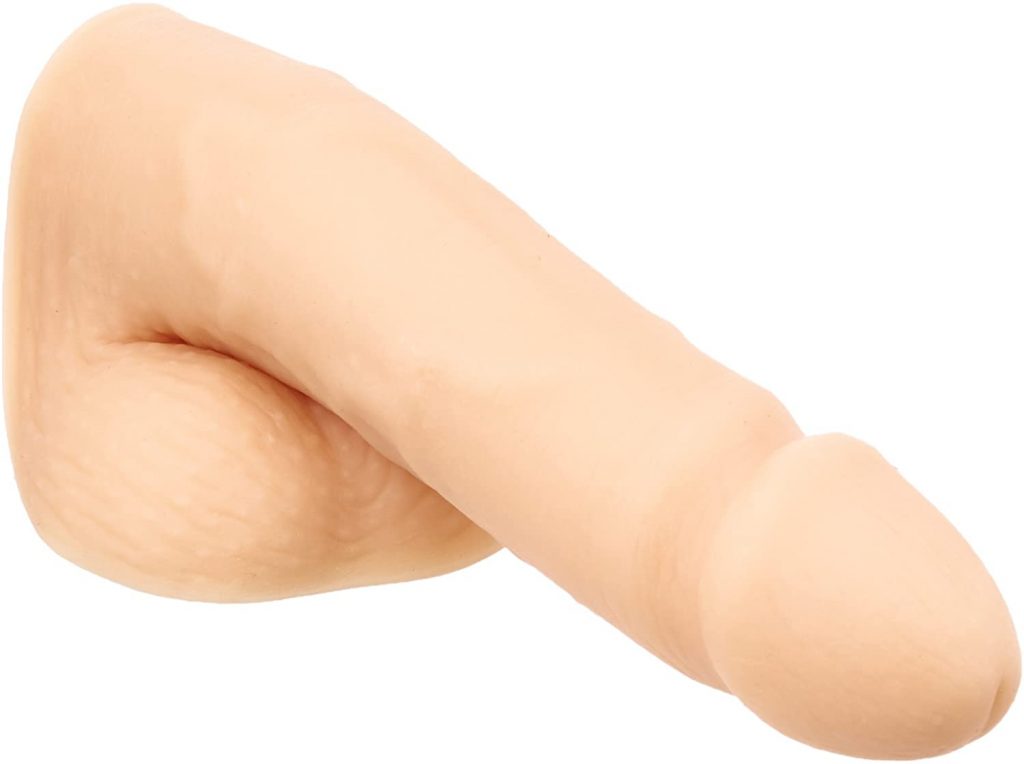 Six inches of flaccid shaft is more than enough length to accommodate downstairs while you go about your business. Even for taller, larger physiques, this is still a lot to carry and position with comfort over a the course the day.
Be wary of dark underwear also when wearing a packer, not just restricted to this model, they will in time absorb some of the dye when you sweat, but as with other Fleshlight products, their silicone skin can be sterilized through wipes as well as boiling (no more than 2 to 3 mins).
Note: This is in fact a medium as there is an 8″ Mr Limpy Fleshlight model available.
Designed initially as a "joke" gift, Fleshlight like many adult brands, missed the boat initially on the importance of these to transgender communities, but now the demographics are becoming clearer and with respect this medium sized Fleshlight Mr Limpy retains a soft and pliable texture suitably designed to be worn under clothing.
Pros
Can be worn in underwear or a strap-on

Very soft & pliable

Flat bottom makes it comfortable to wear against pelvis

Medium is clearly visible under clothing

A bit bigger than 'normal'

Reported to last about a year
Cons
Too large to pack with

Not suitable for penetration
10.
Calexotics STP
FTM Packer – Brown 6″
Size: 6″
Weight: 236g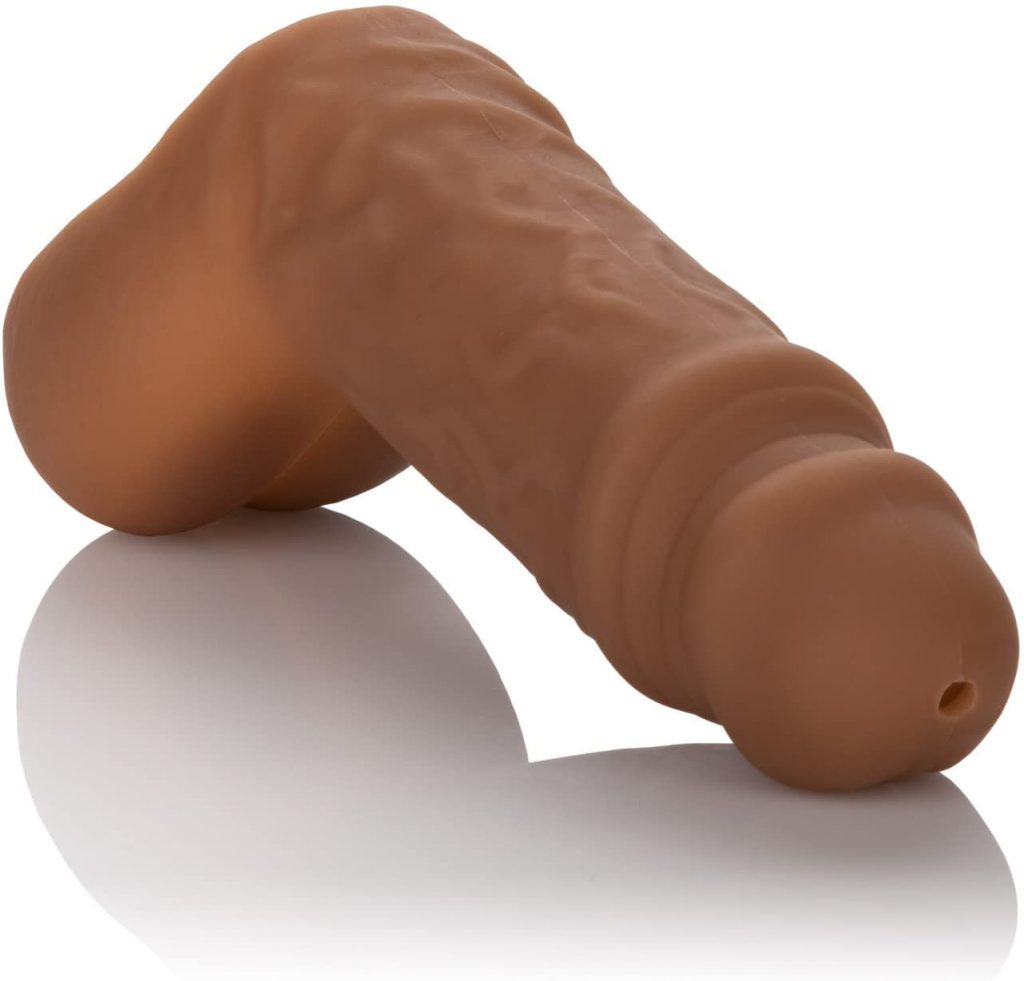 This is the second STP packer listed here and as of now, Calexotics are the only manufacturer listing STP devices on Amazon.
To be fair, urinating in public while wearing one of these is going to be trial and error and dependent on your device, may be a clean or messy affair.
Obviously when you go for a pee naturally you will clip cleanly so to speak. Wearing an STP packer, you will continue to dribble out a bit with no in-built valve as such.
Not ideal, but it obviously allows you to slip into the male psyche and build a new familiarity which you may prefer doing at home to begin with.
For more advanced STP devices whereby it will "clip" for you and bespoke FTM packers, check out what's on offer at FTM Essentials who stock a variety of top brands at modest prices.
Pros
Stiff enough to penetrate

Decent durability

Passable at a public urinal

Packing is fine in well fitted briefs

Has wide hole & a flat edge in the back to prevent overflow
Cons
Good for peeing not for packing, quite hard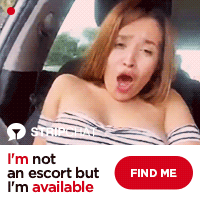 5 Key Takeout's
#1 – The best FTM packers under $25 for durability are made of silicone or TPE.
#2 – On feel, the same can be said.
#3 – Dark clothing & sweat will dye the packer overtime.
#4 – Don't aim too large, average flaccid size is 3″.
#5 – Purchase a harness to be on the safe side.?