Of the best trans nonbinary cam sites of 2023, platforms like OnlyFans and JustForFans offer an incredible opportunity for trans performers to share their stories while Stripchat and Bongacams provide a more direct route to shows.
Transgender pornography was the highest grossing genre in the porn industry in the U.S in 2020, and now in 2023 it's growing exponentially on the following sites below.
Quick heads up –  for live freemium streams that don't require a credit card – check out these 9 best free live webcam sites of 2023 that also feature growing transgender communities.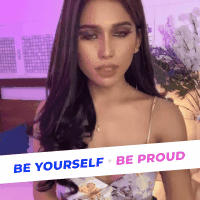 1. Stripchat
Colossal trans, gay, FTM & lesbian camming community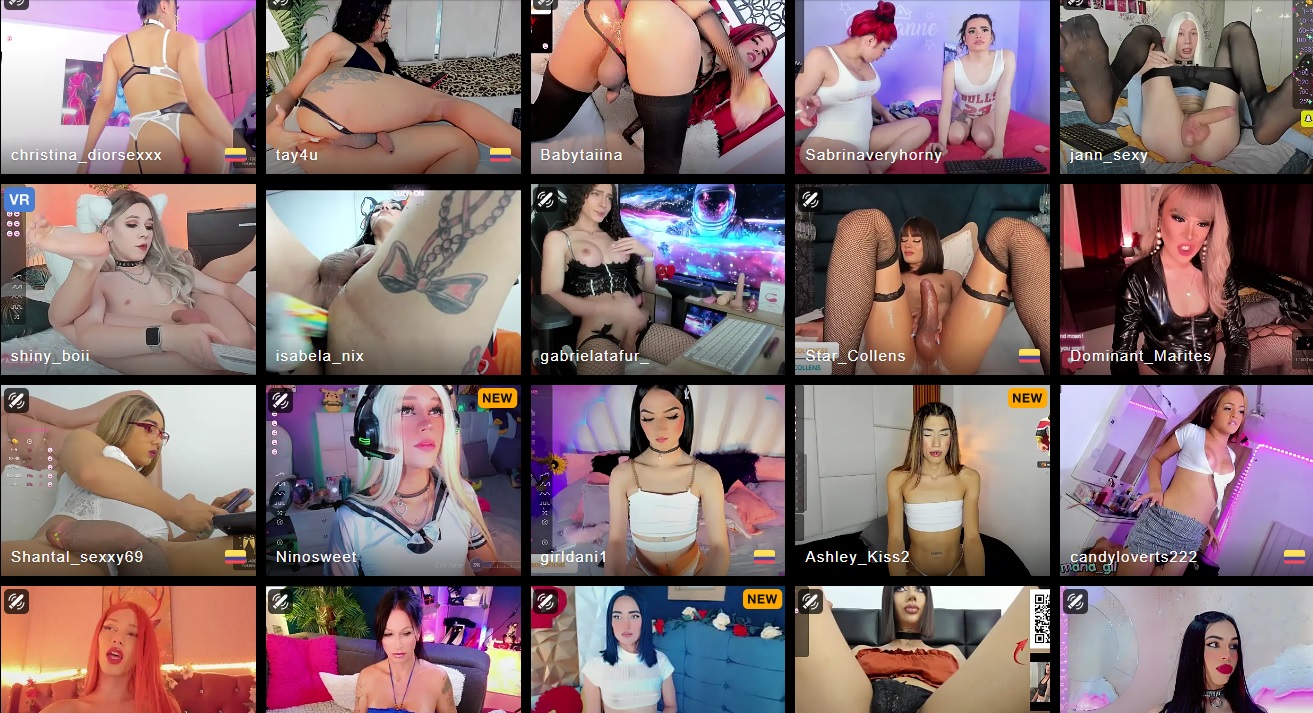 Pros

 Free, enormous selection & affordable
 Good one-on-one performances
 A lot to be had from free account
Stripchat right now, alongside Chaturbate and Onlyfans are the three most trending cam sites, and the only ones still gaining momentum, and with popularity brings diversity.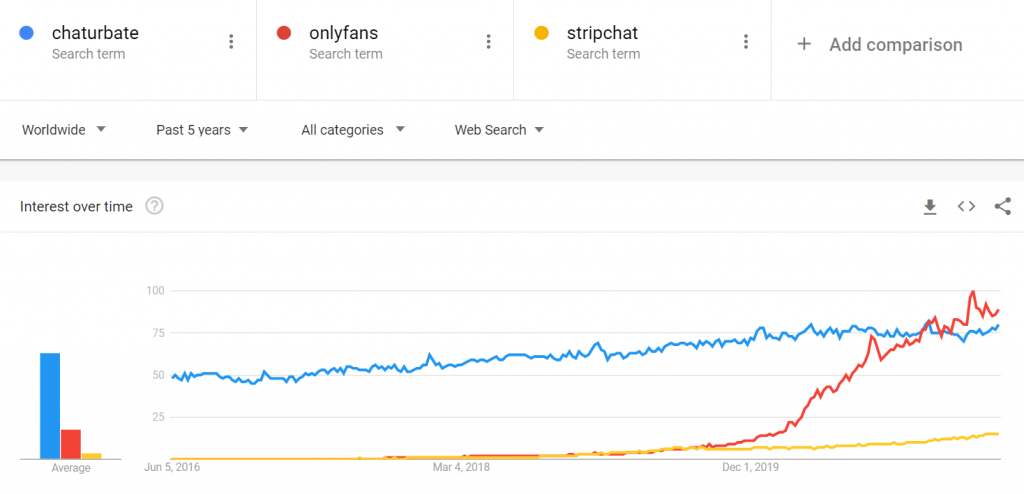 Stripchat used to generally be full of normal folk but their trans section is increasing in scope and now all gender groups are building a base there.
Among their homosexual performers, life remains busy with only a few full-timers earning a crust with the majority very much amateur.
Stripchat is a site still centred to the male gaze although that's slowly changing, and while it doesn't cater for the full gamut just yet, their new virtual reality platform is drawing in the trans crowds. 
Related: Stripchat's new VR room
Delving through their trans section there is a lot going on, aside from non-op trans women being explicit, and Stripchat's categorising now includes specific FTM, MTF and nonbinary departments, so heading straight to the categories section is your best bet.
Read in full: Stripchat 2023 review
2. Chaturbate
Second largest trans amateur cam site


Pros

Good diversity – open to anyone (18+)

Greatest earning potential for models
A huge amount of shows
For cisgender, gay and for non op trans community shows, Chaturbate goes in at number one as it's more often free and if you are the protagonist, then it can be a lucrative platform.
In fact while there are a host of nonbinary webcammers on Chaturbate there could be more as the demand would suggest.
With the largest user base of live web cammers in the world, from a performers perspective, getting noticed can be a challenge, but once you have reeled in a number of loyal followers, tipping can be insane.
For both voyeur and performer in this still ever growing community, Chaturbate is the kingpin.
3. Onlyfans
Gargantuan community of gender fluid peeps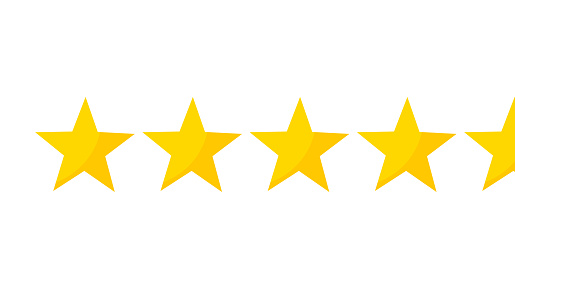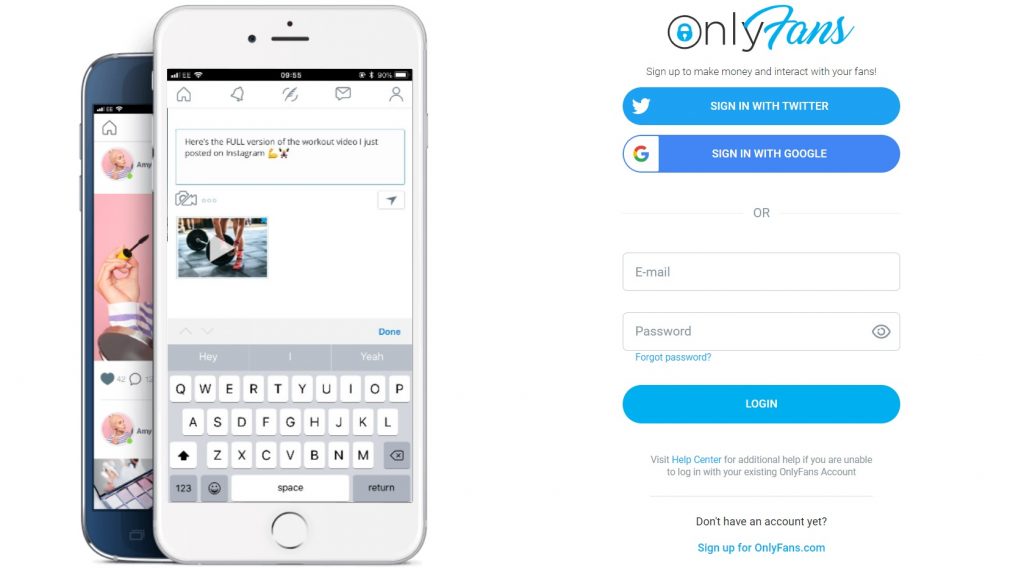 Pros

Free to join

Largest non-binary camming community online

Models keep 80%

Good for recurring income

Access to millions of creators' 
Onlyfans has seen a massive splurge in online activity in the trans communities over lockdown. SWOP (Sex Workers Outreach Project) an organisation which focusses on incarcerated sex workers state that many trans people are making $10'000 a month there.
Prior to the pandemic even full-service or porn never paid this much.
Onlyfans is known as a direct-to-consumer site which have been a boon to cam hosts of late. One of the problems though with Onlyfans however is tracking down folk relevant to your penchant.
There are no category or tag options on Onlyfans and the search function is not helpful, which is incredibly frustrating for cam hosts so getting found requires a lot of work outside of this platform.
And explicit accounts aren't showcased among the featured creators so these following 3rd party sites are useful for seeking out people in your niche:
Successful trans models will build their own social media accounts namely on TikTok, Instagram and Twitter to generate traffic on Onlyfans and a number of these Onlyfans trans profiles can be found here:
In fact, given that patron's of Onlyfans have to manage their production and acquire and convert their audience, what is Onlyfans exactly?
Essentially, it's a glorified payment system that takes not what a civilian processor takes – 3 to 7% but a more predatory cut of 20% , but given IMLive pay their webcam hosts only 12.5% of earnings, that's a massive incentive to switch to Onlyfans, except you have to rally the audience yourself, which is an effortful task.
Still, for those interested as either voyeur or protagonist in where the most comprehensive list of trans people cam, and by no means not just non op trans women, but FTM and MTF folk, Onlyfans is the platform.
Eager to jettison the cam model community or a canny tactic for minimizing legal liability, what you don't see initially when going to Onlyfans is more of a smoke screen than anything.
Its $3 billion of income paid to its creators since it was conceived, whilst not broken down by the company, is believed for the vast part to have come from adult creators, therefore it's perhaps right that Onlyfans tries to hide them.
As Kimberely Kane – a cam model on Onlyfans put it in an editorial in the New York Times: "OnlyFans is not going to last, but it is a hell of a ride … They'll take it away from us, just like they do everything else. It's only a matter of time."
Onlyfans tips for finding folkx
How to find out if someone has an Onlyfans account: type into Google search – onlyfans.com *insert username or name here*
Use OnlyFinder to search for users: to find OnlyFans accounts in your area, visit onlyfinder.com and use the "location" + "distance" syntax.
Reddit: browse through OnlyFans subreddits on Reddit.
Local area search: if you want to search for OnlyFans accounts in your area (e.g. New York) who are in a 10km radius, search for this in the tool: "London", 10km.
Capital letters: make sure to use a capital letter for countries/cities/states, and avoid using spaces.
How to find trans people on Onlyfans?
It's a bit tricky. On peoples bio's they often listed their credentials but this could mean scouring for hours. Best bet is to go to twitter and Facebook searching relevant hashtags/search terms and then explore their respective profiles.
4. Cams
Caters for transgirls & transboys


Pros

 Advanced search
Transgirls & transboys
Good diversity
Much wider audience of viewers
Upon entry Cams looks very ordinary, your run of the mill denuded cam site albeit full of lots of free shows, but on closer inspection you will find quite a bustling trans and non-binary section.
And while quite self-effacing it is ahead of it's game in diversity and technological features.
VR porn and the use of teledildonics, both bluetooth sex toys are a popular past time in the trans sections. Webcammers with these tools allow you to take over the controls in either group or private sessions.
5. BongaCams
Best for non-op trans women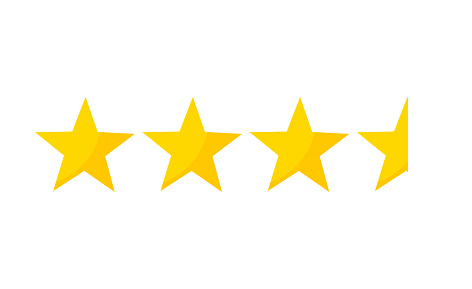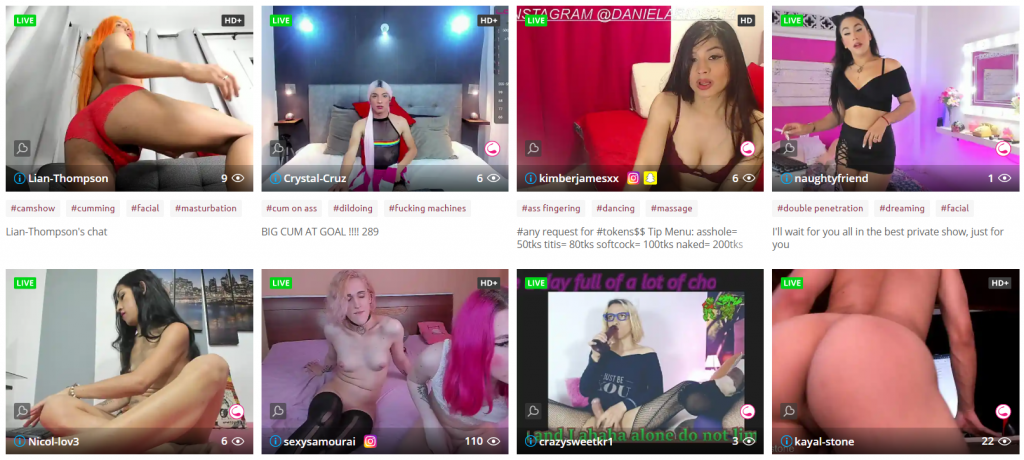 Pros

 Many trans shows
 Models keep 90%
 Doesn't suck you dry
Lowest fees for voyeur
A lot of  free content
BongaCams is the second largest live cam site on the net and features a diverse community of gender fluid people.
Many of the shows begin and end free, with tipping being the preferred source of income with fewer private shows.
Adult performers are also said to take home 90% of their earnings which is in stark contrast with IMLive at 12.5% but given their huge marketing frenzy over the pandemic expect BongaCams model's fees to take a slight hit.
2 More Worthy Trans & Nonbinary Cam Sites
6. Manyvids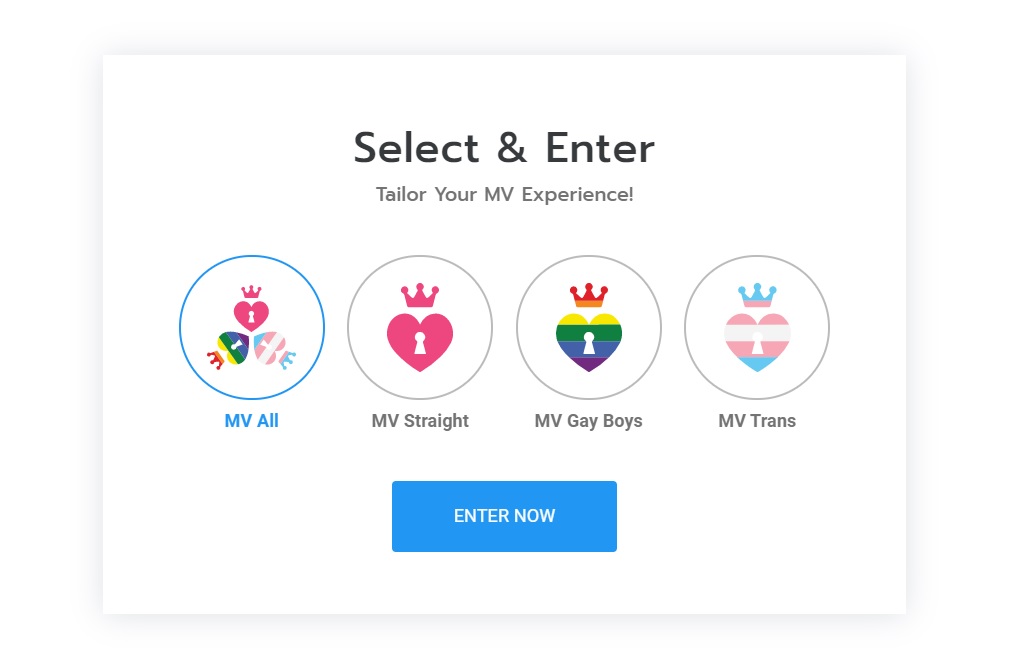 Manyvids – Manyvids is one of the best trans nonbinary cam sites for building up your portfolio, in fact if you are coming from the performing end then spreading your wings across Manyvids, Justforfun and Onlyfans should help build your loyal audience.
It's extremely diverse featuring a number of bisexual, nonbinary trans male porn performers. And there are literally many, many live webcams streaming around the clock which feature primarily straight, gay boys and trans.
7. Justfor.fans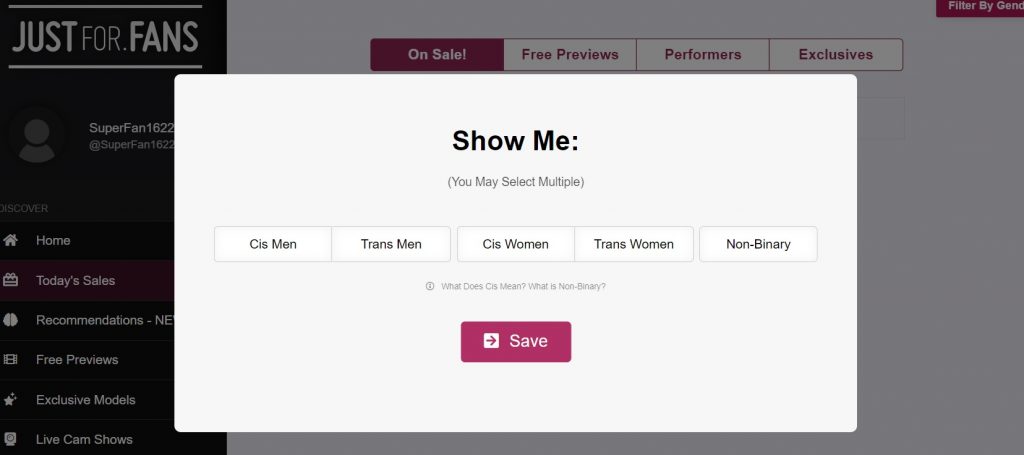 Justfor.fans – Again very popular with proud transgender men and sex workers. Many kinky trans men who are leather men, the daddy's, and alpha sex dog!
There are a number of trans men in porn on Justforfans, and many express their themselves through porn for activism.
When you join justfor.fans which is painless you'll be presented with which tipple you prefer, you may select more than one and then you are presented with perhaps a couple of pages of performers in your niche.
There will be hundreds more but they won't be listed.
Like Onlyfans you'll have to put the leg work in to discover them, hence while Onlyfans and Justfor.fans will host an enormous number of live webcammers, unlike Stripchat or Chaturbate, only a fraction will be listed – but that's an improvement on Onlyfans which won't divulge any adult performers without you knowing their profile link.
Summary
The derogatory term "shemale" is still often used as a search term when looking for "non op trans women" cam sites.
But being the mouthful that it is the most sought after cam sites for transgender communities are still found through search terms like: shemale on shemale, bbw shemale, Asian shemale or beautiful shemale.
And demographically, it is unlikely that the lions share of Google searchers are from trans communities.
Rather it is closeted or simply straight guys that have a transsexual fetish.
This is reinforced by the fact that the largest non op trans women communities are found predominantly on straight porn sites, not gay porn sites.
JUB (justusboys.com) for example is a gay site that features zero "Shemale" or "Trans" galleries as they are still often categorized.
This would suggest that the vast majority of the men who are into trans or shemale content therefore self-identify as straight.
They're not interested in men.
However for men interested in non op trans women or specifically cross-dressing folk with a penis, the largest selection are found not only on straight sites like Chaturbate but also other "direct-to-consumer sites" which work on spontaneous micro-payments – think GoFundMe donation or a Netflix purchase.
This gentrification of the internet has allowed trans cam models to not only full fill their financial goals,  there is also generally better policing than what existed on Craigslist's Erotic Services in early 2010.
However, what didn't exist back in 2010 are sites like Onlyfans and Justfor.fans that now provide a platform for the full spectrum of communities and thus feature as two of the best trans nonbinary cam sites.
The latter community making it easier to track down fellow folk of your gender while Onlyfans – hesitant still about openly accepting that its lions share of revenue comes through pornography – keeps the gamut of this huge social media industry away from prying eyes; (you will need to do your homework tracking down people).