Before purchasing a gentleman's necktie you may wish to know how to make a homemade cock ring, to see if restricting blood flow to your penis which will harden & prolong erections, is something that appeals to you.
Well, without further ado, here are 5 DIY cock ring creations, plus a list of 17 different types of materials that can be sourced from your own home to help you make a homemade cock ring from scratch, that is both effective and safe – to a degree.
Should you be concerned about wearing one, check out – how to use a cock ring safely, plus it's worth knowing how to shave your balls for extra precaution.
There are also some materials that must always be sanitized before being present near your groin. Here are 9 different sex toy materials you may encounter and how to clean them.
Finally, lubing really restricts any pinching or snagging. To save money you can try a DIY water based lube or a homemade oil based recipe.
Related: How to make a homemade vagina

3 Main types of cock rings
1. Base ring
2. Head ring
3. Base & scrotum ring
Not all cock rings are the same, some surround just the base of the penis, for example those prescribed for erectile dysfunction also called C rings, shaft or penis rings.
Alternatively you have those worn behind the corona of the glans – often referred to as head rings or cock crowns.
Then you have those surrounding the meat and two veg, also know as cock rings or a cock and ball ring.
As many of the materials can be used for both the head and base, plus the base and scrotum, devising all 3 types of homemade cock rings are therefore explored.
You do also get vibrating cock rings rings which can be positioned mid shaft with pulsating bullets attached.
Related: Man's favourite cock rings
Method 1 – Platinum grade silicone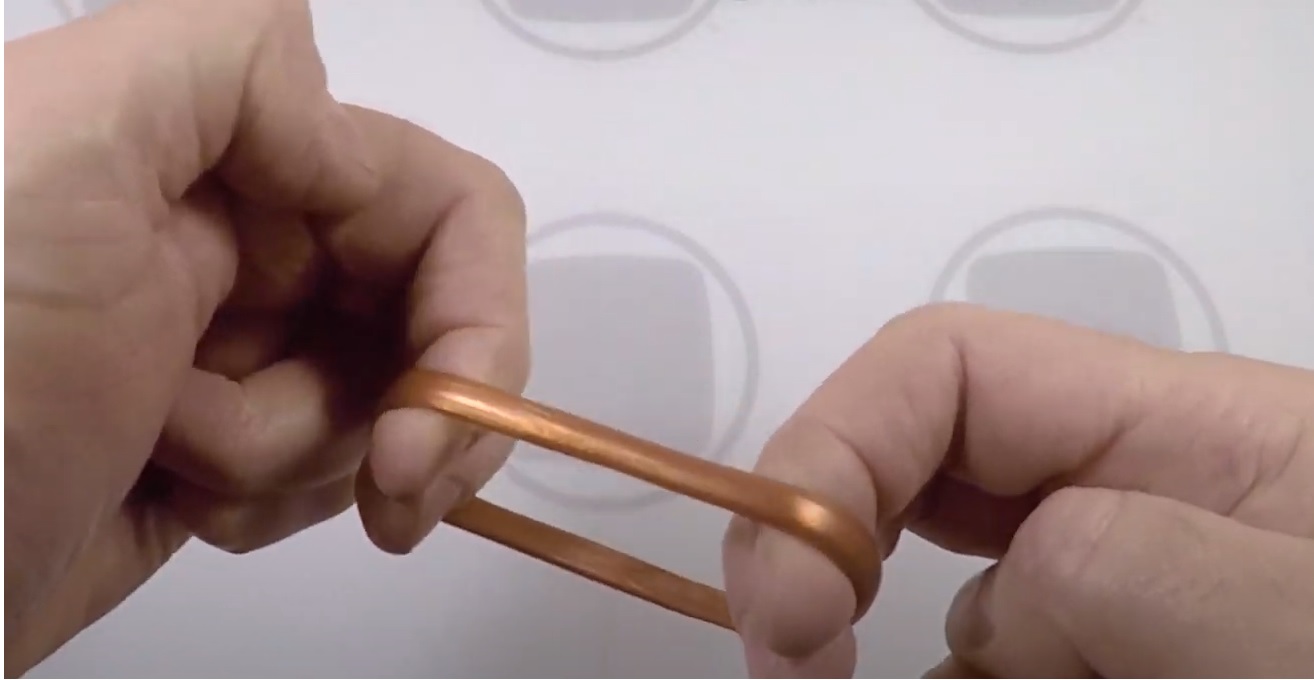 If you can get your hands on some platinum grade silicone, you can fashion your own homemade cock ring down to the last millimetre.
Platinum grade silicone is not harmful to the human body, and as so is used in a number of children's products.
This method is obtained from Square Peg Toys youtube channel.
What you'll need:
Platinum grade silicone
A plastic bottle cap/piping with similar circumference to your erect shaft
How to make a homemade cock ring using platinum grade silicone:
Watch the video

on youtube first (as it's age restricted and won't play here), to get an idea of how much platinum grade silicone you may need. Half the size of your thumb or a thimble size should do it to start off. 
Roll it out in a coil and wrap it around a circular plastic object or a hard firm surface that reflects your same erect girth size.
Flatten both ends like in the video and press together to join the ring.
Let it set for 2 hours.
Tip
The thicker the ring equals less give.
Method 2 – Silicone nipples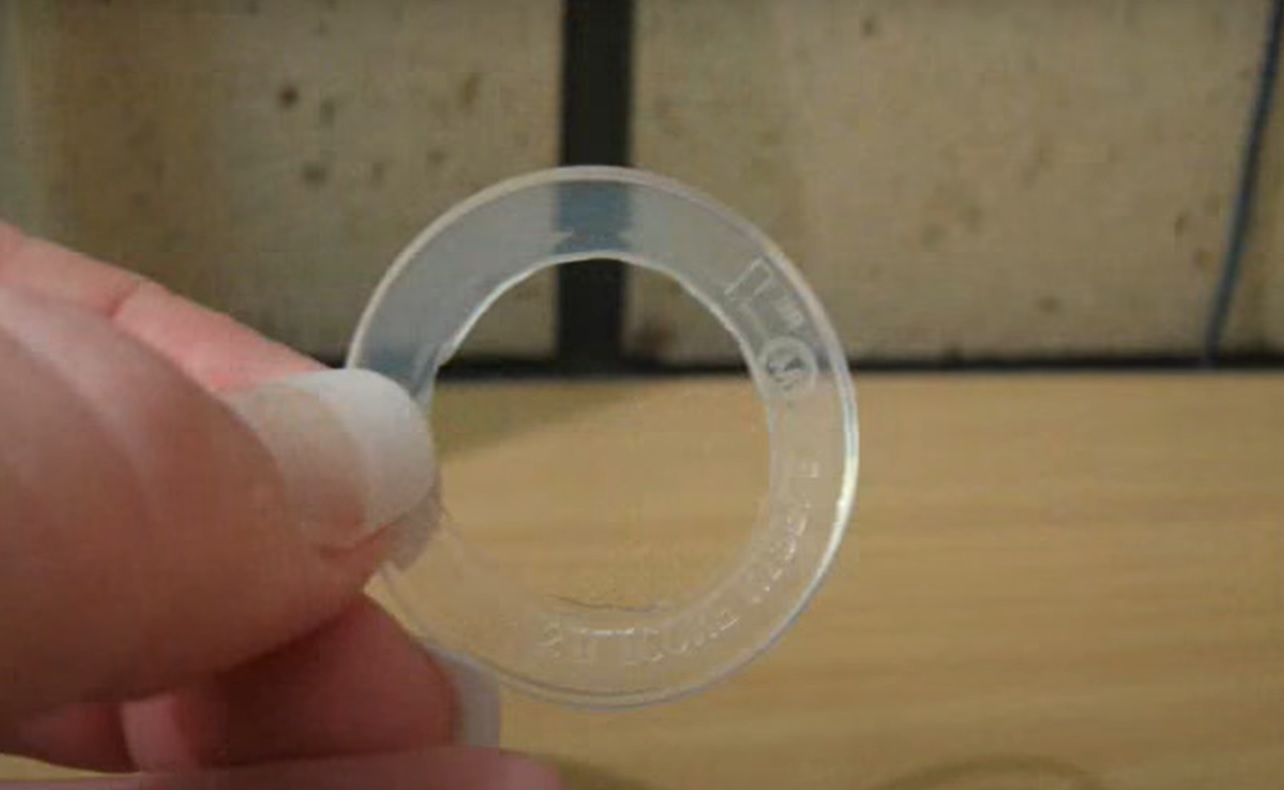 Baby bottle silicone nipples or teats as they're often referred to, can be garnered into a DIY cock ring as follows.
What you'll need:
Ideally a medium or large sized Baby Joy silicone nipple
Pointy sharp end scissors
How to make a DIY cock ring using a silicone teat:
Turn the teat upside down and slowly and evenly use your pointy-ended sharp pair of scissors to cut around the ridge of the teat, as demonstrated in  the image above..
Once the ring is removed from the nipple, you may need to snip the inside down a bit to remove any jagged cuts, but silicone used in baby products should be very soft.
Method 3 – DIY Adjustable cock ring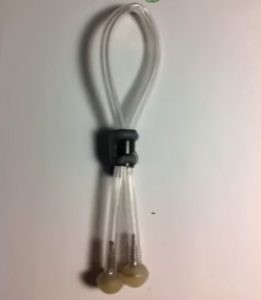 Here you'll make an adjustable cock ring which will take you roughly 10 minutes. It's quite ingenious.
You can watch it here – age restricted (opens in new tab), for clarity.
What you'll need:
12″ long piece of tubing a quarter inch in diameter with moderate stiffness – try as advised in video some fish tank air pump tubing
Long pen lid 5/16″ diameter
Ruler
2 screws that will screw into the tubing
How to make a DIY adjustable cock ring:
Locate your pen lid with a 5/16″ diameter – or, through trial and error, one that will allow both meshed ends of tubing to squeeze through so there's some give but not a lot.
You'll need to be able to slice through your pen lid without injuring yourself. Securing it in a vice and sawing it finely is advised. Cut it down to 3/4″.
Mesh the two ends of the tubing so they'll slip through the pen lid.
The collar you have now created should have a firm grip. Screw each screw in either end of the tubing that you've fed through. These act as stoppers so the tubing can't escape.
Tip:
Lubing will free up the adjustable grip.
Use hot melt glue to round off any pinch points.
Method 4 – A Condom rim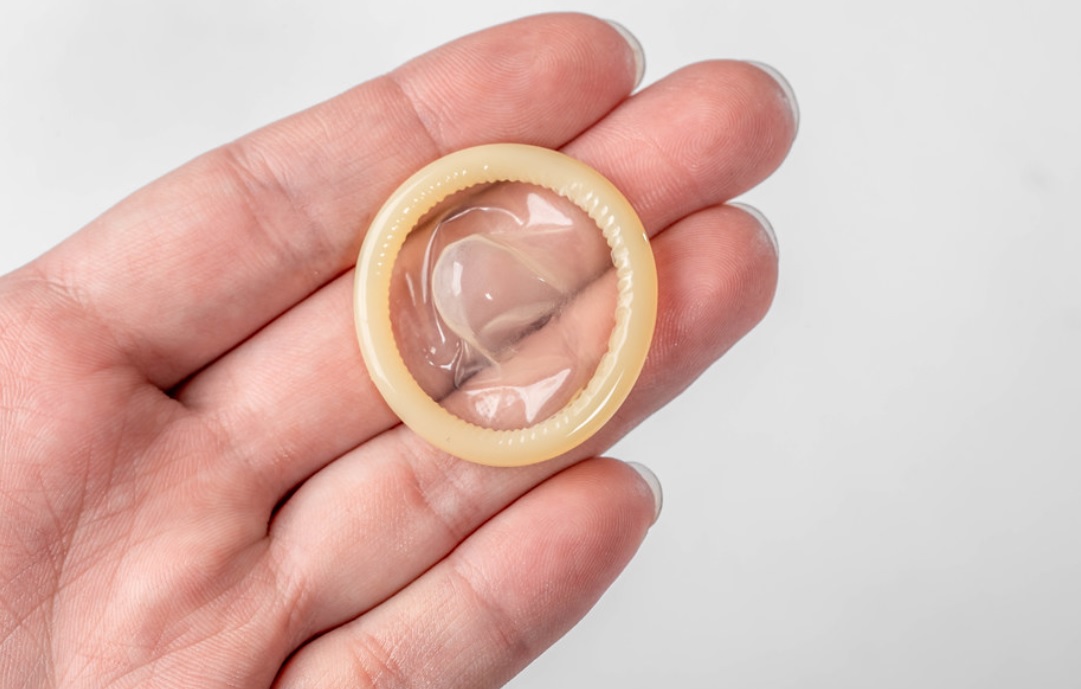 This is an easy-peasy cock ring to make, and won't take you a minute
What you'll need:
A condom that fits you normally
How to make a cock ring using a condom:
Snip the top off the end of your condom, where you bury your crown.
You can then roll the spare sheathing up around the rim for extra padding.
Condoms are perfect for such a task as they're meant to be down there and they're stretchy, plus you can use them as a cock and ball ring – potentially.
Note:
This thread expresses why it would be prudent to have a trim first.
Method 5 – Super stretchy sticky hand kids toy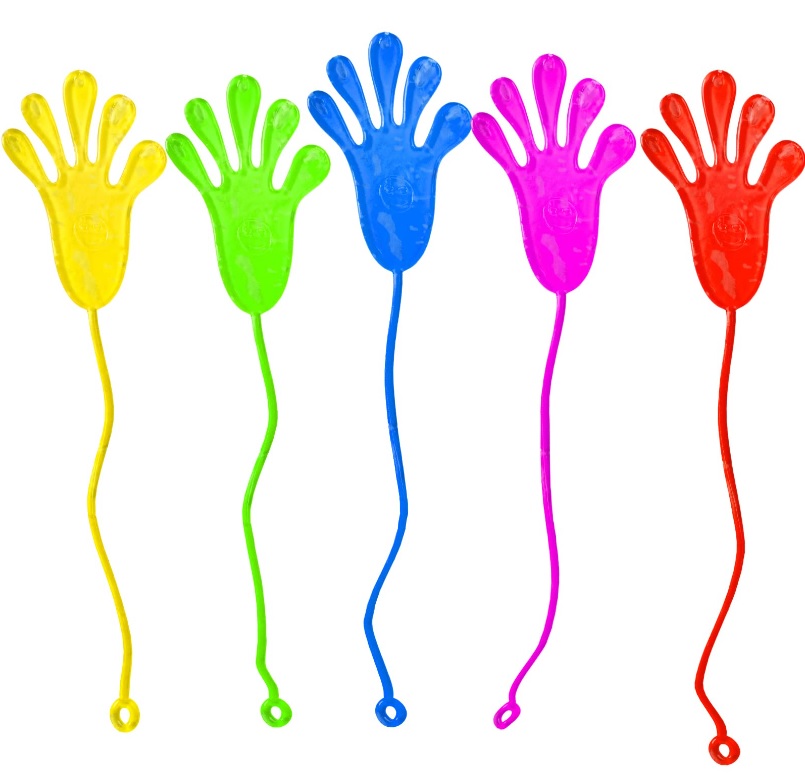 Like Socker Boppers that FLyers use to mount a Fleshlight, it would be inappropriate for kids toys to be discussed in such a way, .. but, these super stretchy sticky hand kids toys can be converted into a durable cock ring rather well.
What you'll need:
Super stretchy sticky hand kids toy
A sharp knife
How to make a homemade cock ring using one of these kids super stretchy sticky hand toys:
You can either snip the hand off and wrap the stringy tail around your chap and/or balls.
Or, you can carve a cylindrical hole in the hand, slip your fella through, and again wrap the tail end around your jewels and tuck the last part under.
Tip:
Can be bought in most 24hr US stores.

9 Flexible household cock ring materials
Here are a list of materials that can be found at home for making a homemade cock ring, or from your local hardware store. You should be able to fashion one from the following stretchy materials.
1. Condom ring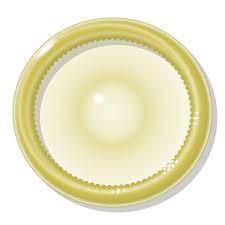 As discussed, the ring or the rubber of a condom can be used to construct a cock ring and is comes fully prepped in cleanliness for action downstairs.
2. Hairband or two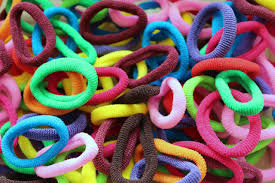 A hairband or two for a cock or cock & ball ring are a softer alternative to others and are more stretchy than most.
3. Hair scrunchies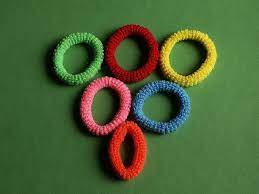 Hair scrunchies as a cock and ball ring aren't dissimilar to hair bands, but beware as they can be tricky to untangle as they have less stretch, so wait in some cases until flaccid.
4. Rope/paracord/thick cushiony shoe lace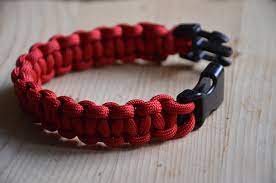 Paracords for cock ring creations are another pliable option or a thick cushiony shoe lace which can be made into a slipknot. Might be prudent to get a haircut first to limit any snagging.
5. Two pieces of electrical tape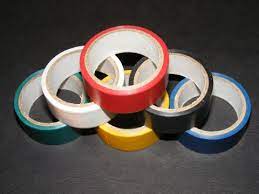 Electrical tape for creating a cock ring could be considered a last resort, but it does have a bit of give in it although you'll want to stick two strips back to back unless you fancy tearing pubic patches off your groin.
6. Rubber bracelet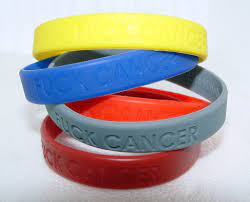 Using a rubber bracelet to encircle one or both organs should do the trick in just one loop. Stretching it out into a figure of eight and then lassoing both loops over one or both organs might require a visit to ER.
7. Plumber's ring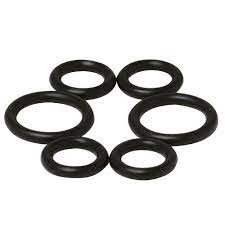 Try a master plumbers ring as a cock ring. These are ultra smooth, lube well although you'll want to avoid any harmful materials.
8. Bicycle inner tube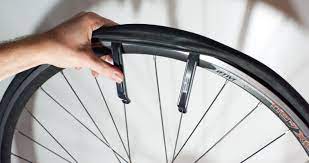 Using a bicycle's innertube rubber to create a homemade cock ring is a bit drastic but at the same time it's a suitable malleable material. Expensive cock rings are also prone to breakage and sometimes a homebased piece of rubber trumps these items on strength.
9. Rubber bungee cord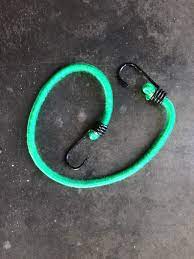 If you're out in the woods and the camp fire is getting you all-erotic, why not whip out that bungee cord, and wrap it around your schlong and scrotum and stick on those marshmallows. Intertwined within your fingers you can create an adjustable grip – no need to use the hooks.
Or you can cut to length and superglue to correct measurement.

4 Hard & slightly bendy DIY cock ring materials
Ideally, you want a material that can be ergonomically curved like some of the classier cock rings in the photo below, although these hard fixed shapes can only really be sculpted using platinum grade silicone like in the first DIY cock ring method.
Here are a few firm alternatives materials though that you can bend slightly.

10. Flexible curved drawing tool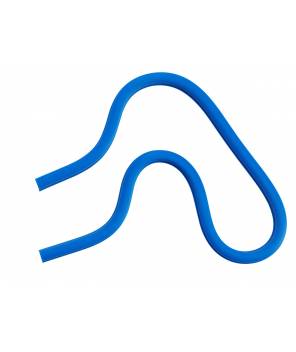 Flexible but rigid material is used to make a homemade cock ring from time to time. Just flattening either end over the top of your base should assert enough pressure on the perineal nerve.
11. Copper ring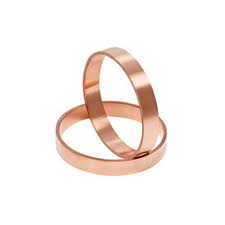 Copper rings from the toolbox can be utilized as cock rings, although  they're a set circumference and once you're in, you're in. Don not try to remove mid flow.
12. Women's bangle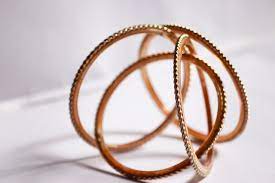 A smooth women's bangle can be garnered into a cock ring. Obviously you won't want one with a pebble dash effect on the inner rim. Some are actually pretty supple and you may have better luck here.
13. Mini toy eraser/rubber rings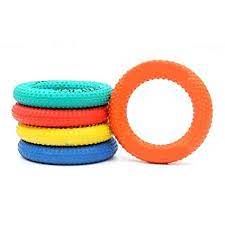 Most mini eraser rings provide very little room for manoeuvre although some can be slimmer and looser than those you see above. You might want to lube up as their scaly skin texture could nip away at those follicles.
4 Rigid household cock ring materials
If the semi-flexible materials above are not rigid enough, you can always try something firmer but be very careful, as once in hard, there's no escaping until you switch thoughts to say a cats sphincter to lower your blood pressure.
14. Large captive bead ring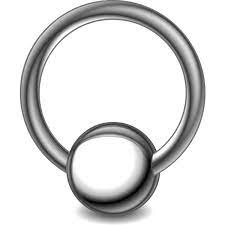 One ball at a time, gently slip your oily nut through, but again once in position, it'll be as hard retrieving one or both testicle. Captive bead rings for cock rings have that unique design that can titillate both nerves. Safer to stroke up and down the shaft and stimulate the perineal nerve, than dropping you balls through to pressure the dorsal nerve.
15.   Bevelled smooth edged stainless steel ring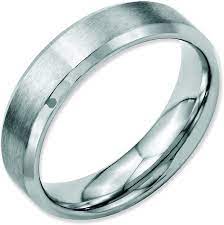 A bevelled smooth edged stainless steel ring will no doubt be found in the tool box or lying around the garage. Having an angled edge when lube allows for smoother aerodynamics when putting it on and removing it.
16. Industrial rubber bracelet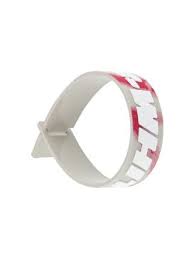 Industrial rubber bracelet can be fastened into a cock ring so you make to measure. Might want to oil up to avoid the pinch.
17. Tiny belt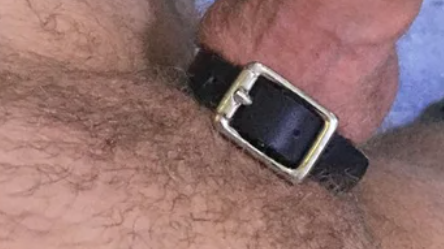 Wearing a tiny belt for a cock ring is a popular recommendation on this cock ring Reddit group. You will no doubt have seen them in the sewing kit. A strange embroidery addition but one which comes in very handy for constructing your own cock ring.
9 Tips for wearing a DIY cock ring
1.   First repeatable tip – never wear for more than 30 mins
2.   Always use lube, never use silicon lube with silicon material
3.   Choose or make a fully adjustable size first time round to gauge circumference
4.   Trim the pubes to avoid snatching hairs
5.   Put on penis when semi-erect to avoid breakage, to grow into & restrict tearing condom
6.   Wash thoroughly or dispose of appropriately
7.   Be aware of your health: do not wear a cock ring of any sorts if you have diabetes, cardiovascular, blood or nerve disease
8.   Wait till limp before removing
9.   Print a 3D printable cock ring insulator – stimulate the dorsal and perineal nerves in concert. Info and free download
Summary
There are multiple ways of making a homemade cock ring, where scrunchies are a kinder fit in comparison to a cbt ring, which is tougher on the organs but may elicit a tighter and stronger climax.
Each to their own. You can of course find toys that combine a cock ring with a butt plug, a cock ring with vibrating bullets or a vibrating cock ring, and even one with a cock and ball ring, an additional penis and a vibrating ball ring – a triple whammy!
As such, many alternative pleasure toys have since evolved from the standard cock ring, where you now have the beauty of choice to see what tickles your fancy. Enjoy!